Wood Furniture Decoration Ideas: A Complete Guide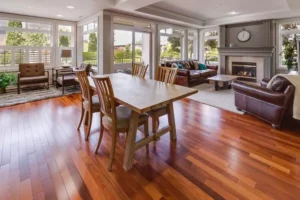 The modern world is innovative. Gone are the days of sticking to a particular theme and dealing with it for decades. The latest trends keep changing and will continue to do so for the foreseeable future. Nowadays, people like having a bit of glitz when it comes to home decor. You would be amazed to witness colorful designs so powerful that they beat even the best interior decors of the past.
Home design is an art. It is serious enough for students to spend years studying this and eventually make careers out of it. Among the sea of interior decor ideas, wooden furniture, arguably, is the one option that was never really out of fashion.
Expert designers have a special place for wooden designs in their hearts, mainly due to their elegance to almost any surrounding setup. Let us take a look at some wood furniture decor ideas and learn the amazing impact they can have on the interior of your home.
How To Get The Best Wood Furniture Decor Ideas
Determining the perfect mix of wood tones based on the room setup can be trickier than you think. It is essential to have a clear understanding of wood grains, finish, undertones, and a lot more before you can attempt such work. That is because woodwork requires a lot of expertise. Add design complexities to it, and the whole project might end up as a complete mess. Thus, we recommend taking the help of specialized professionals who can take control of the project and create the design of your choice.
For a comprehensive database of wood furniture design methods and ideas, check out www.woodhappen.com. Not only can you obtain brilliant decor plans from here, but you can also get the necessary blueprints for crafting them on your own. Make sure you visit the website before you begin planning. Chances are, you will find the exact concepts you were looking for on the website.
How To Decorate Your Home With Wood Furniture
There are innumerable options when it comes to home decor with wooden furniture. The following sections focus on the ways you can adopt for creating the interior of your dreams.
Old Is Gold
When dealing with wood, there is a fantastic option to go classic. Wooden furnishings were in use even hundreds of years ago. Bringing back the past glory of wood furniture is a wonderful way to showcase the chic interior of your home. Take your primary living space as an example. Placing a retro wooden table not only introduces a fine sense of class but also allows food and beverages to be served on it for visiting guests.
Wooden lampstands are also fine examples of bedroom furnishing that contribute equally to aesthetics and provide a function. Such tables and stands do not necessarily have to be located in the bedroom. They are fine objects to put in almost any room within the house. All you need to make sure is that the color, shape, and style resemble the room's overall theme.
Opt For The Dark Arts
When it comes to wooden furniture, many individuals prefer the darker variants. Dark wood furniture has a distinct look that does not always go well with most other color variants. Imagine a completely white room with a bunch of dark brown furniture. The massive contrast itself is a bit of a letdown.
Dark-colored furniture looks amazing when coupled with other materials of a similar color combination. If you are looking at a complete refurnish work, take your time and think about your plan. Acquiring dark wooden furniture can certainly raise the elegance of your room.
However, if everything, including the walls and the ceiling, were covered in "black," chances are, the entire room would look and feel gloomy. Make sure you include certain portions painted with lighter colors in the room. This will balance the color combinations out while keeping with the limits of consistency. In fact, any old wooden furniture that has been scarred or stained in a particular spot can be painted dark brown to conceal the blemish.
Paintings Are the Real Deal
Integrating wood furniture in a living room or a bedroom may require more work than you think. Mixing the colors and finding the suitable spot to place, say, your favorite wooden chair, may not give you the best results without a prior plan.
Try adding a painting right where you plan on keeping your chair. Go for a deep-colored wooden frame that matches the furniture you want. You can also make the painting the main focal point in the room – with the furnishings playing a secondary role in contributing to the aesthetics. The choice is yours. Just make sure your plan is comprehensive and absolute.
Experiment With Color Tones
Some people love going over the top. If that is what you are planning on doing, try choosing a variety of wooden shades for your furniture and place them together. Take a dining area as an example. Considering the floor and ceiling are bright white, try out an extremely dark hue for the main attraction of the room: the very important dining table (assuming the build is standard).
Keeping that in mind, try choosing lighter shades of brown for the surrounding furnishings, like the chairs, adjacent sofa handles mirror frames, possibly a grand piano, and more. You can even go for different shades of light brown or yellow ochre for each piece of furniture. While this may sound like a mess of colors, in reality, the variety itself is greatly appealing.
Final Words
Whether it is an elaborate dressing table or a basic dining chair, wood furniture has what it takes to light up a room if painted and placed properly. Try visiting a friend's place who already owns a wood-furnished house to make matters easier to fathom. You will see the difference and might get enticed to get it done at your own house right away. We suggest you take your time, understand the intricacies of this matter, and act accordingly.