Dining Chairs Height: Read This Before Buying Your Dining Chairs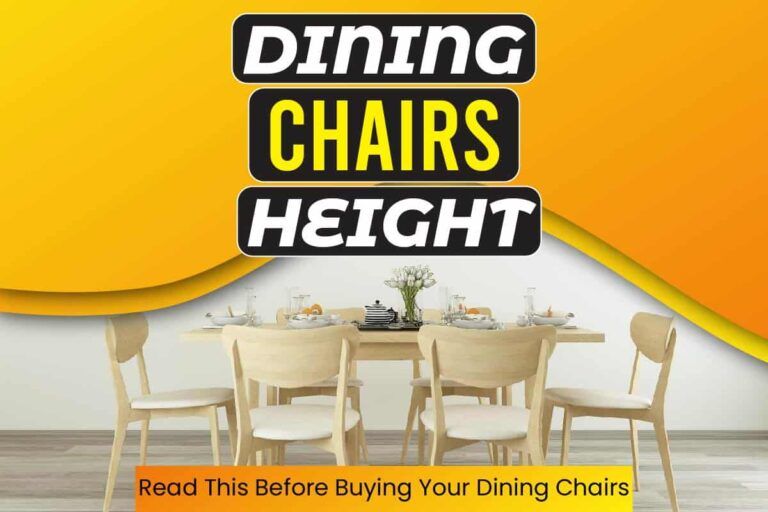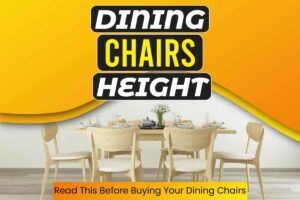 A dining table is nothing without chairs. It would not be easy to eat on such a table. So, in essence, the chairs surrounding a dining table make it complete and useful.
Chairs are among the most useful piece of furniture in a home. They can even enhance the appeal of your interior décor.
However, one aspect people often overlook when buying chairs, most especially dining chairs, is the height.
With the ideal dining chair height, getting in and out of the chairs would be a breeze. You will also feel more comfortable eating and chatting at the dining table for an extended period.
You don't want your knees to bang the dining table every time you take a seat. Nothing can be as uncomfortable as that.
This post shall reveal things you need to know about dining chairs height to make an informed decision.
What's A Standard Dining Chair Height?
Let's be honest. Dining chairs have no standard height. You have to decide what's best for you.
Generally, most dining chair height range from 17 to 19 inches (40 to 43 cm). This height is from the top down to the chair's legs. In this case, the dining table height should be 28 to 30 inches (71 to 76 cm) tall.
When choosing dining chairs and tables, make room for any support beam underneath the table. The chair has to move freely underneath the dining table. There should be enough room for your legs and napkins to go under the table without any obstruction.
However, not all tables are the same. Some are short, while others could be taller. It all depends on the choice of the owner.
Most tall people may also want taller chairs, so they can sit down comfortably while eating.
A Handy Tip: Leave between 10 to 13 inches of space between the underside of your dining table and chair. Though this depends on what you want, giving such an allowance will make your guests feel comfortable on the chair.
Your guests or anyone seated on your dining chairs should be able to stretch or cross their legs while seated. It will make them more comfortable. And they can even seat on the chair for a long period without getting tired.
Tips For Measuring Dining Chair Height
Though style matters, what counts the most is the chair's comfort. You can give your pelvic more stress if you don't choose the right dining chair height.
For this reason, when you walk into a furniture store, go with a measuring tape. Don't be shy.
Measure the chair height to know if it's the ideal height for you before splashing the cash. Let the salesperson know why you have decided to measure the dining chair. He or she may even support you.
So, how can one measure a dining chair?
For standard chair height, measure the chair from one leg to the top of the seat's surface. Please note that the height of the armrest or chair back shouldn't be part of the measurement. You should only do so if sliding the chair underneath the counter or table is important to you.
You can choose a dining chair that has or doesn't have an armrest. The choice is entirely yours to make. However, some individuals prefer chairs with armrests, as this makes them more comfortable.
The design or style of your dining chair with an armrest isn't what counts. What matters is how comfortable the chair is.
When you slide your dining chair with an armrest underneath the dining table, it should pass through with ease. For this reason, it's advisable to leave about 7 inches (18 cm) between the underside of the dining table and the chair's armrest.
Tips On How To Choose The Ideal Dining Chair For You
There are diverse areas you need to consider when choosing a dining chair. And comfort is one of them. But besides comfort, fabric, finish, and style are all very crucial. Let's discuss these factors.
Consider the finish and fabric:
Your choice of dining chair fabric, including the finish, matters a great deal. But then, that depends on if you want your dining area to look sleek.
Your dining chairs can transform the look of your home. Don't take it for granted.
Now here's a quick question. Do you fancy mixed and matched looks? If yes, then pay close attention to the finish.
Consider incorporating a banquette and dining chair. The banquette should be completely upholstered.
The chair's finish could be of brushed oak or something more rustic. Just make sure the banquette and dining chairs are different but eye-catching.
Upholstered or un-upholstered:
Here's another choice you need to make. Choose whether you want an upholstered dining chair or not.
First, what makes both choices of dining chairs unique? The un-upholstered chair is narrower in size. Therefore, it can fit into a smaller dining table.
If space is an issue, such chairs will be a wise choice for your dining table. Un-upholstered dining chairs are a bit lighter. So you can move them around with great ease. Even your kids won't struggle to sit on the dining chair.
An un-upholstered chair will also be a breeze to clean up whenever there's a spill.
What makes upholstered dining chairs a wise choice?
There are diverse reasons. Upholstered chairs may add more beauty to your décor. You can choose any material you want for the chairs. But then, pick one that would complement the rest of your interior décor.
Upholstered chairs will certainly be more expensive. So, if you're working on a budget, go for the other option.
Comfort is another thing that makes upholstered dining chairs a better option. If you fancy hosting guests to long diners, you'll find upholstered dining chairs more comfortable.
Chair size:
Dining chairs come in various sizes. So is the space available to place them in the home. If were you planned to station the dining chairs and tables isn't that spacious, choose smaller-sized dining table and chairs.
Next, after picking the ideal size for the available space, decide how many chairs you want. Your dining room space will influence this decision.
Conclusion
The dining room is one of the most-used spaces in the home. It also serves a crucial purpose. The dining room is where every person in a home eats. Even though some individuals might prefer eating their meals in the room, they will certainly use the dining room one day.
The dining tables and chairs define a dining room. The chairs also have to be very comfortable. So, choose the perfect dining chairs. Measure the height, and be sure you're getting the right one before splashing the cash. We also highlighted a couple of things you should consider when buying your dining chairs.