The 10 Ingenious Tips To Choose The Best Kitchen Remodeling Company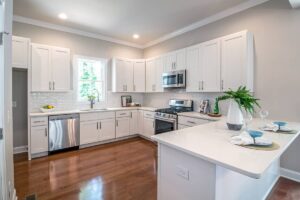 The thrill of embarking on a kitchen renovation begins the moment you make the decision. A kitchen renovation is a significant financial commitment. You want to select the best option possible, but not all kitchen firms operate in the same way or provide the same level of service. The unlimited possibilities of improved workflow, more cupboard and counter space, open concept living, and beautiful finishes can be alluring. Suppose you live in a beautiful area like Jupiter. In that case, it becomes more important to select the best Jupiter kitchen remodeling company as your house should be as beautiful as the world outside. 
Your choice of contractor will have an impact on how happy you are with the end product and how much value for money you get back. So, how do you choose the right kitchen remodeling company? Hopefully, the tips provided below will assist you in selecting the best business for the task and obtaining the results you desire.
1. Look At Company's Offerings
Generally, a good kitchen remodeling company will:
provide a ten-year or longer warranty on their kitchen cabinets

have completely qualified kitchen designers who can assist you in designing the ideal kitchen for your needs

rather than using modular or flat-pack kitchens, construct totally custom kitchen cabinets

inform you of where the cabinetry is manufactured and how long it will take to complete

Anticipate potential roadblocks and be prepared with solutions in case they arise

provide you recent client testimonials so you can get a sense of how it is to deal with them

allow you time to consider your options rather than pressuring you to buy on the first meeting
With all these things in mind, looking for a reliable kitchen remodeling company doesn't have to be a complicated process.You can browse the web to get information about some potential kitchen remodeling companies like Kitchen & Bath and other similar options.
2. Identify Your Unique Requirements
The most important thing is to be clear about what you require, as you will want to select a company that can first and foremost meet those requirements.
Do you have a pressing need for a kitchen? Because some organizations take longer to deliver than others, this is the first question you ask. If you have a tight deadline, stay away from kitchen firms that use offshore manufacturing. 
Is it simply the kitchen that you're renovating, or are you working on other areas of the house as well? Find a company that can do other joinery designs, such as wardrobes, vanity units, entertainment units, and so on, if you need more work done outside the kitchen.
3. Request Recommendations
Request suggestions for a local kitchen remodeling contractor from coworkers, friends, relatives, and neighbors. They might have worked with a kitchen remodeling company before which is worth recommending.
Moreover, one of the greatest methods to identify a skilled professional is by word of mouth, and if you're lucky, you might even get a sneak peek at their work.
4. The Three-fold Rule
To compare pricing, timelines, and experience, get estimates from at least three contractors. While you may be tempted to choose the lowest bid, it is critical to investigate any quote that is significantly lower or more than the others.
After all, there are many factors to consider to find the best kitchen remodeling company for your project. These can include the quality of the materials, hiring of subcontractors, value-added services included, insurance coverage, and other similar conditions.
By keeping these things in mind, you won'tget tempted to choose the company with the lowest bid. If you want to save money on your kitchen remodeling project, you can do that by gathering as many price quotes to compare as possible. That way, you'll know which option is right for your needs.
5. Hunt For Local Manufacturers
It's comforting to know that you may lessen your influence by making better choices in a world that consumes at an alarming rate and produces a lot of garbage. Always select locally created things over imported goods if at all possible.
There are numerous advantages to keeping it local, including:
improved product production and delivery times

improved quality control

prompt warranty and after-sales service

decreased carbon footprint

helps to keep jobs in the community
6. Better To Choose A Company Having Its Manufacturing Factory
If the kitchen company also owns the cabinet manufacturer, they are already leagues ahead of the competition. This implies they have complete control over quality, timeliness, and output, as well as the ability to move swiftly. 
Be aware of kitchen firms that employ overseas manufacturers. They can't always guarantee delivery schedules. And if any of the kitchen cabinets come damaged or with a warranty or after-sales difficulties, it could take a long time to resolve the issue.
7. Have A Look At Testimonials
There's no better way to find out what it's like to work with a firm than to ask its customers. In an ideal world, you'd like favorable evaluations, but the bad ones are just as significant. Because glitches can arise, look for a company that handles them fairly and properly.
On the other hand, if you want to get the most out of testimonials, check out some reputable third-party review websites that provide accurate and genuine reviews about your prospects. You can also visit your prospective companies' websites to know what their clients have to say about them.
8. Go For Experienced Companies
A contractor who has been in business for a number of years will have established a positive or negative reputation in the community. They're also more likely to have built good ties with vendors, which could result in a larger assortment at a lower price.
Don't just take the contractor's word for it; check to see if he or she is licensed, bonded, and insured. Obtain the required information and double-check it by contacting the appropriate municipality or association. You can also call some references to know the work performance of your prospective kitchen remodeling company. 
9. Get A Quote In Writing
Request a full, written estimate that includes all costs, including labor, as well as a predicted timetable for the project's start and completion.
If your prospective kitchen remodeling company can't provide a written price quote, it may be a signal to walk away and consider another prospect.
10. Examine The Quote
You'll be able to tell if the quote comes from a seasoned kitchen remodeling and design firm or a newbie contractor. Experience is important, which is why hiring a kitchen remodeling company that has completed multiple similar jobs will make your project go more smoothly. 
An expert firm will provide a full breakdown of the scope of work, site plan, task schedule, stage timelines, pricing, and payment plan. They will also ensure that there are terms about plan revisions as well as material and quality warranties.
Conclusion
That covers everything you need to know about finding and choosing a kitchen remodeling business. Above all, you should never feel rushed or compelled to make a decision, so take your time. You should be completely confident in your decision to proceed, so ask as many questions as you need before signing anything. 
After you've discussed everything with the company, make sure you draught a contract that spells out the terms and circumstances. This will safeguard you against delays and financial losses if things do not go as planned.