4 Reasons Why You Should Hire Only Licensed HVAC Contractors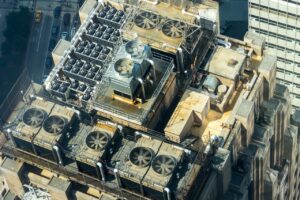 Saving money is crucial for homeowners, so it can be highly alluring to hire an unlicensed contractor if you can do so in the short term. However, you must be certain that you are receiving the best care available for your heating and cooling systems. Even so, a lot of homeowners are eager to cut corners by hiring an unlicensed professional to fix their HVAC systems.
Unfortunately, doing so could wind up costing considerably more in the long run. The only way to ensure that your HVAC system is always in the greatest shape is to hire a qualified professional. Here are a few explanations for why you should never work with an unlicensed HVAC contractor.
Licensed means insured
When the typical homeowner first reads this, they might not think much of it, but it's actually crucial. In the event of unanticipated and tragic circumstances during a project, you and your house will be covered if you hire licensed HVAC contractors. Insured contractors will be completely protected if anything is damaged while they are working.
When hiring unlicensed labor, many homeowners are unaware that they may be held liable for any damages if the workers are hurt on the job. That affordable price suddenly increases in cost, and surely no one wants that. That's the number one reason why you should always hire certified and licensed local professionals. So, if you live in Barrie, Canada, for example, you need to look for the best HVAC contractors Barrie has to offer to make sure that you will get top service and not be scammed when it comes to insurance.
Licensed professionals follow the latest HVAC regulations and training
A licensed contractor can ensure that all of their activity complies with building rules in your city and its surrounding areas and will be aware of which projects require permits at what times. You may not think this is important right now, but it will be very important if you ever decide to sell your home.
A certified HVAC contractor will only utilize parts that have been approved for your system and the best tools possible when you need any portion of your HVAC fixed. As a result, their work won't violate your warranty as it may if it's done by an unlicensed contractor.
There is a warranty on their work
Too many individuals who are attracted to unlicensed operators' inexpensive prices find themselves in difficult positions when their systems malfunction and there is no guarantee for the work that was done. Since everyone's needs must be addressed and they must be satisfied with the contractor's work, licensed contractors provide a warranty which means that if you're unhappy with their work for any reason, they will take full responsibility for the potential damage or poor workmanship.
This way, you can either get another contractor that will do the work as expected or you will get your money back. If you don't know what you're doing, please do not attempt any DIY on your system as you can damage it. You will not get these privileges with an amateur or unlicensed contractor that may even potentially scam you and maybe further damage your HVAC unit. Don't let their lower fees lure you in, for a couple of dollars more, you can be sure that your unit is in the right hands.
You'll reduce your energy use
Professional HVAC installation, maintenance, and repair encourage effective HVAC operation. An experienced technician will assist with sizing during installations. Remember that large or undersized units use more energy than is required. A licensed expert will assist you in selecting the ideal HVAC unit based on the number of areas, the size of your home, the number of people, the arrangement of your windows, and the local temperature.
An expert knows exactly what your HVAC system requires to operate effectively. To reduce energy use, they will clean, modify, repair, or replace the components as needed. An expert will carefully clean your system to improve circulation and lubricate mechanical parts to ensure smooth performance during tune-ups. In accordance with the season, the contractor will also modify the cooling and heating limits. This will improve your unit's energy efficiency.
Final thoughts
Some homeowners are tempted to undertake DIY initiatives or hire unlicensed contractors to address HVAC problems in order to save money. While some jobs, like changing air filters, can be completed without expert assistance, more complicated installations, replacements, and tune-ups do. Large-scale harm can be caused by a single mistake. Making DIY HVAC repairs or hiring unlicensed contractors could get you in trouble with the law. The advantages of working with a certified HVAC expert exceed the cost savings from making your own repairs or working with an uncertified contractor.