Corridor Vs. Hallway: All You Need To Know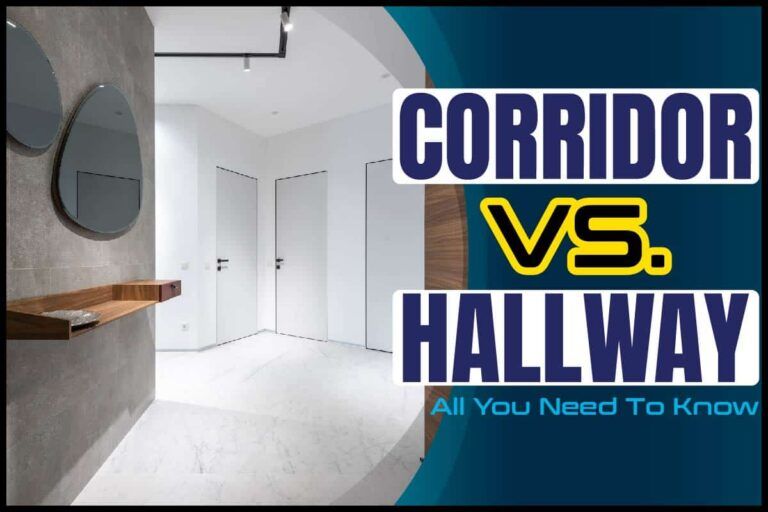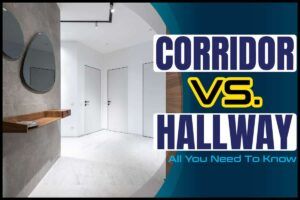 Over the years, lots of innovations have improved how buildings are structured. Before corridors and hallways, people go through one room in a building to get to the next.
And so, the need for privacy brought about the need to separate rooms with a corridor or hallway.
Today, the innovation has gone beyond creating privacy. It has also surpassed just separating rooms. In homes today, they're being utilized for other purposes to suit the needs of the owner.
This post highlights the comparison between corridor and hallway. Also, you'll understand how to utilize both in your home properly.
What Is A Corridor?
A corridor refers to a long passage within a building that has doors on both sides. It also describes such passage in office buildings, prisons, or hotels. It's usually not wide but lengthy and connects different parts of a building. Corridors can also be passageways within a train or ship.
However, how wide a corridor depends on the function of the building. For instance, hospitals and hotels have very wide corridors to fit suitcase wheels, trolleys, beds, wheelchairs, and so on. But office buildings don't necessarily need a wide corridor. A moderate one will do.
Corridors create a form of privacy in buildings, such that you don't have to go through a room to get to the other. All you do is walk down a corridor and go into any room. Sometimes, there may be windows at the side of a corridor to light it up or artificial lights to prevent dark corners.
Furthermore, they form exit or escape routes in a building. Sometimes, they're constructed to be fire-resistant.
What Is A Hallway?
A hallway is described as a passageway in a building that is not between doors. Also, a passage connects rooms in buildings. It's more common to refer to the passage that connects different rooms in a house like a hallway than a corridor.
Furthermore, a hallway can refer to an entrance hall. An entrance hall is seen in a house when you enter the front door, right after the front door.
Similarities Between Corridor And Hallway
Corridor and hallway connect various rooms in a building. Both are mostly narrow and used as a passageway.

They both provide paths where people can access and exit.

They're in between doors in a building.
Differences Between Corridor And Hallway
A corridor is usually used formally, but a hallway is more informal.

A hallway refers to a corridor, but a corridor doesn't always refer to a hallway. A corridor can also be outside a building. Also, it refers to the passageway in a ship or train, but a hallway is not.
How To Design A Hallway Or Corridor At Home
Your hallway or corridor is usually the first thing visitors see when they enter your house. So it would be best if you make it look appealing and inviting.
To design your hallway or corridor, you can do the following.
Make use of gallery walls:
Gallery walls can make your entrance hallway or corridors stylish. To add a gallery wall, you can put up some family photos in a single style. Also, you can use your favorite art collection or online print collection.
You can also make it more stylish by making the photo frames a lighter shade if your wall paint is a dark shade and vice versa. If your hallway has a staircase landing, hang an artwork facing the landing. Adding a bench to complement your design can be amazing.
However, be careful not to over stack pictures on the wall. Doing so can make it look too narrow.
Style with wallpaper:
You can deck your hallway walls with wallpapers. There are various designs so that you can use floral, strips, and fun colors. Just play with different color combinations.
If you're looking for a more traditional touch for the wall, you can use exposed brick wallpaper. It's becoming a trendy style.
Hallway lights:
You can design your corridor with hallway lights. They're very useful for a long narrow corridor. Get creative by placing them near mirrors or other shiny objects in the corridor. It will scatter beautifully along the hallway.
Design with ceiling lights:
Adding decorative ceiling lights in your hallway is another incredible idea. It will even add more style when you combine it with paintings or other wall designs. Also, you can utilize a built-in LED backlight or spotlights to give your hallway a unique appeal.
It's also essential to make sure that the lighting is right for your design. Ensure there's no dark corner in your hallway, something that can be bad for your design.
Design with runners:
You can design with a runner. Carpets give a warm feel to the hallway. You can use carpets with light horizontal strip to make your narrow hallway appear wide.
Placing a rug along your hallway can also protect high traffic floors, even as it adds to your design.
Place a mirror:
You can hang a mirror at the end of the hallway, especially if it's a narrow hallway. You can even add more mirrors to suit your taste. This could be an amazing design idea for your hallway as it shows reflections of other designs. You can also mount it on any part of the wall with imperfections or faults to hide it from sight.
Add antiques:
Placing an antique in the right way can make your hallway more appealing. Sometimes all you need is a perfect vintage piece to create your style.
Beautiful flooring:
The flooring in your hallway is an essential aspect of the space. You can select from many appealing flooring types, such as ceramic tiles, vinyl, or hardwood.
Consider the durability of the flooring because of its regular use, and ensure your choice is easy to clean. For example, hardwood is perfect for high-traffic areas and is virtually stain-resistant. Keep in mind that you should consider having your hardwood flooring installation done by a professional to eliminate complications during the project. Only the experts have the proper training and tools to finish the job beautifully.
Add flowers and plants:
You can bring nature into your hallway design by adding flowers and other irresistible plants. A simple vase of flowers can add a natural touch to your style. Also, flowers can give off a nice scent when you place them beside the entrance door to your hallway.
Furthermore, when your hallway has neutral colors, plants and flowers can improve it.
Add windows:
You can add windows where it's possible. It can give a wider look to space and make it brighter. It also shows off an elegant taste.
Use tapestries:
If you don't like the idea of having a lot of nails on your wall to hang your photos and paintings, then you can use tapestries. There are various sizes, and they can cover a large area of the wall.
You can utilize its design to decorate your hallway. Also, it has a variety of materials and styles, such as wool, cardboard, and leather.
How To Make Full Use Of Your Corridor Or Hallway Space
Utilize your hallway space to the fullest. And some of the ways to achieve this include:
Hanger and nooks:
You can utilize your hallway by adding racks, hangers, and even a shoe basket. They can serve for keeping jackets, keys, umbrellas, bags, and shoes. What's more, they don't take up space or make a mess.
Make a mini-library:
You can create a mini-library from your hallway space. You can add a narrow bookcase for storing extra books away. Also, you can add a shelf that extends from floor to ceiling to increase the space for your books and magazines.
Display your favorite objects:
You can use your hallway to show off your favorite objects. It may include vintage objects, antiques, or artworks. It can become a place for your guests to admire beautiful items.
Create a work area:
You can use a nook or corner of your hallway to add a small desk for your workspace. Just measure the space to know the kind of desk that'll fit in.
Add a storage space:
Maximize the hallway by adding storage space. Whatever you need the most, from shelves to cupboards that you can organize for your storage needs. You'll find a built-in closet handy for storing crafts and kids' toys.
Furthermore, you can use it to store seasonal clothes, sheets, towels, and tablecloths. Mounting the storage on the wall will create more space.
Utilize bench and armchairs:
A bench or an armchair can make your hallway welcoming. It can make it easier to pull off shoes at the entrance.
Conclusion
It doesn't matter what you call it, corridor or hallway, their major purpose in the home is the same. An empty hallway or corridor can make your house look awkward. So come up with creative ideas to utilizing these spaces to the fullest.
You can make your hallway or corridor functional if you want. But ensure you don't overstuff your hallway or corridor with furniture. Just try to get the best out of your space.