7 Design Ideas For Your Small Potting Shed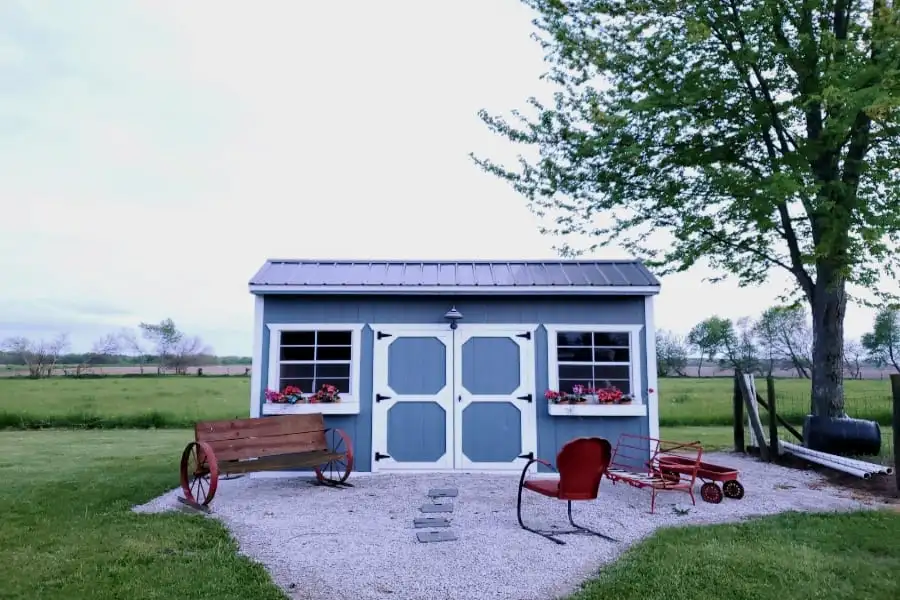 A small potting shed, also known as a garden shed, comes in different colors, sizes, and shapes. This idea can do the trick if you want to add some life or storage to your garden. Keep reading to learn about the different designs you can choose from for your garden shed.
Small Potting Sheds
If you don't have a large amount of space in your garden, but you still want somewhere to grow your plants, then a small potting shed is a great option. These tend to be between 4ft and 6ft long, meaning they take up far less space than a larger potting shed.
Furthermore, many people use a garden shed because you can use it for various purposes. Besides growing your plants, you can use it to put your gardening tools and kits, so they get protected from harsh weather. You may also utilize it as a theme for your garden by implementing the following design ideas:
1. Make The Front Charming
Instead of traditional small potting shed designs, you may want to make it look like a small front porch. With the addition of artistic architectural details and red-painted shutters, this design can help the shed exude a sense of warmth. You may also include a side table and a chair surrounded by vibrant flowers and colors. This might help brighten your day when you see it in your garden.
While its primary purpose is to store your gardening tools or plants, you can use it as a place to drink your morning coffee or afternoon tea while watching your kids play. Alternatively, you might spend time reading in this chair surrounded by your plants.
2. Add A Place To Hang Tools
It is also necessary to design an interior that is functional for its intended use. Customize a space to hang your hoes, brooms, loppers, rake, forks, and spades instead of leaving them in a corner. You can hang such tools from specialized storage racks, a row of hooks, or a pegboard. Not only will you quickly see the tools you need, but they're not scattered around on the floor. With such, you can have a neat potting shed since the hooks and rack can run horizontally or vertically.
3. Make It Practical And Customized
You can customize storage solutions to fit your specific needs as an additional means of concealing clutter and equipment. If you want your shed to last, it must resist weather and other environmental factors. First, using the latticework as a guide, raise the shed onto a foundation resting on top of a layer of dry, level pea gravel. Any prefabricated potting shed can be transformed into your own with a little hard work and paint. The galvanized steel planters and weather gray paint color on a bright green hedge are a great way to maintain the color scheme.
4. Make It An Artsy Garden Shed
Your potting shed can double as a workshop for your creative endeavors. If you're not using your potting shed for gardening, you can convert it into a gallery or backyard studio. The following are some suggestions for accomplishing this:
Create A Getaway:

Who says potting sheds are only for plants and gardening tools? Why not create a place where you can also retreat and get away from life? Designate a small spot that can act as your man-cave and she-shed since gardening can also be a relaxing activity.
Sprinkle Some Color Into Your Garden:

Your potting shed doesn't have to look like the traditional ones. If you want to make it lively, then paint it with maroon, brown, green, yellow, purple, blue, red, and others so you can have rainbow-colored walls for your shed.
Blend It In:

If you don't want to make it stand out, blend it in your garden. Please do so by painting its trim with a shade that matches the color of your garden. But if you want to make it stand out, paint the windows and doors red or any color that is not present in your garden.
5. Make Every Side Usable
You can utilize the side of a potting shed in numerous ways. For instance, you can make one of its sides as an alfresco sundowner in summer or a bar for garden parties. Since your potting shed may have pots of herbs, you can use them for your cocktails. To make it appear like a bar, hang bunting and signs to make it ready for a party.
On the other side of the shed, you can make a vertical garden from its horizontal fence panels for smaller baskets and pots of plants. To maximize the space, put potted plants below the frame. To make green foliage larger and more prominent, paint this side of the shed black.
6. Utilize Salvaged Shed Materials
If you're a pro in recycling or don't want to throw away some usable wood and other construction materials, then salvage them to create your potting shed. Such materials can set a casual tone while forming the greenhouse's structure. In addition, you can add an eclectic vibe by adding formal hedges and topiaries from English garden sheds.
7. Have A Glass Garden Shed
Glass can be used to construct a potting shed that serves as a greenhouse in warmer months and a storage shed when the weather turns chilly. This bright and airy design may let the surrounding landscape shine. Moreover, you can make it cozier by adding window boxes and gingerbread molding.
Conclusion
Taking into account the above designs, your originality can shine through in your small potting shed. You can choose either a colorful or conventional design for a garden shed. In addition to being used as a planter or storage, it can also be utilized as a studio, bar, and for other purposes.