8 Fast Ways To Organize Your Workspace At Home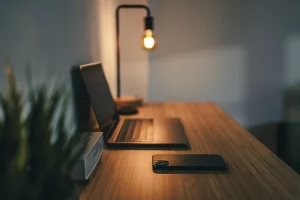 Working at home isn't an uncommon format. These days, plenty of people work remotely, and, love it or hate it, the work-from-home concept will not disappear. In fact, it will only prevail as more companies allow their employees to work from home.
Those myths that remote work negatively influences productivity have long been debunked. People working from home report their effectiveness surged, but, of course, many depend on the setup.
Working remotely heavily relies on the environment. In the office, everything is readily organized, so you have nothing to do but start working; home, conversely, requires an individual, thoughtful approach to the workspace. The following are eight quick and elementary ways to arrange your space and set you up for efficient everyday work.
Opt For The Right Colors
We live in a world full of vibrant and lively colors. Think of colors as people. Some may be pleasant to interact with; some can be sophisticated enough to provide you with food for thought. But some are also not your cup of tea.
Choosing the right colors will help you focus on your daily tasks and tackle them efficiently. Whether you like tranquil, monochrome, or dynamic colors, creating vintage posters and putting them on the wall will work wonders. Not only posters, but you can also create a wide array of other visuals and enjoy them throughout your workday.
Ditch Unnecessary Stuff
Needless to say, remote work has its hiccups. Many people don't like it, but that often comes from their inability to separate work and daily life. That is to say, their desktops are always filled with so many things they don't utilize when working. And when they need to reach anything related to work, they can't do that fast, which irritates them.
The fastest way to organize your desktop so that you have plenty of space is to wipe it clean. Once the desktop doesn't have one item, start retrieving stuff you usually need while working. You'll be surprised how much space you'll have once you do away with redundant elements.
Place Things According To Their Importance
Tedious and somewhat nerdy as it might sound, organizing things according to their importance is something you can't overlook when working from home. Suffice it to say, home isn't an office, and you won't have as much space at your disposal at home as you would in an office. Still, you can arrange items and reach them at the drop of a hat if you approach the matter mindfully and ergonomically.
You probably have a set of drawers installed on your desktop. Regardless of their number, make sure to place A-priority documents in the first drawer, B-priority ones in the second drawer, and so on. No worries if you don't have any drawers at all. You can buy them or any other set of plastic containers and do the same trick as described above.
Organize Those Wires
Cables may not hold lots of space, but tying them up will endow the place with a professional setting. Besides, cables chaotically scattered around the desktop are incredibly exasperating. Having them here and there, you often move them from one side of the table to another, which decreases productivity.
The great thing about this way is that it can be entirely free. If you can't spare several bucks for small cable and wire management tools, you can easily use tape or any plastic tie.
Have A Notebook And A Planner In Front Of You
Whether your desktop is empty or packed with the necessary items, you must not forget to include two more things that will make your business days more fruitful and organized. A notebook and a planner are essential if you want to be alert on incoming tasks, meetings, etc.
A notebook will allow you to jot down ideas when you have a flash of inspiration. A planner, in turn, will help you schedule things and manage time effectively.
Add Elements That Make You Comfy
The phrase feel yourself at home is very much applicable to the workspace. This intimate element makes you feel secure and relieves tension. You are free to add anything that makes you comfortable, be it a picture of you with your partner, a dog, a watch, etc.
Get A Good Lamp
Securing a bright light is pivotal if you want to A) work productively and B) maintain your sight. That's particularly the case if you tend to burn the midnight oil. Besides, a good lamp will prevent you from being dizzy early in the morning.
Think About Tomorrow
You may have a large desktop with folders organized from A to Z, and that's very helpful. But what's equally important is the attitude. Nothing will be of use if you don't approach your work earnestly. The most effective and easiest way to improve your efficiency is to plan. Make a habit of thinking about incoming tasks and outlining your strategy to complete them. Use the planner and notebook to create a step-by-step plan. Besides, whatever you need to complete the upcoming tasks, ensure to prepare them beforehand.
The Bottom Line
The list of ways can be limitless. Nevertheless, the mentioned tips aren't time-consuming and don't require a solid budget to customize your workspace at home. Hopefully, completing them will improve your desktop and set you up for the work.