The Average Master Bedroom Size: Must-know Details And Tips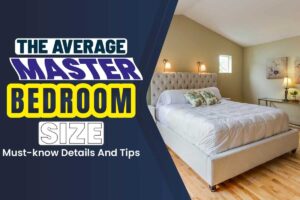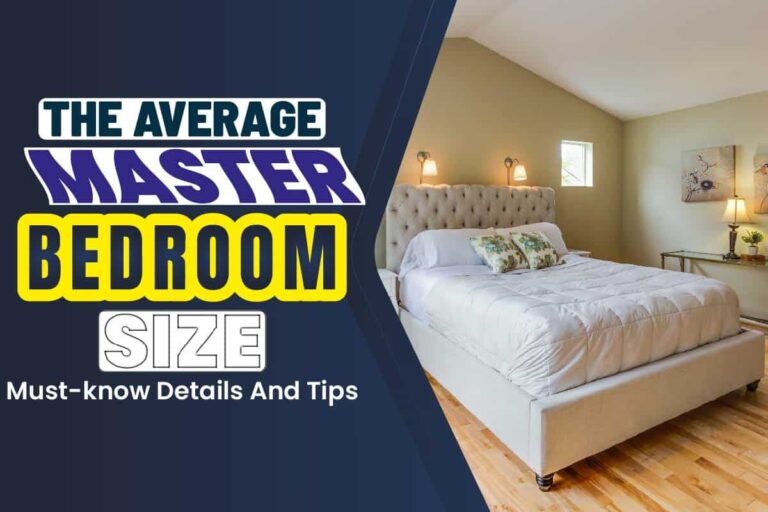 What is the average master bedroom size? That's what we're going to address in this post. But before we do that, understand there's a reason architectural designs are done on paper before the actual building commences.
Imagine building a house only to discover that your master bedroom size isn't what it should be. Anyone in this position would be devastated. That's the ugly truth.
So, before you start building your house, upgrade your knowledge of property development. For example, what is the average master bedroom size?
Anyway, that's just one of the things you need to learn. There are tons of them. If you know these things, you can make an informed decision when developing your property.
So, let's address a crucial question.
What's The Average Master Bedroom Size?
Your master bedroom size would depend on a host of factors. These include the available space, preference, lifestyle, and furniture you would like to have in your bedroom.
If the house measures 2000 and 3000 square feet, the average master bedroom size would be 231 and 411 square feet, respectively. 350 square feet is the average master bedroom size of the new homes we have today.
The good thing about these types of bedrooms is that you can comfortably place your king-size bed and other amazing pieces of furniture in them. And even so, you would still have more space for movement and so on.
Alright, that's the answer to the question. However, we have more details about this topic in store for you. So continue reading!
What Does Master Bedroom Mean?
Most people often confuse the word "master bedroom" with the "master suite." Some use both terms interchangeably. So let's define what each means.
A master bedroom is by far the largest room in the home. Most times, it's situated in the most desirable location in the home. The master bedroom may also have the best views and facilities than any other room in the house.
It can be a valuable asset to a home. If you plan on selling your property in the future, having a master bedroom can prove valuable.
The master bedroom is not only big. It's also occupied by the head or owner of the home. Its large space means that one can add a range of amenities to the room. You can even place a king-size bed and other pieces of furniture in there.
Difference Between A Master Bedroom And Master Suite
Since the master bedroom is the biggest room in the home, what then is a master suite?
A master suite boasts everything you will find in a master bedroom and more. It's super large and has a private en suite bathroom. The bathroom is attached to the room.
In a master suite, you can move from the room to the bathroom. This room also boasts a wide array of amenities.
Besides a private en suite bathroom, you can have diverse amenities in a master suite. Here's a quick rundown on some of those things.
Wet bar

Foyer

Fireplace

Linen closet

Walk-in closet

Attached office

Private balcony

Sitting place
Size-wise, the master suite can be made bigger than the master bedroom. And the major reason such a bedroom got invented is to give the homeowner enough privacy.
The master suite can have diverse amenities. It all depends on the homeowner's preference and lifestyle.
Executive or luxury master suite refers to rooms loaded with amenities, including a private en suite bathroom. Such rooms are also usually very large, measuring 300 to 600 sq ft.
So, in a nutshell, the master bedroom and master suite are different. Therefore, there's no need to use both terms interchangeably.
A Handy Tip: The master bedroom boasts a master bathroom with a bathtub, vanity sink, and shower, including a massive mirror.
Average Size Master Bedroom Perks
What should you expect to find when you walk into a master bedroom? That's what we're going to address here.
But then again, we can't forget that people's taste differs. While some might prefer a master bedroom packed with amenities, others might not fancy such.
One's financial capacity also matters a great deal. Having the finance to build the house is one thing. Equipping it with top-notch pieces of furniture and amenities is another.
Now let's answer the question. What are the common things you would find in a master bedroom, given the space and caliber of person that's meant to live there?
A desk

Nightstand

Dresser

An ample closet

Queen or king-size bed

A single but large closet or two separate closets
A Handy Tip: Unlike the master suite, the master bedroom doesn't have that much space to accommodate an office or sitting area. You can create an office or sitting area, but that would cost you too much space in the room.
The purpose of building a master bedroom is to give the homeowner a little bit of privacy and space. You can have a desk in your room, in those moments when you have some unfinished work from the office to get done.
Tips For Picking Master Bedroom Location
Many things come to mind when developing a property. When you start interacting with your builder on the floor plan, you have to make several decisions. These include kitchen type, the openness of the floor plan, bedroom sizes, including the number of bedrooms to have in the property.
All these are necessary to build a perfect home. Unfortunately, one critical thing many forget to consider is choosing the best location for their master bedroom.
Studies have shown how crucial bedrooms are in a home. On average, we spend one-third of our day in the bedroom.
So it's critical to make this special part of your property desirable. You need to choose the right location for your master bedroom if you plan to live in the house for years or have it sold one day.
Here are critical factors to consider when choosing a master bedroom location.
Choose between the first or second floor:
Whether your house has a first and second floor or not, leave your master bedroom on the first floor.
The first floor is a more convenient option than the second floor. Why? Climbing the stairs to the master bedroom on the second floor won't be a good idea for older people, especially if there's no one around to keep an eye on them.
Again, leaving your master bedroom on the first floor would give your home some sense of security and safety. In case there's an emergency, you'll be able to respond quickly.
Your home's resale value:
If you have the mind of selling your home at some point in your life, having your master bedroom constructed on the first floor is a good decision.
Having your master bedroom on the first floor can increase a home's resale value.
Choose room direction:
Most people don't consider room direction as a big deal when planning or building their homes, even though they should.
According to Vastu Shastra, an ancient guide to building a positive home, locating bedrooms south-west is the best direction.
The ancient guide claims that locating the master bedroom in such a position brings longevity, prosperity, and good health to the homeowner.
However, modern builders hold a contrary view. They may agree that the north is the finest direction to locate a master bedroom. It allows the room to enjoy the sun's warmth. The room will also receive a great amount of natural light.
Conclusion
So, you have seen the average master bedroom size. Now you can start developing your property with the tips and knowledge shared in this post.
The master bedroom is one very crucial room in any property. It's the place set aside for the homeowner. This could be the father or most senior person in the home. So, everything needs to be top-notch to make the room more inviting.