How To Simplify Cooking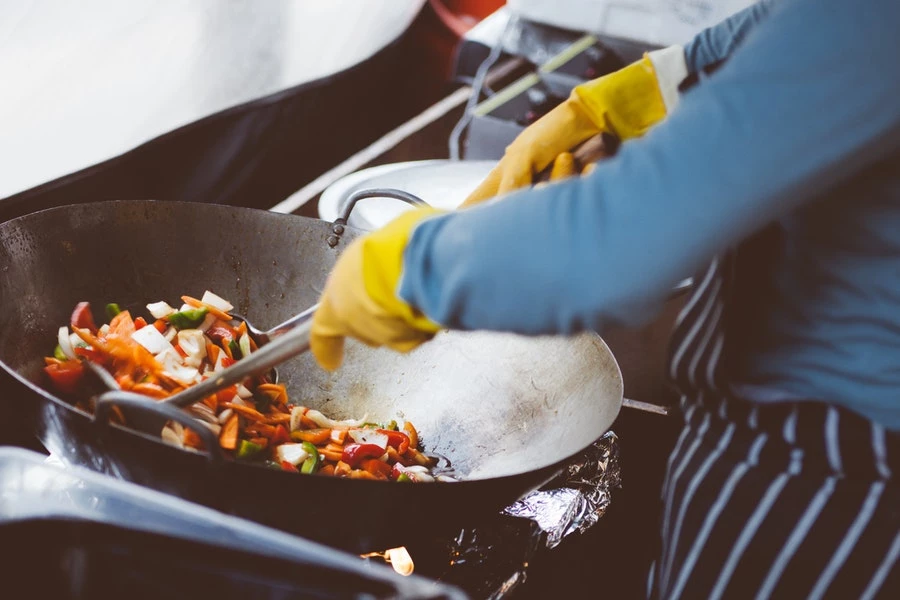 There's nothing like a delicious meal, especially one you cook yourself. Sure, dining out is an experience that comes with the added benefit of no post-meal clean-up. But there's something about hand-picking the ingredients that go into a meal, the food preparation, and the final satisfaction from a completed dish. It's gratifying, and you can order as much as you want to without feeling guilty (because you're in the comfort of your own home).
However, one common hurdle to achieving those positive feelings is overcoming the battle of actually wanting to cook. Cooking is a process that can take hours and, if you aren't patient, it can be a struggle just to get through. That's why so many prefer dining out—cooking can be downright difficult! Luckily, it doesn't have to be. The joy of cooking can be found everywhere and anywhere, at any time. You just need to tap into the ways that help you get out of your head and into your kitchen. After all, the best times are gathered around a dining table. The best conversations, the biggest laughs, truthful moments, heartfelt family and friends. Breakfasts, lunches, dinners, and celebrations. They all take place in the kitchen or dining room. Are you ready to go from cooking hesitant to being eager to make a meal?
Here's how to simplify cooking in just four easy steps.
Choose Meals You Enjoy
Oftentimes, the hardest about cooking is trying to decide what to make. Forget vegan versus meats, but there are countless ways to cook a single thing. Just think about all of the different variations on how to cook chicken! And that's just the main dish. Then, you need to sort through all the sides and dessert (if you have a sweet tooth) options. With all of the different recipes out there and the seemingly endless choices across the internet, it all comes down to where to start. And it really is simple—to simplify cooking just choose a meal you enjoy.
The road to being interested in cooking is to cook meals that make you happy. If you love eggplant parmesan then create it for yourself. If you're a simple zucchini noodles and tofu, make that. Whatever brings you the most joy out of eating it will bring you even more joy just to create it. Because once the job is done and the fork is digging in, you'll have the ability to say you made something delicious (hopefully). It might not be the simplest meal to make but if you enjoy eating it you'll enjoy making it, and that in itself will simplify the process.
Follow A Recipe
Fortunately, there are many easy meals to make at home. Once you've narrowed down your favorites it comes down to putting the kitchen knife to the board, breaking open the fridge, and getting down to business. Many people make the mistake of thinking they know best when it comes to cooking, yet they never cook. They want to beat the clock, throw in a special seasoning, add in something extra, or forego an ingredient altogether because it seems unhealthy. Whatever the reason is, to simplify cooking it's always a good rule of thumb to follow a tried and true recipe. Once you get the recipe down, more than once (maybe aim for three times), then you can go off on your own. Get creative, turn up the heat. But even recipes aren't guaranteed to come out perfect, so it's a good idea to test them out first and solidify your skills with a repeat. This will ease any tension you may have in regards to cooking.
Pick Seasonal Items
One of the quickest ways to spoil a good meal is to have produce that's gone bad too soon. This not only ruins the meal but it creates a bitter taste in your mouth. A great way to simplify cooking is to pick seasonal items. Look up what's in season and choose those items. It might feel like it's too much to do, an extra effort you don't want to make. However, once the meal comes out tasting better than you ever imagined (because seasonal freshness goes a long way) it will simplify the process moving forward. You'll understand what to buy and when. Plus, seasonal items are always a lot easier to cook, as a direct result of their freshness.
Have The Proper Utensils
Have you ever tried to peel a carrot without a carrot peeler? Or chop a piece of meat using a table knife? The most effective way to simplify cooking is to have the proper cooking utensils. A tablespoon of oregano is not a literal tablespoon of oregano—use the measurement tool. And a cup of broth does not meal any cup in your dishwasher. And no matter how much a fork is good for, whisking cookie batter is not one of them (although it makes eating it a lot easier). So before you start to do anything in your kitchen, after you've picked your seasonal items for the recipe you're ready to follow the meal you can't wait to make, make sure your kitchen is prepared with the proper tools.
Now that you're ready to cook, follow these steps for a way to simplify the process and have fun as you do it!