Ovaltine Vs. Milo- The Malted Beverage Wars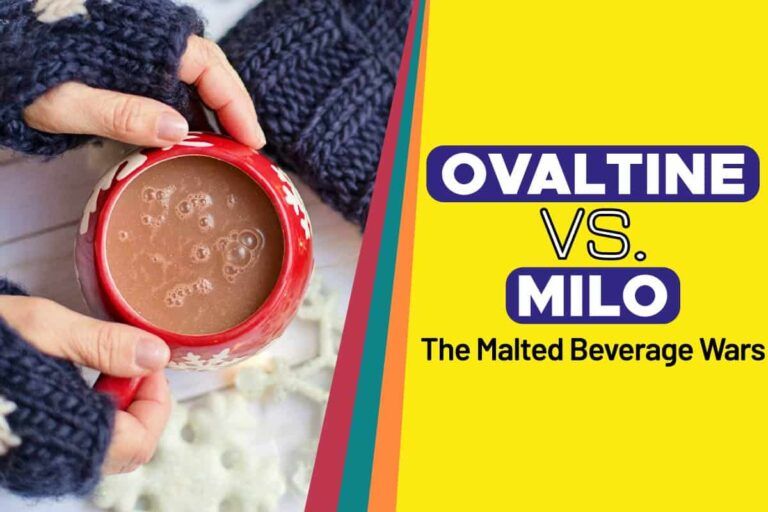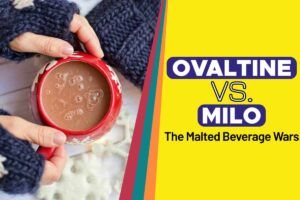 Ovaltine and Milo are among the most famous powdered malt beverages in the world. Almost all the stores and supermarkets have these brands.
Both are widely loved because they are delicious and so nutritious. One can get various minerals, vitamins, and even energy from one cup of Ovaltine or Milo.
The two brands have, in different percentages, managed to build a solid reputation and win the trust of their specific customers.
However, they are always in a constant battle of supremacy in the beverage world, with each brand producing unique but quality products to outshine the other.
The main difference between the two is the fat and nutrients concentration. Ovaltine sold in the US market has no fats, while Milo has. Ovaltine is also more concentrated than Milo in terms of nutritional content.
Ovaltine Vs. Milo
These two brands have some notable differences and similarities. They are the fiercest rivals in the chocolate-flavored beverage industries. If you are a lover of the chocolate malt drink, try out these two brands.
History
Ovaltine
It's a milk-flavoring product made from whey, sugar, and malt. It was formerly known as Ovomaltine. Its origin is in Bern, Switzerland. The name Ovomaltine was derived from "ovum," which means an egg in Latin.
The original drink was made from egg and malt. Later the company shifted to Neuenegg, where its production is still done. Ovomaltine was first exported to Britain in 1909.
Today, in the United Kingdom, Ovaltine is registered under the Associated British Foods, a British company headquartered in London. In the United States, it's produced by Nestle. It was acquired from Novartis in 2007.
Milo
Its country of origin is Australia on 29th August 1934. It was developed by Thomas Mayne, an Australian industrial chemist.
It's produced by Nestle, a Swiss company that deals with the production of foods and drinks. Nestle headquarter is in Vaud, located in Switzerland.
According to revenue plus other vital metrics, Nestle is the top-ranked food company in the world. Today, Milo is the best brand in the malt business world.
Consumption
Ovaltine
Ovaltine can be served in different forms such as; ice, hot or cold drinks. Brazil has the second-largest Ovaltine Company in the world and. It is the second-largest consumer of the product.
The Ovaltine produced in Brazil is unique because of its special production methods. It's commonly served (mixed) with vanilla ice cream.
Bob, the biggest competitor of McDonald's in Brazil, moves sundaes and milkshakes made from Ovaltine. While in 2016, McDonald's won the rights to sell Ovaltine branded milkshakes exclusively.
In Hong Kong, the Ovaltine is a unique drink; it's referred to as a café drink. It's served in some of the most popular cafes, such as Maxim's Express and coral. Ovaltine is served chiefly as an ice, cold or hot beverage drink.
In Malaysia, Ovaltine lost its popularity to Nestle Milo. It's the fiercest competitor in the chocolate malt beverage world.
However, the Ovaltine brand is still available and can be found in supermarkets. It's sold for cold serving in Tetra Pak cartons.
In Japan, Ovaltine was a fail. It was only sold in the 70s by the famous Calpis industries. In Australia, Ovaltine is sold in its compressed form as round tablets therefore taken like candy.
Milo
Milo is commonly served (mixed) with either cold or hot milk in Australia and New Zealand. It's a traditional beverage in the two countries.
The one thing that has made Milo so popular is that they are customer-oriented. Milo customizes their products for those that are outside Australia to meet the local preparation methods.
In Malaysia and most of the Asian countries, it's commonly served with ice. They refer to it as iced Milo or "Milo Ais" in their language.
Iced Milo is available in McDonald's and KFC. In Asian countries, it's also served with Milo Godzilla's name (this is a cup of Milo topped with ice cream). Milo Dinosaur (A cup of Milo, topped with an un-dissolved spoon of Milo).
It's available in many more forms, such as Neslo and Milo Mangkuk. It's also used to spice up the Batik cake.
Nutritional Value
Ovaltine
It's marketed as a healthy beverage drink for both kids and adults. The glass is nutritious and fits most diets. Ovaltine contains low fats and calories. It's got other essential nutrients that support better health.
It is more nutritious if you mix it with great foods that are equally nutritious. Here is the detailed nutritional information that is displayed on the Ovaltine packaging label.
Energy : 112kal/ 473.4kj

Protein (per serving 30 grams): 2.0g

Carbohydrates ( per serving 30g): 23.0g

Fat(per serving 30 grams): 0.9g

Sugar (per serving 30 grams): 16.4g

Sodium (per serving 30 grams): 42mg
Vitamins and Minerals
Calcium: 1351.2mg

Folic Acid: 48.6mcg

Iron: 19.2mg

Vitamin A: 716.3 mcg

Vitamin B1: 1.7 mg

Vitamin B2: 3.1mg

Vitamin B6: 2.4mg

Vitamin B12: 2.1mcg

Vitamin C: 77.1mg
Milo
The milo brand is commonly marketed as an energy drink. This is because of its high energy content. However, it also has other essential nutrients that ensure the proper function of the body.
Even though its composition varies according to region, Milo is generally made from cocoa, milk powder, malt barley, sugar, plus other nine vitamins and minerals. Here is the detailed nutritional composition of Milo, as highlighted on the packaging label. Per 30 grams of serving equals one cup.
Energy: 124kcal/519.0kj

Protein (per serving 30 grams): 3.5g

Carbohydrates ( per serving 30g): 20.1g

Fat(per serving 30 grams): 3.0g

Sugar (per serving 30 grams): 12.2g

Sodium (per serving 30 grams): 45mg
Vitamins and Minerals
Calcium: 520mg

Dietary fiber: 4.5mg

Iron: 11.5mg

Phosphorus: 580mg

Vitamin B2: 1.1mg

Vitamin B6: 0.6mg

Vitamin B12: 1.8mg

Vitamin C: 60g

Vitamin D: 5mg
If you're the type that is keen on sugar levels, Milo is the best option for you. It has lower sugar content. In addition, its carbohydrate content is relatively low too. However, Ovaltine has extra vitamins/minerals.
Health Benefits Of Ovaltine And Milo
1. Help in the development of strong bones
Ovaltine and Milo have been fortified with Calcium. Calcium is an essential nutrient that ensures the growth of strong bones. Children should take milk mixed with either Ovaltine or Milo.
Children who take milk mixed with Ovaltine or Milo have high calcium levels compared to those who take plain milk. Ovaltine and Milo optimize the Calcium plus boosts the calcium content to up to 66%.
2. Blood production
Iron is an essential mineral when it comes to blood production. Milo and Ovaltine contain iron minerals. Daily consumption of either of the beverages will cater to your daily iron needs.
Iron also performs some other essential functions in our bodies: regulation of body temperature increases focus and general body health, boosts gastrointestinal processes, etc.
3. Strengthens immunity
Ovaltine and Milo contain various vitamins. Vitamins are known to strengthen the body's immune system. Vitamin B6, one of the essential vitamins, is found in the two beverages. It helps in the production of red blood cells.
Therefore, it ensures the proper circulation of oxygen throughout the body. Vitamin B6 also has a positive effect on the immune system. Vitamin B12 is also an essential mineral; the lack of it makes you look anemic.
4. Help remove toxins in the body.
The efficient flow of oxygen in the blood quickens the detoxification process. The mineral iron plays a vital role in this part. The consumption of Ovaltine and Milo will ensure healthy organs such as the liver and kidney.
5. Boost respiratory and cardiovascular health
Cocoa that is used in the production of the beverages contains Theobromine. It does help to lower blood pressure, improve respiratory health, blood flow, and many more.
Theobromine is known to have more prolonged effects on our bodies than caffeine but has few side effects.
The Side Effects Of Ovaltine And Milo
Despite the numerous health benefits, Ovaltine and Milo do have some adverse effects on the body. The two beverages are known to be great energizers.
The energy is got from sugar and carbohydrates, which tend to have harmful effects if taken in excess. Here are some of the side effects.
1. Diabetes, heart disease, and other types of cancer
Ovaltine and Milo do contain sugar. The Sugar content is higher compared to other vital additives.
Sugar has calories, and excessive consumption will increase the fat levels in your body. Higher consumption of the beverages might lead to diabetes and other diseases.
The carbohydrates found in the beverages increase blood glucose levels. Higher glucose levels can be dangerous for people with diabetes and insulin resistance.
2. Increased weight
Milo and Ovaltine have high sugar content. Consuming a more significant amount of sugar won't reduce your hunger. It makes you want to drink more sugar.
Consuming more sugar means increased weight. I know it does not make sense to most of you. You are wondering how sugar is related to weight increase.
If you want to increase your weight, do not use sugary beverages to lead to other serious diseases.
Conclusion
Setting the comparisons aside, both Milo and Ovaltine are so nutritious and delicious. They are a reliable source of vitamins, minerals, and energy.
The choice you make is according to your preferences. If you need something malty or chocolaty, it's entirely upon you to choose your favorite brand that satisfies your needs.