How To Lock A Bedroom Door From The Outside: The Best Alternatives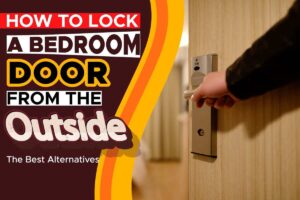 There is more to locking a door than personal safety. The bedroom is one of the most private and precious rooms in a house.
To most, bedroom space has a special meaning. It's the place where most of our valuables are kept, and secretive activities are done.
However, most people love to lock their bedroom doors for privacy. Privacy is a luxury; closing the door is the cheapest mode of achieving it.
Locking the bedroom door from the outside is so extreme. But we all have our reasons why we would wish to do so.
I'm pretty confident that most people are trying to figure out how to do this. This article has given detailed answers to the question.
How to lock a bedroom door from outside
The most effective and efficient way of locking the door from the outside is using the double cylinder locks. The double cylinder locks are keyed on both sides. They can be opened and locked from the interior or the exterior.
It also comes with several advantages, such as increased security. The double cylinder lock does not have a button lock; therefore, no one can unlock the door manually without using a key.
Best Double Cylinder Lock Manufacturers
The leading manufacturers of high-quality double cylinder locks are the Medco Maximum residential, Kwikset, and Sargent.
The locks are engineered with quality materials, which provide durability, performance, and maximum security.
The best quality for the residential spaces is the grade 2 lock. It's highly resistant to cycles and force (it can withstand 50 hits); this ensures your privacy and security.
Antique Doorknob with Locks
In addition to their functionality, the antique doorknob is highly aesthetic. It gives your door that great and unique look. The genuine antique doorknobs can be pretty expensive.
Its price is dependent on several factors such as the material used, style, manufacturers, and the time of creation.
Price ranges from $10 to $200, and you can get them from your local stores. The antique knobs can be locked from both sides, hence accessible from the interior or exterior.
Smart Door Lock
Smart locks are a new and evolving technology. A smart lock gives you total control over your room.
You can lock it from anywhere and monitor any activities in or around your room. Most smart locks have been integrated with Bluetooth and Wi-Fi.
They both have their specific functions. The Bluetooth auto connects with your smartphone and unlocks the bedroom door as you approach.
In comparison, Wi-Fi helps you to monitor who comes in and out of your room in real-time.
Other benefits of the smart lock are: it can be synced with any indoor cameras, which will record the person who tries to access the bedroom.
In addition, you get an alert on your smartphone when someone tampers or attempts to access the door.
However, the installation of the smart lock might force you to make some modifications to your door. They do come with extra hardware.
The popular smart lock brands are August, Baldwin, Yale, Medeco, and Kwikset. You can buy them from amazon or your local stores. The prices range from $ 200 t0 $ 250.
Use the 5 Lever Mortice deadlocks.
It is commonly installed on wooden doors at the entrance of residential houses. It's not widely used on internal doors.
However, you can install it on your bedroom room door. It will guarantee secure access to the room from both the outside and inside.
It's keyed on both sides and is fitted inside the door material, not on the surface. Its price starts from $ 25 and can be purchased from Amazon.
Classification Of Door Locks
The door locks have been classified into three different categories. Each has its unique benefits.
They are: retrofit smart locks, smart locks, and conventional non-connected deadbolts.
Smart Locks
The smart lock offers another level of security. Some have voice recognition, remote control, and other great features.
They use Bluetooth and Wi-Fi to transmit information from your device to the lock. Many find them to be so convenient.
However, they are susceptible to break through forced entries. The hacker can also alter them. Its installation is quite tricky and expensive since it may require additional hardware.
Retrofit Smart Locks
The retrofit smart locks quite offer the same benefits as the regular smart lock. Their differences emanate from installation methods.
Unlike the standard smart locks that require you to replace the whole lock hardware, the retrofit is installed on the interior side of your lock.
This allows you to keep your old lock and keys while using the smart lock unique features such as auto unlocking and remote control.
In contrast, the retrofit smart lock resistance is wholly dependent on the quality of your existing lock. If the existing lock is weak, then it'll be equally accessible for one to go around the retrofit smart lock.
Conventional non-connected deadbolts
They are so secure but do not come with fancy features. Their prices range from high-end to low-end.
However, the cost is dependent on the quality of the deadbolt. The deadbolts can be electrical with keypads that allow you to set and change pins.
How To Choose The Best Door Lock
There are different models of door locks, such as smart locks, electronic bolts, and deadbolts. Your choice of the type of lock is dependent on several factors. Here are some of the factors to consider when buying a door lock.
Price check
This will entirely depend on the category, model, and quality. Smart locks tend to be more expensive.
Choose a design, model, and color that is in harmony with your space design. You also have to spend extra bucks for some locks since they need the purchase of additional hardware.
Check the lock ratings
The best locks have unique pin configurations, hardened cylinders, and many more security features. The locks are graded from 1-3.
The grade1 locks are the most difficult to disable. However, most companies do not display information about lock strengths on the packaging. To learn more about a particular lock, visit the lock manufacturer website.
The type of key control
It's one of the essential factors to note when choosing a door lock. The key should be so unique, not to be easily copied with any locksmith technology.
Keys are personal; sometimes, they might fall into the hands of the wrong people. Make sure to buy a key type that's hard to copy.
Usability
The door lock should be easy to use. Some door locks are so technical, and they contain hardware that is difficult to use. If it's a Child's room, the lever-style mechanism locks are easier to use than the knobs.
For the elderly or disabled, keyless locks like the smart lock or codded lock are easier to use. When selecting the doorknobs, consider their usability, flexibility, and convenience.
More robust door frame and lock
The door frame should be equally strong as the lock. Having a good quality lock with a weak door frame is absurd and does not make sense.
A weak door frame with a great lock can be easily accessed. To achieve the high-security levels, use longer screws and box strikes from sturdy metals to install the door frame.
Installation
If you intend to do the installation by yourself, go for the quality but straight locks. You should also note that most deadlocks align with the standard lock holes drilled on the doors.
The best locks come with long screws. This makes them very secure since they are difficult to remove.
How To Lock The Bedroom Door From Outside without A Lock
There are many situations in which you might want to secure your room without using a lock. Here are some of the temporary solutions that will guarantee your bedroom safety and privacy.
Portable door lock
In recent times, these types of locks have gained popularity. They not only add security but are easy to use. You can use them as an extra lock.
To ensure that nobody enters your room unexpectedly, even if they have the key. It prevents the lock handle from moving and can also be used on doors with no locks.
The most popular portable door lock brand is Addalock. It's small and effortless to install and use. It does not require drilling or screwing.
Conclusion
If you want to lock your door from the outside, you can choose one of the methods above. The choice you make is dependent on your need.
You may want to secure the door so that your roommates or family members do not enter your room while you are away.
Maybe you want to have access to your underage child's room without much struggle in case of an emergency.
Choose the best type of lock that will suit the various needs such as emergency, privacy, or security.