How To Sew With Cuddle Luxe Fabric: A Step By Step Guide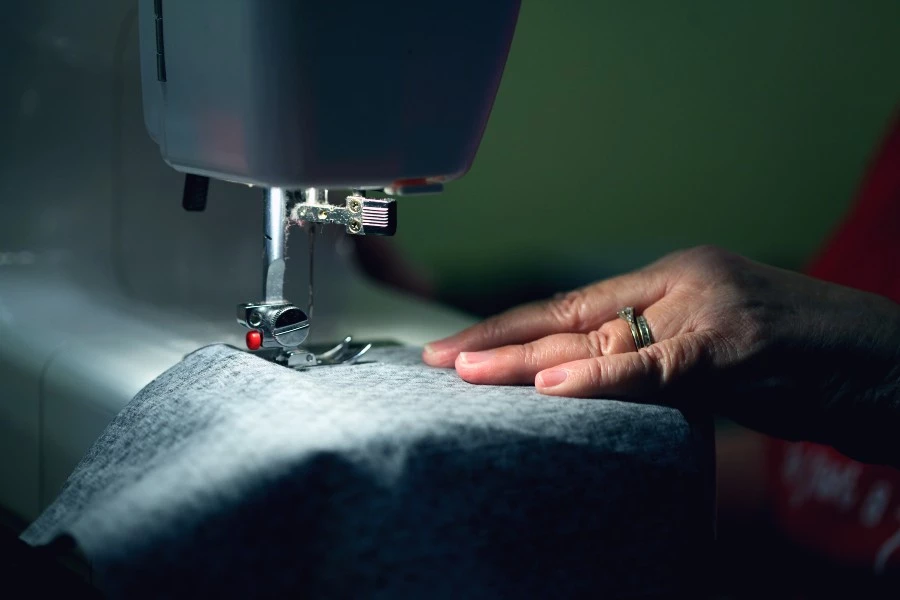 If you want to learn how to sew with cuddle Luxe Fabric and create soft and plush projects, then our comprehensive guide is what you need.
Cuddle Luxe fabric is a versatile material that has gained popularity among sewers due to its soft feel and stable backing.
This fabric is ideal for various sewing projects, from home decor and clothing to stuffed toys and blankets.
However, working with this type of fabric can be challenging, especially if you're unfamiliar with its unique properties. And that's why we've prepared this guide for you.
After going through the entire article, you will be more confident to tackle any sewing project with cuddle Luxe fabric.
How To Sew With Cuddle Luxe Fabric
Step 1:

Place your Cuddle Luxe fabric on a cutting surface with the wrong side facing up.

Use pattern weights to keep the fabric in place as you trace your pattern onto the material using a ballpoint pen or felt marker. It will help ensure accuracy and prevent the fabric from shifting during cutting.
Step 2:

Use a sharp blade or small scissors to cut through the backing only. Be careful not to cut through the plush pile. Gently pull apart any cut pieces and immediately vacuum up any stray fibers to prevent them from spreading.

Alternatively, finish cutting all pieces and then put them in a low-heat dryer with a damp washcloth for 10 minutes to help contain the fibers.
Step 3:

When pinning your Cuddle Luxe fabric, use long flower-head pins and place them parallel to hold down more fabric. Sew slowly and take care to maintain the alignment of the fabric layers.

Step 4:

Use a 1/2″ seam allowance with a walking foot attachment. The walking foot attachment is designed to help grip and feed the fabric layers evenly, ensuring a smooth and professional finish.

Step 5:

Use a 90/14 or 100/16 stretch needle and polyester or poly-cotton blend thread for the best results.

The stretch needle is specially designed to accommodate the plush pile of fabric and prevent skipped stitches. At the same time, the polyester or poly-cotton blend thread is strong enough to withstand the tension and provide a durable seam.
Step 6:

You must increase your stitch length to 3.5mm to prevent the fabric from bunching or stretching as it moves through the machine.

Sew with a straight stitch or a very slight zigzag to maintain the integrity of the fabric and prevent any distortion.
Step 7:

Once you've sewn your seams, take a moment to remove any fibers that may have gotten caught in the stitches outside of the seam.

Use a stiletto or other pointed tool to gently pull out stray fibers. The purpose of doing this is to keep your seams looking neat.
Step 8:

When closing a seam on Cuddle Luxe fabric, hand stitch the opening closed if you topstitch the seam allowances first. Stitch along the seam allowance before sewing the rest of the seams together.

Step 9:

When you are done sewing your project, place it in a low-heat dryer with a damp washcloth for 10 minutes.

The aim is to help loosen any stray fibers accumulated during the sewing process and give your project a softer, fluffier texture.
5 Things You Need To Know When Working With Cuddle Fabric
1. Most cuddle fabrics are one-sided.
Cuddle fabric differs from polar fleece as it has a clear right and wrong side. For an attractive finish, it's recommended to line it with another material, such as charmeuse satin.
2. Cuddle fabric sheds like crazy.
You should know that cuddle fabric sheds excessively, making it challenging to work with. The shedding can create a mess, sticking to clothes and leaving fiber balls all over the workspace.
One way to deal with the shedding is by shaking the pieces outdoors to remove the excess fibers. You can also wear an apron while sewing to help minimize the clean-up required afterward.
3. Be mindful of washing temperatures.
Many moms love cuddle fabric for its soft texture and easy care. It can be washed at home, but avoiding hot water and high heat in the dryer is essential, as these can cause fibers to melt and compromise the fabric's texture. Instead, opt for a lower temperature to preserve its plush feel.
4. You have to pin it!
While some sewists may not require pins for their projects, using them when working with Cuddle fabric is essential.
Due to its slippery nature, using pins helps to hold the fabric in place and prevent it from sliding under the needle during sewing.
Pinning can also help minimize potential issues and encourage slower sewing, leading to better results.
5. You need a walking foot
Investing in a walking foot is highly recommended if you plan to work with Cuddle fabric frequently.
This special foot apparatus has feed dogs on both the top and bottom that prevent the fabric from sliding under the needle, resulting in even stitches.
It also allows you to easily sew through thick sections of fabric. While a walking foot can't handle turns, gradually turning the material can solve this issue.
Conclusion
Now you know how to sew with cuddle Luxe fabric, and while it seems like a complicated process, you can achieve stunning results with the right tools and practice.
Following the steps outlined here, you can create beautiful and comfortable blankets, throws, and other home decor items.
With our tips and tricks, you can sew with Luxe fabric confidently and produce perfect results. So, grab your fabric and sewing machine and start creating your cozy and cuddly masterpieces!