Tips On How To Lock Bedroom Door From Outside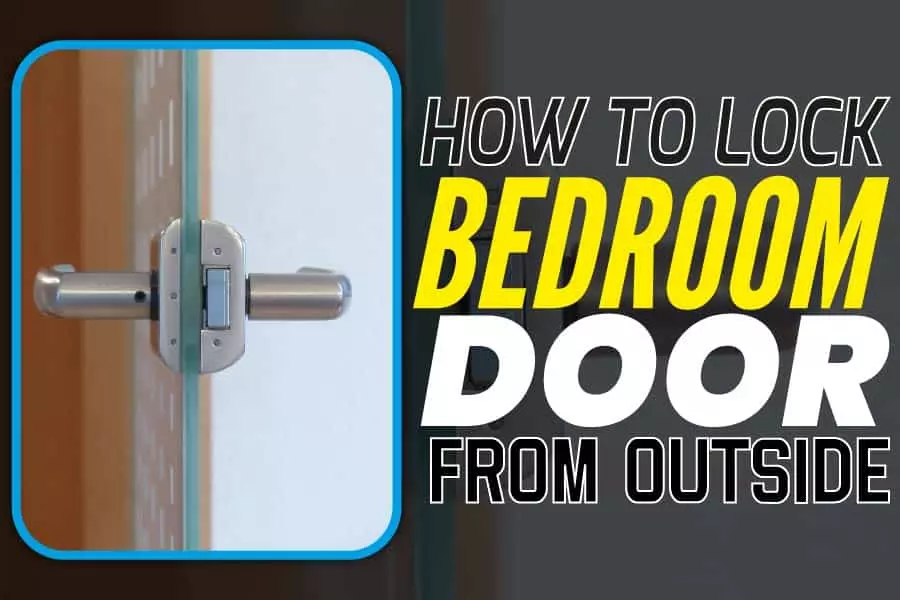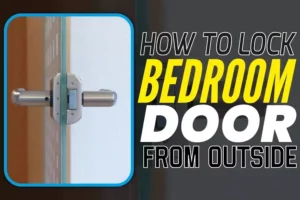 The reason people install locks in the bedroom or any part of the home is for security and privacy. But unlike the kitchen and other parts of the home, the privacy required in the bedroom is high.
There is also a need to install a lock in the bedroom for security. As you know, most people like to keep expensive jewelry, watches, shoes, and other items in this part of the property.
However, having a lock does mean you have secured your bedroom. You haven't unless you're using a reliable lock.
Now, the question is, how can you lock the door from outside while you're still inside the room? Perhaps, you haven't thought about doing such yet. But what if there's a need for you to do it?
Here, you'll get tips on how to lock your bedroom door in this manner to help make it difficult for someone to break in. Read on!
How You Can Lock A Bedroom Door From The Outside
You can lock your bedroom door from the outside in several ways. But take note that some of the techniques might be simple, while some require you to be creative. Let's discuss some of the methods you can apply to lock your door from the outside.
Method#1: Using lock keys:
This would be the simplest, as you don't need to apply any creativity to lock the door from the outside since it is using lock keys. All you just have to do is use the keys. It's that straightforward.
Method#2: Use Door Bull:
If you want to secure your bedroom door and make it extremely difficult for intruders to break in, Door Bull is a wise choice.
With this powerful barrier on your inward-opening bedroom door, you will finally have your property secured, even in your absence.
You can lock this Door Bull from the outside with ease. And what's more, this device features three super sturdy three inches long screws, which push deeper into the door jamb.
The latching area of the Door Bull is wide. It is even three times wider than deadbolts' surface area.
So, before anyone can take down your bedroom or any door you have the Door Bull mounted on, that person has to shatter the jamb and door for such to happen.
Therefore, if you are willing to splash the cash, consider mounting Door Bull on your bedroom door. Excitingly, the device is also a wise choice for inward-opening doors.
Its solid construction and appeal make it an intelligent choice for doors in the bedroom and other doors in the house.
Method#3: Place a chair beneath your bedroom door hand:
If you don't have plans to splash the cash on a locking gadget and need to prevent someone from breaking in, use this simple method.
Just place a chair beneath the door handle to help protect against the impact from the force exerted from whoever wants to kick down the door. You can also use other heavy items to support the chair to make the door even more challenging to break down.
However, keep in mind that the chairs cannot hold the door and prevent an intruder from breaking in with force much longer. So, start thinking of a plan B while the door is still intact.
Method#4: Use a regular fork:
Get a regular fork, chop the hand of the utensil off and bend its head a little to form an L shape, and then use it to lock the door. Don't bend the fork too much. Otherwise, it won't fit into the door.
Now, have this in mind: this method of locking the bedroom door is temporary. If someone were to kick the door so hard, the person could quickly bring it down and gain access to your room.
Top Ways You Can Lock Your Bedroom Door Securely And Comfortably
There comes a time when you would need some privacy in your bedroom. At this point, you would want your bedroom door to be appropriately secured whenever you shut the door.
So, what can you do to lock your door from the inside and ensure no one can forcefully get in from the outside? Let's discuss some of the steps you can take to achieve this.
#1: Use door locks that have keypads:
Deadbolts are a must-have if you're looking to secure your bedroom door from the outside and inside. You can shut the door while you're in the room and still enjoy maximum security while you're away. The deadbolt will make it difficult for anyone to break into your room while you're away.
Additionally, locks that boast keypads don't use keys like regular locks. So, you're not going to misplace your bedroom keys and waste precious time looking for missing keys or ways you can break down the door lock after losing your keys.
So, when you mount door locks that boast keypads, you'll have peace of mind and lock your doors comfortably.
A Handy Tip: There are so many advanced door locks with keypads on the market these days. Therefore, when choosing one, consider how advanced and secured the door lock is.
You can go for door locks with a fingertip-resistant touchscreen, making it impossible for intruders to guess your lock's access code.
You may also want to consider a lock with a keypad that boasts a sleek design and is reliable. Read reviews to know the best door locks with keypads on the market, and make comparisons to find the right one for you.
#2: Try the strike plate locks:
Most people might not know about the strike plate lock, even though it has been around for quite a while. By the way, it won't be easy to remember every lock brand, given the many options available.
Now, what sets the strike plate lock apart? This non-traditional door lock boasts a chain that allows you to secure your bedroom door from the inside. And what's more, it's a breeze to install. You can get it fixed yourself and super fast.
Another advantage of the strike plate lock is that it is super durable, compared to many at this price point. And according to the producer, it can withstand over 50 kicks.
So, with a strike plate lock installed, you can now limit and even prevent unauthorized entry into your room.
One more thing that sets this door lock apartment is installing it without drilling holes on your door.
#3: Keyless door reinforcement locks:
If you want your bedroom door to have extra security, use the keyless door reinforcement lock. The lock works seamlessly, and it is a breeze to install.
The only turn-off with this reinforcement lock is that you must drill holes on the door jamb to mount it. Again, you can only use it for a door that opens inwardly.
The simplicity and value for money also set this lock apart. And it would keep your bedroom extra safe.
You can lock and unlock your bedroom door from the inside with ease. All you have to do is move the lock away in one motion, and your door will be open. Do the opposite to have your bedroom door locked up.
Is It Legal To Mount A Lock On My Bedroom Door?
People asking such questions have rented or are planning to rent a house. If you own the property, you can do whatever you wish. You can even change the locks as many times as you want, every year.
But if you find yourself in a leased apartment, the landlord makes the rules. And you have to abide by those rules.
However, you can ask for permission to mount a lock on the bedroom door and see the response your landlord gives to you.
If the landlord refuses your request, you can still go ahead and mount a lock on your bedroom door without his consent. But when returning the property, return the property to how it was initially.
If there's any damage to the property, the landlord can deduct money from your security deposit to do the repairs. So, it's your choice.
Conclusion
This article is on how to lock a bedroom door from outside. You can see the various tips on how to get it done. You can also get creative and use a different method.
The main reason anyone would want to lock their bedroom door is for security and privacy. And when you have good-quality locks, you'll feel safer in your bedroom.
We also discussed various ways to secure a bedroom door. You can go through the list and make your choice.