Find Out All About Buying Villas In Fethiye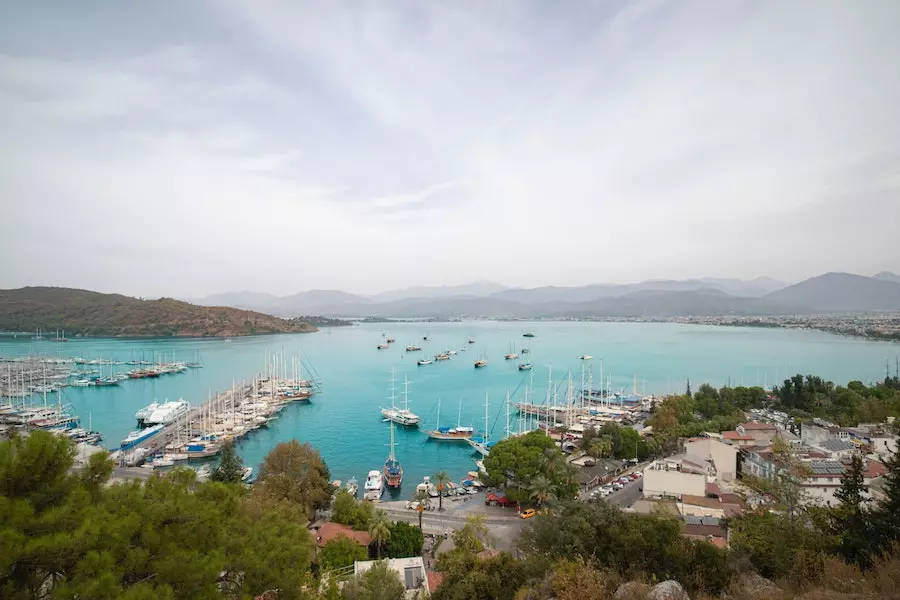 Fethiye city is one of the coastal towns of Muğla province and also a favorite place to buy villas in Fethiye to a foreigner. This city is located in the heart of the Mediterranean and has a famous turquoise beach. Fethiye has an average of 285 sunny days a year. Summers in Fethiye are dry, and winters are mild and humid.
You can swim in the sea most days of the year, and the water temperature is usually warm. Fethiye has many beautiful historical sites that show the rich history of this city, and it is like a big historical museum where you can see many amazing places.
Although Fethiye is relatively small compared to many Turkish cities, it has quickly become popular with Europeans for its safety and comfort. When many Europeans come to this city, they want to buy property there. Demand gave points to the development of the construction of many villas.
The construction of many villas in Fethiye in recent years has meant that there is little land left for new villas in this city, which has affected the cost of buying villas in Fethiye. The purchase price of a villa has risen relatively strongly over the past few years.
In this article, we will introduce you to the city of Fethiye, the conditions of living in it, as well as the conditions for buying a villa in Fethiye in its various areas. If you are interested in buying a villa in Fethiye for living and investment, read this article to the end.
Important Points To Buy A Villa In Fethiye Turkey
By buying a villa in Fethiye and choosing this city to live in, you will have the same living expenses as in Antalya. The cost of goods and the level of service in Fethiye are similar to Antalya.
Many foreigners live in Fethiye. This city is one of the most favorite cities in Turkey among the British, 7000 British live in this city. About 600,000 British people spend holidays in Fethiye during the summer season.
In addition to the British, many Germans, Dutch, and Russians were also in this city. The greatest demand for real estate is the purchase of a villa in the coastal strip of Fethiye. Of course, currently, there is little land in Fethiye for building villas, and the demand in the market is higher than the supply.
The price of buying a villa in Fethiye depends on the amenities, location, and availability of rental conditions. The better the condition of the villa for rent, the more opportunities to buy and sell it, and the higher its price.
As in other cities in Turkey, if the purchase price of a villa in Fethiye reaches 400,000 US dollars, you are eligible for permanent residence in Turkey. If the purchase price of a villa in Fethiye reaches $75,000, you can apply for a temporary residence permit in Turkey for one year. Buying a villa in Fethiye at a price set by the Turkish government is one of the easiest ways to get a residence permit in Turkey.
Fethiye is one of the best cities for those planning to retire in a beautiful home with open space and a variety of amenities, complemented by activities such as beautiful hiking trails, walking along the beaches, and enjoying the sun in a cozy cafe.
You can see a wide variety of villas and different areas of Fethiye. From sun-filled villas in the Chalis area to large private villas in the Ovacik areas that overlook the mountains, the ultra-luxury and stylish family villas available in Ozumelo will satisfy every taste.
Due to the short distance between the different areas of Fethiye, buying a villa in one of these areas will give you easy access to the amenities and living conditions in other areas.
Most villas in Fethiye are spacious and private. In Fethiye, you can rarely see cottage villages. The newly built villas in Fethiye combine modern and traditional Turkish architecture, which adds charm and beauty to these villas. Some villas in Fethiye also have a Turkish hammam.
Over the past few years, the purchase price of a villa in Fethiye has risen a lot, so in the last three years, it has increased by more than 255%. Until 2019, the average purchase price of each square meter in Fethiye was around 25,000 lira.
If you are buying a villa in Fethiye for investment and intend to get back the initial price paid when renting the villa, you should wait for 3-4 years. The return on investment in Fethiye is estimated to be around 4 years. That is, if you rent out your villa, after 3-4 years, you will return the entire amount of the villa through rent.
We can measure the social status of the city in terms of:
Wealth;

Cultural status;

Population density;

Building density;

Access to facilities such as metro;

Bus;

School;

Cultural centers;

Crime rate;

The satisfaction of the inhabitants of this city, etc.
The rating of Fethiye will be A+.
This rating shows that by buying a villa in Fethiye and choosing this city, you will get the best living conditions.
You can save a lot on buying a house or villa if you buy it during construction. The less time a house is being built, the less money the construction organization will ask you for. Also, at the early stages it is easier to agree on a deal in rubles, if you are uncomfortable paying in euros, dollars or lira.
Turk.Estate Will Help You Choose And Buy A House In Fethiye On The Sea Coast
Don't delay. Start exploring the Turkish real estate market right now. Especially for you, the best options for modern houses and residential complexes have been selected in Turk.Estate. We will help you choose and buy property in Fethiye by the sea. We work exclusively with proven developers, agencies, and private entrepreneurs. The best deal of your life will be risk-free. Choose your new home in Turkey right now.