Want to Eat Where the Celebs Hang Out? Here's Where You Need to Go in Los Angeles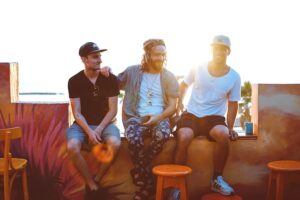 Our obsession with celebrities is something that has always been with us as a society but has taken an upward turn since the advent of cable tv shows that turned a large portion of us from fans to worshippers.
The social media age merely makes our connection, albeit virtual and distant, to our heroes all the more real and leads us to want to get closer to personalities and stars and, in particular, the world they inhabit.
We tend to look to our celebrities of choice for tips and life learning lessons as well, and on occasion, that stretches to us wanting to hang out in the same restaurants and eateries where they tend to frequent.
Either this is because we are hoping to catch a glimpse of them in person or just to check out the great food that's on offer or perhaps to take a look at the swanky designs, high-quality restaurant tables, or simply to drink in the vibe of the hottest joint in town.
If you had to name a city where the percentage of celebrities was highest, when factored in among the rest of us mere mortals, then clearly Los Angeles will be hard to beat. So if you happen to be in LA and want to catch sight of an Oscar winner, a reality TV star, or your sporting idols, then here are a few places to consider.
The restaurants we have chosen are based on where you will meet celebrities and not necessarily an indictment or endorsement of the food on offer. Some will be just as desperate to eat a delightful meal as they are to see a celebrity, and those who don't care what they consume just so long as the selfie opportunities with a star in the background, are high.
Catch LA
If you want to enjoy some superb seafood with a glass of the finest chardonnay while keeping an eye out for David Beckham, Mariah Carey, or perhaps Michael B. Jordan, then Catch LA may be the restaurant for you.
This fine location is on Melrose and is a hugely popular spot, day or night, but it might be best experienced for a late-night bite to eat while keeping your eyes peeled for a celebrity or two as you tuck into their fine delights.
Chateau Hanare
If you are looking for a tad more elegance, then you could try this fine upscale Japanese restaurant that is known for being a magnet for Hollywood A-Listers and their superb menu, which specializes in kaiseki, which is a type of multi-course Japanese menu that is very adept at attracting seriously famous customers.
If you take a trip to this restaurant, situated on Selma Avenue, then you might well bump into Leonardo Di Caprio, Amy Adams, or even Snoop Dogg. Be warned, this place is a little expensive but is a fancy establishment that is well worth the investment. It's just off the strip, and you'll enter through a very prestigious hotel, the Chateau Mormont, so drink it all in.
Craig's
Now this place is something of an institution, and when it comes to celebs per square mile, you probably won't find another restaurant like this one. Based in West Hollywood, there is a kind of stale atmosphere, and the food isn't all that great, but if you are literally only looking to perhaps rub shoulders with a Kardashian or two, then Craig's is the place to go.
Here you get to see celebs in their natural habitat, and you can freely stare at them as they eat, as it's kind of expected, so while the food isn't all that great, the chances of seeing a star or two are very high indeed.
Delilah
The decor at this Santa Monica Boulevard restaurant and bar is pitch perfect, the Art-Deco-inspired design is a feast for the eyes, and the food and cocktails don't disappoint either. Every room has its signature style, and the bar and stage, where the entertainment kicks in late, are all sumptuous.
Delilah is most definitely a celebrity hang-out, and you might see Drake or Kanye West out of the corner of your eye. Here is the type of place where you are best off observing from a distance. Don't be so quick to get your phone out for a photo; enjoy the ambiance and then, after a drink or two, smoothly wander to the expensive tables and see if the celebrities are ready to play ball.
Here it's more about the drinks than the food, but you can enjoy both while you stare at the rich and famous.
Madeo
Maybe you are craving a good Italian, and there aren't many better in Los Angeles than Madeo, which is in Beverly Hills, and therefore, you can expect a number of A-Listers to be sitting within easy reach of your spaghetti bolognese.
This place is most definitely iconic, and the authentic dishes are delicious; though this is a high-end restaurant, it isn't crazily expensive. Ryan Reynolds may be at the next table, or perhaps Gwyneth Paltrow, keep an eye out but don't let it affect your enjoyment of Madeo's masterful dishes
This is the kind of location where you are best keeping your distance from the celebs; perhaps consider trapping them as they make their way out; no one wants to be interrupted in the middle of their Ravioli Branzino.
These are just five potential locations to meet or view a celebrity or two, but the honest truth is that when you walk the streets of Los Angeles, there's a decent chance you'll catch the eye of a star long before you step foot in any of these restaurants, so unless you are famished, you might want to stick to meeting them as they walk the streets in their expensive outfits, in a more natural environment where you might come across a little less like a stalker.