Apartment Small Dining Room Ideas: 4 Unique Designs to Transform Your Space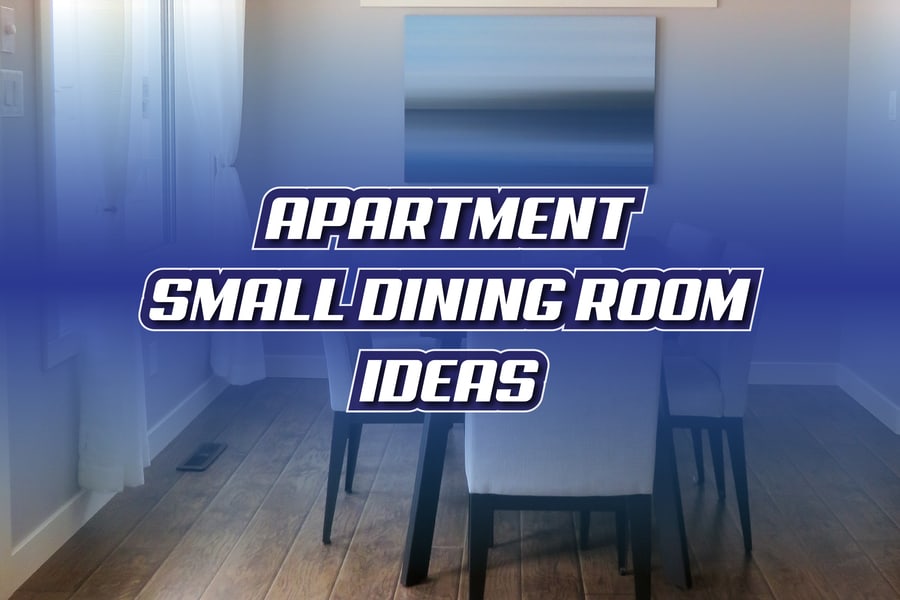 Discover the art of maximizing your apartment's small dining room in our latest blog post. As urban living spaces become more compact, finding innovative ways to make the most of every inch is essential. In this post, we'll unveil a curated collection of small dining room ideas tailored for apartment living. From space-efficient furniture to strategic decor choices, we'll guide you through transforming your limited dining area into a functional and aesthetically pleasing space. Whether you're a fan of minimalism or crave a cozy ambiance, our tips cater to various tastes and preferences.
Say goodbye to cramped dining experiences and hello to a stylish and inviting apartment dining room. Our expert advice will inspire you to create a space that not only meets your needs but also reflects your style. Get ready to unlock the potential of your small dining room with our creative solutions.
1. The Floating Corner Banquette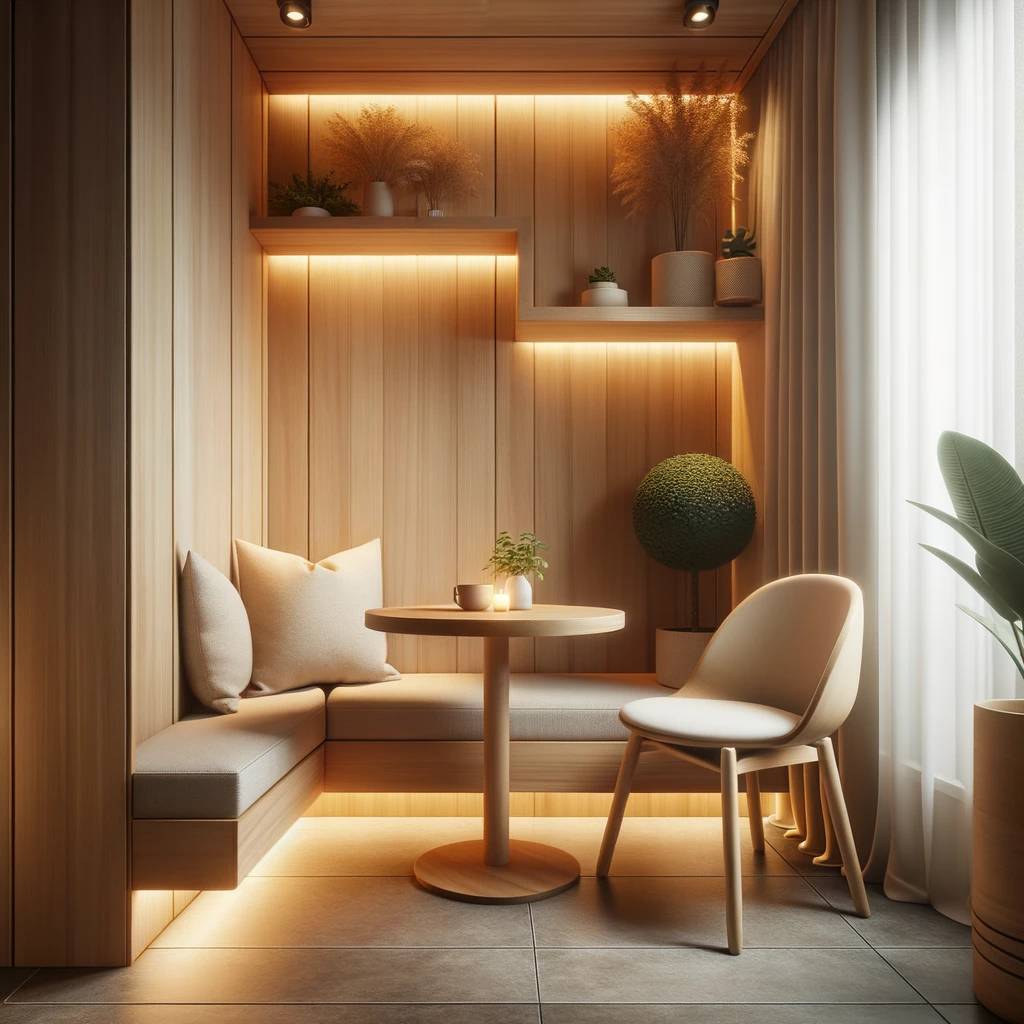 One of the most underutilized spaces in many apartments is the corner. The floating corner banquette offers a seamless solution, maximizing this often-overlooked space. Featuring a floating bench that wraps around two walls, it creates an intimate dining nook. Paired with a compact round table and a couple of chic chairs, this design is both functional and aesthetically pleasing. The floating design also ensures easy floor cleaning and gives an illusion of more space.
2. Collapsible Wall-Mounted Table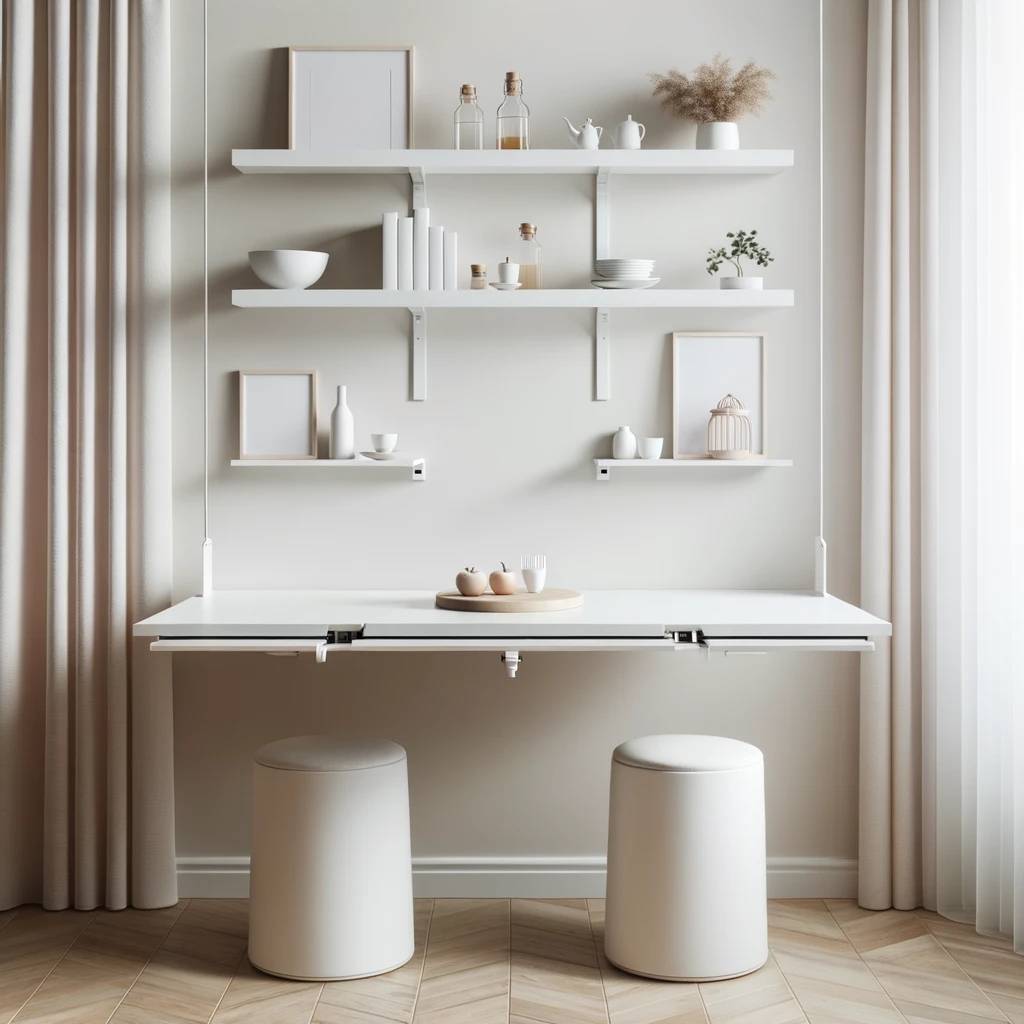 For those who prefer flexibility, a collapsible wall-mounted table is a game-changer. Attached to the wall, this table can be folded out when needed and tucked away after use. Paired with stackable chairs or stools, this design is ideal for those who don't dine in regularly but still want the option. The wall-mounted feature also allows for customization; you can adjust the height based on your preference or even add storage compartments beneath.
3. Multi-Functional Dining Island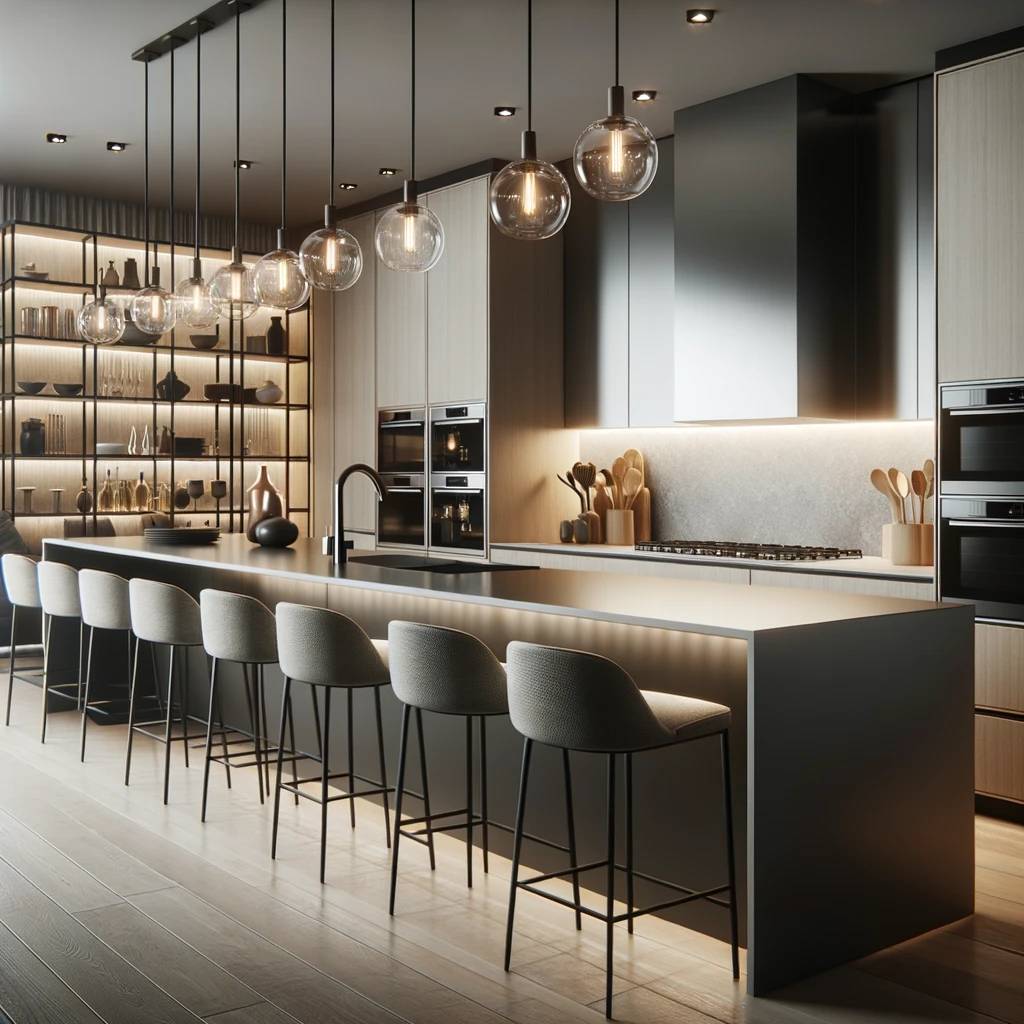 In open-concept apartments, integrating the kitchen and dining area can save ample space. The multi-functional dining island serves as both a kitchen counter and a dining table. With bar stools on one side and kitchen appliances on the other, it's the epitome of efficiency. Plus, the central location encourages social interaction, making cooking and dining a communal experience.
4. Vertical Garden Dining Alcove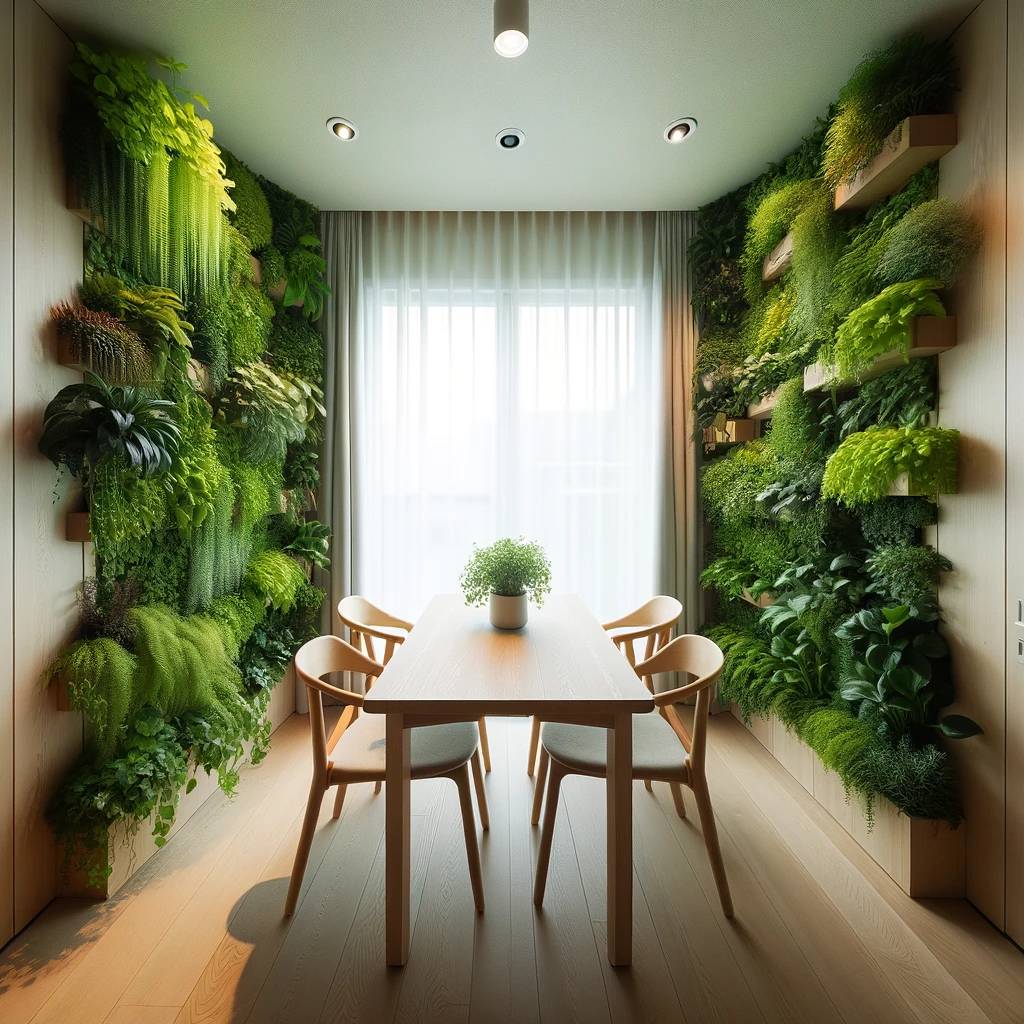 For nature lovers residing in the concrete jungle, the vertical garden dining alcove offers a breath of fresh air. This design incorporates a vertical garden on one wall, with lush green plants cascading down. Opposite this wall is a narrow dining table with chairs on either side. The greenery not only adds a touch of nature but also acts as a natural air purifier, making your dining experience refreshing in more ways than one.
5. Artistic Elegance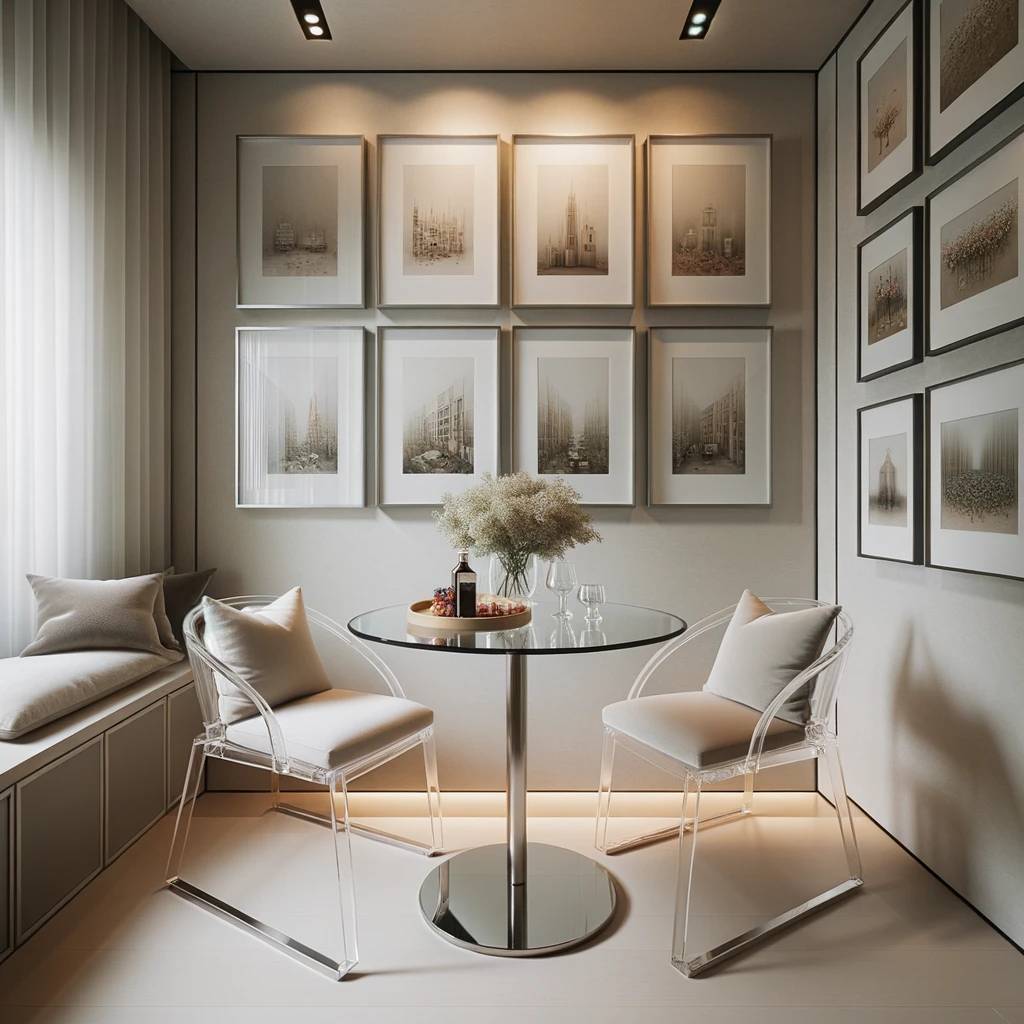 This dining area combines sophistication with artistic flair. The centerpiece is a glass-topped table with sleek metallic legs, complemented by two contemporary acrylic chairs with plush cushions. What truly brings the design to life is the wall behind, adorned with a curated gallery of framed art. The arrangement serves as a visual focal point, infusing the space with character and charm.
6. Mirror Magic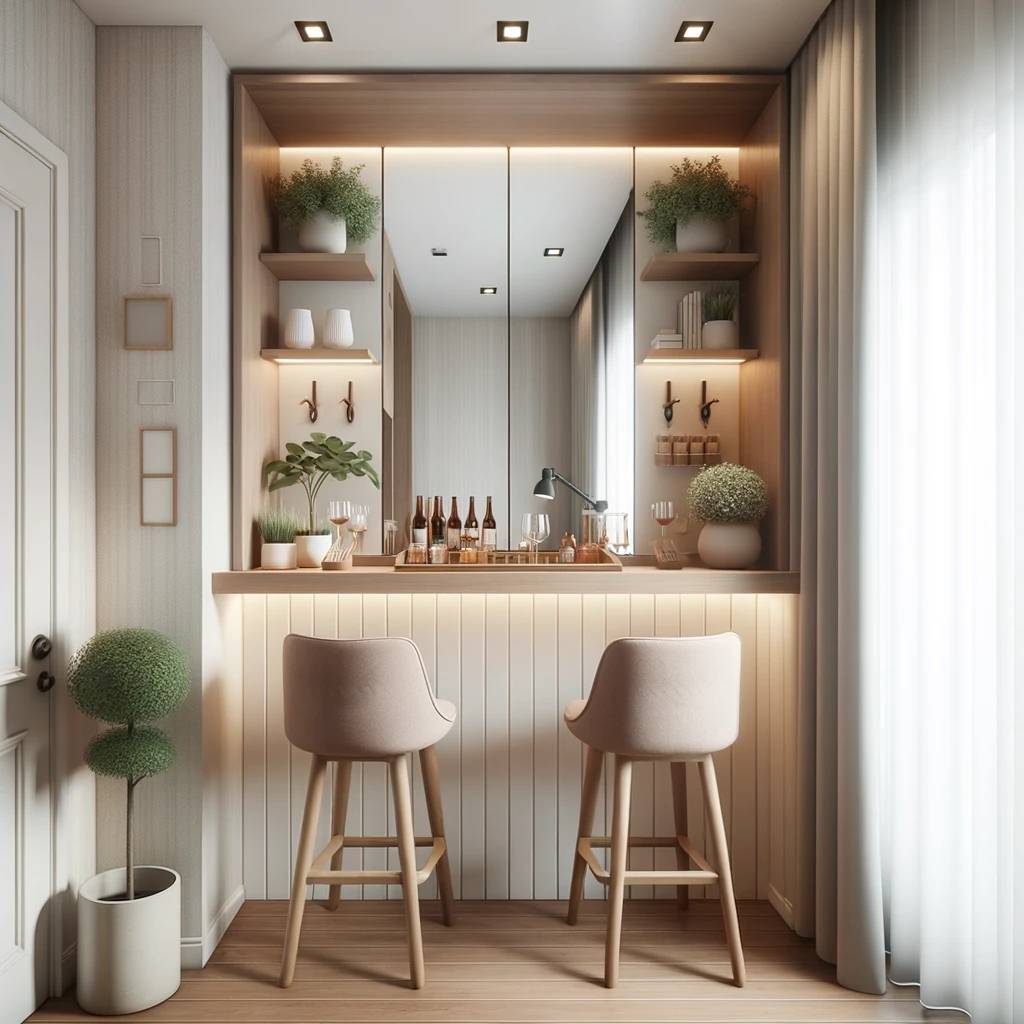 For those who wish to make their dining space appear larger, this design offers a clever solution. The compact area features a wall-mounted wooden bar counter, perfect for quick meals or evening drinks. Above the counter, a sizable mirror reflects the room, creating an optical illusion of increased space. To round off the design, tall chairs with cushioned seating offer comfort, while potted plants on either end of the counter bring a touch of nature indoors.
7. Cozy Corner Bench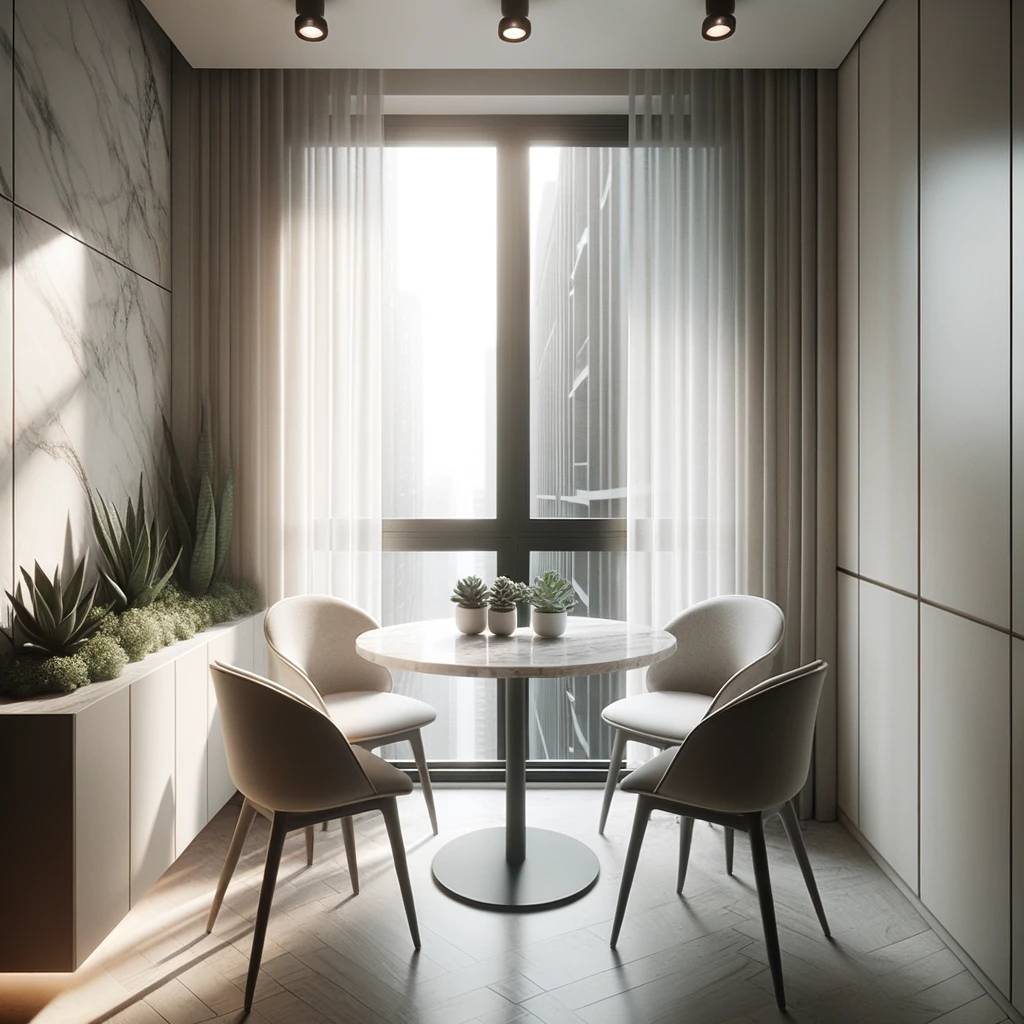 This design transforms a simple apartment corner into a cozy dining haven. A built-in bench, adorned with an array of colorful cushions, offers a snug seating solution. In the center, a square table with a decorative vase holding fresh flowers adds to the ambiance. Opposite the bench, two inviting chairs provide additional seating, all under the glow of a chic pendant light.
8. Windowed Wonderland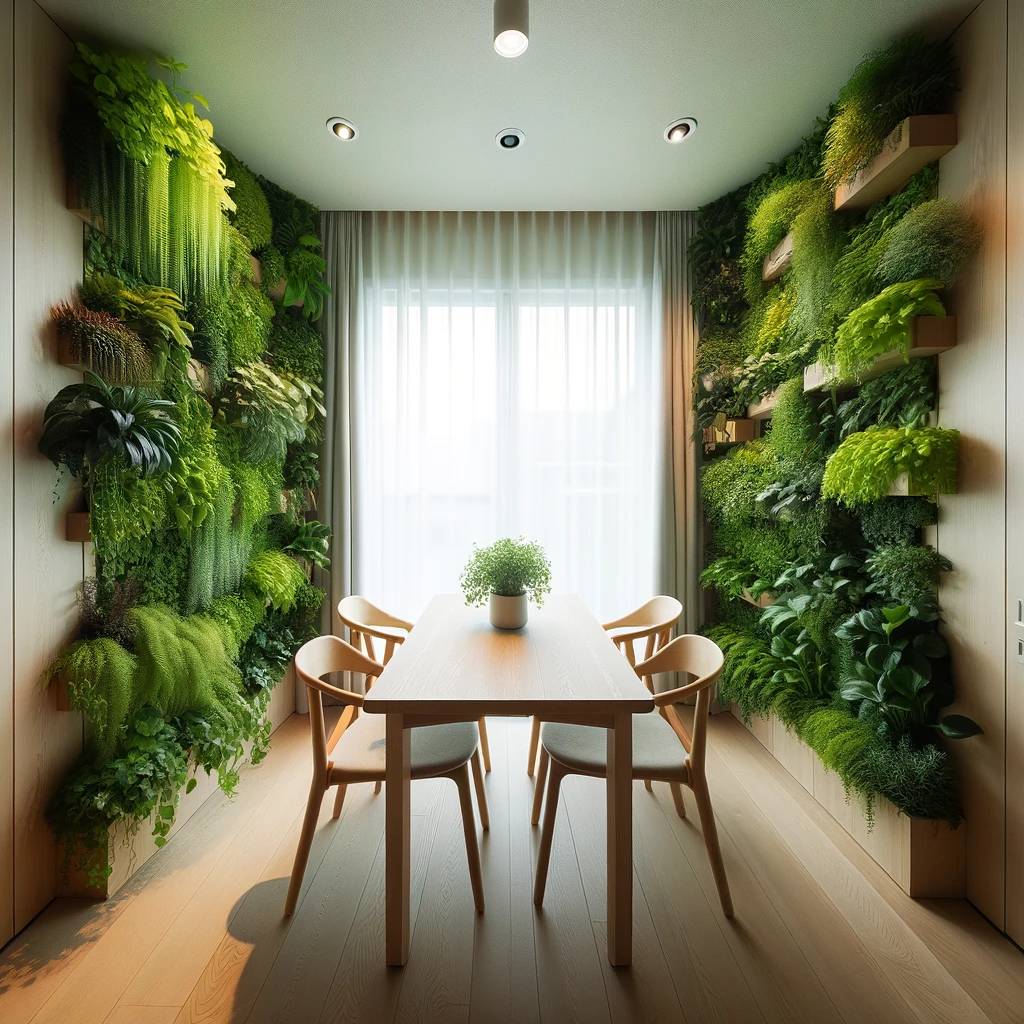 Natural light can do wonders for a small space, and this dining nook is a testament to that. Illuminated by a floor-to-ceiling window, the area feels open and airy. A round marble table sits in the center, surrounded by three modern chairs, each boasting a unique design. The window sill, adorned with an assortment of succulent plants, injects a dose of greenery, making meals here a delightful experience.
9. Scandinavian Serenity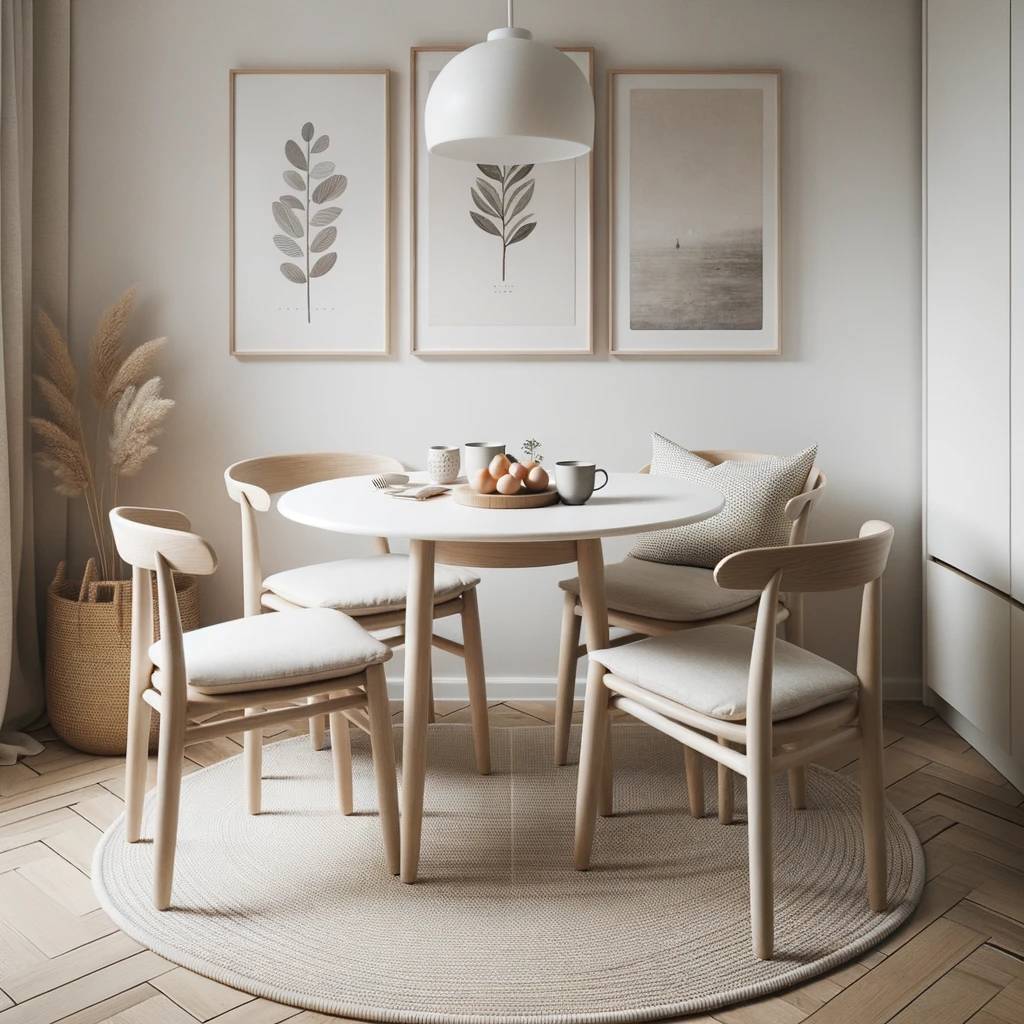 Embracing the minimalist ethos of Scandinavian design, this dining space is a blend of simplicity and functionality. The white oval table, surrounded by wooden chairs with soft fabric cushions, exudes a sense of calm. The walls, adorned with understated art, and a cozy rug underfoot complete the serene setting, making it an ideal spot for relaxed meals and conversations.
10. Bohemian Bliss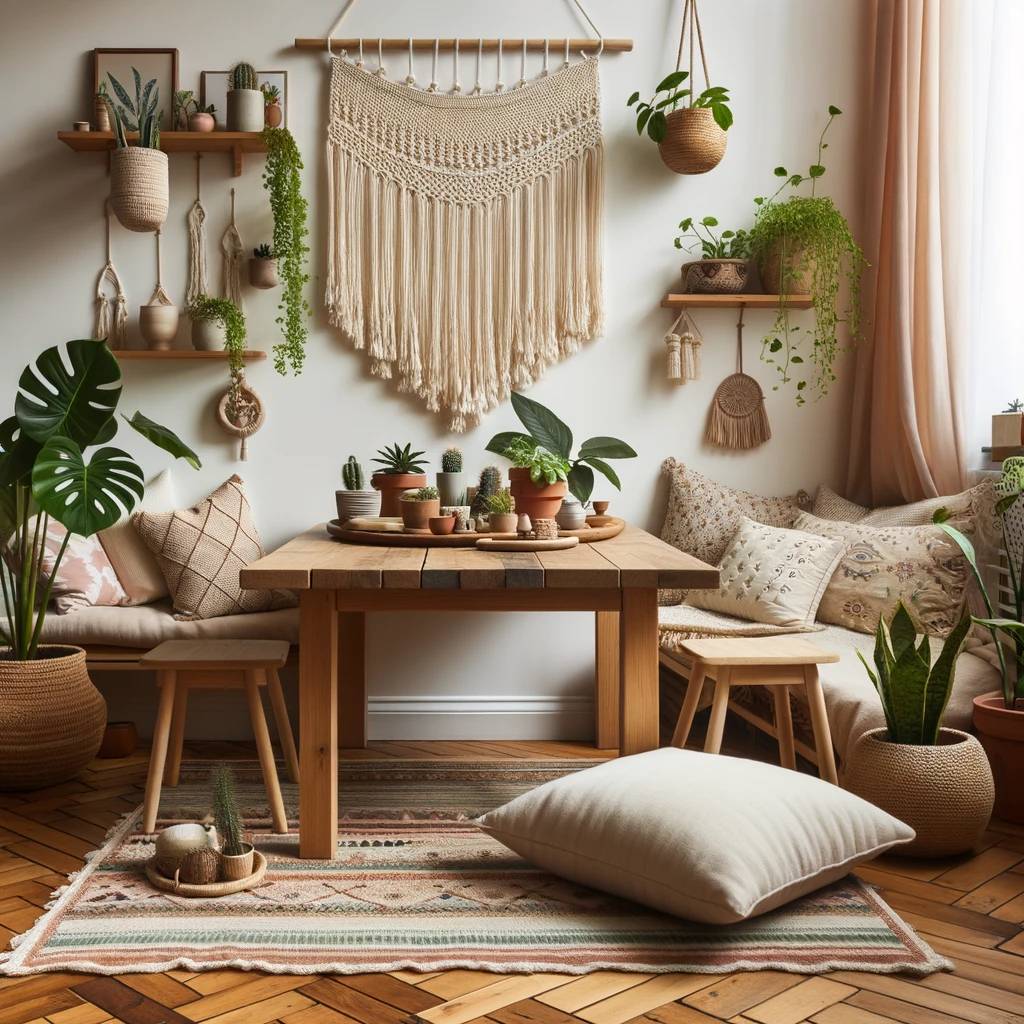 Venture into a world of boho-chic with this inspired dining nook. A low-set wooden table takes center stage, with floor cushions offering a relaxed seating alternative. The macramé wall hanging above the table brings in a touch of bohemian texture. Scattered potted plants and an array of eclectic décor items breathe life and vibrancy into the space, making it a unique dining experience.
11. Industrial Edge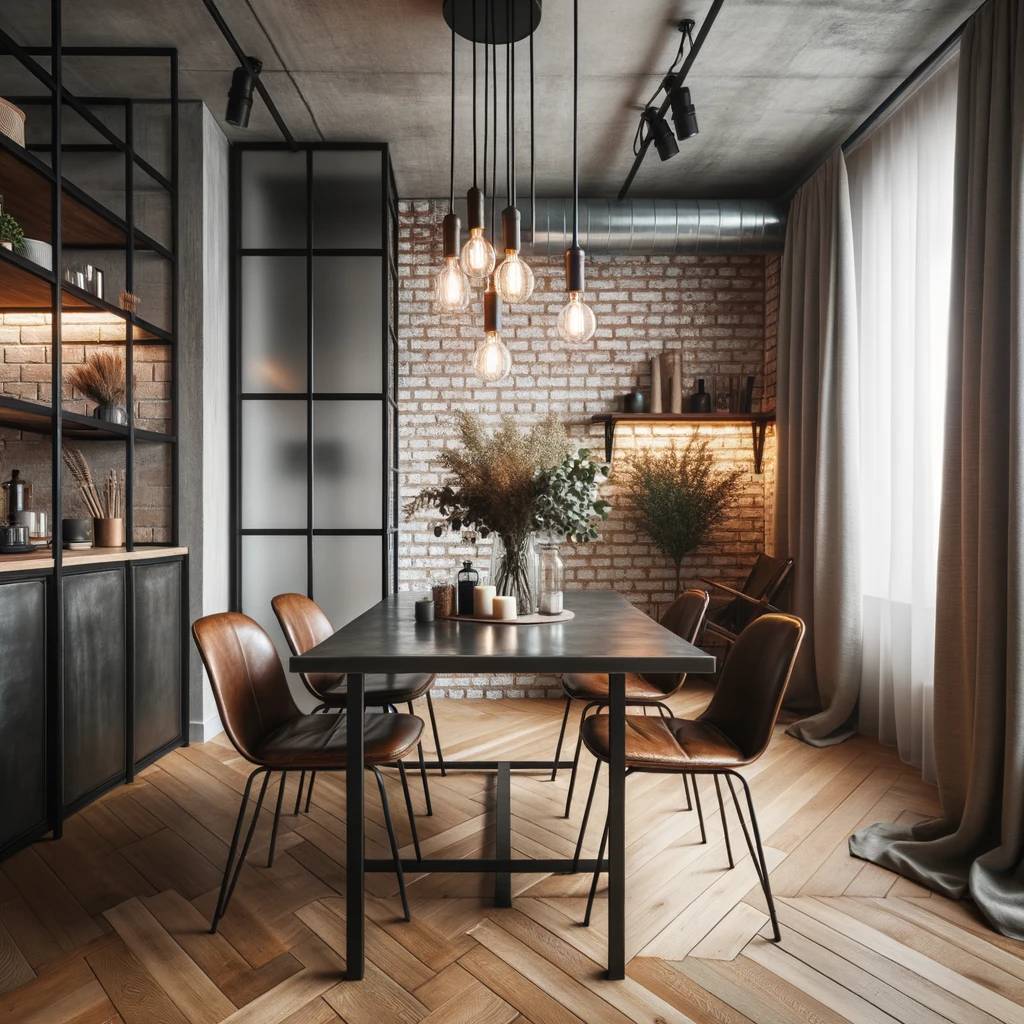 For those who appreciate raw, unfinished aesthetics, this modern industrial-style dining area is a dream come true. The dark metal table, set against the backdrop of light wooden floors, creates a striking contrast. Paired with rugged leather chairs, the exposed brick walls and hanging Edison bulb lights infuse the space with an urban loft vibe.
12. Vintage Victorian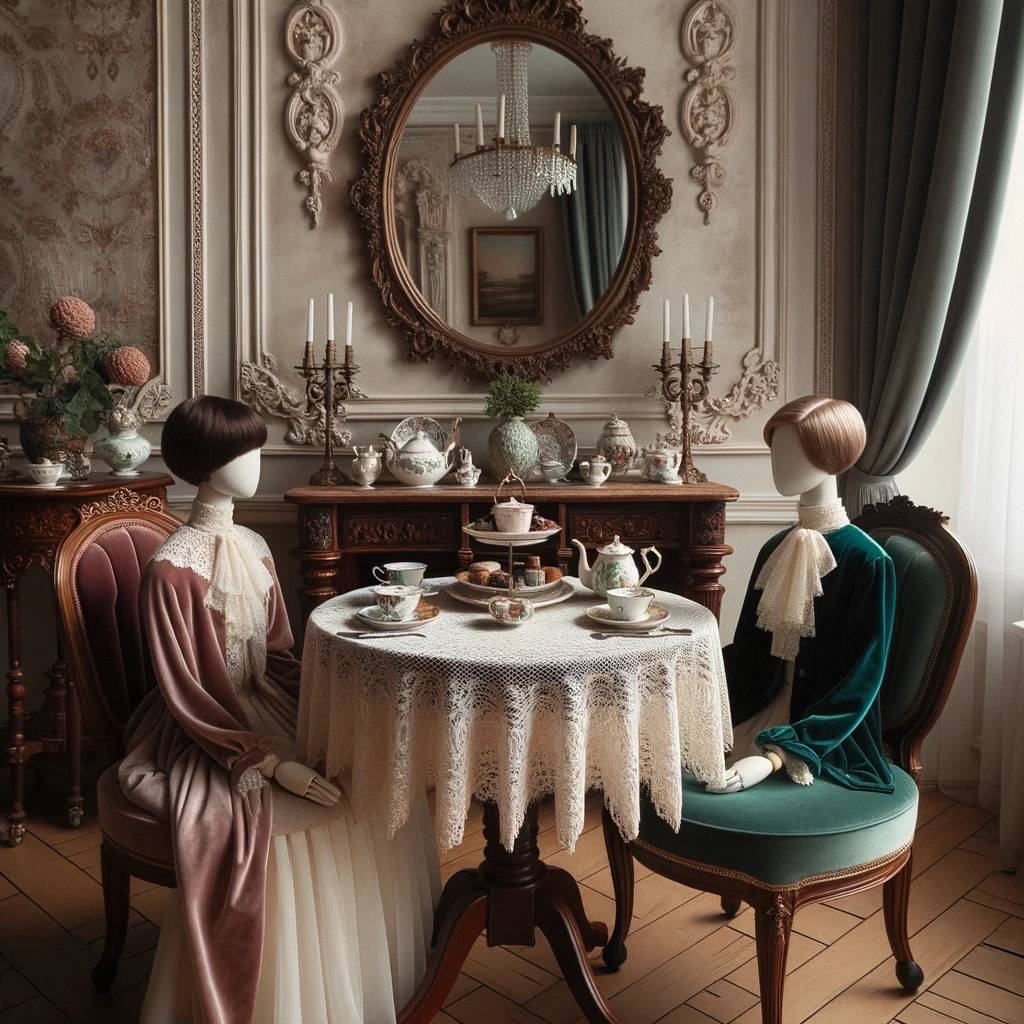 Step back in time with this vintage-themed dining corner. The round pedestal table, draped with a delicate lace tablecloth, sets the stage for a nostalgic tea setting. Two velvet-upholstered chairs offer plush seating, while the ornate mirror on the wall captures reflections of an elegant chandelier, transporting you to a bygone era.
13. Coastal Comfort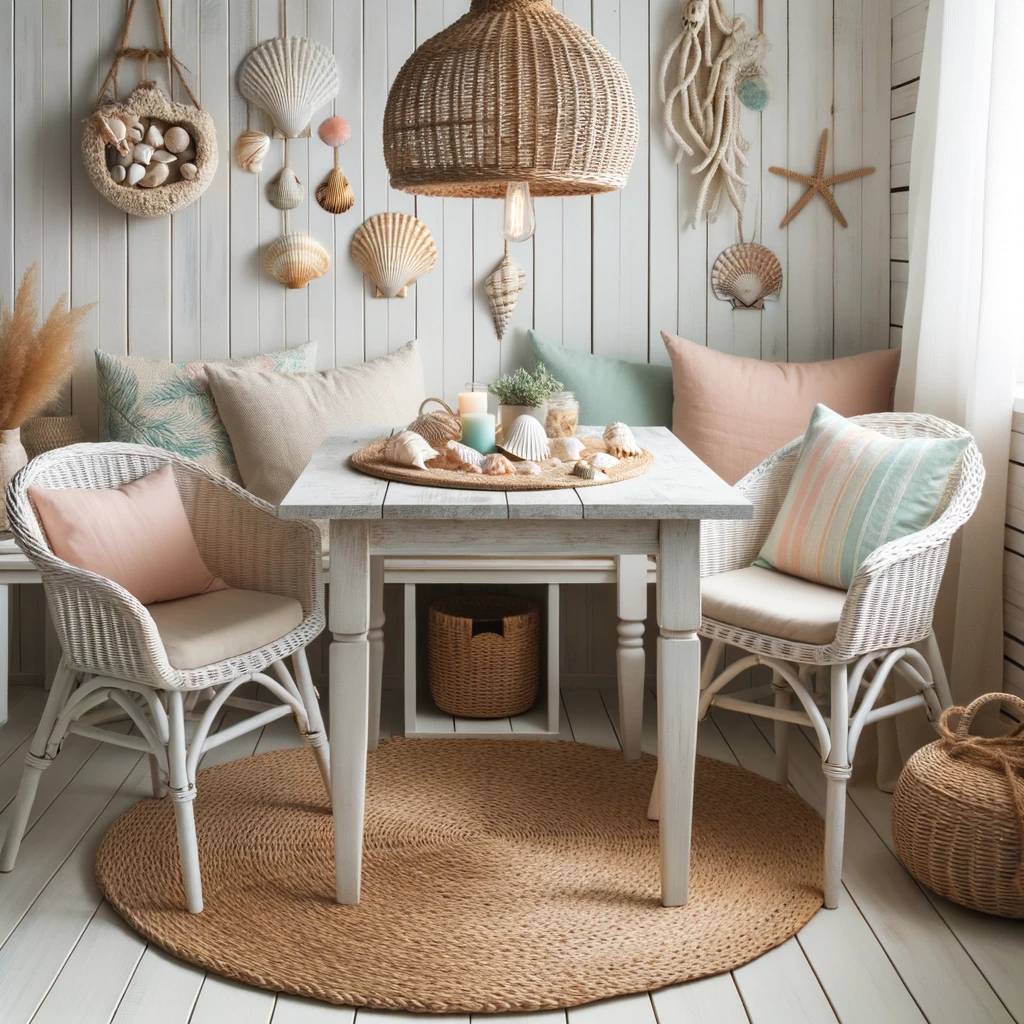 Transport yourself to a serene seaside with this coastal-inspired dining space. The whitewashed wooden table, paired with cozy wicker chairs, sets a laid-back tone. The jute rug underfoot and seashell decorations enhance the beachy vibe. Pastel-colored cushions and a unique driftwood pendant light complete the look, making every meal feel like a mini-vacation.
14. Zen Retreat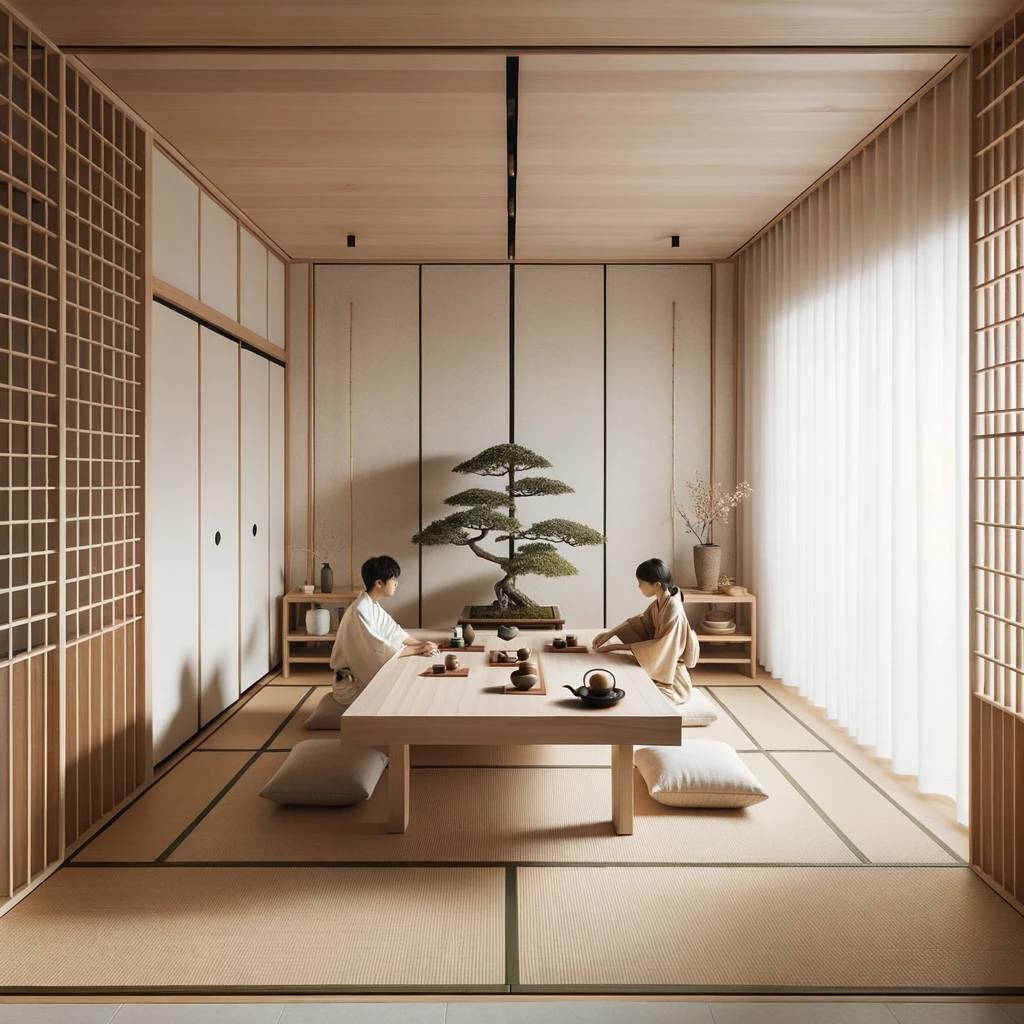 Embrace tranquility and simplicity with this minimalist Zen dining nook. The low wooden table, positioned atop traditional tatami mats, invites guests to sit comfortably on floor cushions. Bamboo screens subtly partition the space, adding to its intimate feel. The bonsai tree centerpiece is not just a decoration but a symbol of peace and harmony, ensuring every meal here is a meditative experience.
15. Retro Diner Delight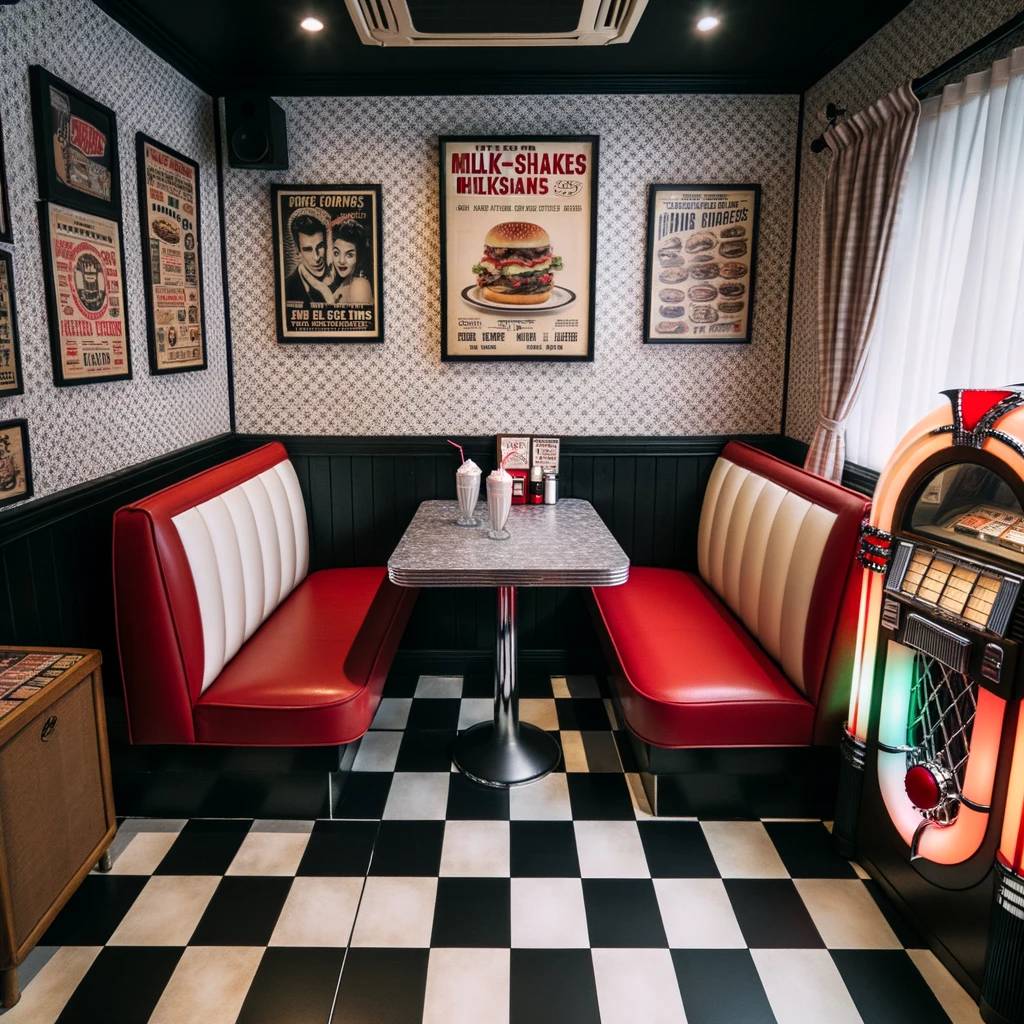 Step into the vibrant era of the '50s with this retro diner-themed dining area. The checkered black and white floor pairs brilliantly with the bold red booth-style seating. A classic jukebox stands proudly in the corner, setting the mood with timeless tunes. Vintage posters on the walls and a table set with diner favorites, including milkshakes, make dining here a nostalgic joyride.
16. Farmhouse Charm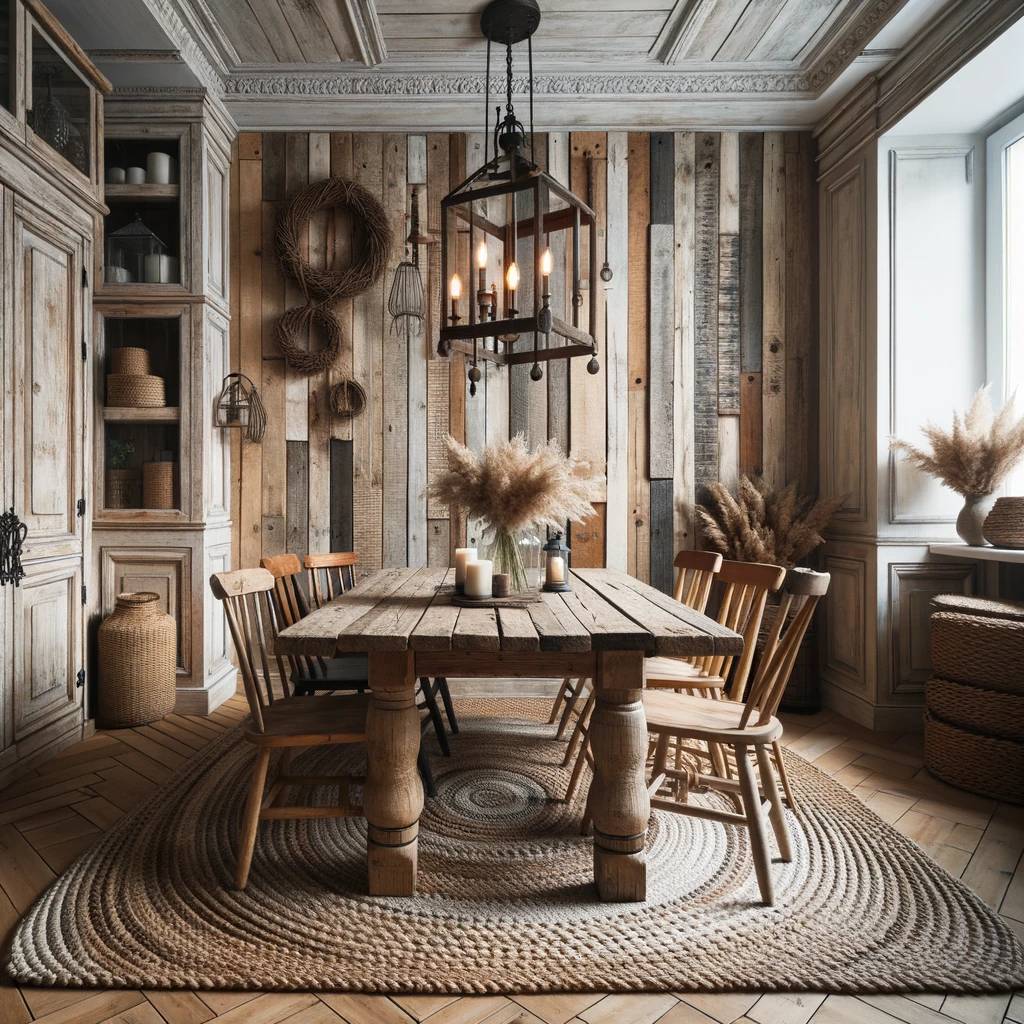 Infuse your dining space with the warmth and charm of rustic farmhouse design. The distressed wooden table, nestled on a braided rug, exudes character. Surrounded by mismatched wooden chairs, it offers a homely feel. The walls, adorned with reclaimed wood panels, and the old lantern-style chandelier above, create an ambiance reminiscent of cozy countryside homes.
17. Boho-Chic Brilliance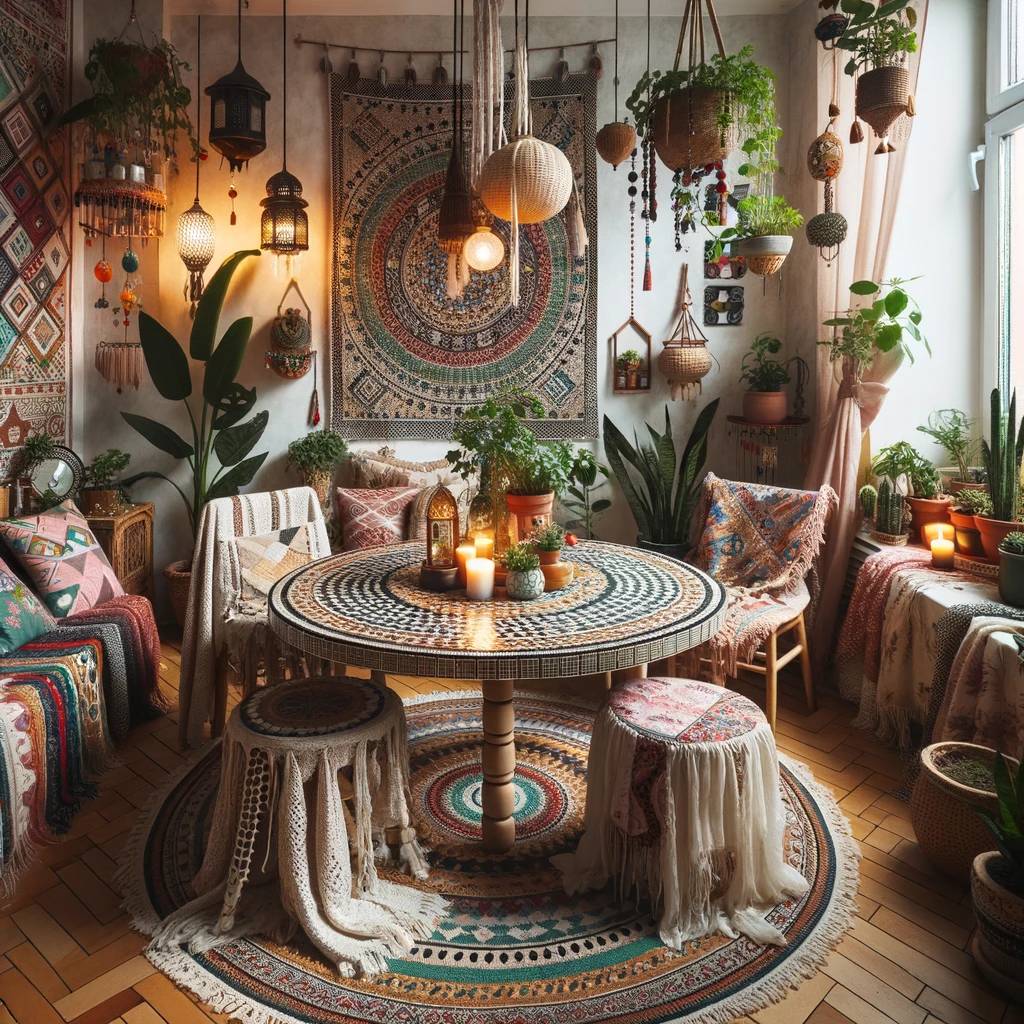 Dive into a world of colors and textures with this eclectic boho-chic dining area. The mosaic-tiled round table is a visual treat, beautifully complemented by chairs draped in vibrant textiles. The room's bohemian spirit is further accentuated with hanging plants, lanterns, and a striking wall tapestry boasting geometric patterns.
18. Monochromatic Modernity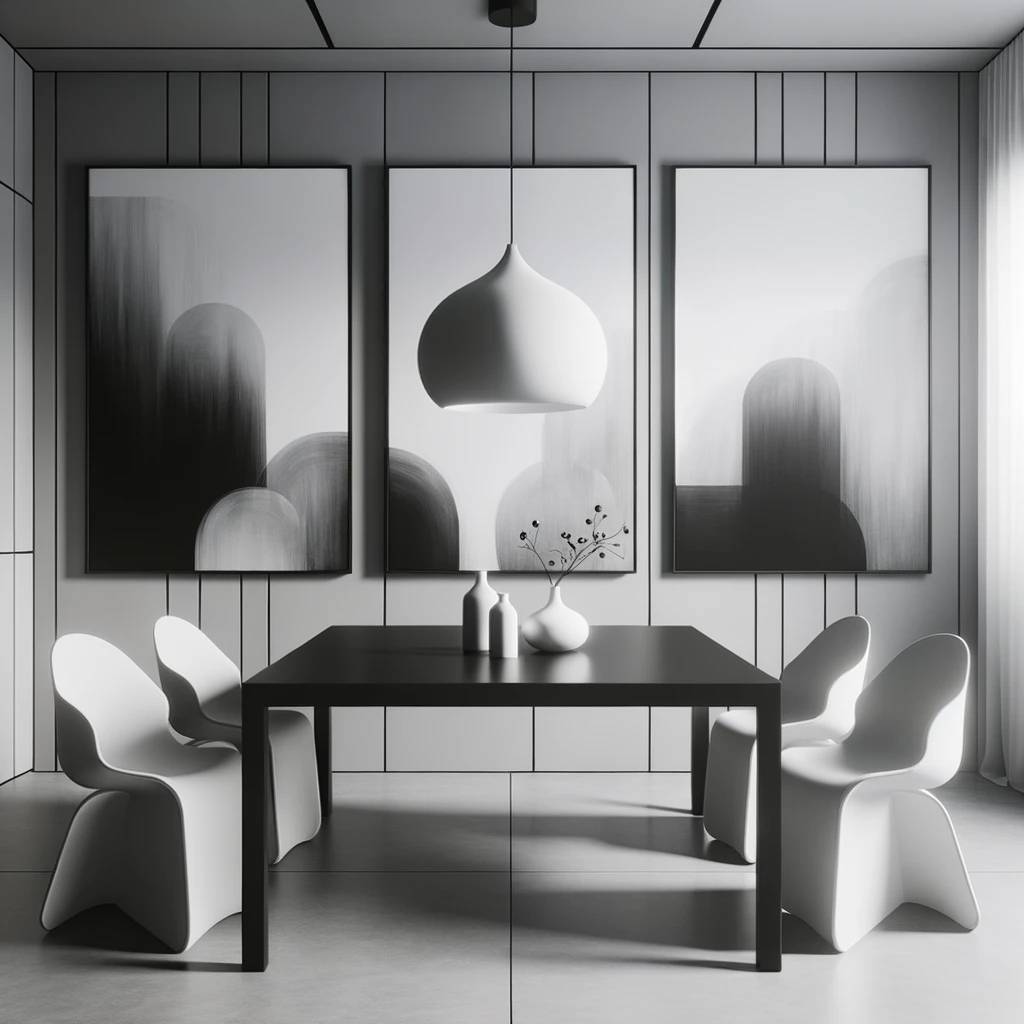 For those who appreciate understated elegance, this sleek minimalist dining space is a dream. Dominated by monochromatic tones, the sharp contrast between the black rectangular table and the pristine white molded chairs creates a striking visual. Abstract monochrome art graces the walls, while a statement light fixture adds a contemporary touch, casting a soft, inviting glow.
19. Parisian Panache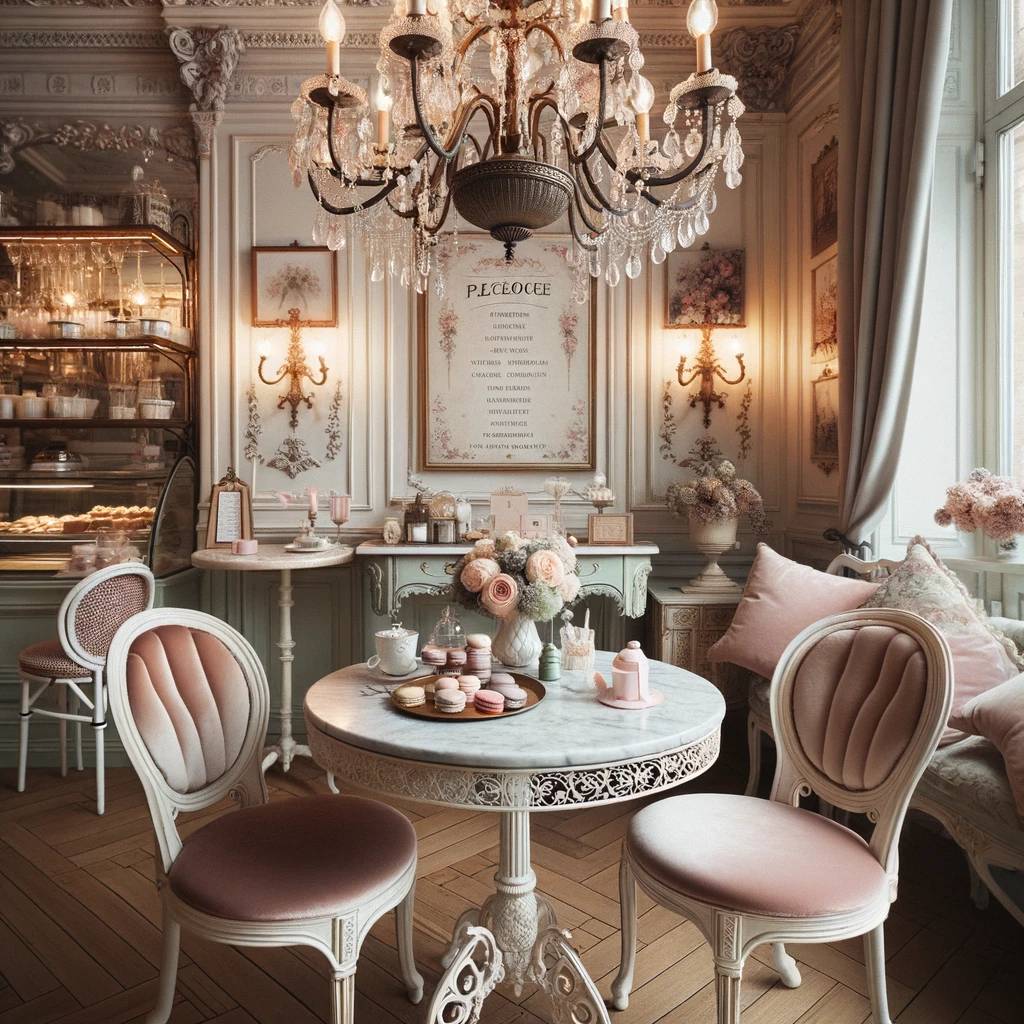 Experience the charm of a Parisian bistro in the comfort of your home with this romantic dining nook. The delicate wrought-iron table with its elegant marble top, coupled with plush velvet chairs, sets a luxurious tone. A vintage chandelier adds a touch of old-world glamour, and bistro-style elements, such as a quaint menu board and pastel macarons, infuse the space with undeniable charm.
20. Nature's Nook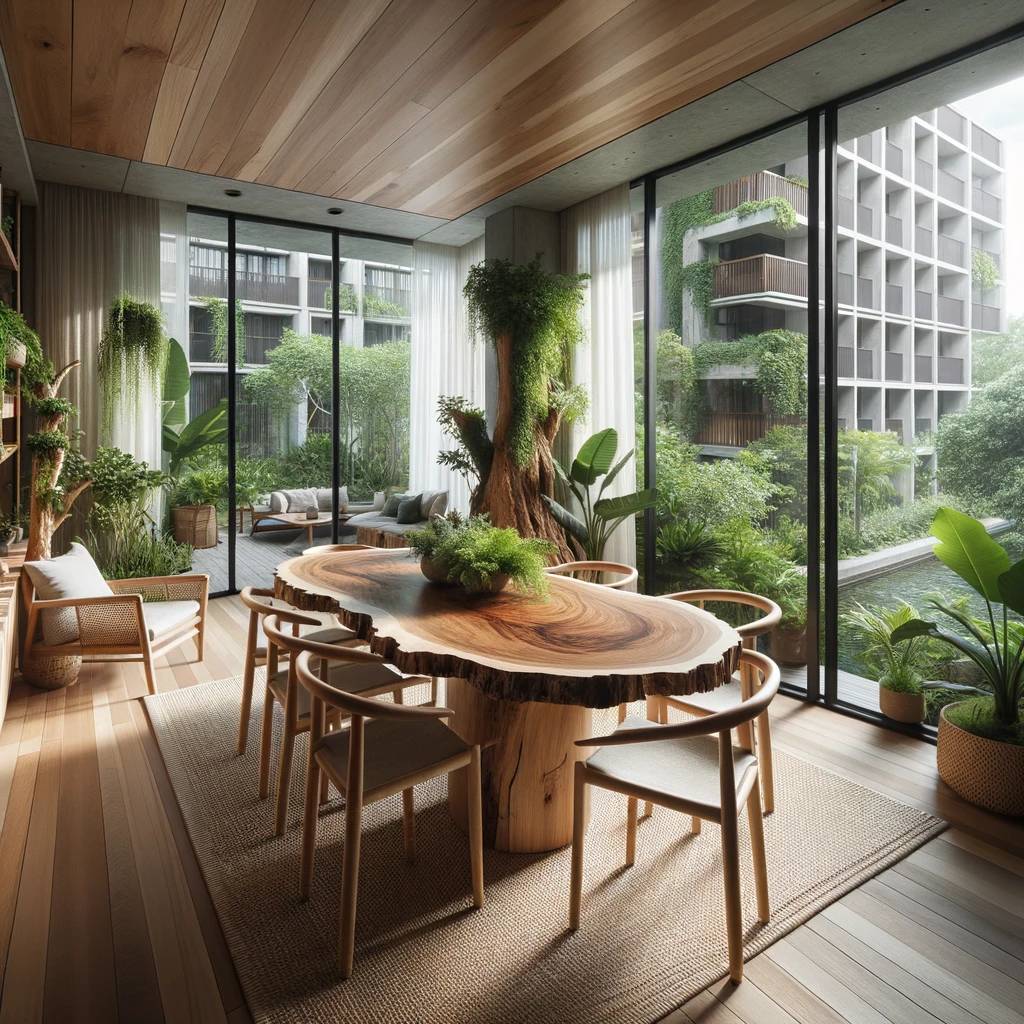 Reconnect with nature in this inspired dining alcove. The live edge wooden table stands as a testament to nature's beauty, surrounded by chairs crafted from natural materials. Expansive windows offer breathtaking views of a lush garden, creating a seamless indoor-outdoor experience. Strategically placed indoor plants enhance the refreshing ambiance, making every meal here a rejuvenating affair.
21. Mediterranean Magic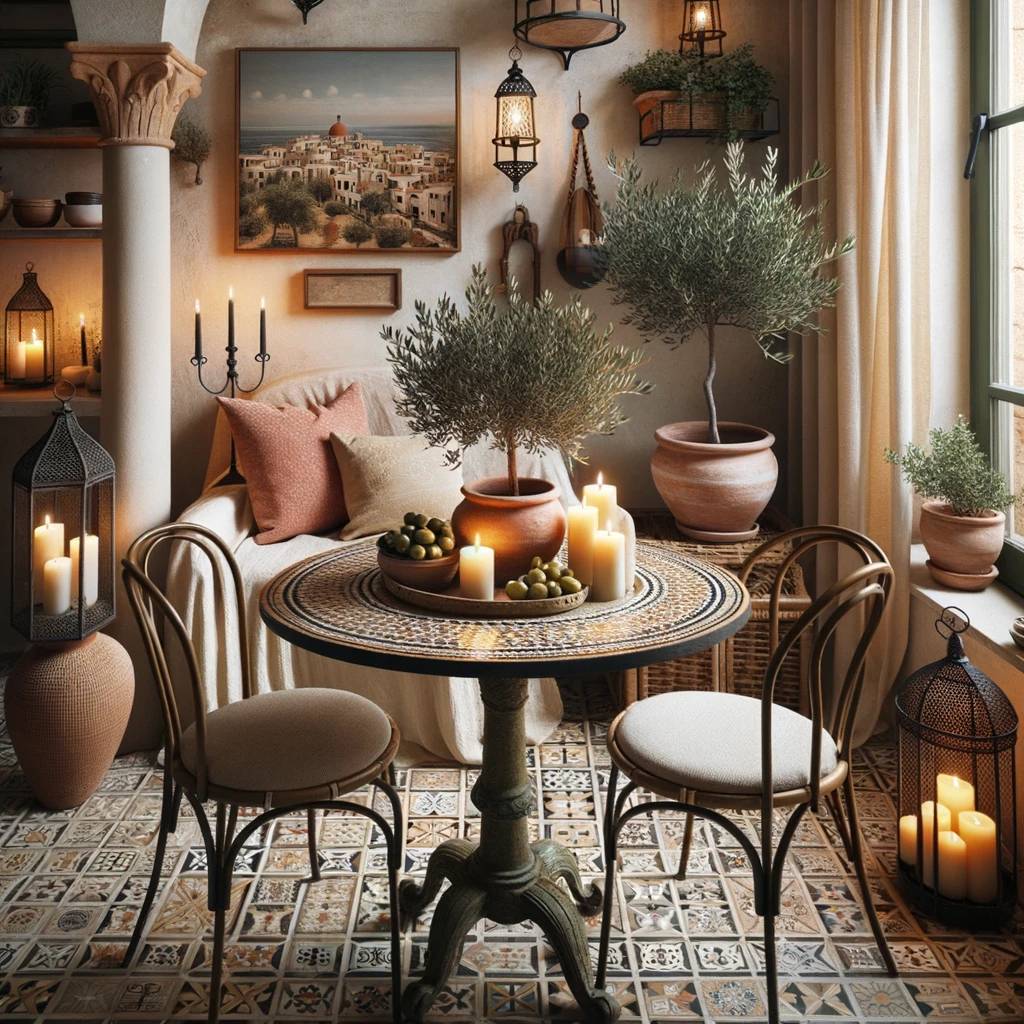 Transport yourself to the sun-drenched coasts of southern Europe with this Mediterranean-inspired dining space. The authentic feel of the mosaic tabletop, paired with classic wrought iron chairs, sets the stage for memorable meals. The ambiance is further enriched with terracotta pots housing olive trees and lanterns casting a warm, flickering glow, reminiscent of a quaint European villa.
22. Urban Loft Allure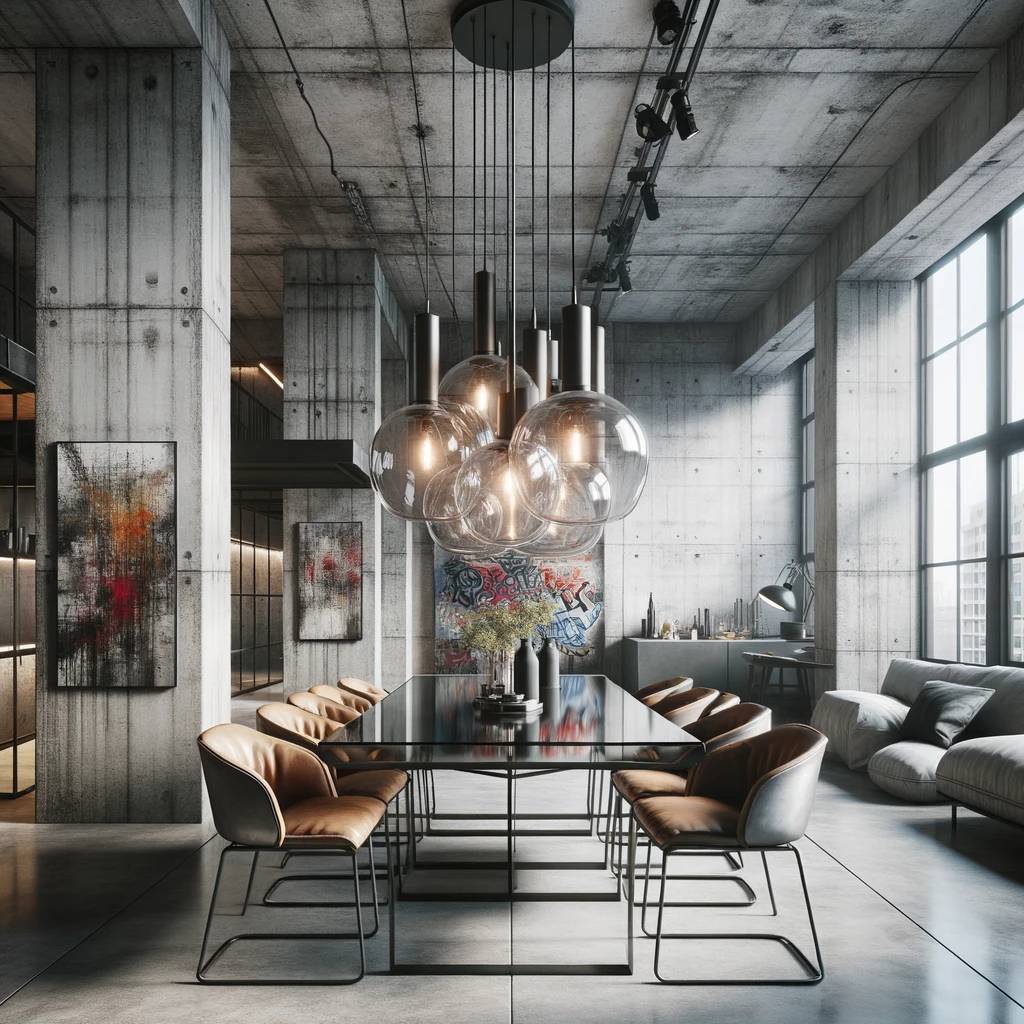 Step into a chic urban setting with this contemporary loft dining area. The raw beauty of exposed concrete walls contrasts sharply with the elegance of a sleek glass table. Metal chairs with plush leather cushions provide a comfortable seating experience, while the oversized industrial pendant light makes a bold statement. A vibrant graffiti art piece infuses the space with youthful energy, making it perfect for lively dinners and gatherings.
23. English Cottage Elegance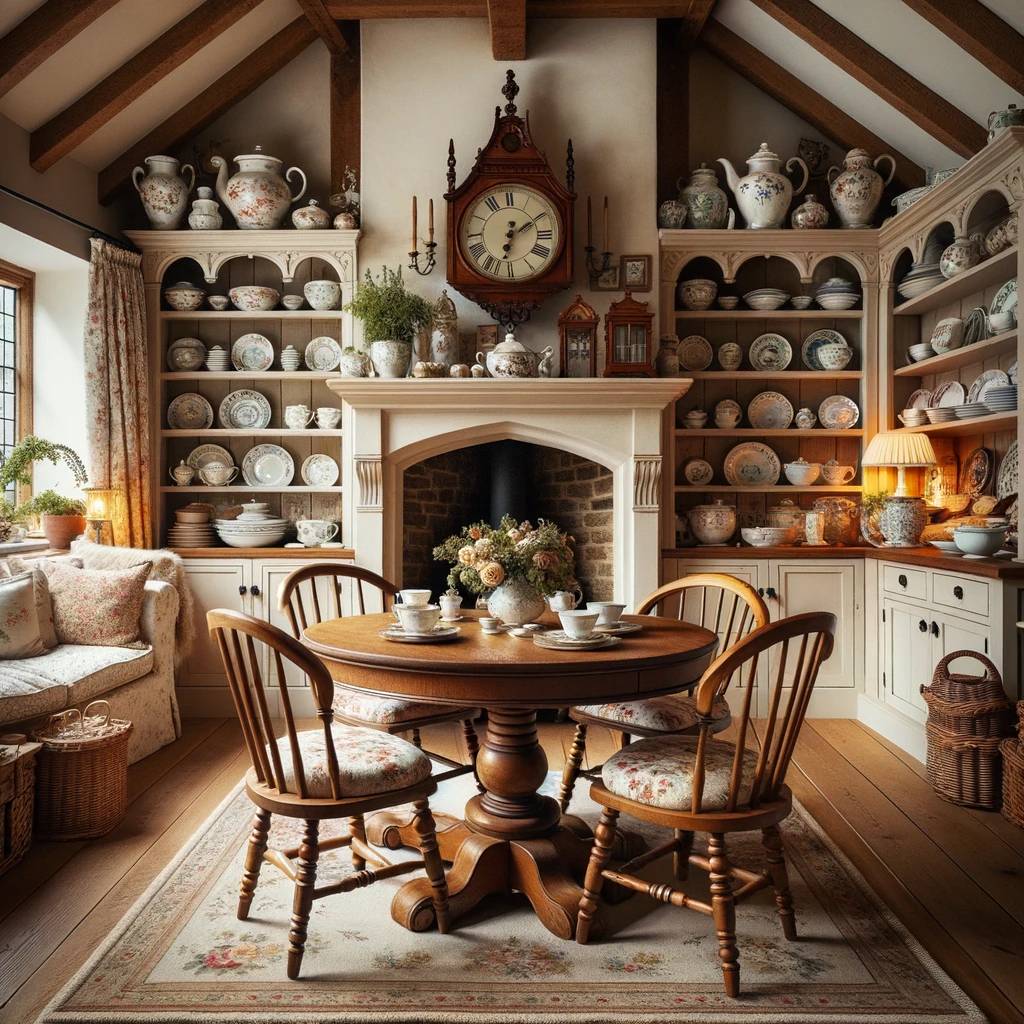 Experience the charm and warmth of a classic English cottage with this delightful dining nook. The wooden table, with its intricate spindle legs, is surrounded by chairs adorned with floral upholstery, evoking a sense of nostalgia. The display of vintage china on open shelves and the cozy fireplace, crowned with a mantel clock, create a setting that's both inviting and timeless.
24. Tropical Paradise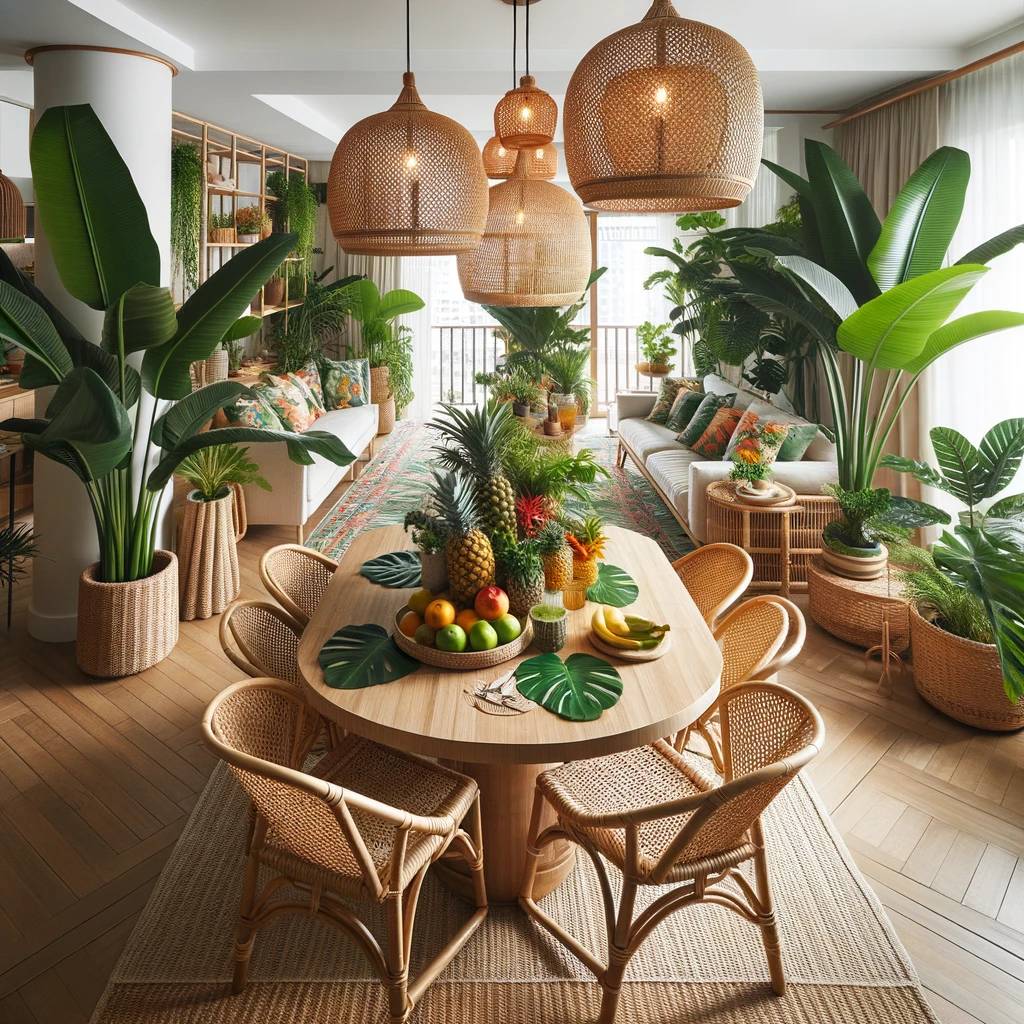 Dive into a tropical retreat with this island-inspired dining space. The bamboo table and rattan chairs immediately set a relaxed, vacation-like tone. Large, leafy plants and vibrant tropical fruit centerpieces transport you to a beachside cabana, while woven pendant lights sway gently, reminiscent of a gentle island breeze
25. Nordic Neutrals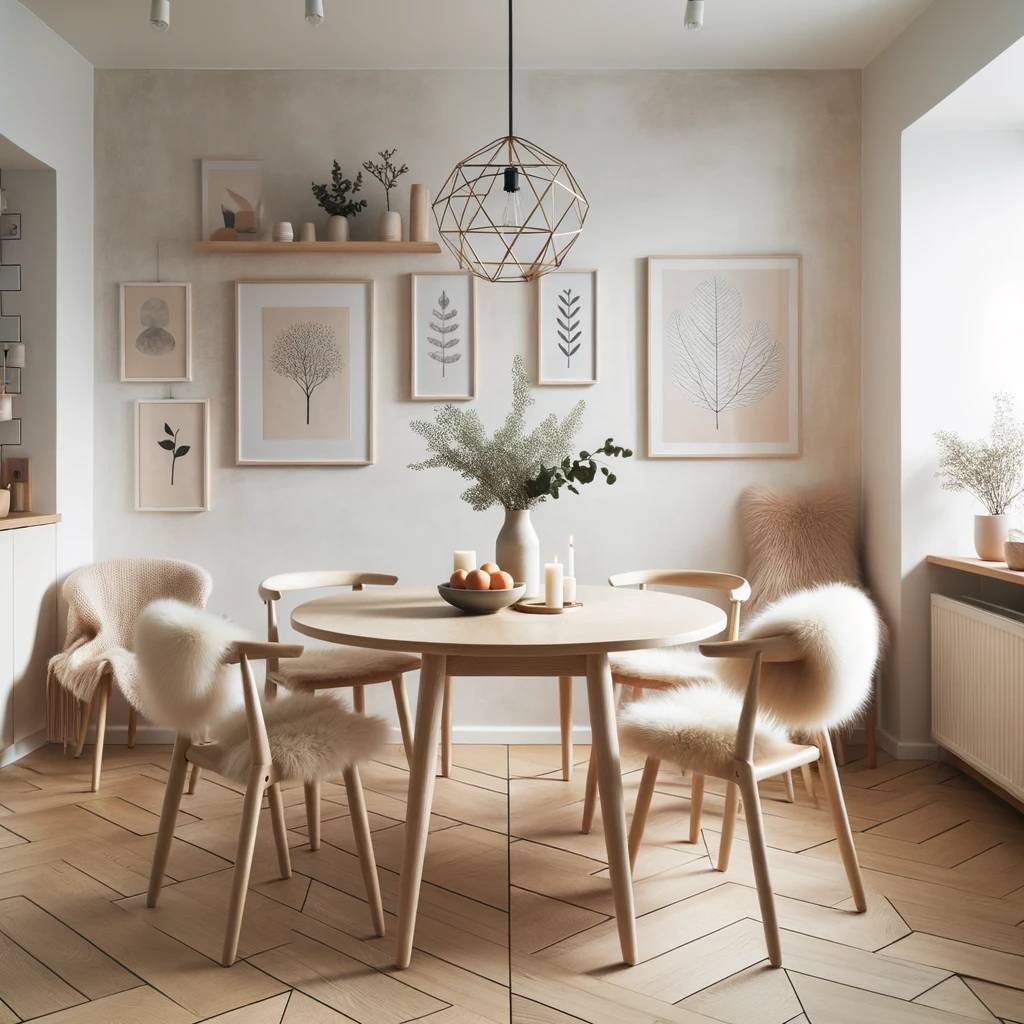 Experience the tranquil simplicity of Nordic design in this inspired dining area. The pale wooden floors provide a harmonious backdrop to the light wood dining table. Chairs draped with cozy sheepskin throws invite you to relax and enjoy your meal. The room is illuminated by a chic geometric pendant light, and the walls are adorned with minimalist Scandinavian art prints, encapsulating the essence of modern Nordic interiors.
26. Desert Modern Muse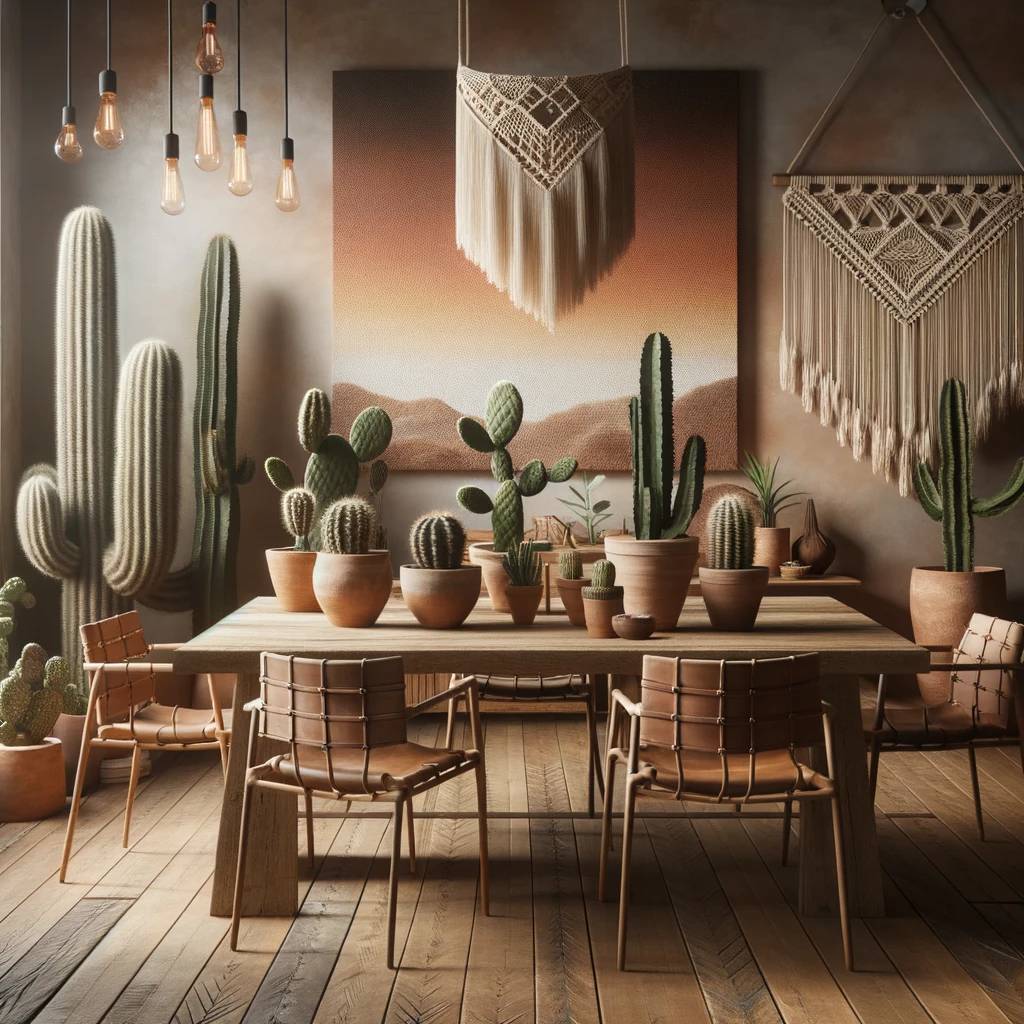 Dive into a warm and inviting desert-modern dining space, where rustic elements meet contemporary design. The wooden table, with its raw and rugged charm, is perfectly paired with sleek leather sling chairs. Cacti in terracotta pots dot the room, exuding a desert vibe. A macramé wall art piece, drenched in earthy tones, adds a touch of texture, and the ambient sunset-hued lighting wraps the space in a cozy glow.
27. Maritime Marvel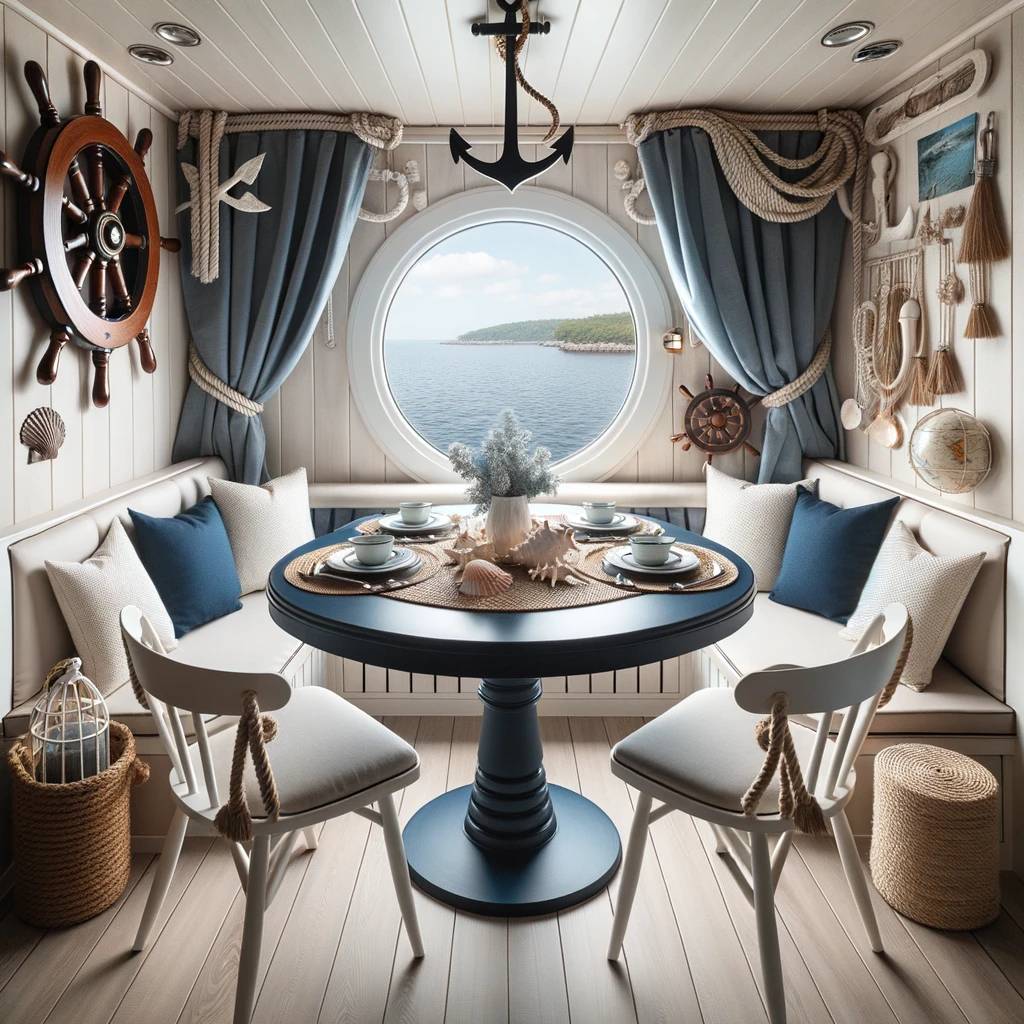 Set sail on a nautical adventure with this maritime-themed dining nook. The navy blue table serves as the anchor of the space, surrounded by pristine white chairs detailed with ropes. Nautical decorations, from an anchor to a ship's wheel and scattered seashells, pay homage to the sea. The porthole window, offering serene seascape views, adds the finishing touch to this oceanic oasis.
28. Oriental Opulence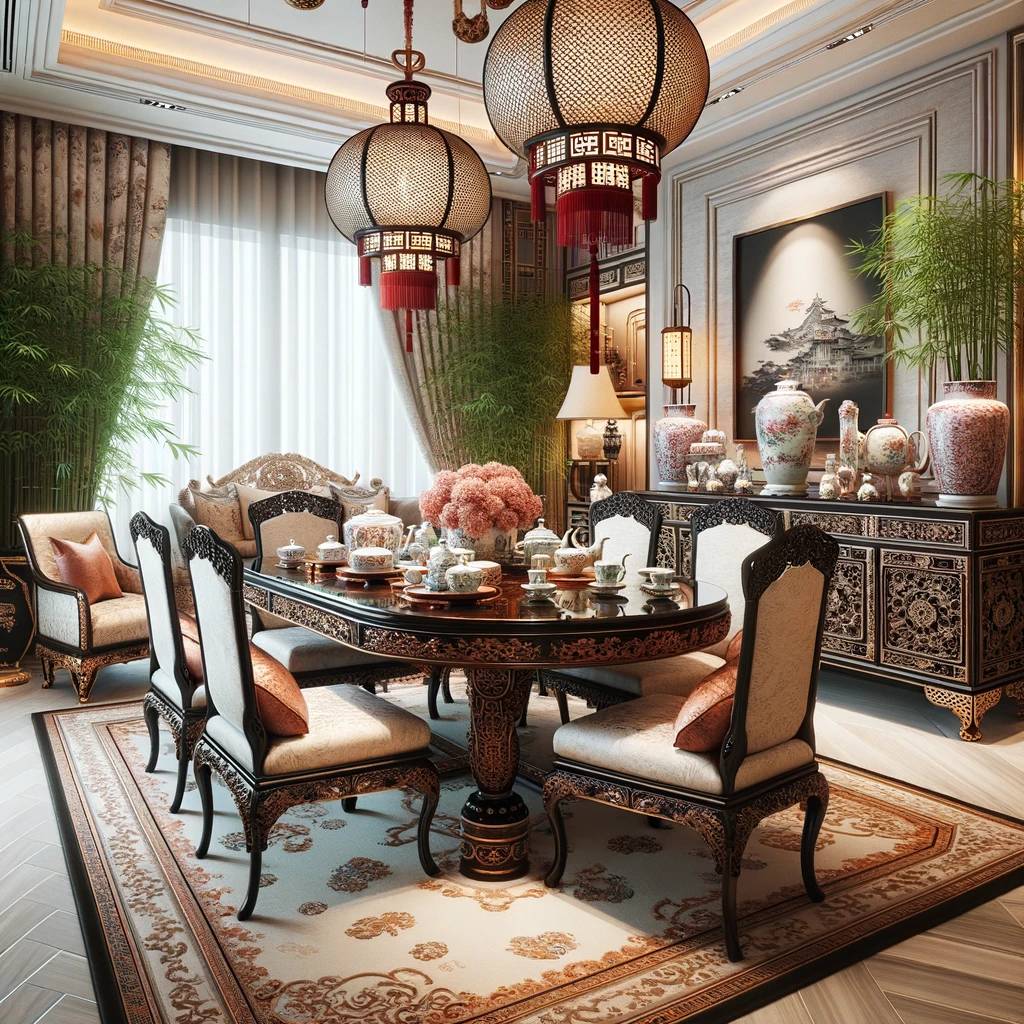 Step into a world of luxury and tradition with this Oriental-inspired dining area. A lacquered table, graced with intricate carvings, rests on a patterned rug, setting the stage for an elegant dining experience. Silk-upholstered chairs and traditional Chinese lanterns infuse the space with an air of sophistication. The setting is completed with delicate porcelain tea sets and refreshing bamboo plants, creating a harmonious blend of the past and present.
29. Geometric Glamour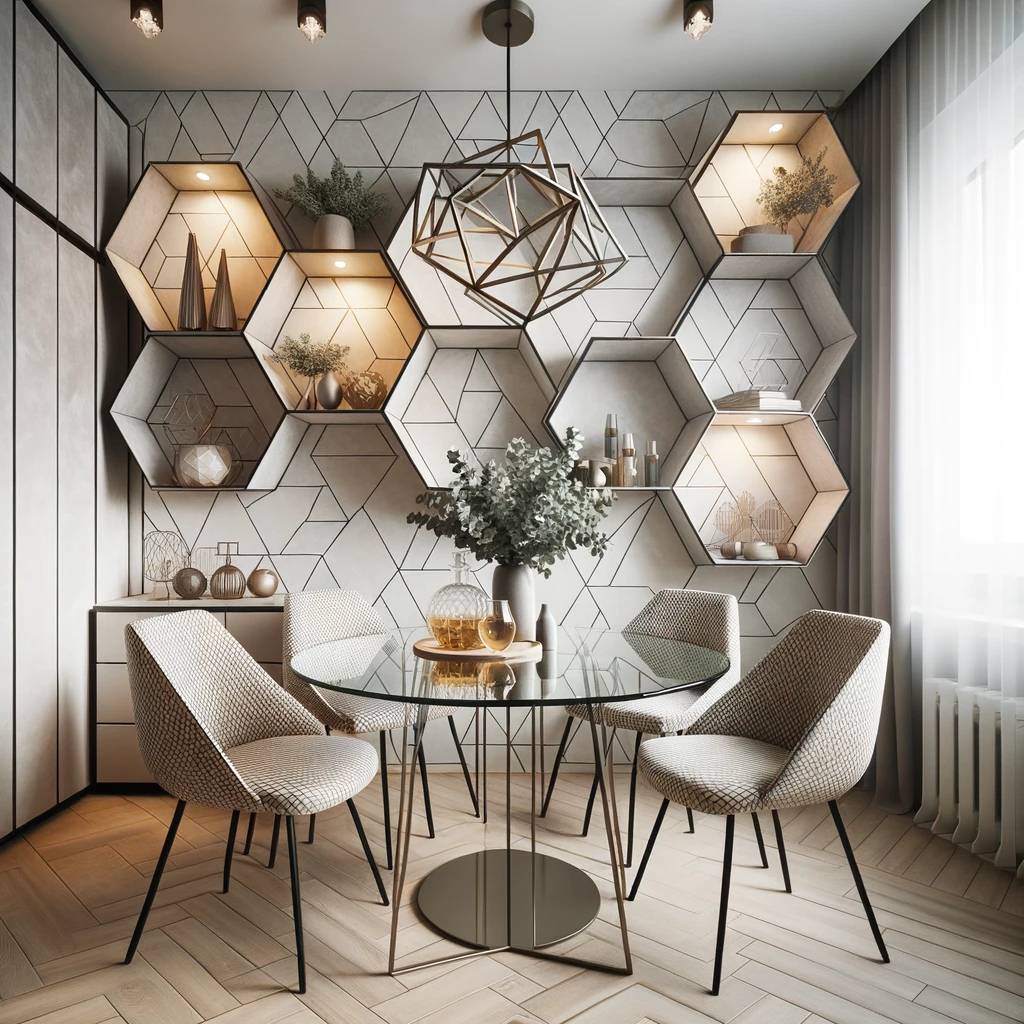 Step into a world where modern design meets geometric elegance. This dining space showcases a glass table with angular metal legs, offering a contemporary touch. Chairs upholstered in bold geometric-patterned fabric provide a comfortable seating experience, while hexagonal shelves display a curated collection of decorative items. The sleek pendant light, characterized by its unique angular designs, illuminates the room, enhancing its modern vibe.
30. Garden Getaway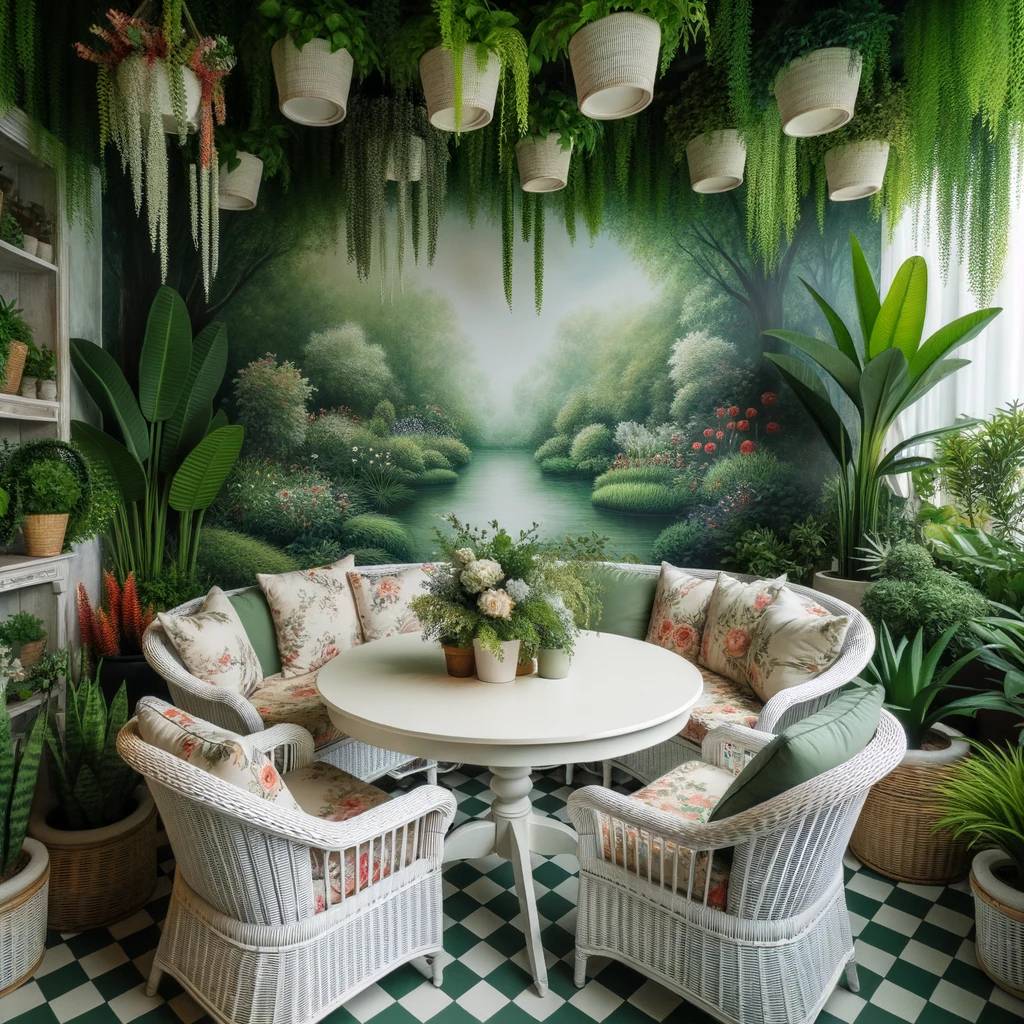 Escape to a tranquil garden paradise within the confines of your apartment. Centered by a pristine white circular table, this dining nook is enveloped in wicker chairs adorned with floral cushions. An array of potted plants brings nature indoors, creating a refreshing green canopy. The mural of a serene garden scene further transports you to a peaceful outdoor retreat, making every meal a rejuvenating experience.
31. Literary Luxe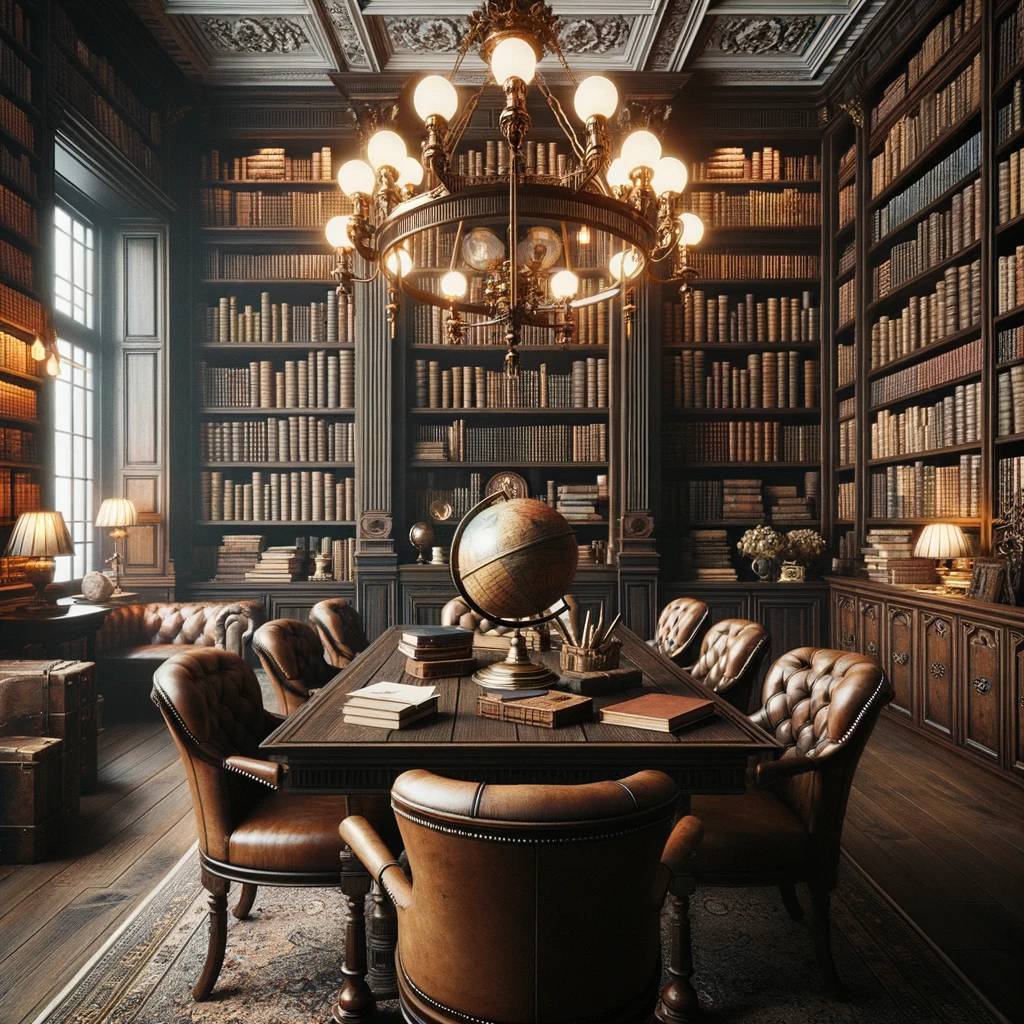 Dive into the nostalgic charm of a vintage library with this inspired dining area. The dark wooden table, reminiscent of old study tables, offers a rich contrast to the leather-bound chairs. Classic novels line the bookshelves, inviting you to indulge in timeless tales. An antique globe, paired with the warm ambient light from the brass chandelier, evokes the ambiance of a bygone era, perfect for intellectual discussions over dinner.
32. Cyberpunk Chic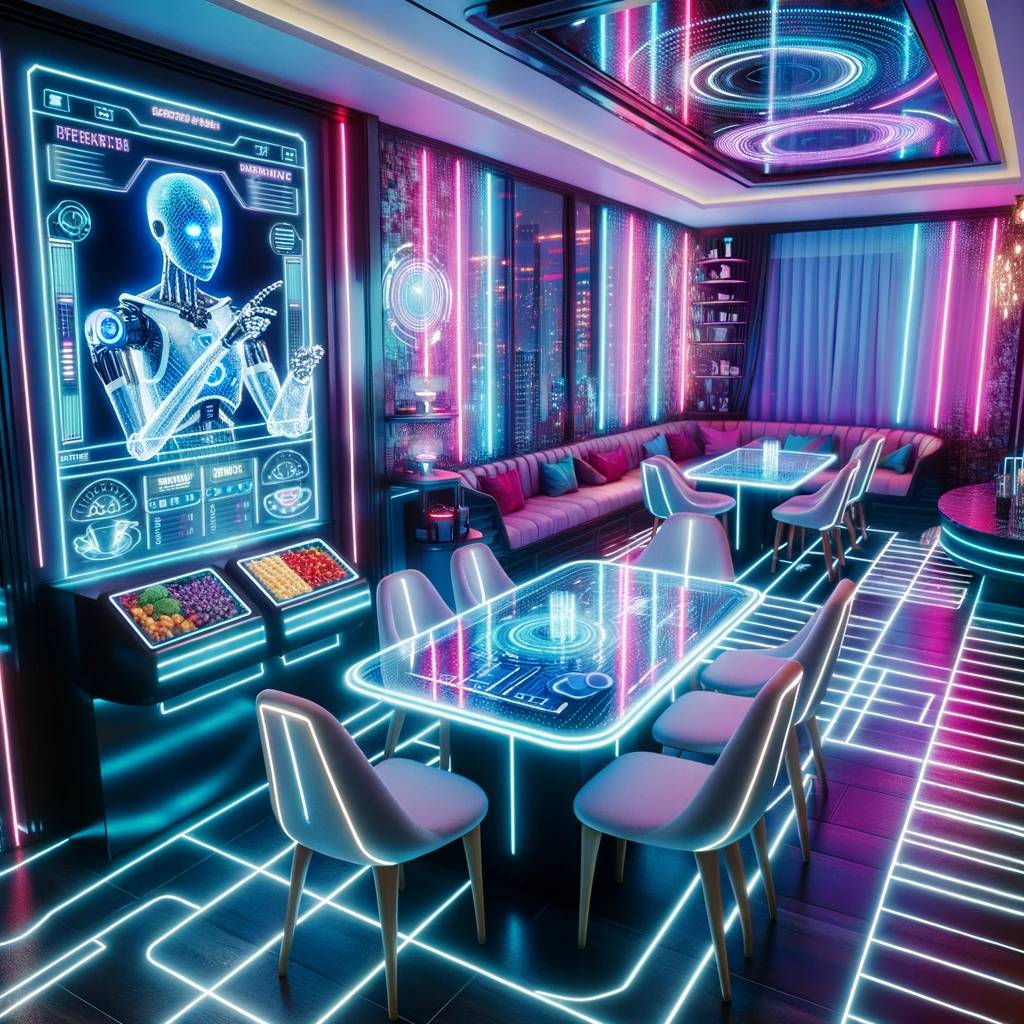 Venture into the future with this cyberpunk-inspired dining space. The holographic table, displaying digital menus, sets a futuristic tone, complemented by neon-lit chairs. Dynamic LED patterns pulse across the walls, creating a mesmerizing visual display. A robotic server stands at the ready, promising a dining experience that's truly out of this world.
33. Beachside Breeze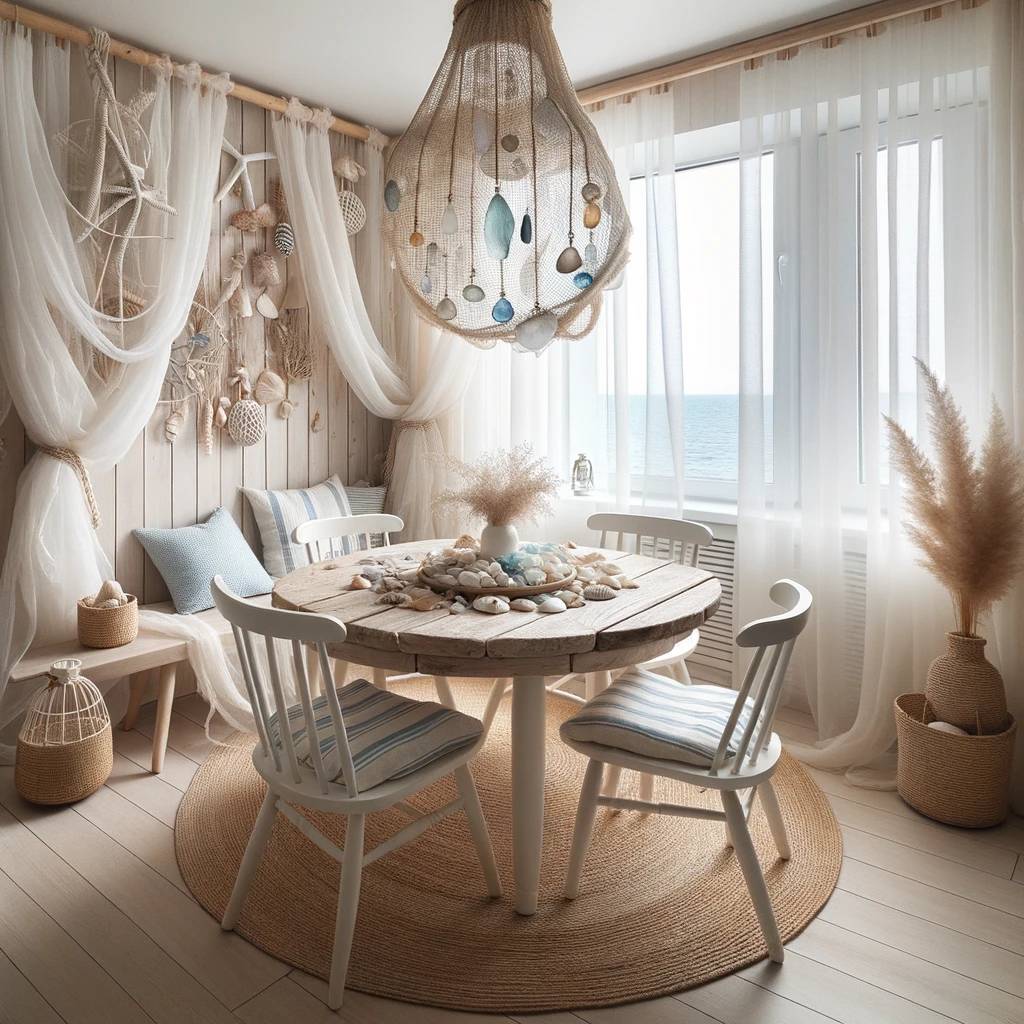 Imagine dining with the gentle sounds of waves and a cool sea breeze. This airy beach-themed dining space brings the seaside right to your apartment. The driftwood table stands as a testament to nature's artistry, and chairs draped in white and blue striped cushions evoke memories of coastal vacations. Seaglass decorations and sheer white curtains complete the look, all under the warm glow of a pendant light reminiscent of a fisherman's net.
34. Vineyard Vignette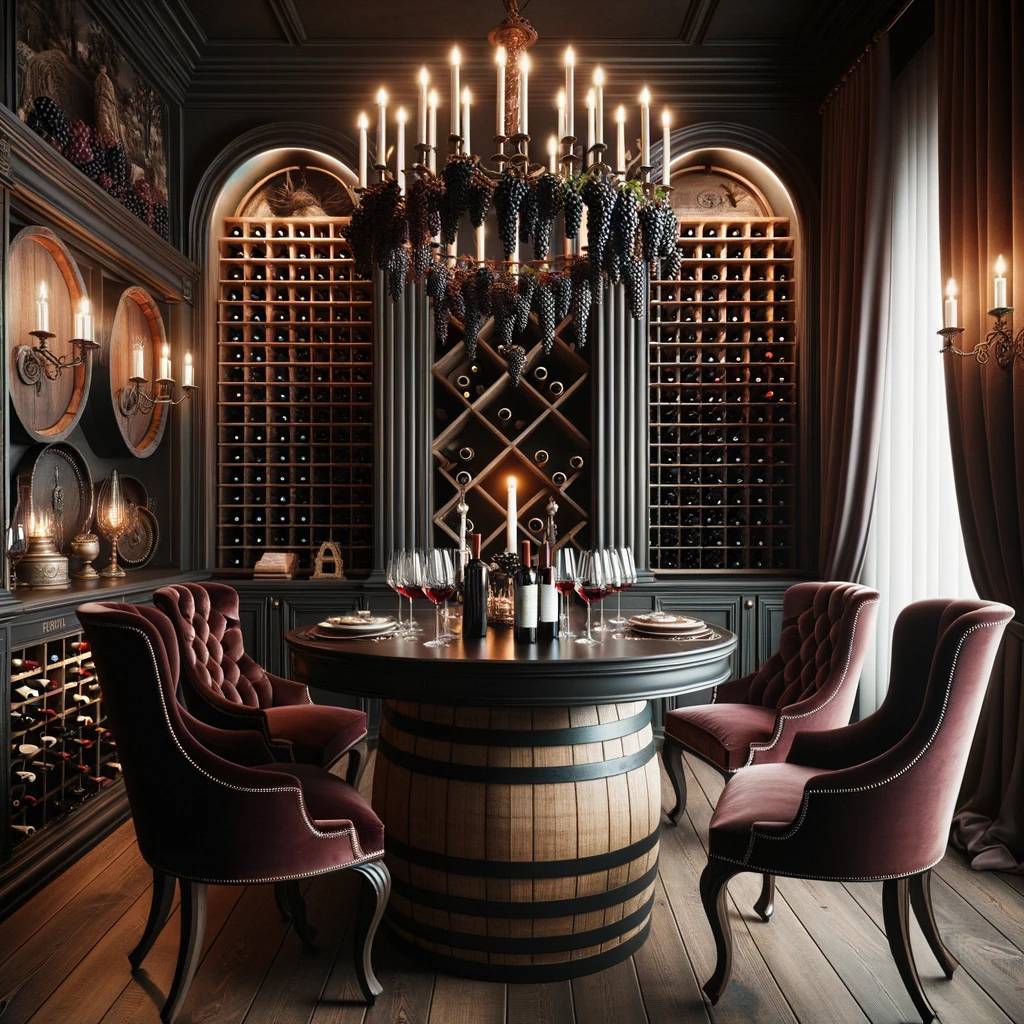 For wine enthusiasts, this sophisticated dining nook offers a rich and immersive experience. The dark mahogany table, uniquely stationed on a vintage wine barrel, exudes rustic elegance. Deep burgundy velvet chairs invite you to sit back and relax, while a wine rack showcasing fine selections beckons the connoisseur in you. Candlelit sconces and a grapevine chandelier further enhance the vineyard ambiance.
35. Carnival Celebration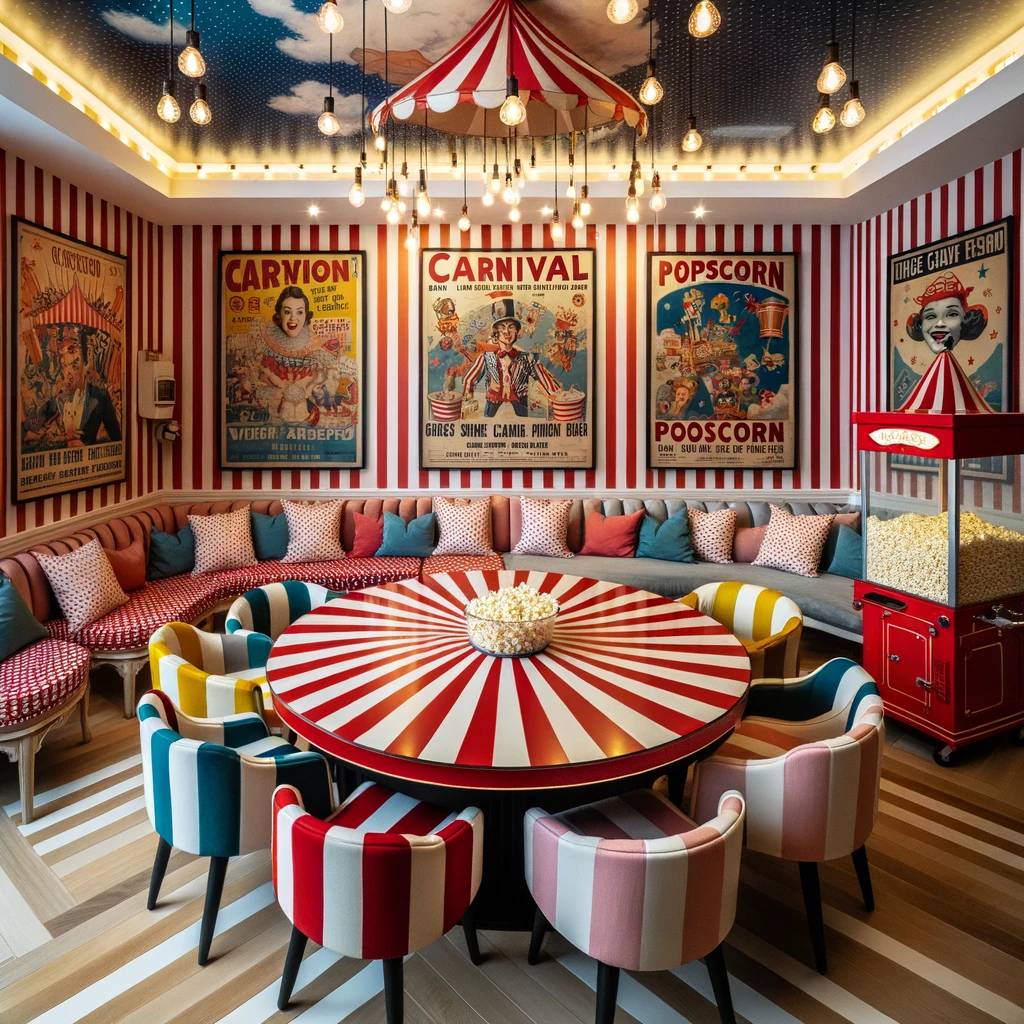 Step into a world of fun and festivity with this playful carnival-themed dining area. The circular table, adorned in red and white stripes, sets a jovial tone. Chairs in bold primary colors add vibrancy, and vintage carnival posters on the walls capture the essence of joyous celebrations. And for that authentic touch, a popcorn machine stands ready to serve, while overhead string lights infuse the space with a festive glow.
36. Spa Serenity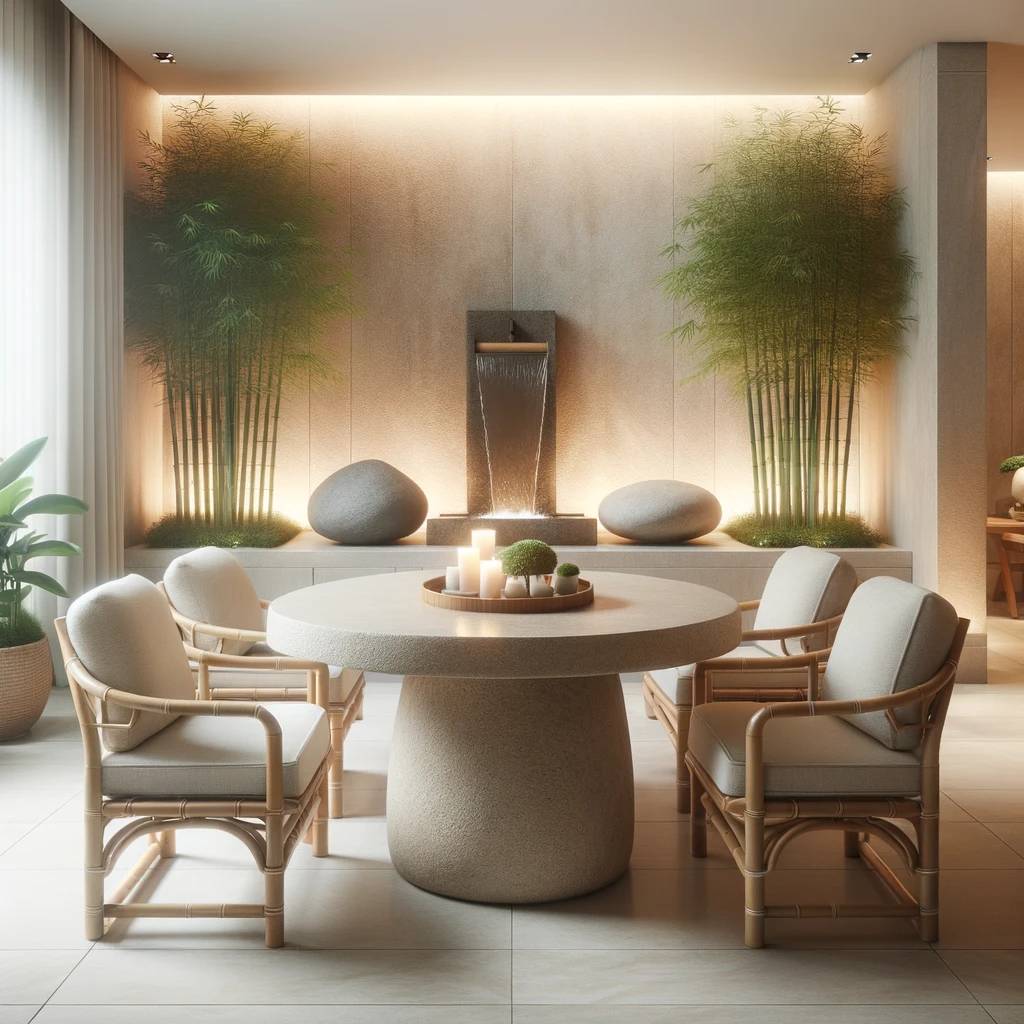 Seeking a tranquil dining experience? This spa-inspired dining space promises relaxation with every bite. The smooth stone table, paired with bamboo chairs, offers an organic touch. The gentle sound of a wall fountain provides a soothing background, while potted bamboo plants breathe life into the space. Soft ambient lighting and the gentle flicker of scented candles ensure every meal here is a meditative journey.
37. Moroccan Mystique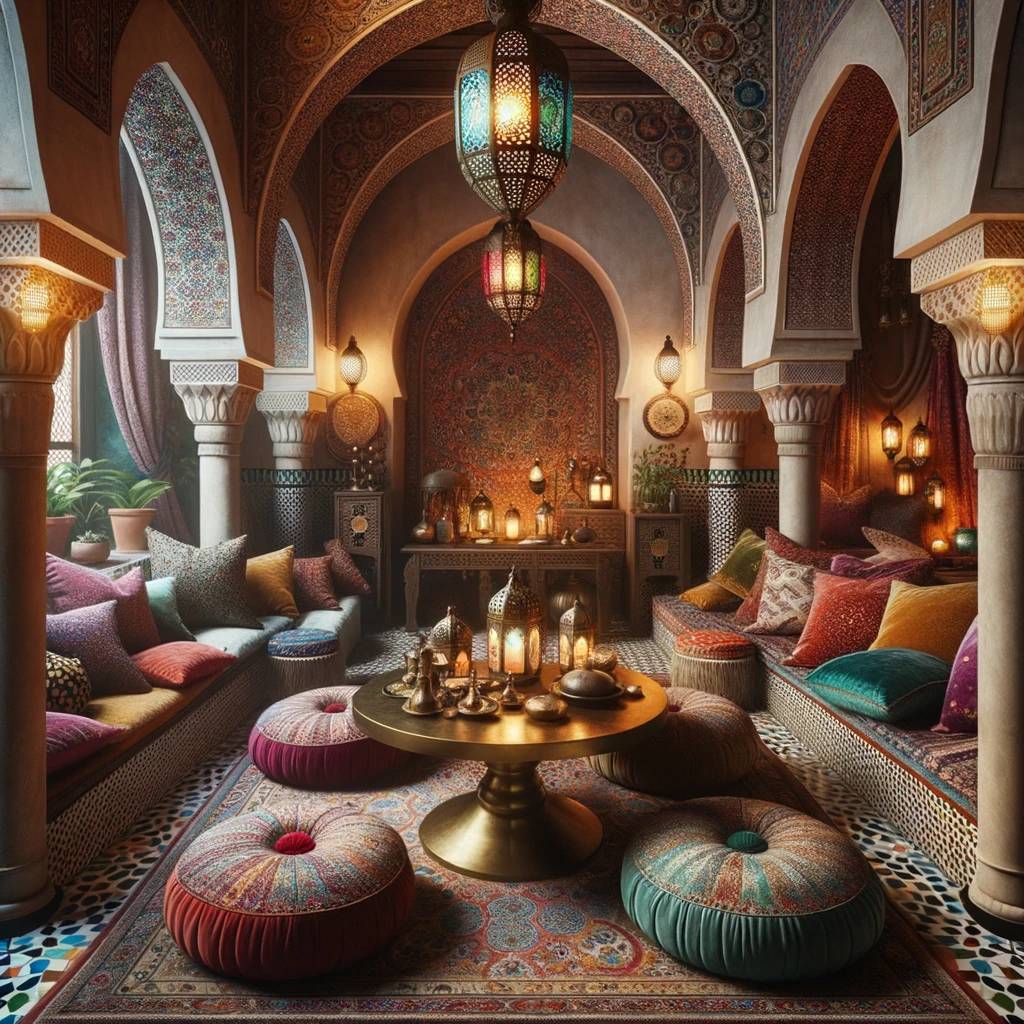 Immerse yourself in the allure of the Middle East with this Moroccan-inspired dining space. Centered by a low brass table, this setting invites you to lounge on plush floor cushions draped in rich jewel tones. Intricately designed archways frame the area, providing a sense of intimacy. The magic is further amplified by lanterns with colored glass, casting enchanting shadows around. Tapestries and ceramic tiles contribute to the authentic Middle Eastern ambiance, making every meal a cultural journey.
38. Bistro Brilliance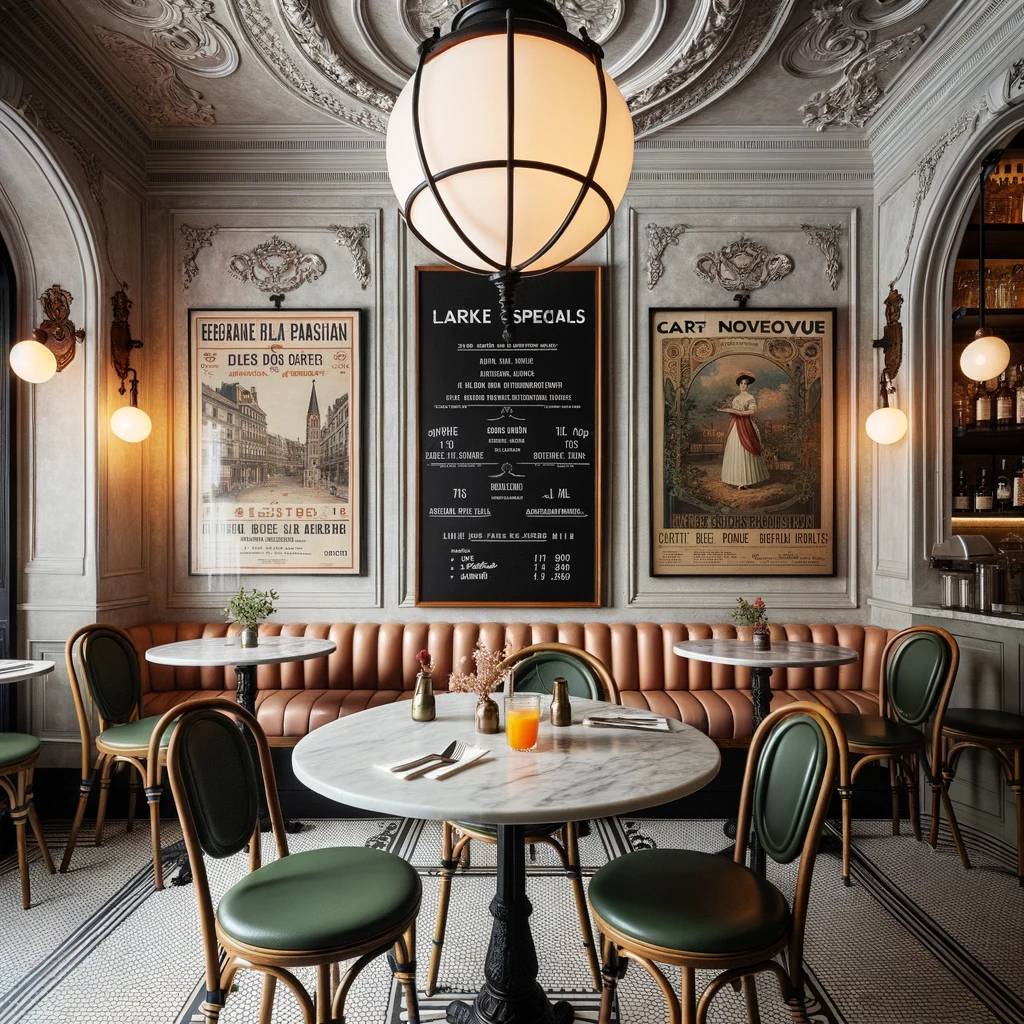 Experience the charm of a Parisian sidewalk café with this chic bistro-inspired nook. The elegance of the marble-topped table, supported by cast iron legs, is beautifully complemented by chairs upholstered in vibrant green leather. A chalkboard menu hints at daily culinary delights, while vintage French posters lend an air of nostalgia. The art nouveau pendant light overhead casts a soft, romantic glow, ensuring every dining experience feels like a Parisian getaway.
39. Fairy-Tale Fantasy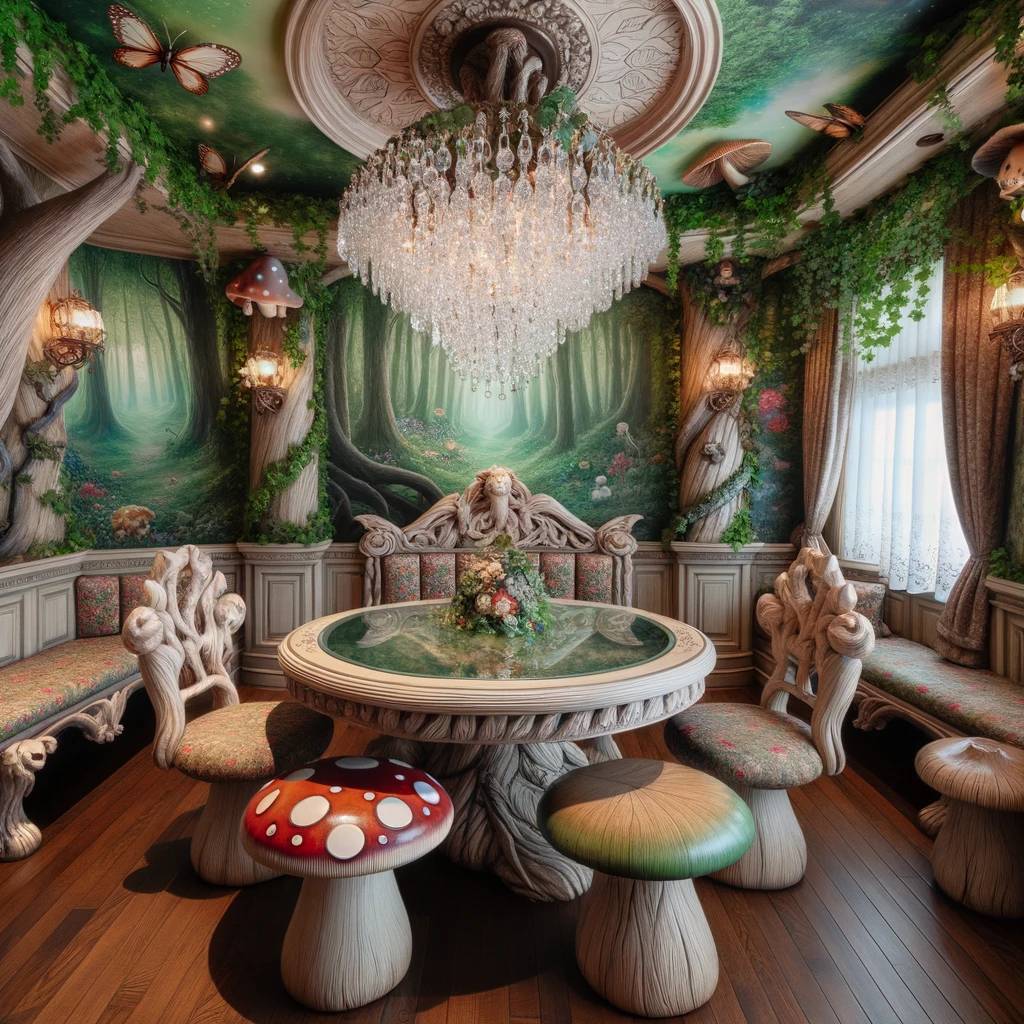 Step into a page from your favorite fairy-tale book with this whimsical dining area. The table, supported by carved woodland creatures, is topped with clear glass, offering a view of the enchanting world below. Chairs that resemble toadstools and ivy vines cascading from the ceiling transport you to an enchanted forest. Murals depicting magical landscapes and a chandelier crafted from crystal dewdrops ensure that every meal here feels like a fantastical adventure.
40. Tuscan Tranquility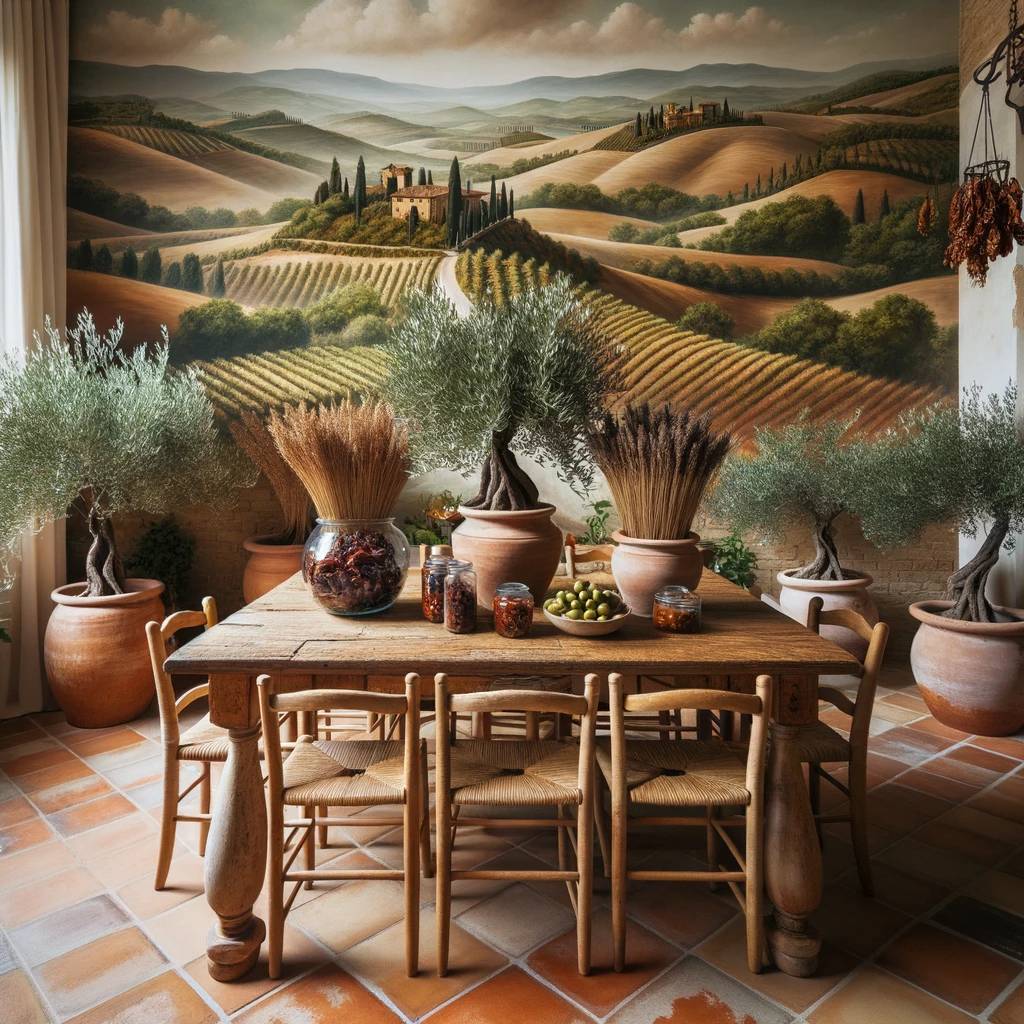 Bask in the warmth of the Italian countryside with this rustic dining setting. The wooden table, standing proudly on terracotta tiles, is surrounded by chairs featuring traditional woven straw seats. Potted olive trees, jars of sun-dried tomatoes, and bunches of dried lavender conjure images of sun-kissed Tuscan landscapes. A mural showcasing rolling hills and vineyards serves as the perfect backdrop, promising a sensory journey to Italy with every bite.
Summary
In summary, the key to a charming and functional small dining room in your apartment lies in creativity and resourcefulness. As urban living spaces continue to trend toward compact designs, optimizing every nook becomes essential. This blog provides ideas to transform your limited dining area into a stylish and practical space. It offers suggestions for space-saving furniture and decor choices, catering to various tastes and preferences. By embracing the challenge and incorporating your unique style, you can create an elegant and inviting dining space in your apartment.