5 Ways To Modernize Your Old Dated Fireplace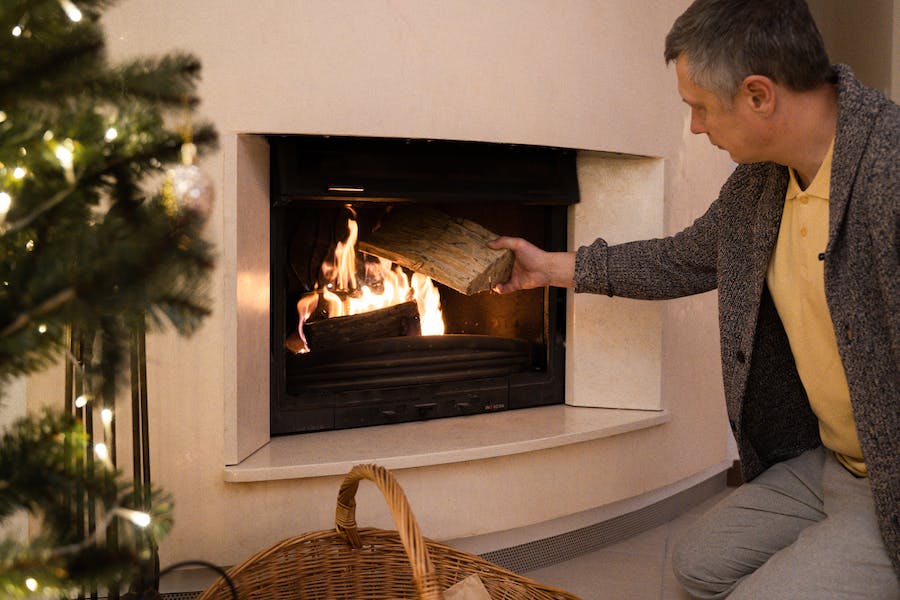 Fireplaces bring warmth and charm to our homes. But sometimes, they can look a bit old-fashioned. If you want to make your place feel more up-to-date, focusing on your fireplace is a great start.
In this article, we'll discuss five easy ways to give your old fireplace a fresh, modern look.
These ideas will help you turn your outdated fireplace into a stylish centerpiece for your home. Let's explore simple ways to make your living space feel brand new!
1. Rekindling Elegance: Refurbishing Your Fireplace
Reinvigorating your fireplace not only enhances the aesthetic appeal but also adds a contemporary touch to your living space. Here are essential steps to refurbish the fireplace.
Cleaning and Maintenance
Begin by thoroughly cleaning the fireplace and removing soot, ash and dirt from the hearth, firebox, and mantle. Use appropriate cleaning materials and methods suited to the type of fireplace, whether a cultured stone fireplace, painted brick fireplace, or metal.
Evaluate the condition of the fireplace for any cracks, loose bricks, or signs of damage. Addressing any issues at this stage prevents further damage and ensures safety.
Replacing or Refacing
Transform the fireplace by changing its appearance. This may involve updating the material around the fireplace, like replacing dated tiles or an old brick fireplace with modern, more appealing alternatives.
If the fireplace is beyond repair or a complete redesign is desired, consider replacing parts or the entire structure. Installing a new fireplace insert, screen, or glass door can modernize the look.
2. Igniting Transformation: Upgrading Surroundings
Refining the environment around a fireplace involves several key elements that can significantly enhance its appeal and impact.
Strategic Lighting
Strategic lighting can illuminate a fireplace, drawing attention to its architecture, texture, and design. Utilize adjustable fixtures, wall sconces, or accent lighting to highlight the fireplace and create a warm and inviting atmosphere.
Subtle downlights or recessed lighting can focus attention while casting a gentle glow on the hearth, emphasizing its visual allure.
Furniture Arrangement
Strategic furniture arrangements can leverage the fireplace as the focal point in a room.
Reorienting seating, such as arranging sofas, chairs, or other furniture to face the fireplace, enhances its presence and encourages conversation around its hints of warmth.
3. Hearth of Color: Using Painting as a Modernization Tool
Painting can be a significant tool in transforming a fireplace, adding aesthetic appeal without overpowering the space.
The right color choice and application technique can breathe new life into this central element of a room, making it a focal point without dominating the space.
Why Painting Matters
The impact of paint for a brick or stone fireplace is more than just surface-deep. It can modernize and uplift the entire room. By choosing the right color, you can refresh the look of the fireplace, making it a statement piece that complements the room's overall design.
Choosing Colors
Selecting the appropriate color scheme is pivotal. Factors to consider include the existing room color, the fireplace material, and the overall mood or theme you want to establish.
Neutrals like grays, whites, or beiges often provide a modern, sophisticated look, while bolder colors can create a more striking effect. Harmony with the room's design is crucial.
Other Creative Painting Techniques
In addition to choosing colors, alternative painting methods can add uniqueness and character to the fireplace.
Color blocking, textures, or stenciling offer ways to bring out artistic expressions, using paint as a creative tool. These techniques can provide depth, visual interest, and individuality to the fireplace, making it a true focal point in the space.
4. Integrating Natural Elements: Infusing Nature Into Your Fireplace Space
Adding natural elements to your fireplace design is one of the best fireplace remodel ideas you can do! Let's see how you can do it.
Incorporating Natural Stone or Wood
Using natural elements such as stone or dark wood or a stone fireplace makeover can go a long way.
Natural stones like granite or marble tile for the fireplace façade create an elegant and classic look, while a wood mantel or accents add warmth and rustic charm to the space.
The texture and earthy tones of these materials bring a sense of natural beauty and timeless appeal to the fireplace area.
Adding Greenery
Incorporating plants or greenery around the fireplace area can bring a refreshing touch to the space. From small potted plants or flowers on the new mantel to larger indoor plants strategically placed nearby, the introduction of greenery adds vibrancy and life to the environment.
Besides the visual appeal, plants contribute to improved air quality, creating a healthier and more inviting ambiance.
Using Organic Textures
Natural textures like woven baskets, jute rugs, or organic fabric upholstery complement the fireplace area by introducing a cozy, earthy feel.
Basketry can be used for storing firewood, adding a functional yet aesthetically pleasing element. Introducing natural textures through throws, cushions, or rugs emphasizes comfort and warmth, promoting relaxation and tranquility around the fireplace.
5. Customized Architectural Additions: Personalizing Your Fireplace
Adding a personalized touch to your fireplace not only enhances its aesthetic appeal but also elevates the overall ambiance of the room. Consider the following fireplace makeover ideas to create a unique and tailored fireplace.
Customizing Surroundings
Tailoring the fireplace surround environment with customized mantels, shelves, or decorative accents can significantly influence the room's character.
Mantels provide an ideal space to display art, photographs, or decorative items. Custom shelves or built-in cabinetry around the fireplace offer functionality and an opportunity for personal expression.
DIY and Handcrafted Elements
Adding handcrafted or DIY elements can infuse a personal touch into the fireplace. Handmade tiles, artisan-made features, or even a custom-designed screen can add a sense of individuality to the fireplace design.
For the more creatively inclined, undertaking DIY projects like creating a custom-designed mantel, handcrafted shelving, or even crafting unique fire screens can reflect personal style and preferences.
Conclusion
Updating your old fireplace can ultimately give a fresh new look to your home. These five simple ideas, like cleaning and adding new touches, help modernize your fireplace.
Whether using white paint, natural elements, or personalizing with DIY touches, each step makes your fireplace more stylish and inviting.
By implementing these DIY fireplace ideas, your home will feel fresh and cozy. Start with these ideas and see the incredible difference they can make in your living space.
Your revamped fireplace will become a beautiful centerpiece, adding warmth and a modern touch to your home.