Western Living Room Ideas: 50 Blending Tradition With Modernity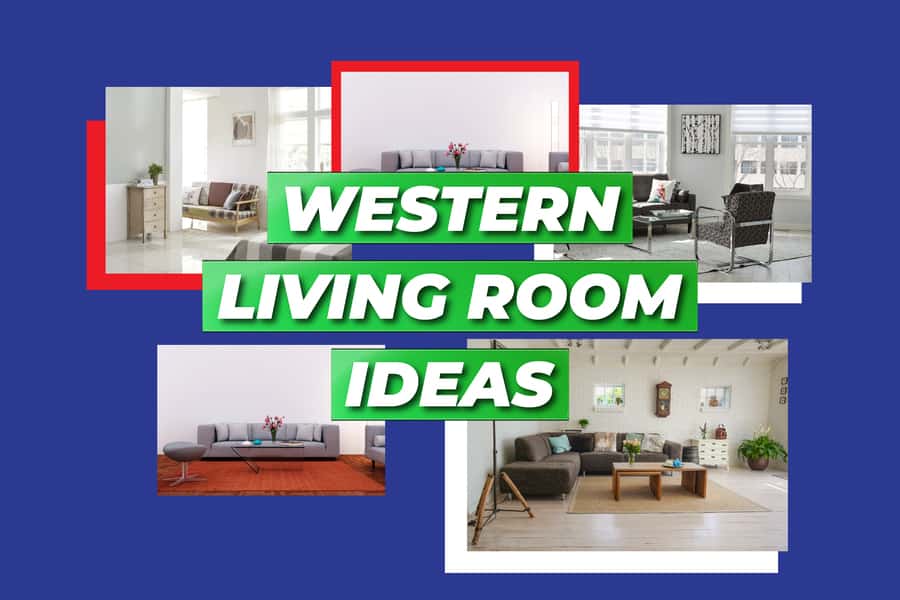 Welcome to the captivating world of Western-inspired living room designs! The American West has a timeless allure, weaving together rugged landscapes, cowboy tales, and a rich cultural heritage. In this blog, we'll embark on a journey through a diverse array of Western-themed living room ideas, each offering a unique blend of tradition and modernity. From the rustic charm of a ranch-style resplendence to the vibrant hues of a Southwestern splendor, we'll explore how these designs capture the essence of the West. Whether you're drawn to the nostalgia of a Wild West saloon or prefer a fusion of contemporary and Western elements, we've got you covered. These living room ideas transport you to different eras and settings within the American West, providing inspiration for your next home makeover. Join us as we celebrate the spirit of the West and discover how to infuse your living space with its enduring charm.
1. Ranch-Style Resplendence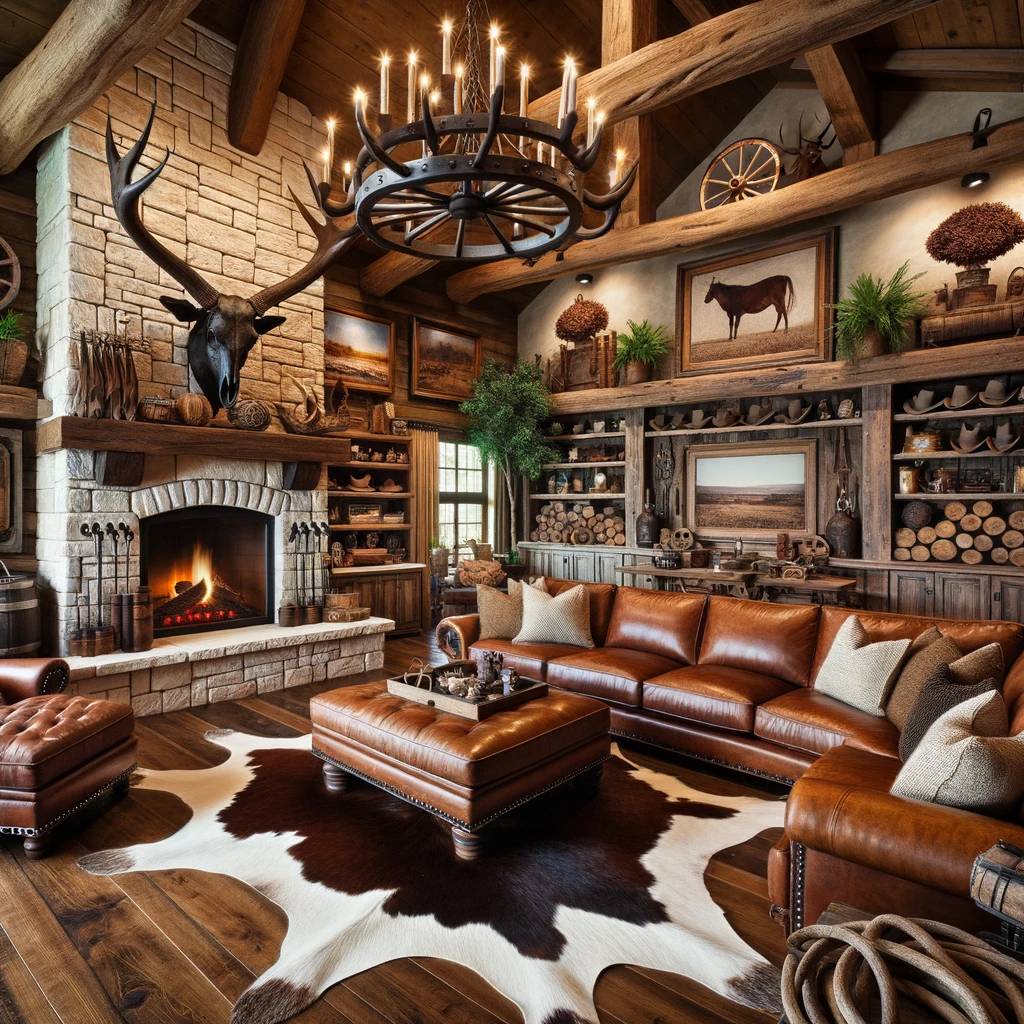 Evoking the comfort and warmth of a traditional ranch home, this living room is a testament to the enduring appeal of Western design. A luxurious leather sofa offers the perfect spot to relax, facing a majestic stone fireplace adorned with antler decor. The rugged beauty of cowhide rugs contrasts beautifully with polished hardwood floors, while a wagon wheel chandelier casts a soft glow from above. Rustic wooden shelves, displaying vintage cowboy gear, add the finishing touch, immersing you in the rich history of the American West.
2. Southwestern Splendor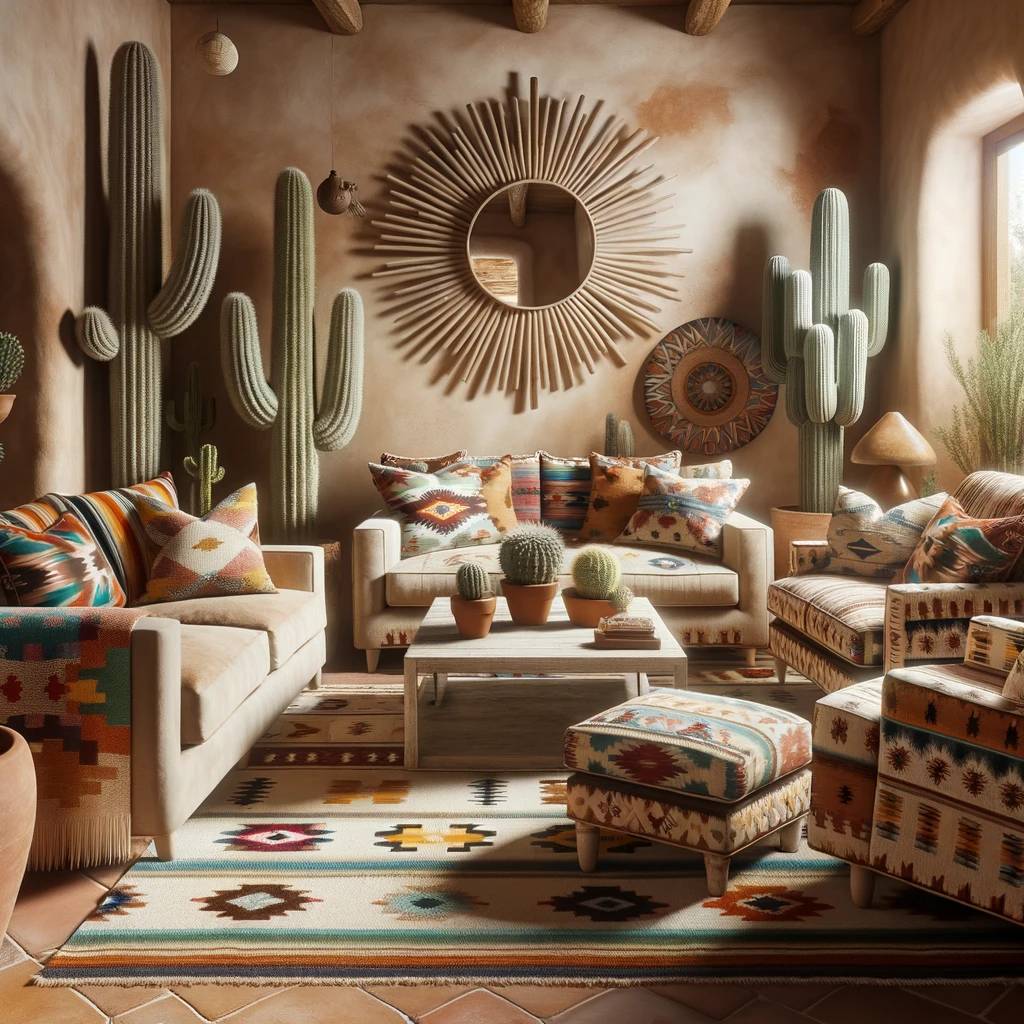 Drawing inspiration from the deserts of the American Southwest, this living room design melds earthy tones with vibrant patterns. Sofas and chairs, draped in colorful Navajo designs, beckon you to unwind. Cacti in terracotta pots stand as silent sentinels, adding a touch of the desert to the setting. The room's focal point, a sunburst mirror, reflects the radiant hues of a desert sunset. Adobe-textured walls, adorned with Native American art, transport you to the heart of the Southwest, where tradition and nature intertwine.
3. Saloon-Inspired Sophistication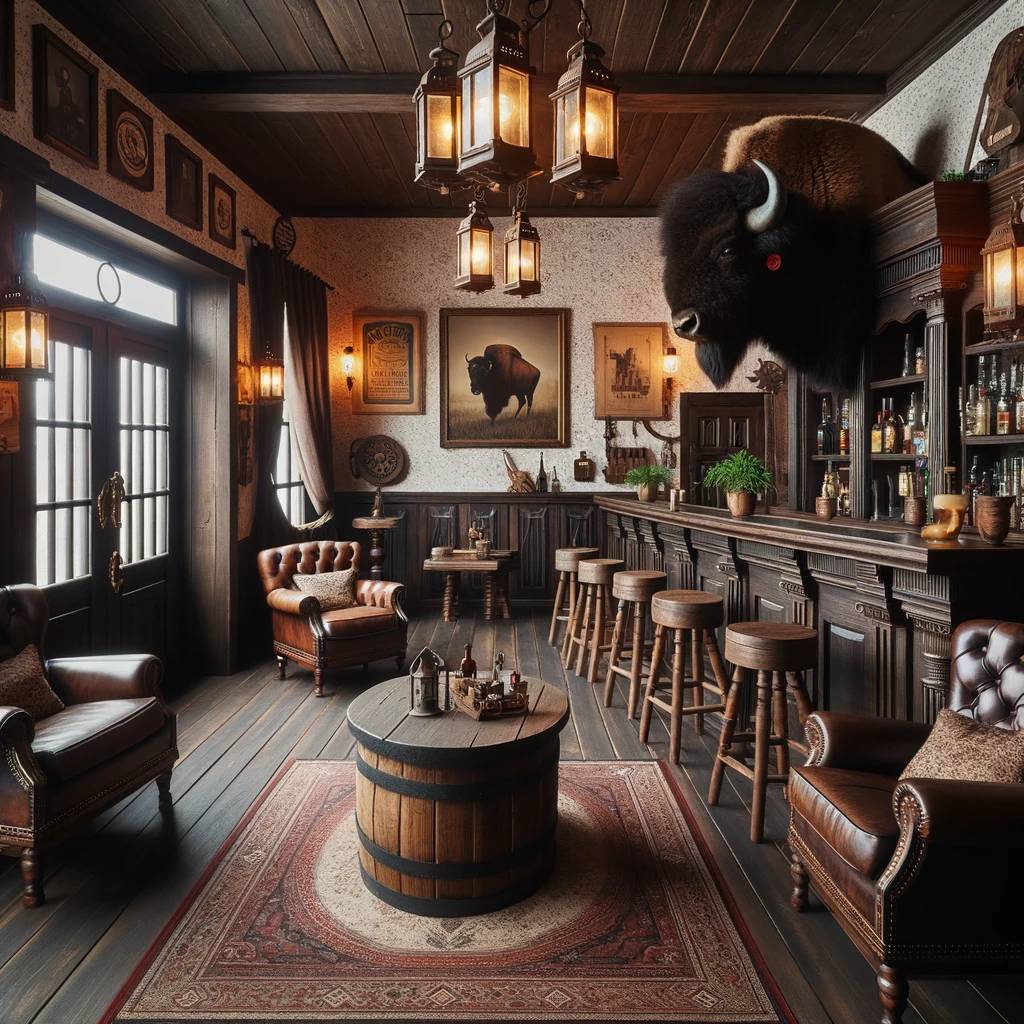 Step back in time with this Wild West saloon-themed living room. Dark wooden furniture, including a vintage bar counter, sets a mood of nostalgia and adventure. The swinging saloon doors, leading to an adjoining room, add an authentic touch, allowing you to imagine the lively atmosphere of a bygone era. Period posters and a mounted buffalo head stand as reminders of the untamed spirit of the West, while old lanterns cast a warm, ambient glow, inviting tales of cowboy escapades.
4. Modern Western Fusion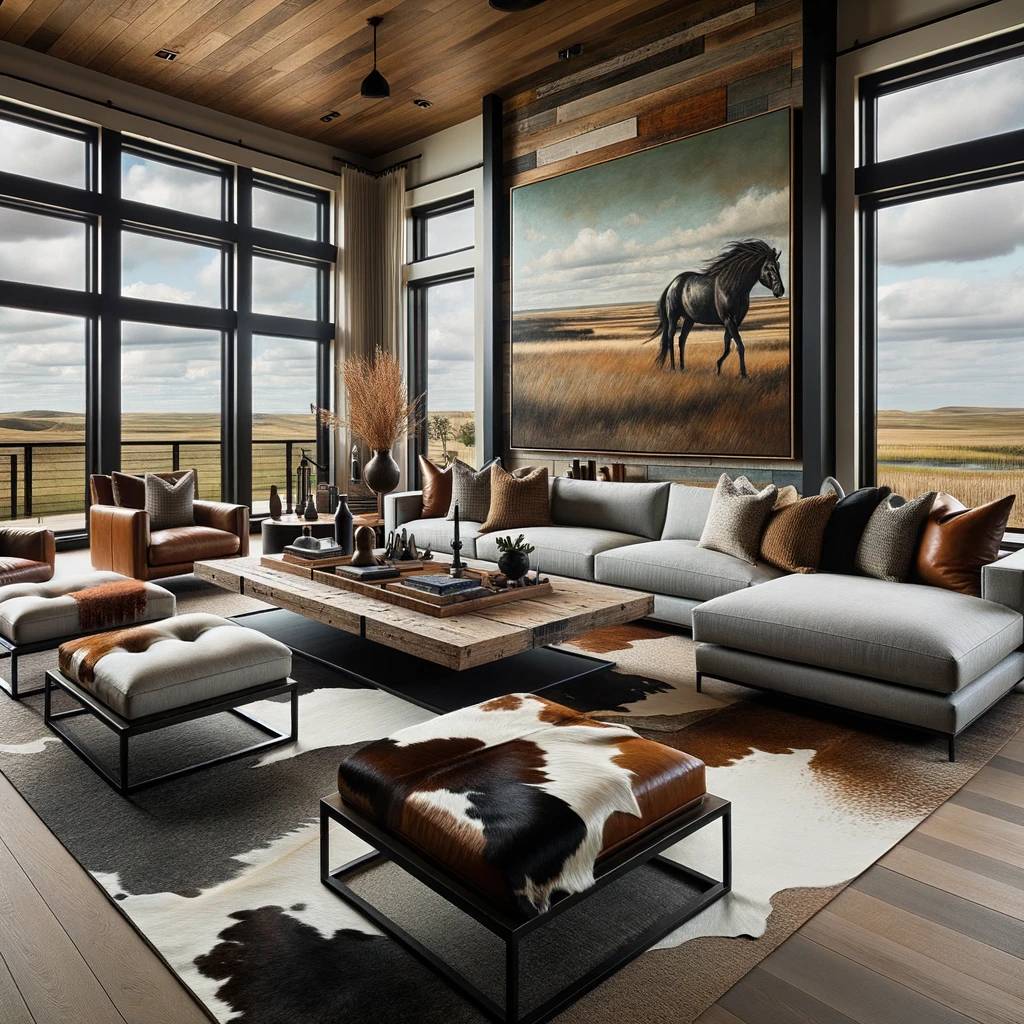 For those who appreciate contemporary design but still want to pay homage to Western roots, this living room offers the perfect balance. Sleek sofas, paired with cowhide ottomans, create a comfortable seating area, centered around a reclaimed wood coffee table. Expansive windows frame views of vast prairies, and contemporary art with Western motifs add a touch of modernity. The blend of metal and wood elements serves as a bridge between the past and the present, celebrating the evolution of Western design.
5. Cowboy Chic Comfort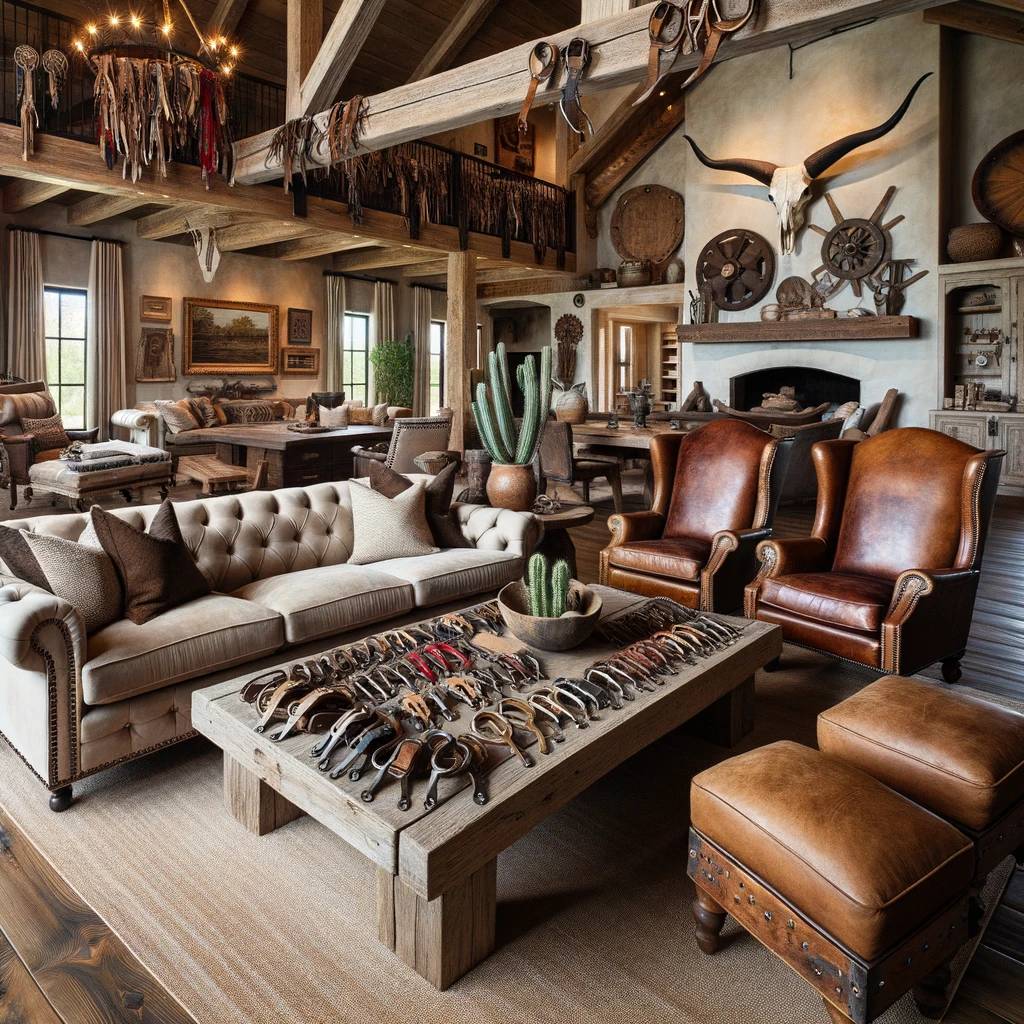 Delve into the heart of cowboy culture with this chic living room. Distressed leather armchairs perfectly complement a suede sofa, providing a cozy spot for relaxation. The wooden coffee table, displaying vintage spurs and rodeo memorabilia, stands as a testament to the rugged charm of the Wild West. Exposed wooden beams and a decorative cow skull add to the rustic ambiance, making it a perfect space for those who cherish cowboy heritage.
6. Gold Rush Glamour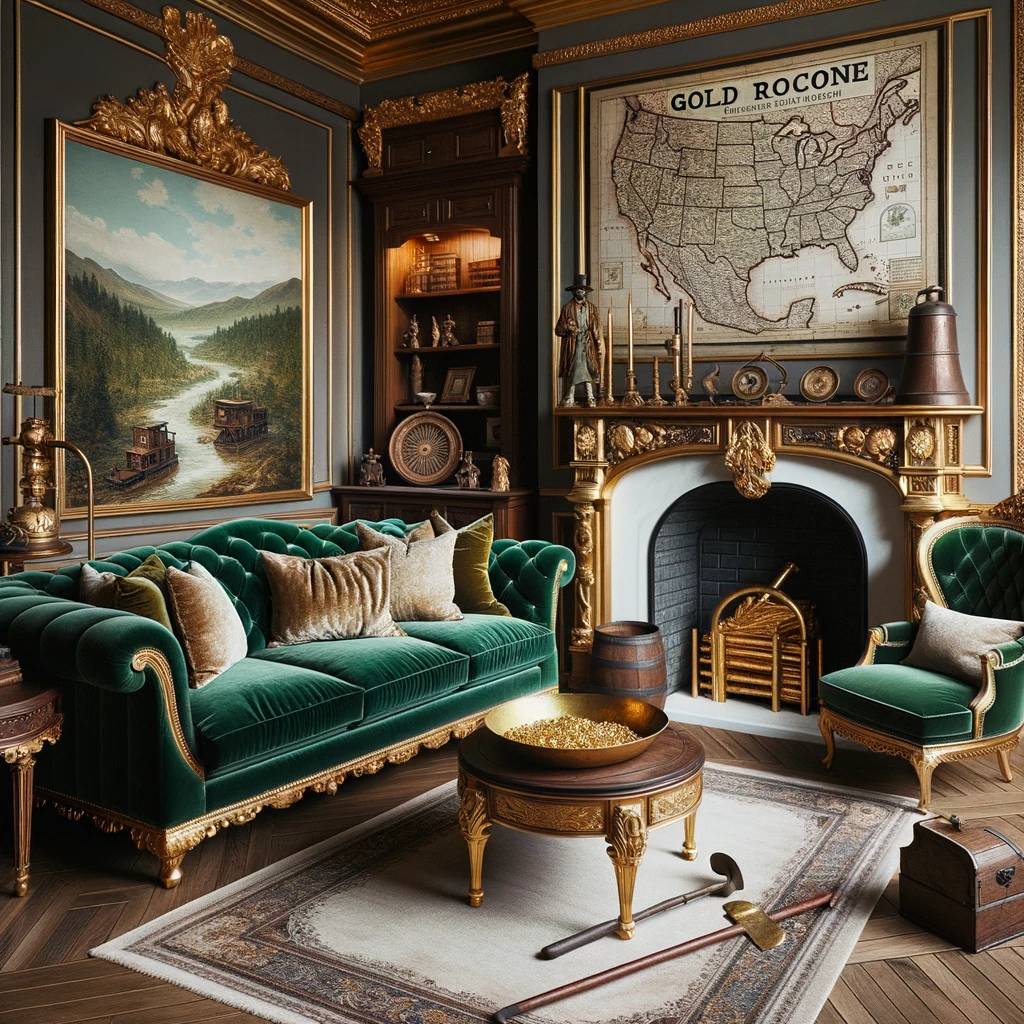 Travel back to the days of the Gold Rush with this opulent living room. Plush velvet sofas in deep green hues create a regal setting, further accentuated by gold accent furniture that gleams with luxury. The fireplace, with its intricately carved wooden mantle, proudly showcases a framed old map of the West. Decorative elements like antique mining tools and a gold pan add authenticity to the theme, allowing you to revel in the golden era.
7. Prairie Pastoral Peace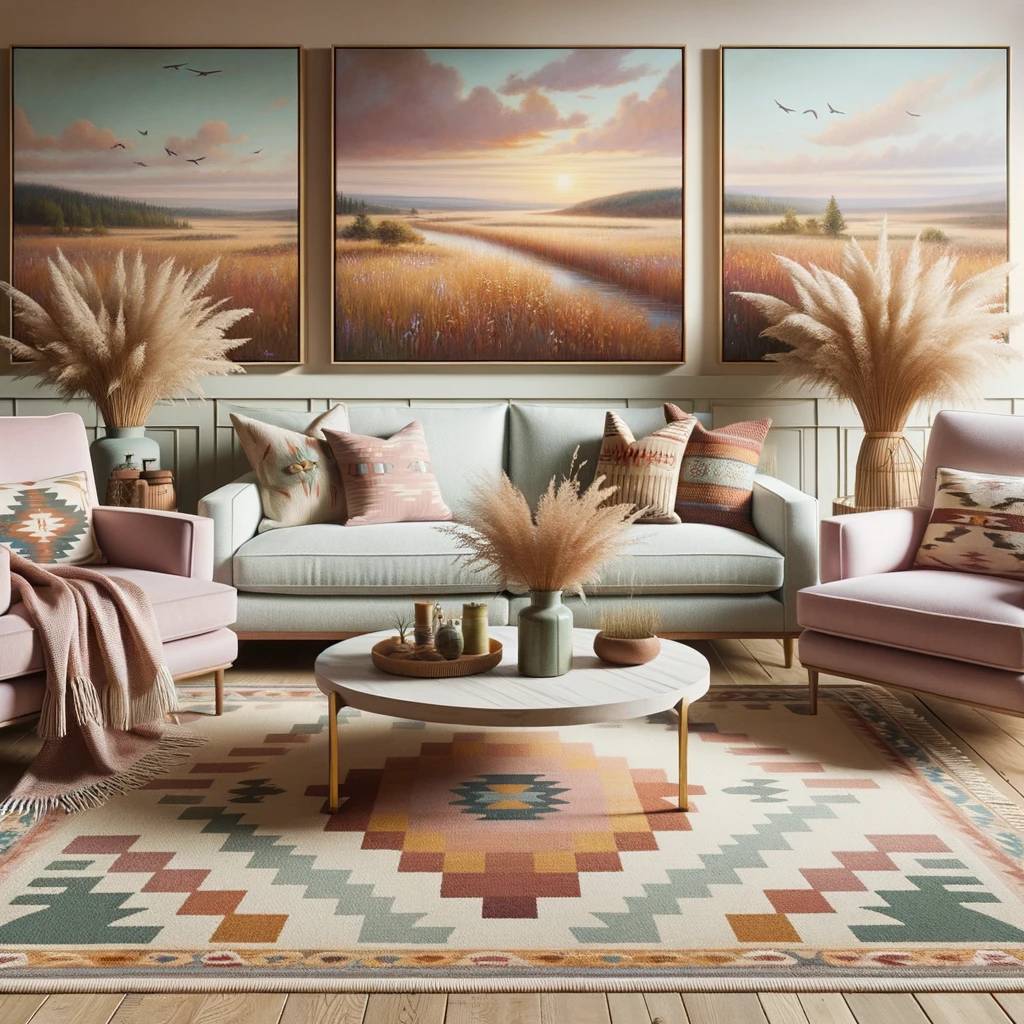 Experience the tranquility of the open prairies in this pastoral-themed living room. Furniture in soft pastel colors reflects the serene hues of a prairie sunset, creating a peaceful atmosphere. A woven rug, adorned with Native American patterns, anchors the space, while tall grasses in elegant vases connect the indoors to the vast landscapes outside. Landscape paintings of open fields further enhance the pastoral feel, inviting you to relax and rejuvenate.
8. Mountain Lodge Luxury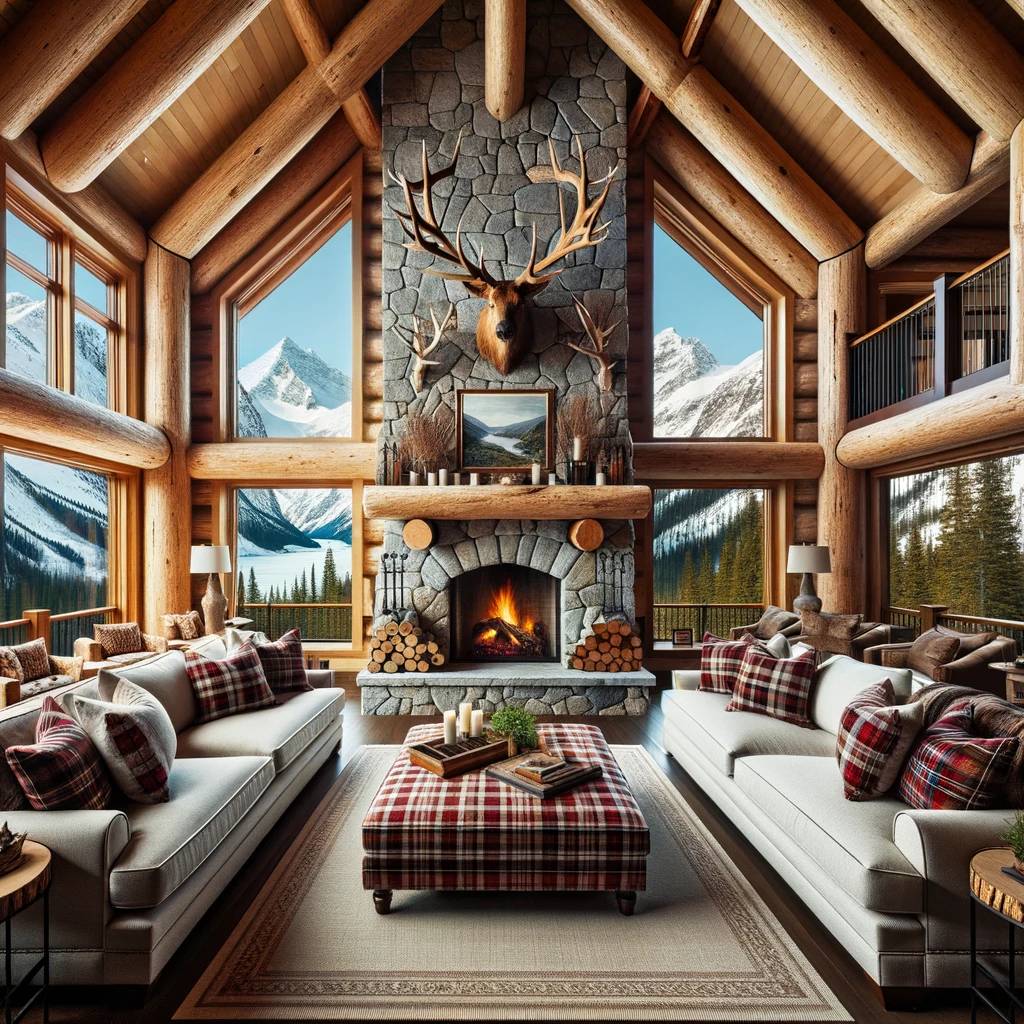 Escape to the alpine heights with this mountain lodge-inspired living room. Dominated by a massive stone fireplace that extends to a vaulted ceiling with exposed logs, this space exudes warmth and coziness. Plush sofas with tartan patterns invite you to sink in and relax while floor-to-ceiling windows offer breathtaking views of majestic snow-capped peaks. Decorative elements like mounted antlers and forest-themed decor encapsulate the essence of alpine living.
9. Frontier Farmhouse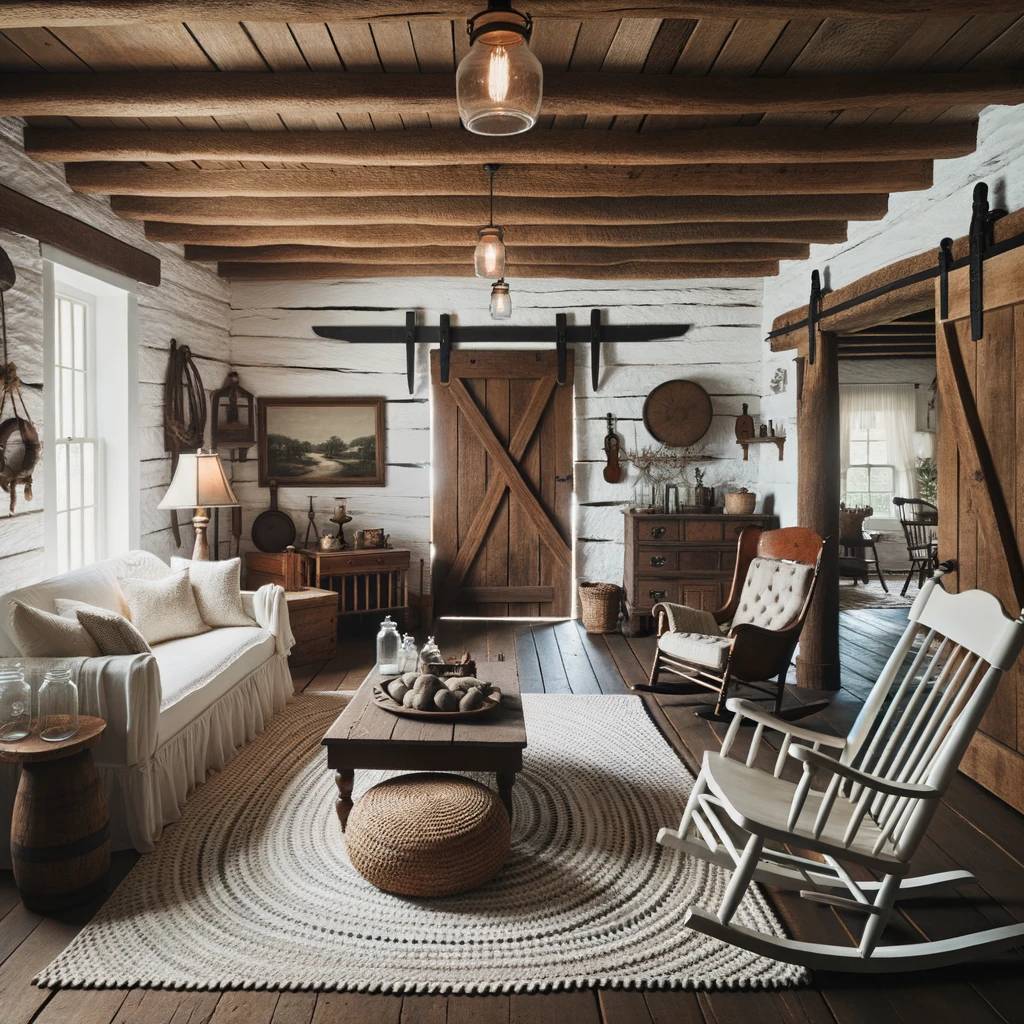 Transport yourself to a simpler time with this frontier farmhouse-inspired living room. The contrast of whitewashed walls and dark wooden beams evokes a sense of rustic elegance. Vintage furniture pieces, including a classic rocking chair, stand atop a traditional braided rug, adding to the room's nostalgic feel. The mason jar lights hanging from the ceiling and the barn door separating the space further accentuate the farmhouse charm, creating a cozy and inviting atmosphere.
10. Rodeo Reverie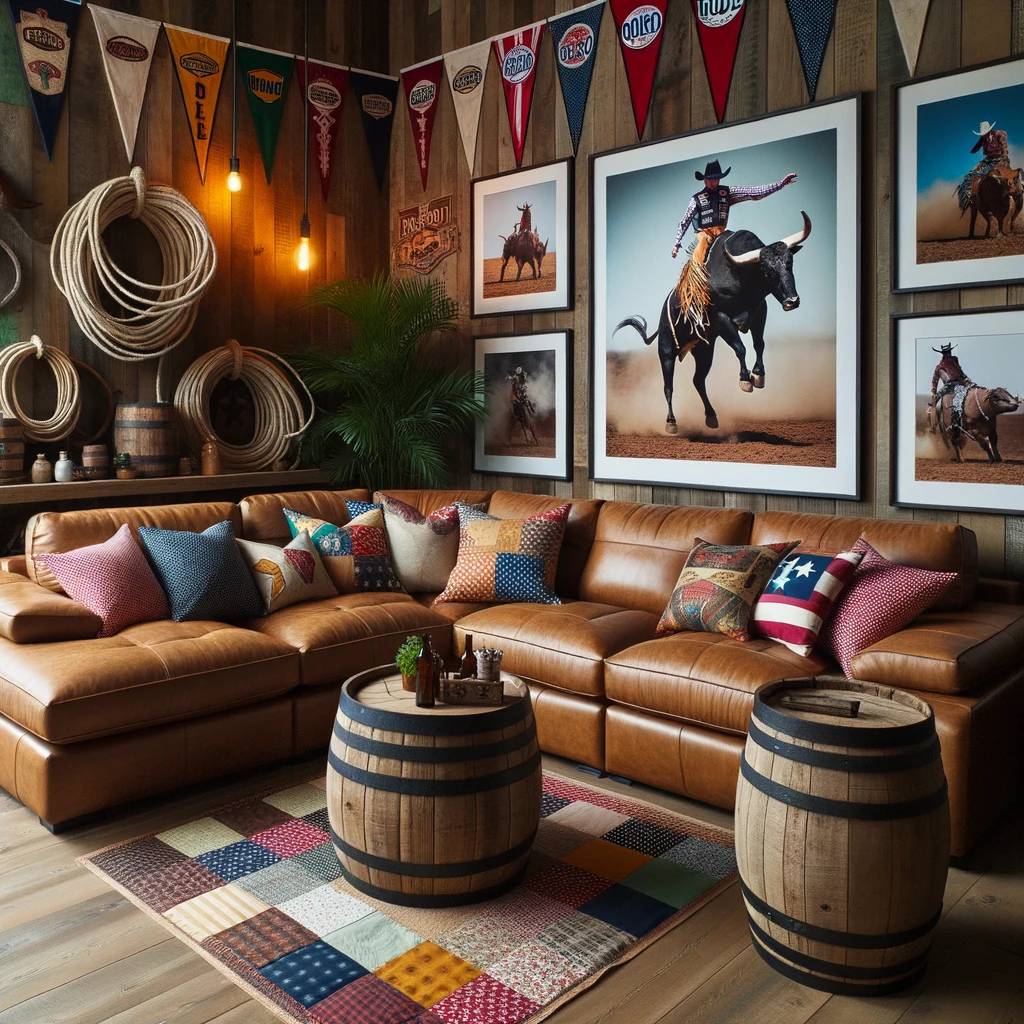 Celebrate the thrill and excitement of the rodeo with this dynamic living space. Dominating the room is a large sectional sofa in rich tan leather, adorned with colorful patchwork pillows that add a splash of vibrancy. Walls decorated with rodeo pennants and framed photographs of bull riders pay homage to the world of rodeo. A wooden barrel repurposed as a side table and decorative lasso ropes complete the theme, immersing you in the spirit of the Wild West.
11. Great Plains Panorama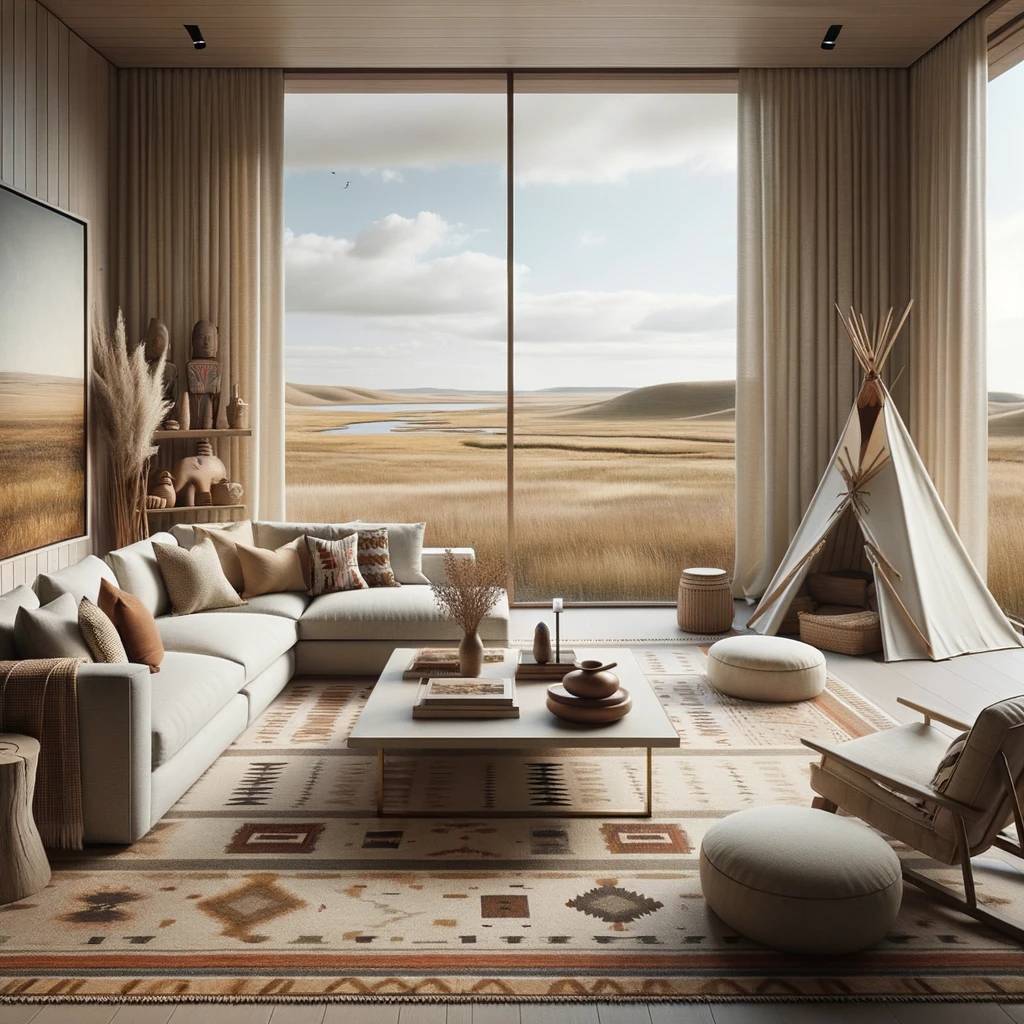 Inspired by the vast and majestic landscapes of the Great Plains, this living room offers a serene and expansive ambiance. Neutral tones and wide-open spaces define the setting, with low-profile furniture that mirrors the endless horizons. Indigenous art and pottery add cultural depth, and the panoramic window provides breathtaking views of sweeping grasslands. A teepee-style reading nook adds a whimsical touch, making it the perfect spot for relaxation and contemplation.
12. Cactus & Cowboy Boots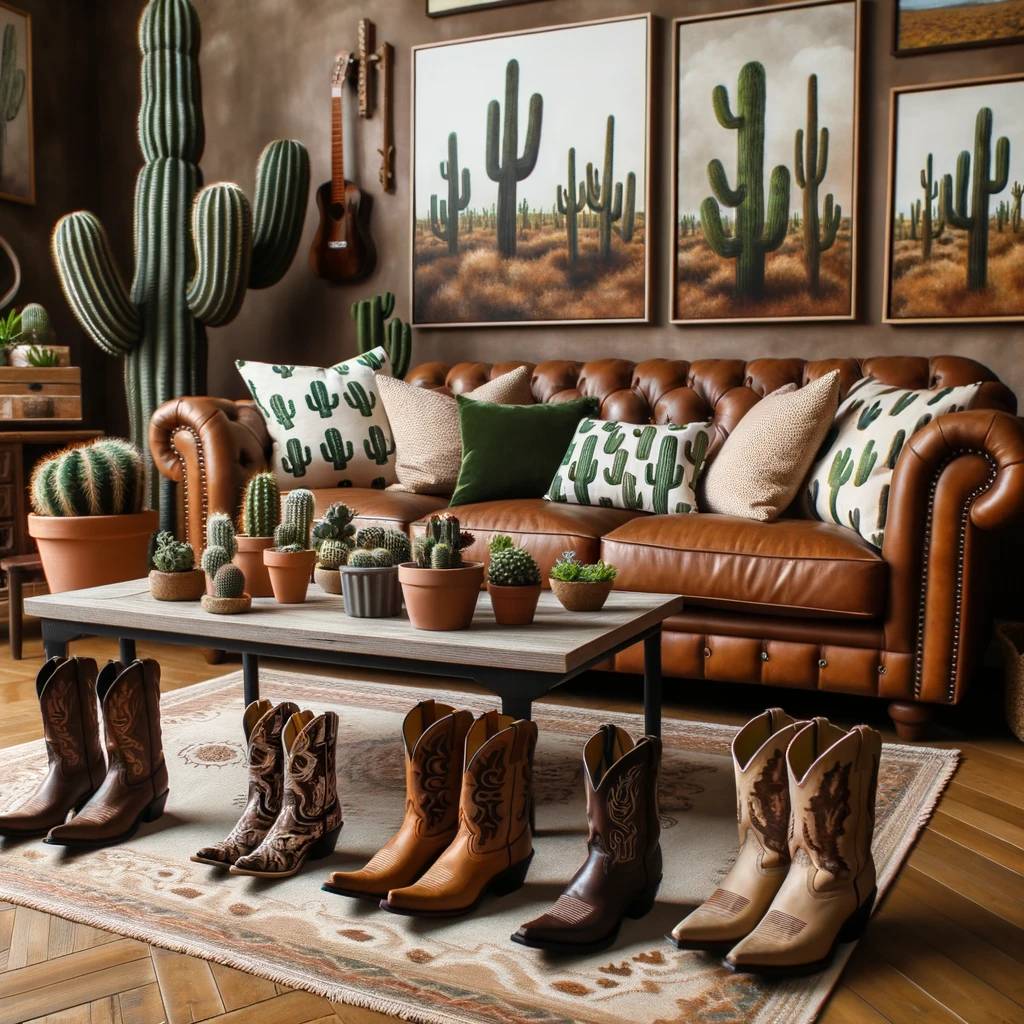 Embrace the iconic symbols of the West with this cactus and cowboy boots-themed living room. Earthy browns and greens set the tone, with a leather sofa adorned with cactus print cushions taking center stage. The coffee table, displaying a delightful array of cowboy boots, injects personality into the space. Western paintings and a curated collection of succulents in pots further enhance the Western vibe, creating a room that's both stylish and spirited.
13. Railroad Reverie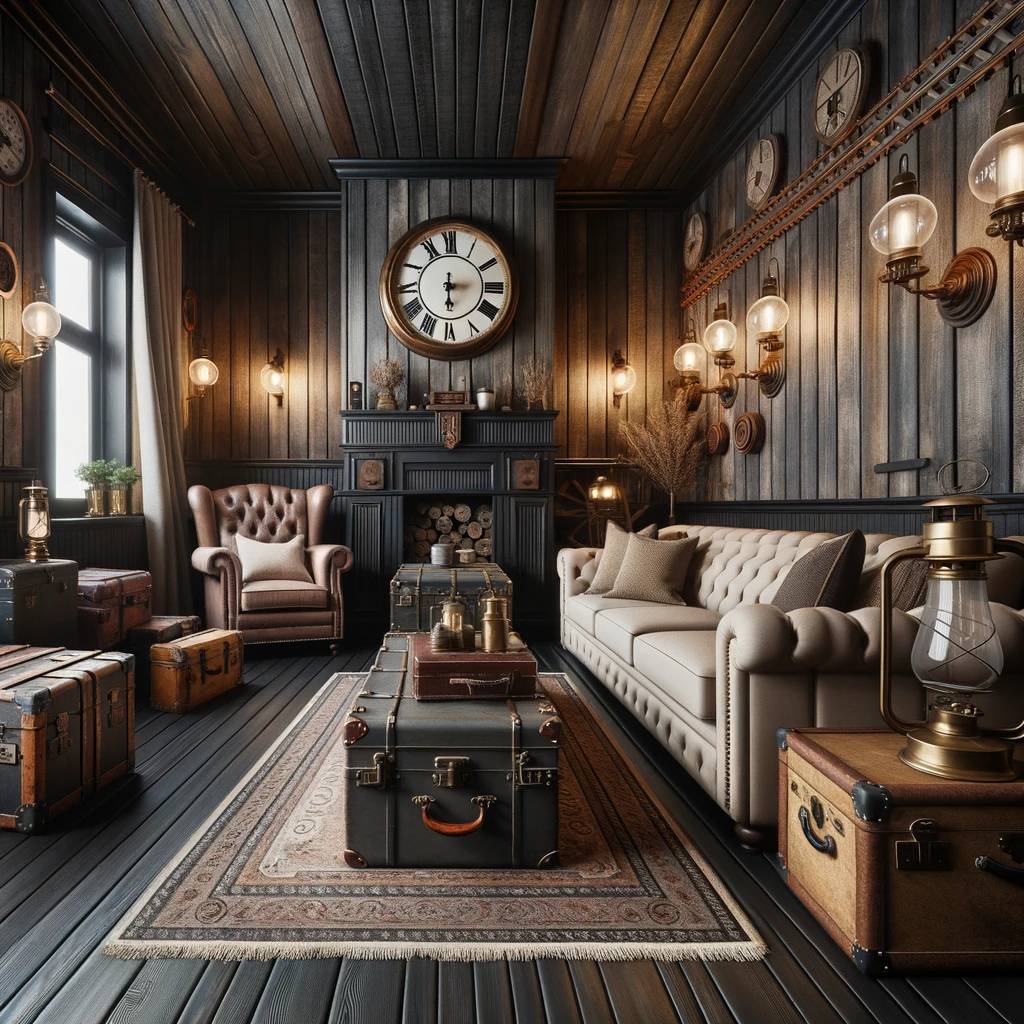 Cherish the golden age of rail travel with this Western railroad-inspired living room. Dark wooden floors evoke the feel of classic train carriages, with walls that further accentuate this theme. Vintage suitcases, reminiscent of bygone travel adventures, cleverly serve as both storage and coffee tables. Brass lanterns cast a warm and inviting glow, and the inclusion of railroad track motifs adds an authentic touch. The centerpiece, an antique station clock, stands as a testament to the timeless allure of train journeys.
14. Wildflower Wonderland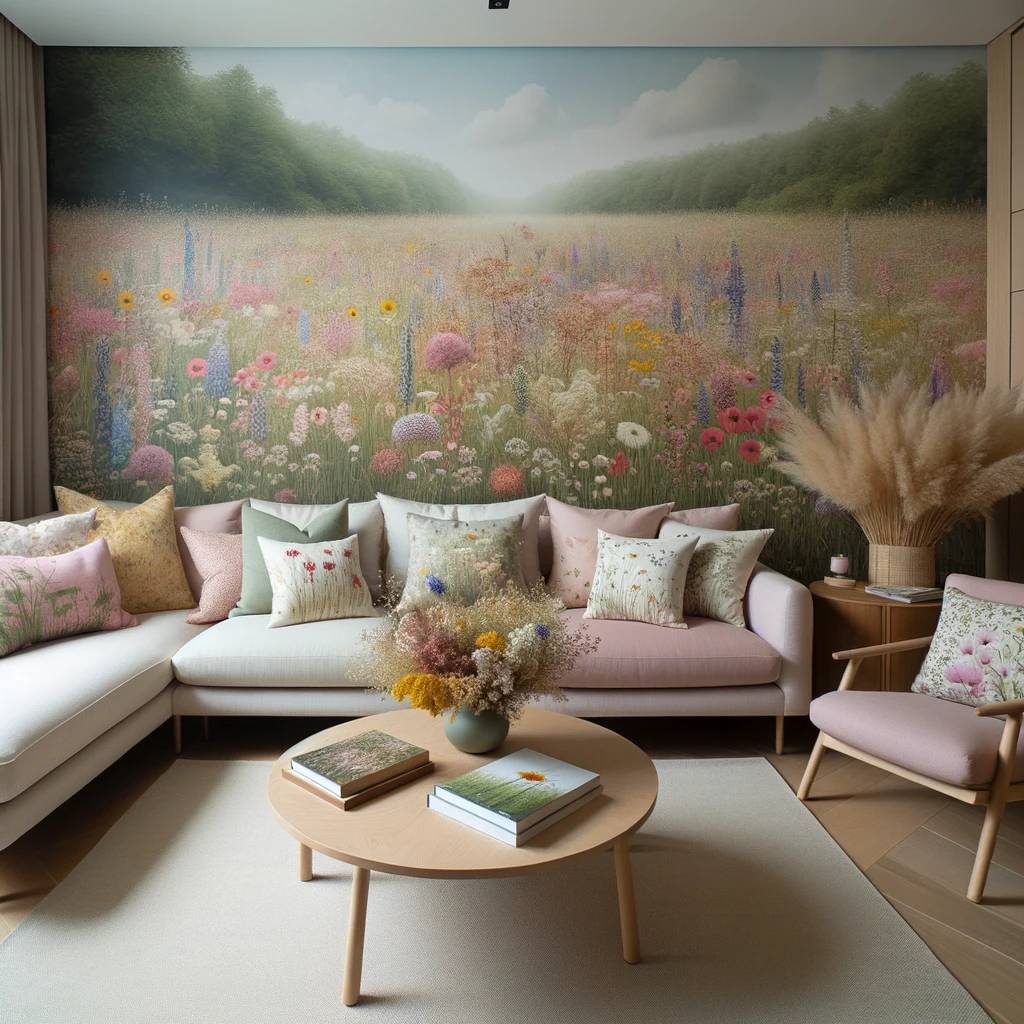 Transport yourself to the heart of nature with this wildflower meadow-themed living space. Soft pastel furniture, adorned with floral print cushions, provides a serene seating area. One wall comes alive with a mural depicting a vibrant blooming meadow, celebrating the beauty of native flora. Dried wildflower arrangements lend a rustic charm, and a wooden coffee table, displaying books on native plants, invites exploration and relaxation.
15. Ghost Town Glam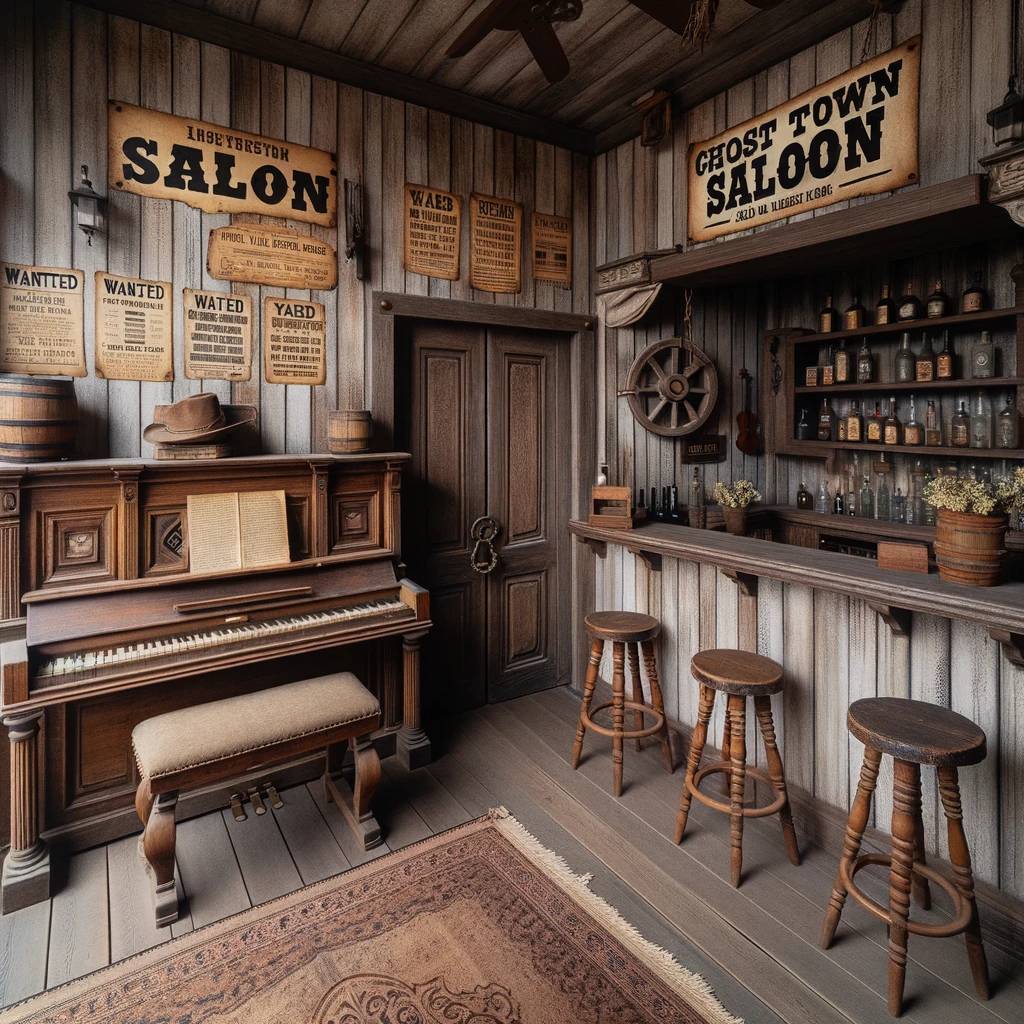 Step into the enigmatic world of ghost towns with this saloon-inspired living room. Weathered wood panels, reminiscent of deserted Western towns, set the mood. A vintage piano in one corner beckons with melodies of the past, while a faux-aged bar counter offers a unique and interactive seating arrangement. Historical elements like old wanted posters and a swinging saloon-style entrance transport you to a time of outlaws and frontier challenges.
16. Cinematic Celebration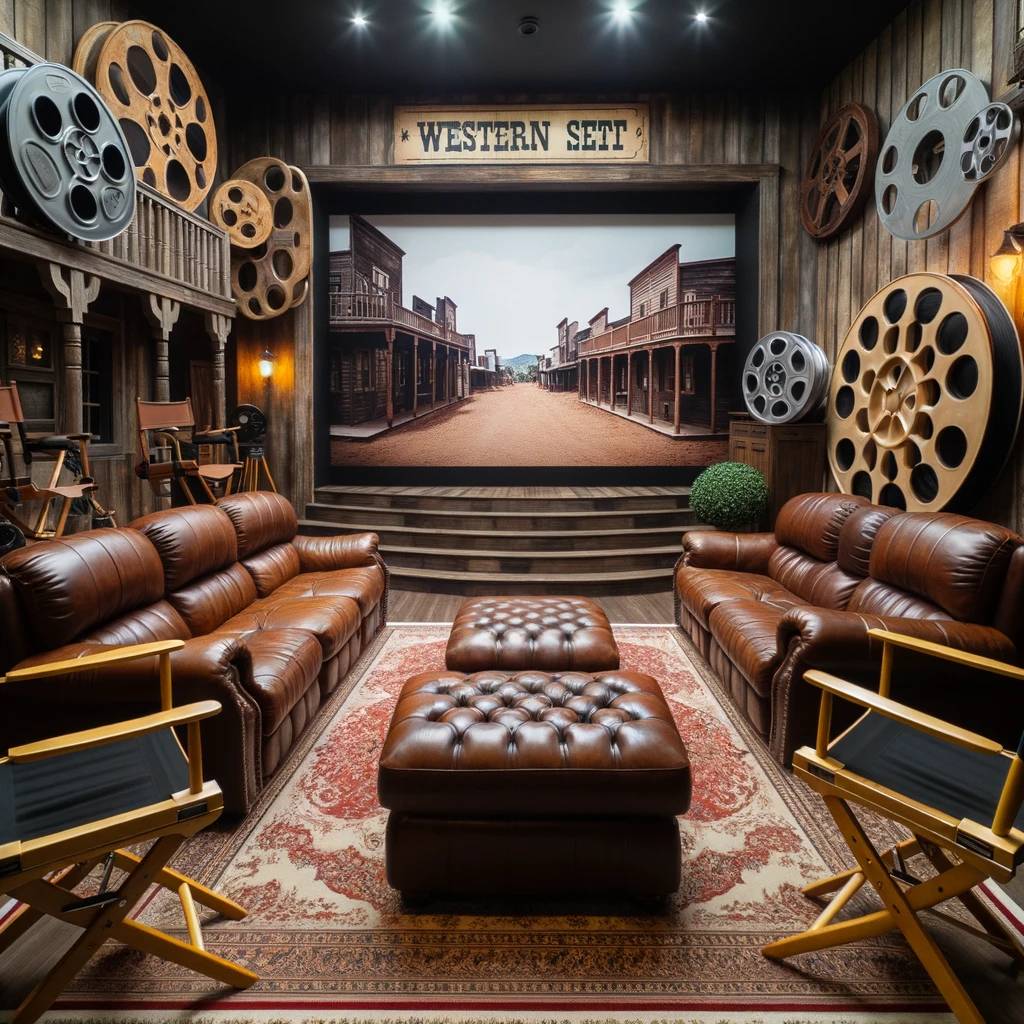 Relive the magic of classic Western films with this movie set-inspired living room. Comfortable leather seating faces a faux movie screen, showcasing iconic scenes from beloved Westerns. Vintage film reels and director's chairs add to the cinematic theme. The pièce de résistance, a backdrop resembling an old Western town, promises to immerse you in the drama and romance of the silver screen.
17. Desert Oasis Delight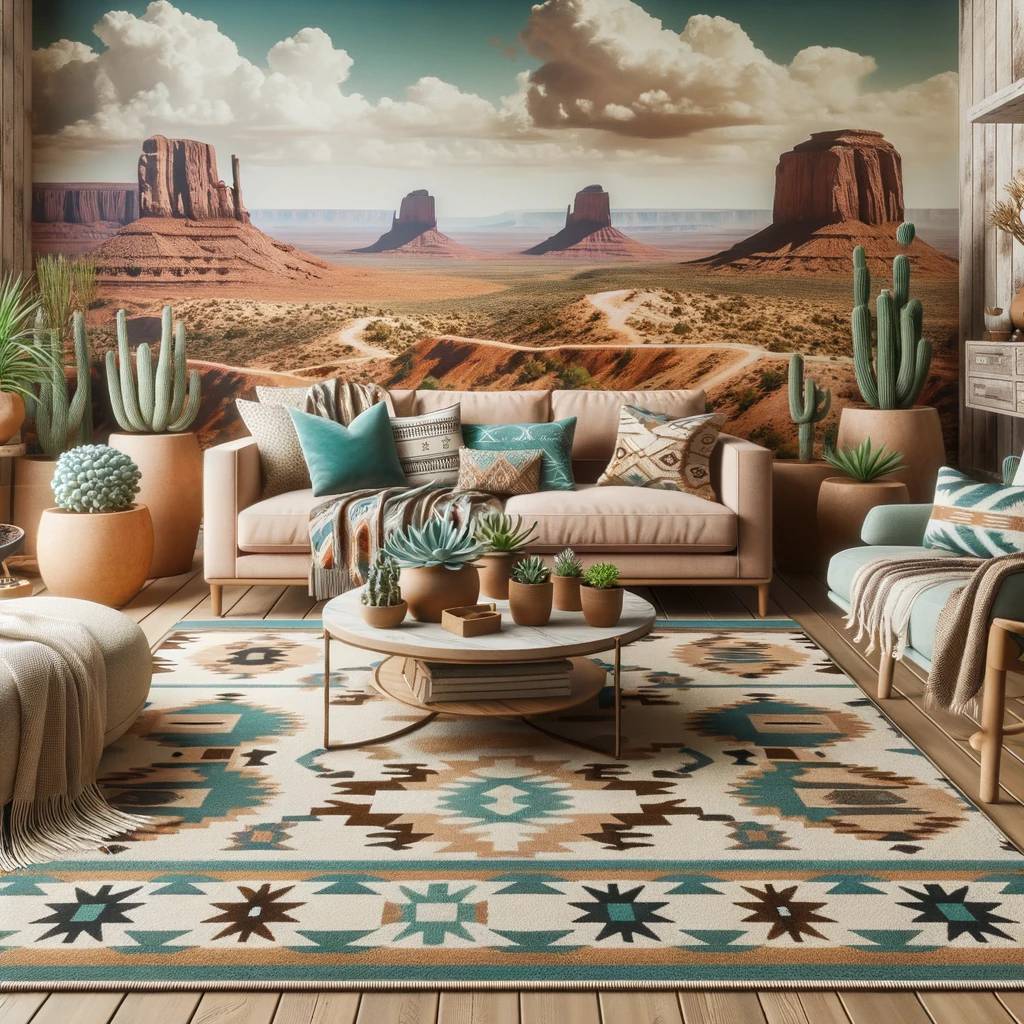 Step into a serene desert oasis with this beautifully crafted living room. Sandy-toned furniture creates a calming base, accentuated by vibrant turquoise touches reminiscent of the expansive desert skies. Succulents, housed in rustic pots, serve as nature's artwork, and the geometric patterns of a Native American-inspired area rug ground the space. But it's the mural of a vast desert landscape, showcasing distant mesas, that truly transports you to the heart of the wilderness.
18. Pioneer Homestead Heritage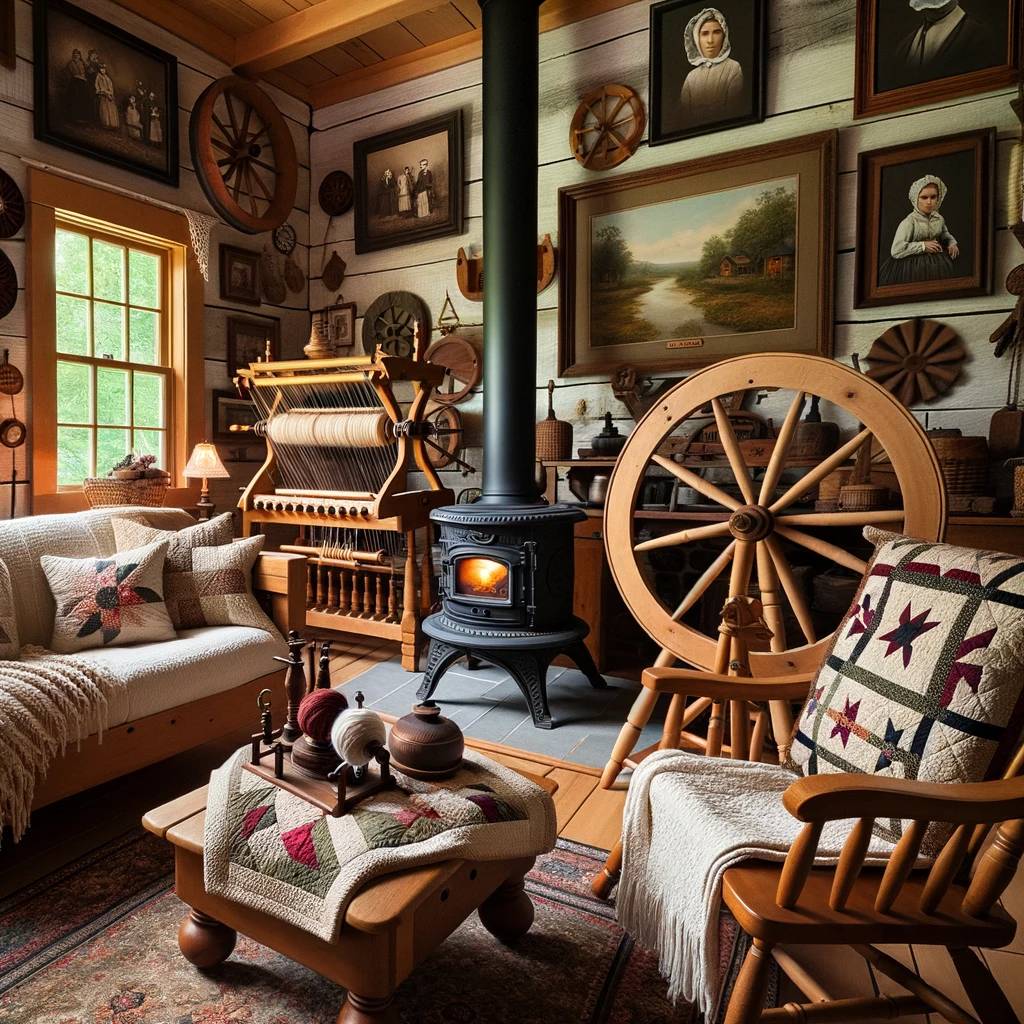 Evoking the spirit and resilience of the early pioneers, this living room design pays tribute to a bygone era. Handcrafted wooden furniture, bearing the marks of time and toil, pairs beautifully with quilted throw pillows that hint at stories passed down through generations. Decorative elements like a spinning wheel and loom stand as silent witnesses to the crafts of yesteryears, while the warmth emanating from a potbelly stove promises cozy evenings. The walls, adorned with family portraits and cherished heirlooms, beckon you to delve into tales of ancestors and their pioneering adventures.
19. Mining Town Mystique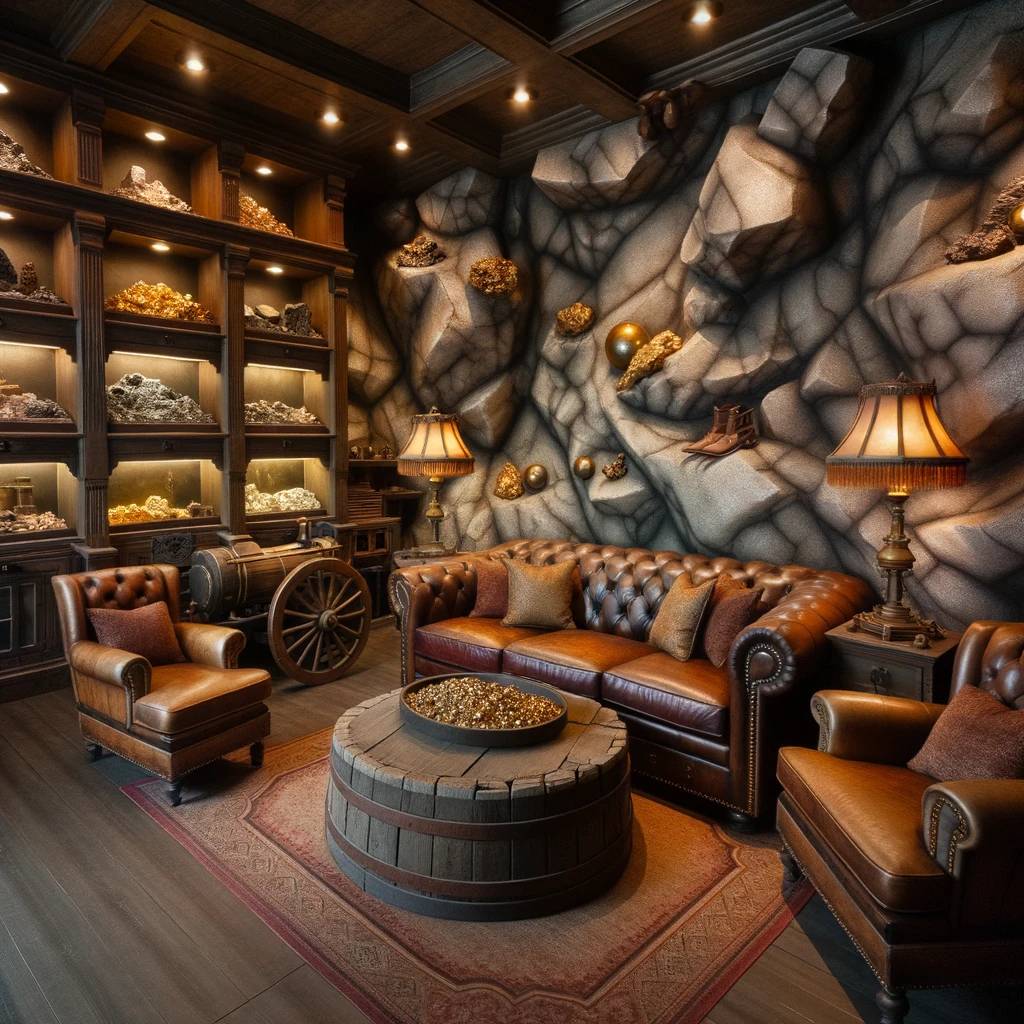 Delve into the depths of Western mining heritage with this unique living room concept. Walls, textured to mimic rock and ore, provide a rugged backdrop to seating upholstered in rich, dark leathers. An old mining cart, repurposed as a coffee table, anchors the room, while vintage mining lamps cast a warm, golden glow. Display shelves, showcasing an array of mineral specimens and glittering gold nuggets, serve as a constant reminder of the treasures that lie beneath the earth.
20. Rodeo Arena Radiance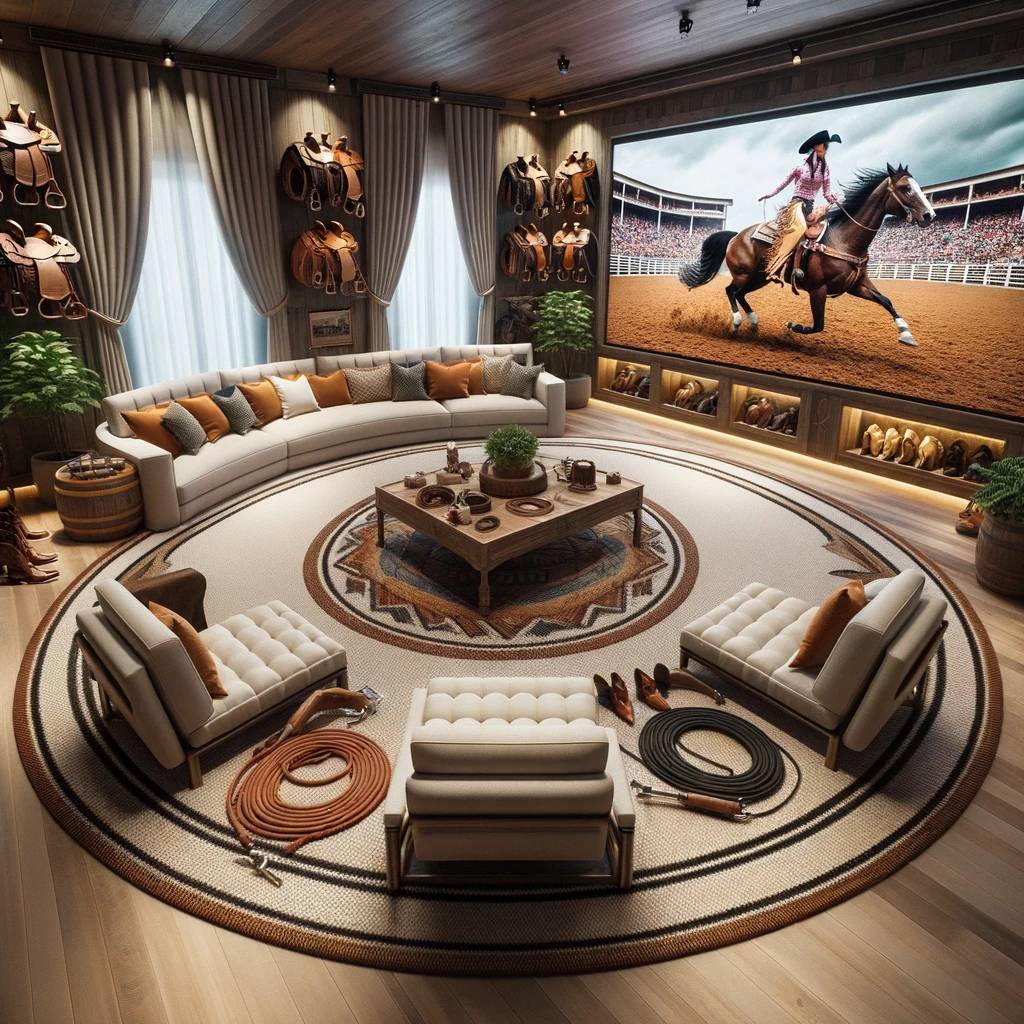 Celebrate the thrill of the rodeo with this dynamic living room design. At its heart lies a large, circular rug, masterfully mimicking the sandy floor of a rodeo arena. Authentic horse tack, including saddles and bridles, finds new life as decorative elements, infusing the room with equestrian elegance. The innovative stadium-style seating offers views of a faux arena window, where the dynamic movements of cowboys and their steeds come to life, promising a front-row experience of the rodeo from the comfort of your home.
21. Wildlife Sanctuary Serenity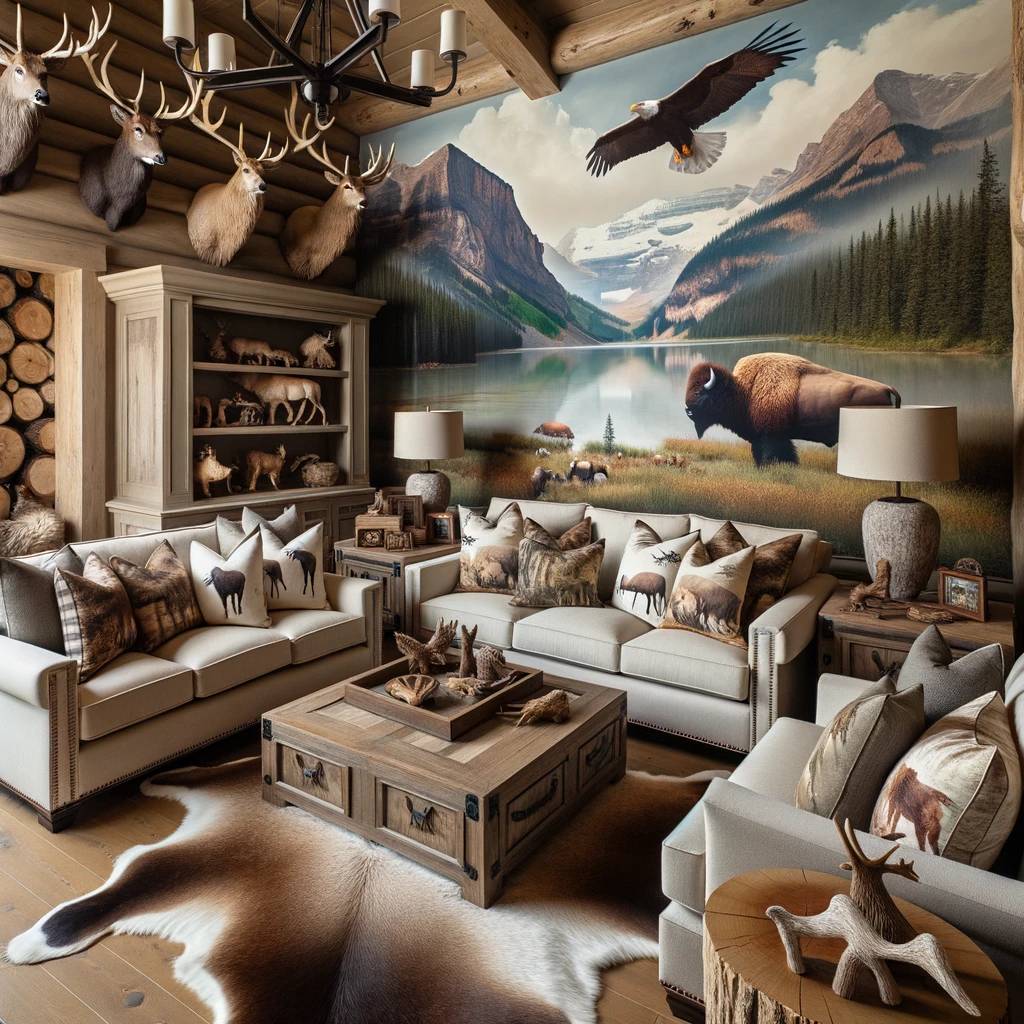 Step into the majestic world of Western wildlife with this sanctuary-inspired living room. Neutral-toned furniture offers a calm backdrop, adorned with cushions featuring prints of iconic animals like deer, bison, and eagles. A breathtaking mural, depicting a serene mountain lake, promises tranquility, while wooden sculptures of various animals add depth and character to the space. Elements like a faux bearskin rug and an antler chandelier infuse the room with rustic charm, making it a haven for nature lovers.
22. Cowboy Campfire Coziness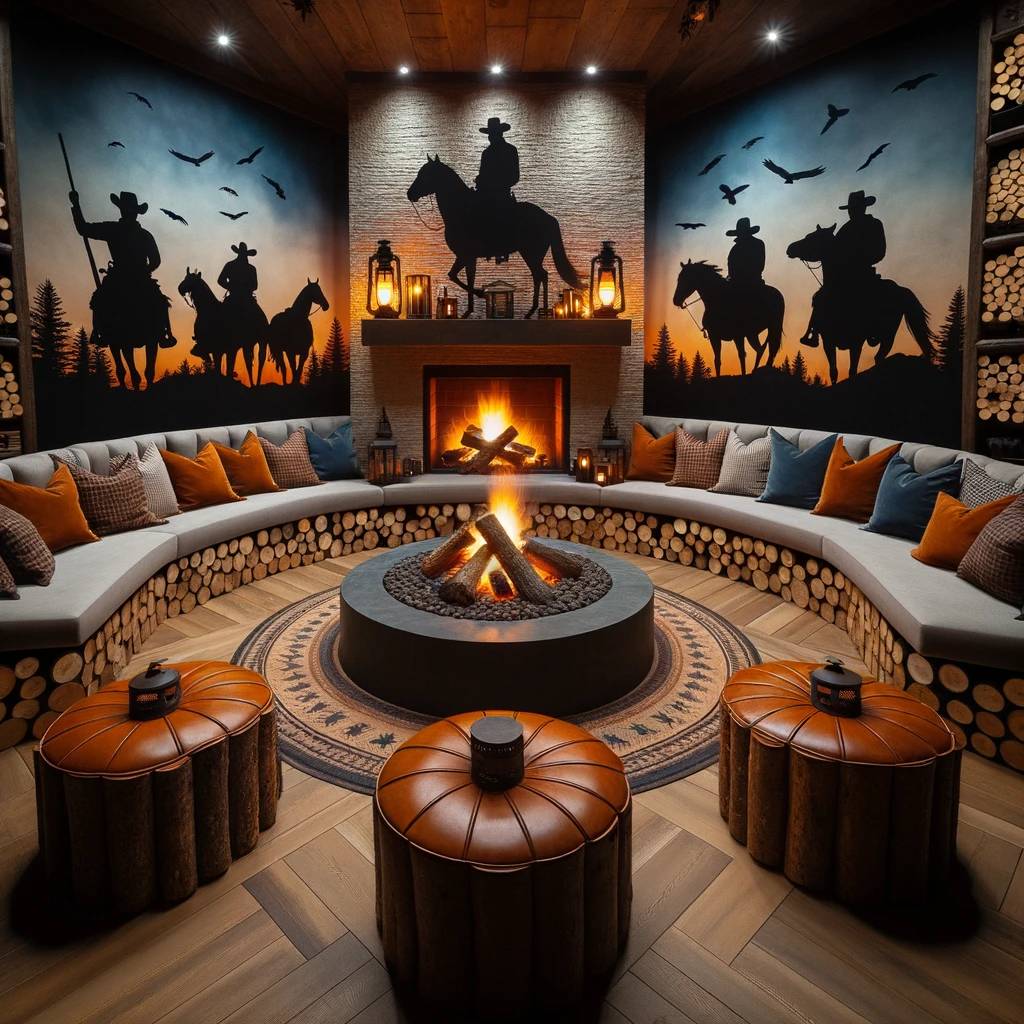 Relive the magic of cowboy tales around a campfire with this themed living room. A unique circular seating arrangement, centered around a cozy fireplace, evokes memories of starlit nights and campfire stories. Walls adorned with silhouettes of cowboys and the mesmerizing glow of lanterns transport you to the heart of the wilderness. Accents of burnt orange and deep blues beautifully capture the hues of twilight, ensuring every evening feels like a cowboy adventure.
23. Vintage Leather & Prairie Views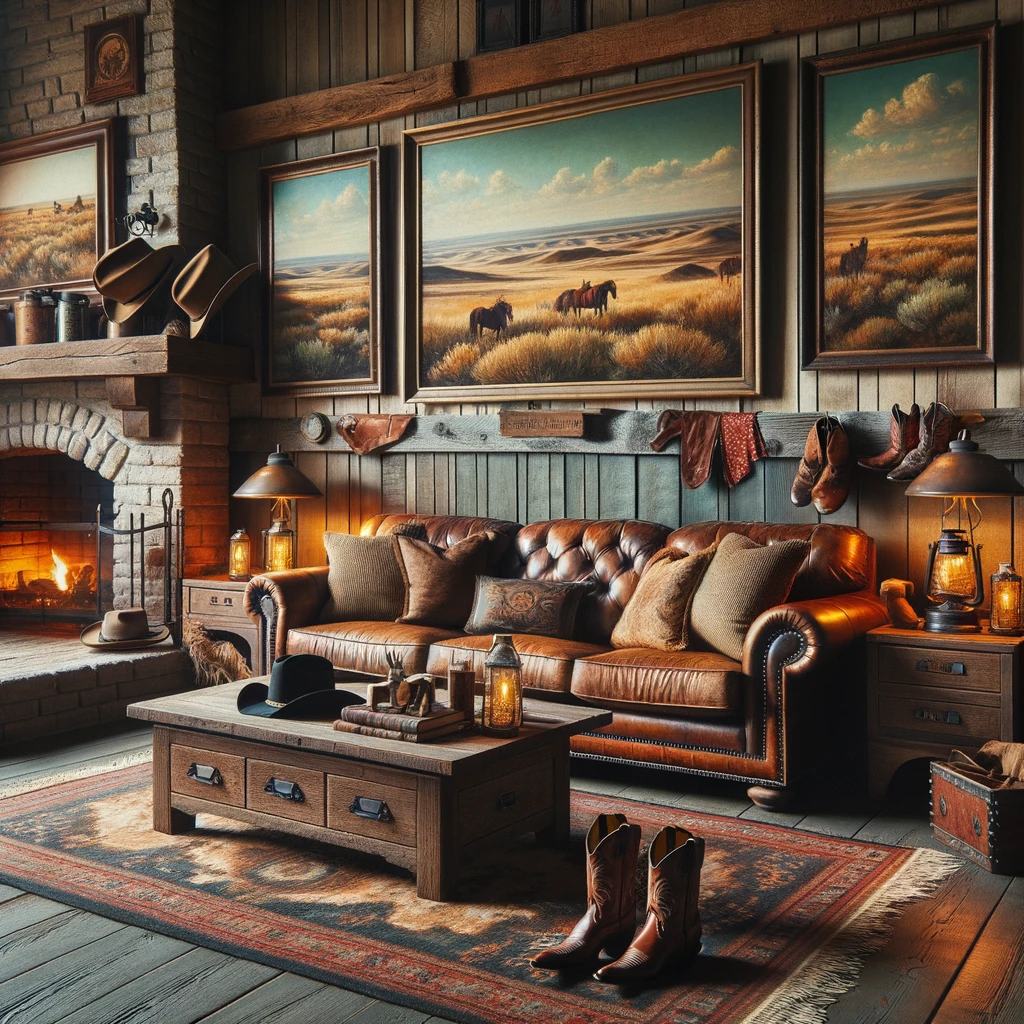 A Western-themed living room that beautifully captures the essence of the Wild West with its vintage leather sofas, rustic wooden elements, and classic cowboy accessories. The landscape paintings on the walls transport you to the vast prairies and deserts, while the fireplace adds warmth and coziness to the setting.
24. Earthy Tones & Native Patterns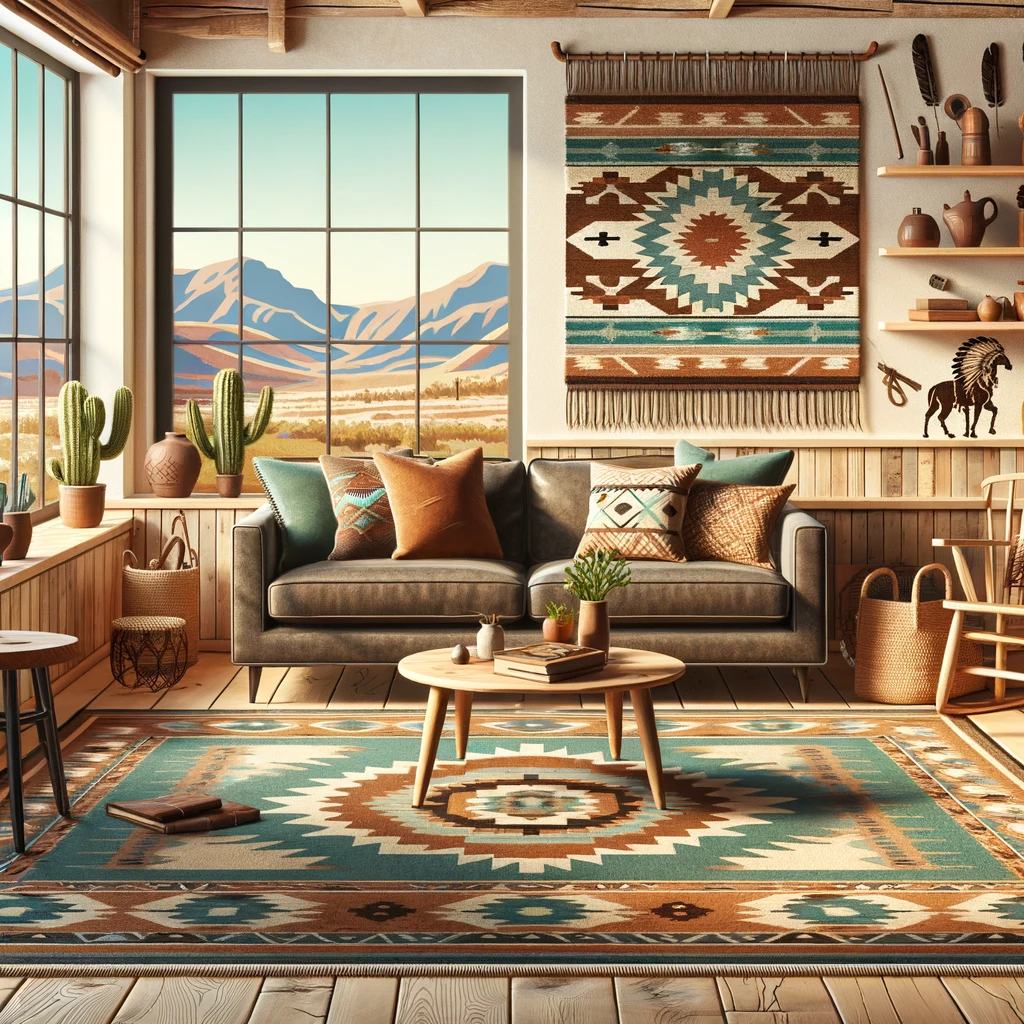 This design is inspired by the rich history and culture of the West. The living room boasts a harmonious blend of earthy tones and vibrant colors, with a woven rug featuring traditional Native American patterns taking center stage. The wooden shelves, filled with Western artifacts, and the panoramic view from the windows further enhance the theme.
25. Modern Meets Western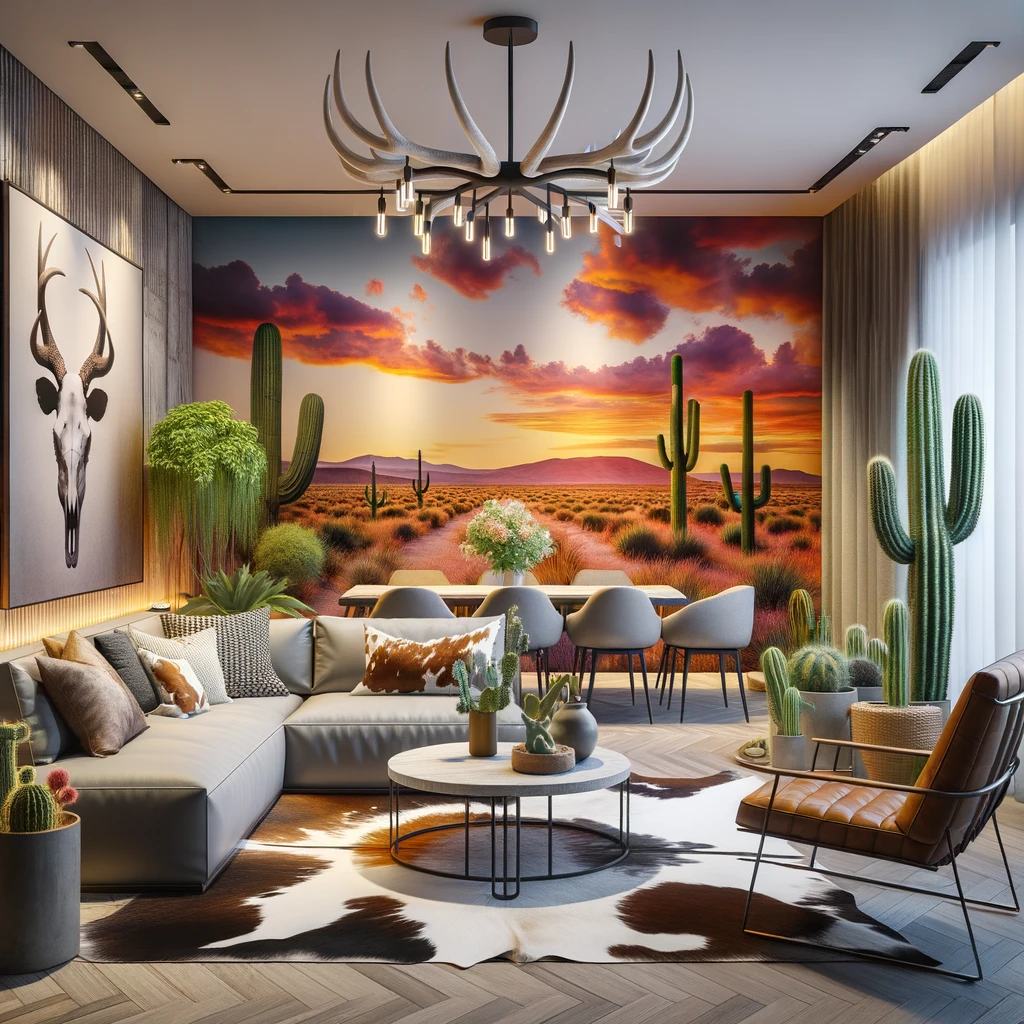 A fusion of modern design aesthetics with iconic Western elements. The room features sleek furniture pieces that are accentuated with cowhide cushions. An antler chandelier serves as a statement piece, illuminating the room, while a wall mural of a desert sunset adds a touch of nature.
26. Saloons & Western Tunes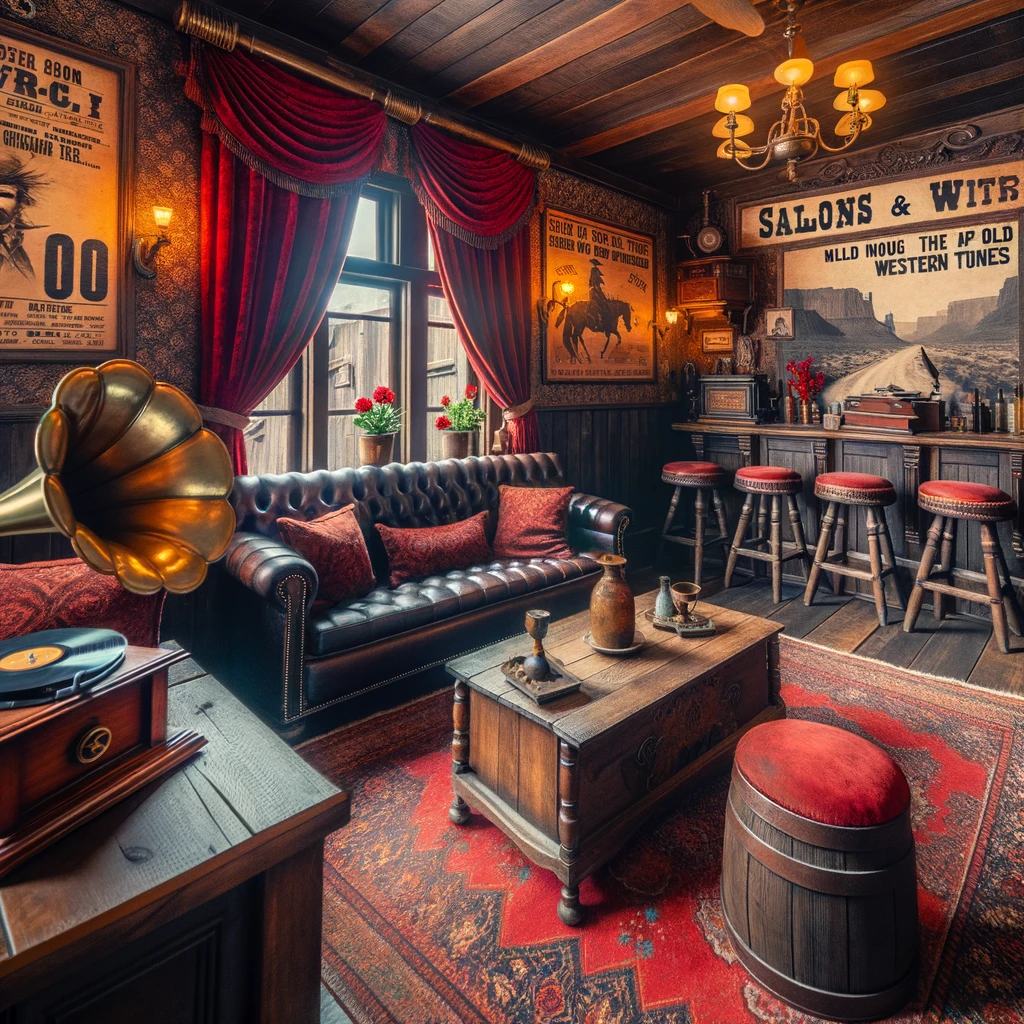 A throwback to the good old days of Western saloons, this living room design evokes nostalgia with its dark wooden furniture, red velvet drapes, and vintage barstools. The wooden bar counter and antique mirrors, along with the Wild West posters, set the mood. The gramophone playing classic Western tunes completes the ambiance.
27. Trading Post Treasures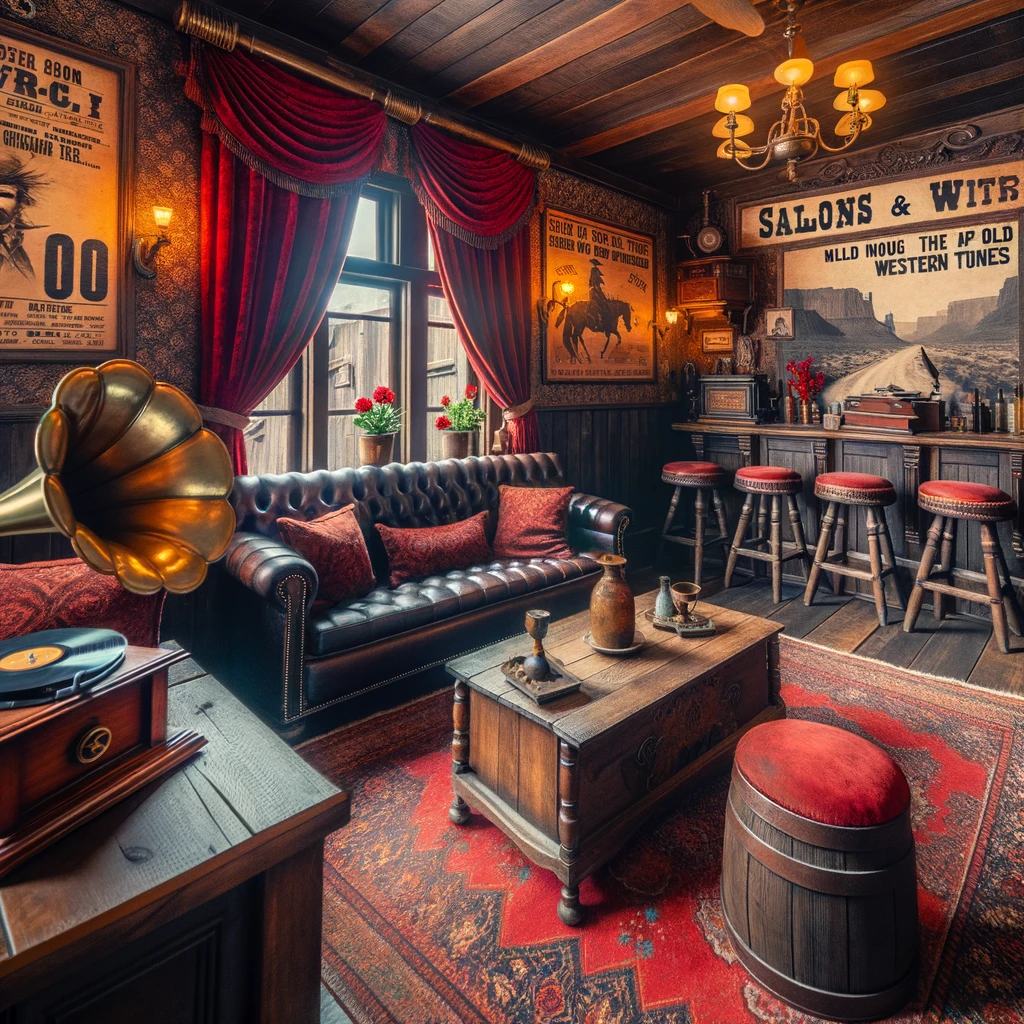 Journey back in time to the bustling trading posts of the Old West with this inspired living room. Shelves brimming with a variety of goods, from intricately woven blankets to handcrafted pottery, tell tales of trade and barter. Wooden crates, cleverly repurposed as both storage and seating, add a touch of authenticity. The space is separated by a beaded curtain, and vibrant Native American tapestries infuse the room with history and color. A counter, complete with barstools, mimics a trader's desk, inviting stories of past exchanges.
28. National Park Panorama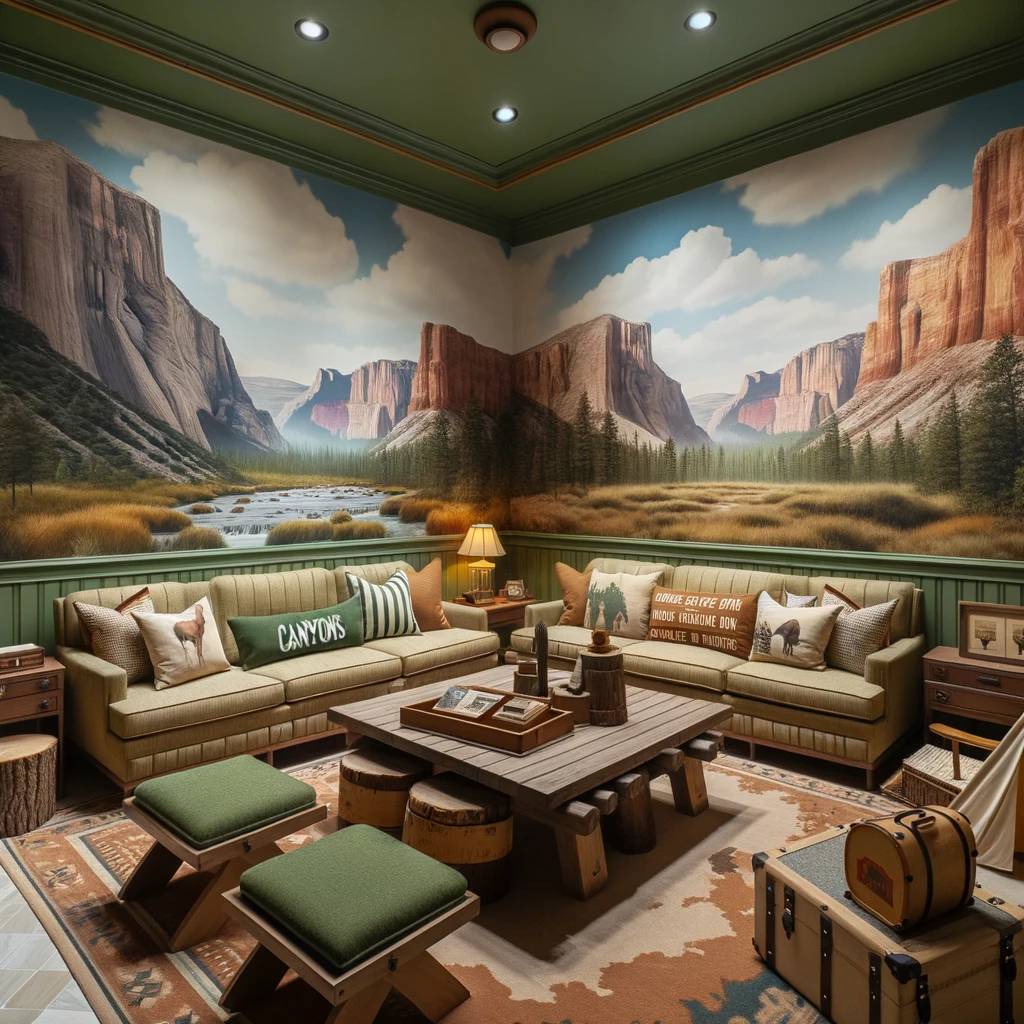 Celebrate the awe-inspiring beauty of Western national parks with this themed living room. The color palette, dominated by earthy greens and browns, sets the tone for a nature-inspired retreat. Furniture pieces, reminiscent of park benches and picnic tables, create a unique seating arrangement. Murals, showcasing iconic Western landscapes from deep canyons to erupting geysers, promise a visual treat. Vintage park posters and a faux tent reading nook further enhance the outdoor adventure vibe, making every moment feel like a nature escapade.
29. Rancher's Study Retreat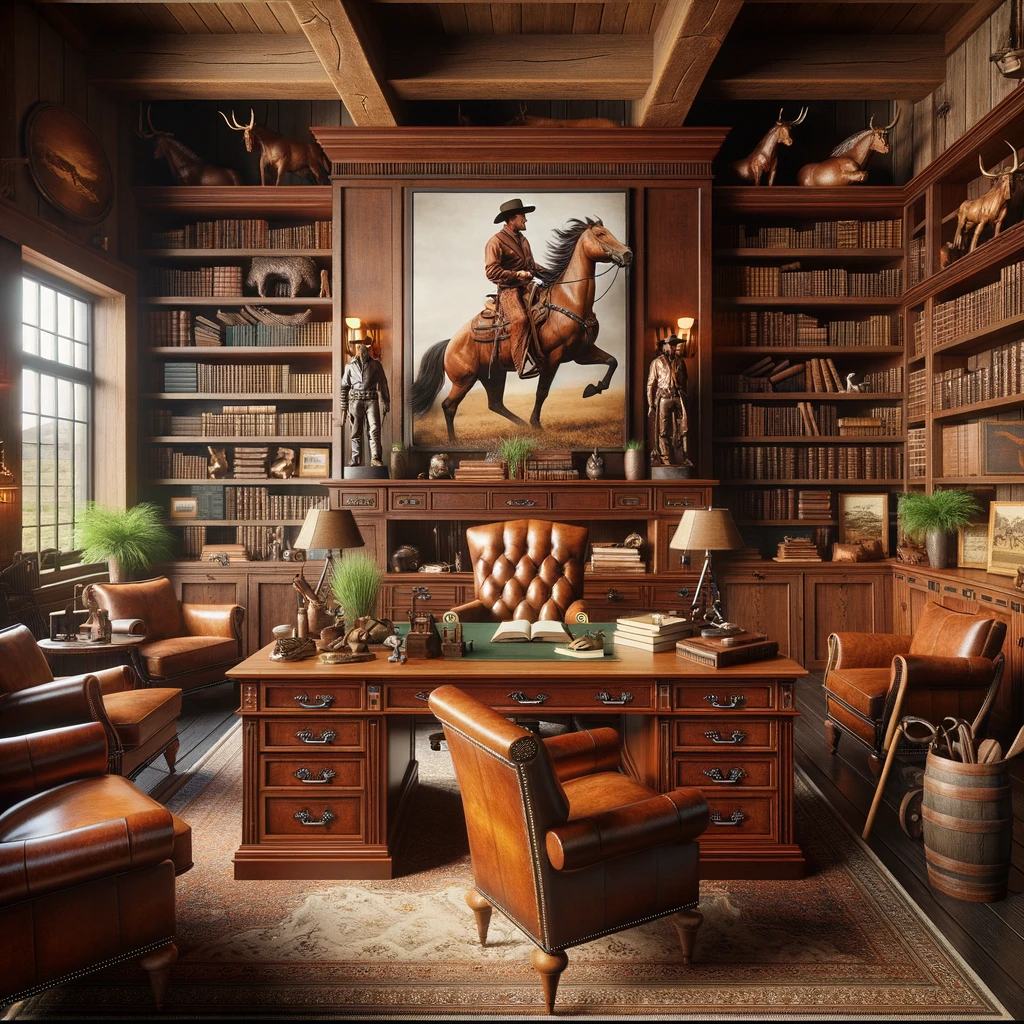 Immerse yourself in the world of the Western rancher with this study-inspired living room. A magnificent mahogany desk takes center stage, complemented by chairs bound in rich leather. Flanking the room are bookshelves brimming with Western literature and essential ranching manuals, reflecting the life and learnings of a seasoned rancher. A striking bronze statue of a cowboy riding his trusty steed, along with vintage farming tools, accentuates the theme, offering a glimpse into the rancher's daily life and adventures.
30. Dance Hall Elegance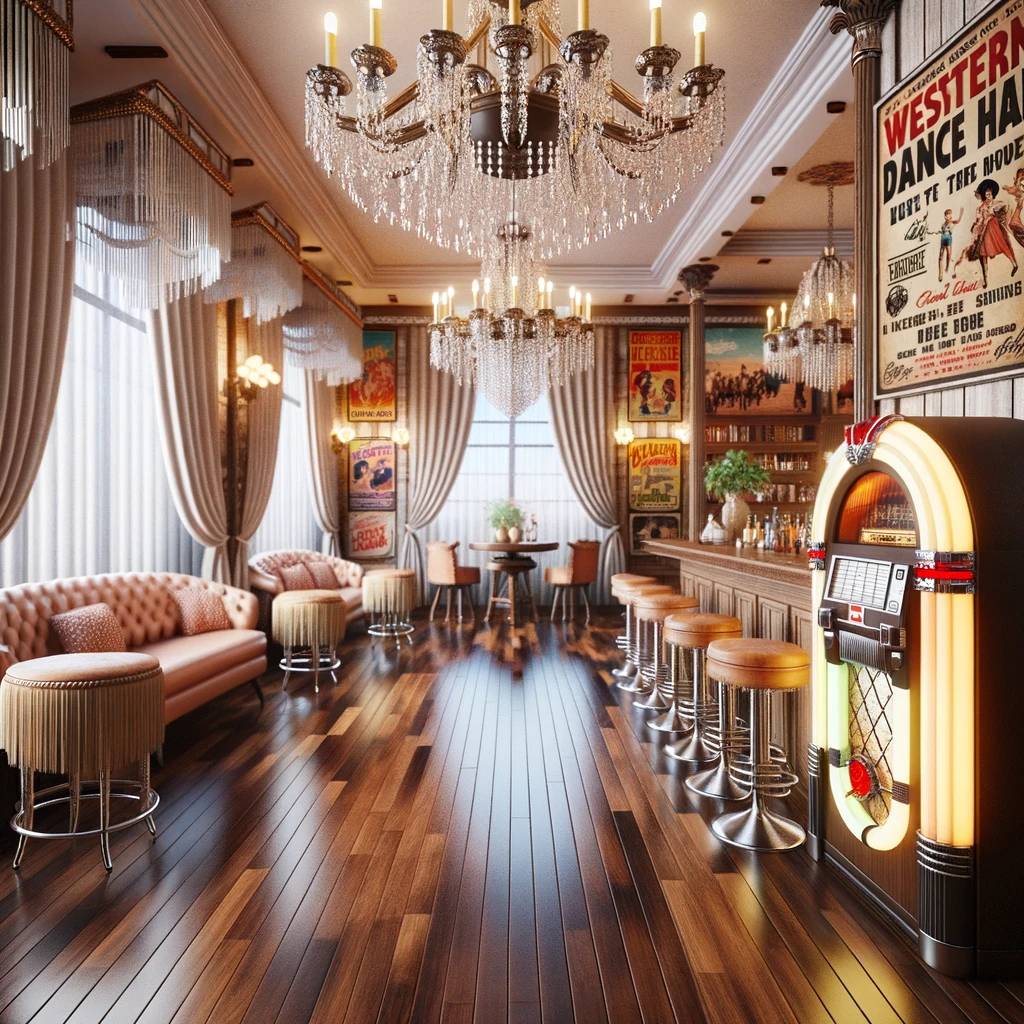 Relive the lively nights of Western dance halls with this themed living room. The polished wooden floors, reflecting the glimmer of chandeliers adorned with dangling crystals, set the stage for evenings filled with dance and merriment. Walls, decorated with vintage posters of iconic dance events, add to the nostalgic ambiance. A classic jukebox, playing timeless country tunes, stands ready to set the mood, while a dedicated bar area with retro stools invites guests to enjoy a refreshing drink. Fringed curtains sway gently, adding a touch of glamour and allure to the setting.
31. Riverboat Reverie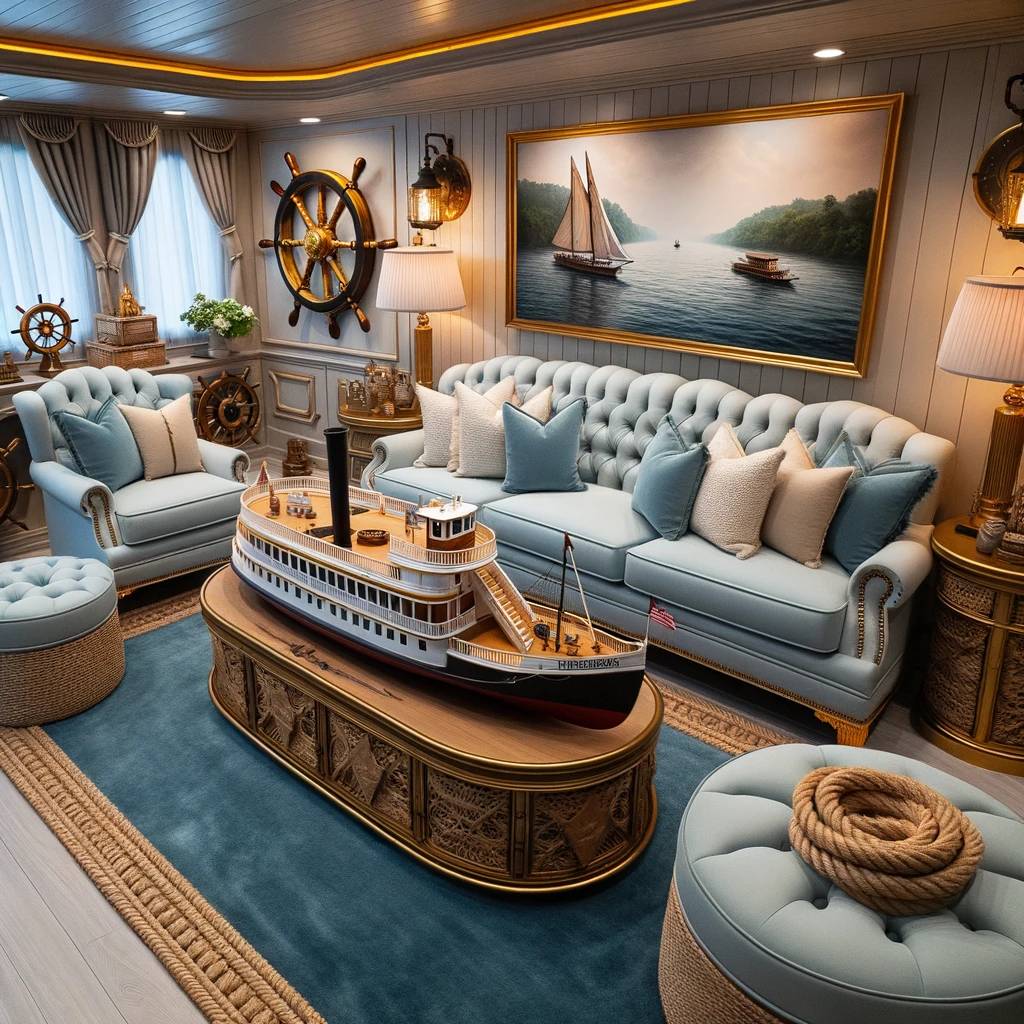 Set sail on the mighty Mississippi with this riverboat-inspired living room. The soft blue upholstery, reminiscent of the river's tranquil waters, pairs harmoniously with gold accents that echo the boat's ornate trimmings. Taking pride of place is a model riverboat, serving as the centerpiece for the coffee table, evoking tales of river journeys and adventures. Walls adorned with paddlewheel motifs, along with nautical lanterns and ropes, complete the riverine theme, transporting you to the heart of the American waterways.
32. Stargazing Sanctuary
Journey to the cosmos with this Western stargazing lounge. The room's palette, dominated by deep blues and purples, captures the enchantment of a starlit night. Unique furniture, designed to mirror natural rock formations, offers a comfortable vantage point for celestial observations. A mesmerizing ceiling mural showcases the Western night sky, complete with brilliantly shining constellations. Telescopes, strategically positioned to point towards faux windows, promise views of distant planets and galaxies, inviting you to explore the mysteries of the universe.
33. General Store Grandeur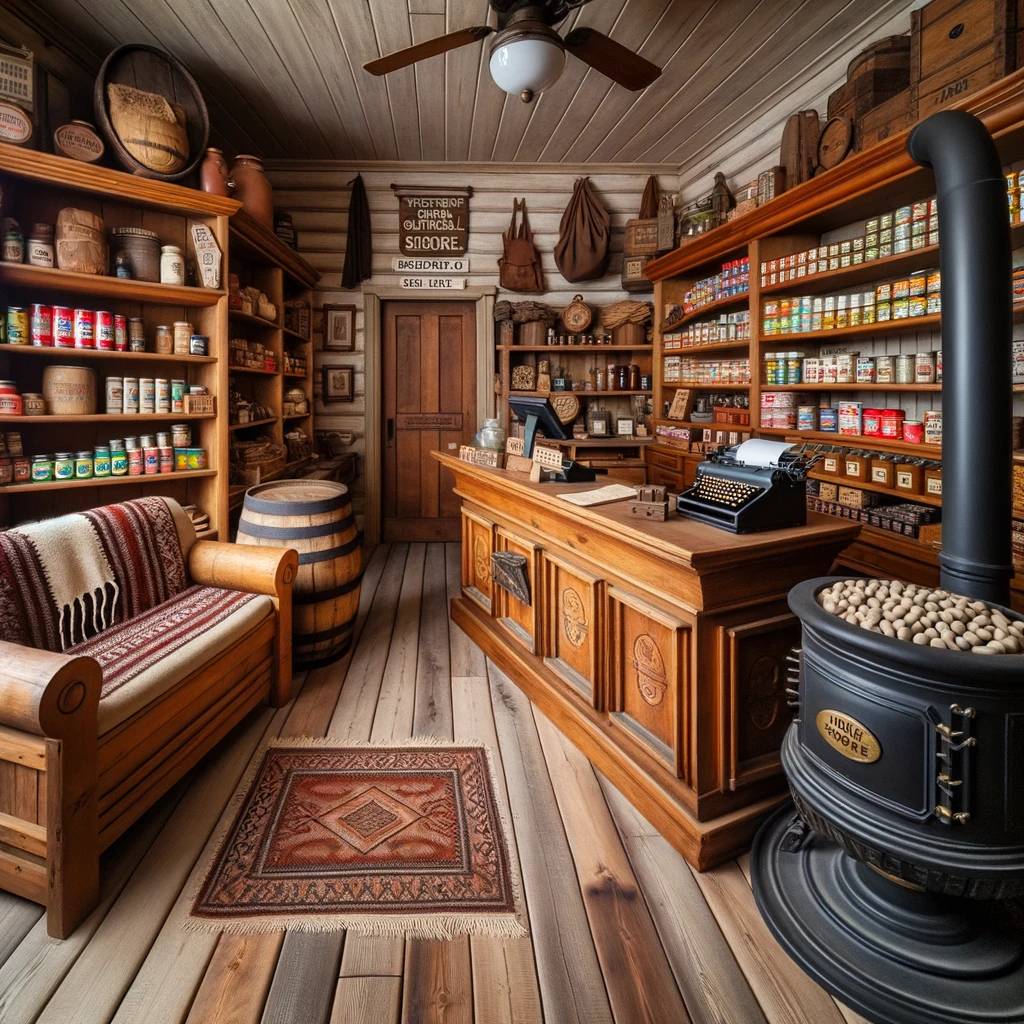 Imagine stepping back in time with a living room inspired by a classic Western general store. Rustic wooden floorboards lead to a counter reminiscent of a traditional store checkout, complete with a nostalgic antique cash register. Shelves artfully display a curated selection of vintage goods, from quaint canned foods to classic fabrics and old-world toys. A comforting potbelly stove sits cozily in one corner, evoking memories of bygone days, while barrels ingeniously repurposed as side tables add a touch of authenticity and charm.
34. Trailblazer's Treasure Trove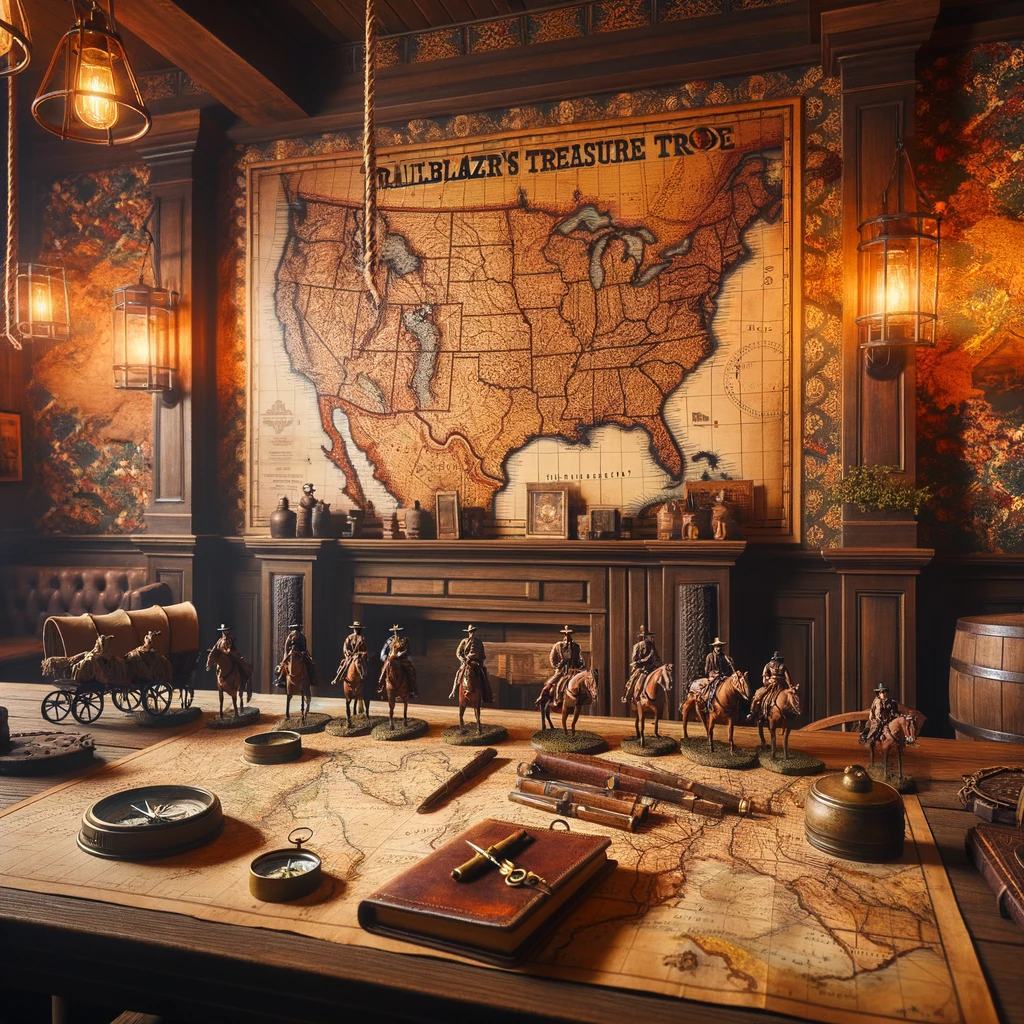 Embark on epic adventures with this trailblazer's map room. Walls enveloped in antique maps of Western territories and iconic trade routes transport you to the era of pioneering spirits. Dominating the room is a grand wooden table, showcasing a detailed topographical map adorned with miniature figurines representing pioneers and their trusty wagons. Scattered leather-bound journals hint at tales of exploration, while compasses stand ready to guide future journeys. Hanging lanterns cast a warm and inviting glow, setting the perfect ambiance for plotting your next great adventure.
35. Sunset Serenity Lounge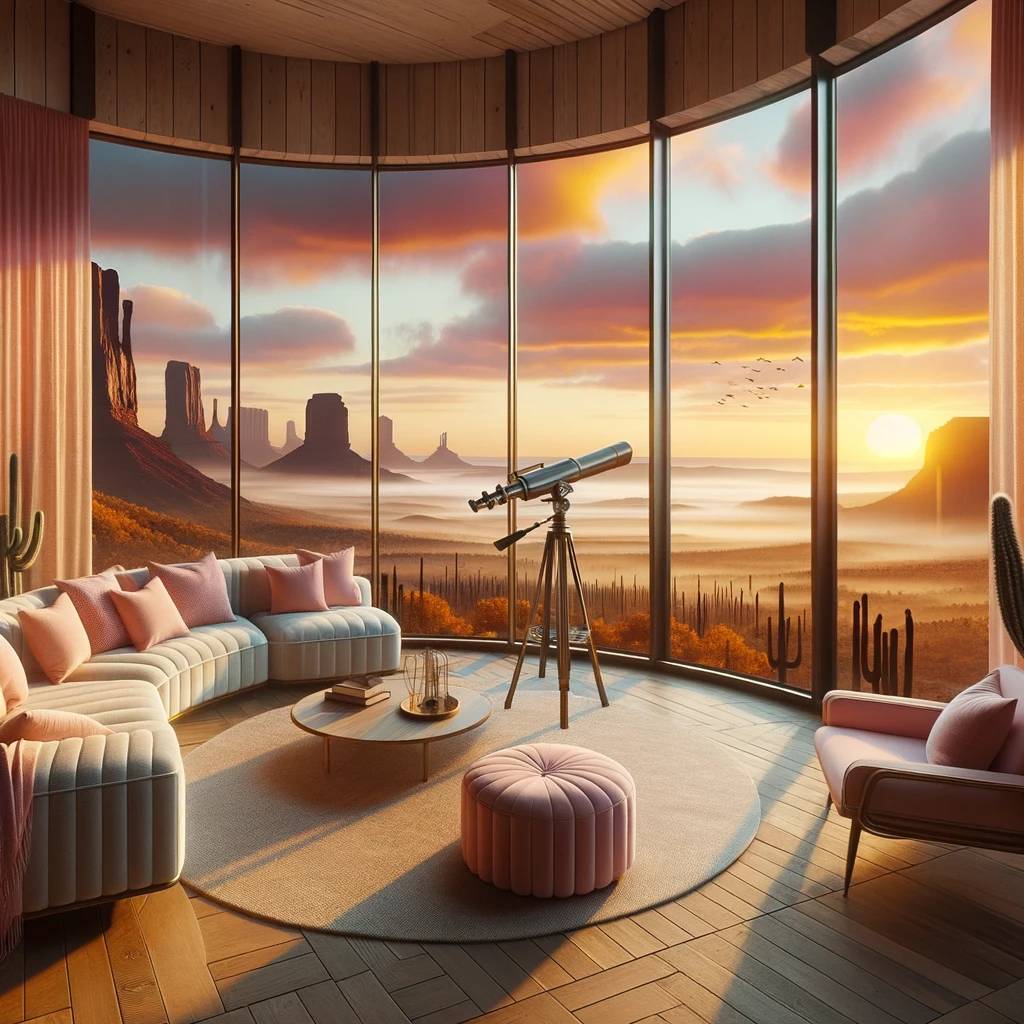 Indulge in nature's grand spectacle with this sunset viewing lounge. Expansive panoramic windows frame a breathtaking Western landscape, awash in the golden and pink hues of a setting sun. Furniture in soft pastels harmoniously complements the resplendent view outside, offering a serene vantage point. A strategically placed telescope beckons for closer observation of the horizon. Walls adorned with silhouettes of iconic cacti and buttes add a touch of desert magic, creating a space that's both tranquil and awe-inspiring.
36. Artist's Inspirational Atelier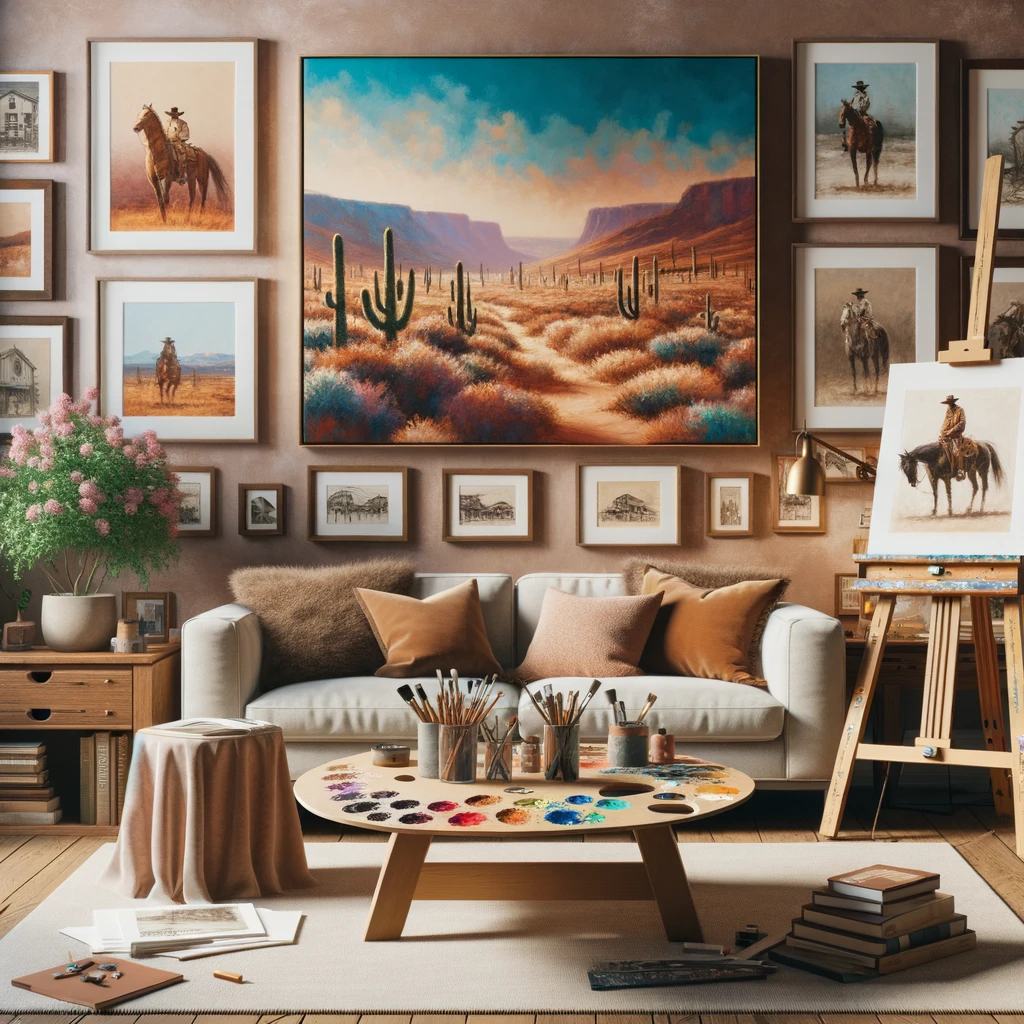 Celebrate the artistry of the West with this artist's studio-inspired living room. Easels proudly display evocative paintings of desert vistas and cowboy narratives, inviting admiration and contemplation. A uniquely designed palette-shaped coffee table holds an array of art supplies, ready for the next masterpiece. Sketches, hinting at works in progress, are pinned to the walls, offering a glimpse into the artist's creative process. A cozy nook, replete with plush floor cushions, serves as an intimate reading area, surrounded by a collection of books delving into Western art and its storied history.
37. Prairie Poise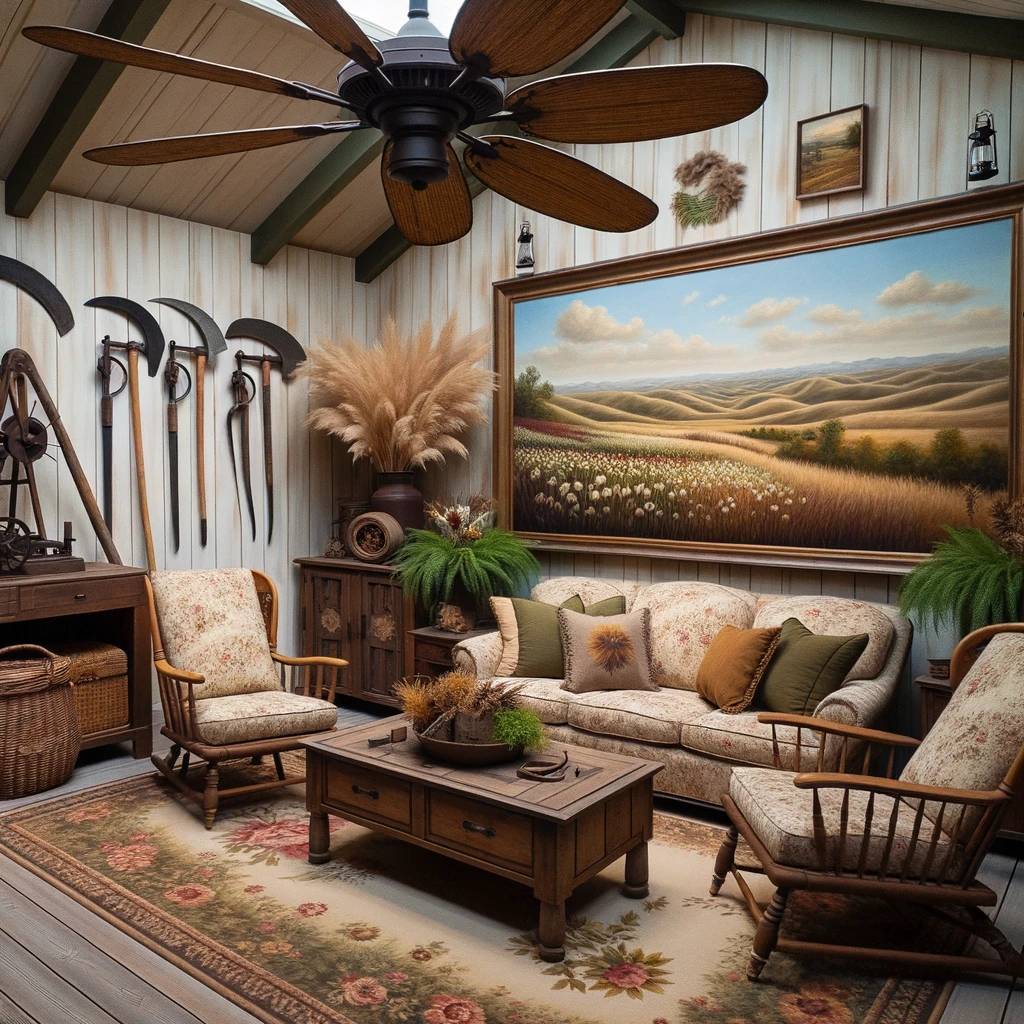 Delve into the serene beauty of the Western prairies with this inspired living room. Earth-toned furniture harmoniously melds with floral patterns, reminiscent of wildflowers that dot the vast grasslands. A unique faux windmill fan gently rotates overhead, evoking breezy prairie winds. The walls come alive with paintings depicting sprawling prairies, while vintage farming tools, such as scythes and sickles, are tastefully displayed, adding a touch of rustic charm.
38. Cattle Ranch Radiance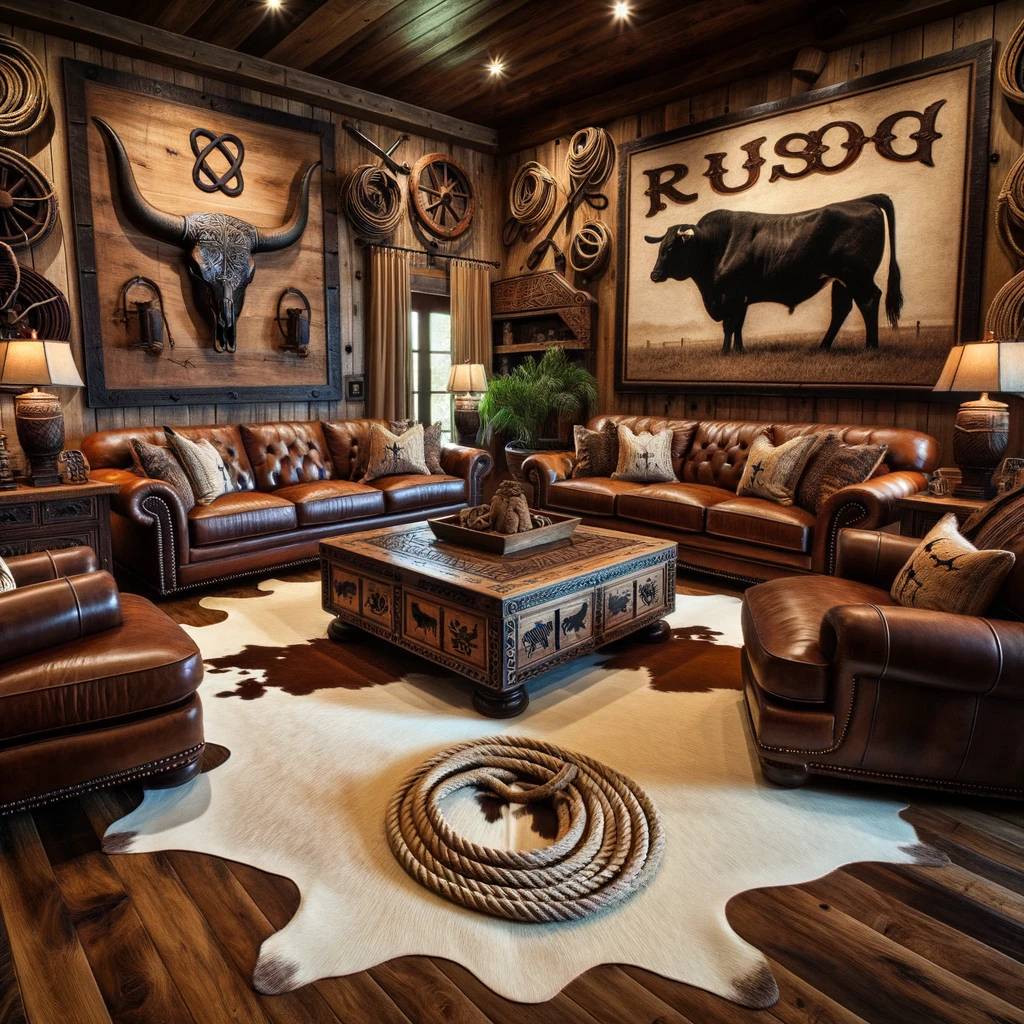 Celebrate the rugged spirit of cattle ranching with this thematic living room. Deep leather sofas and armchairs invite relaxation, perfectly complemented by cowhide rugs that add texture and authenticity. Walls adorned with branding iron motifs and evocative cattle herding scenes transport you to the heart of a working ranch. A wooden coffee table, intricately carved with ranch insignias, stands as a testament to the proud legacy of ranchers, while artfully draped rope lassos serve as unique decor elements.
39. Mountain Lodge Majesty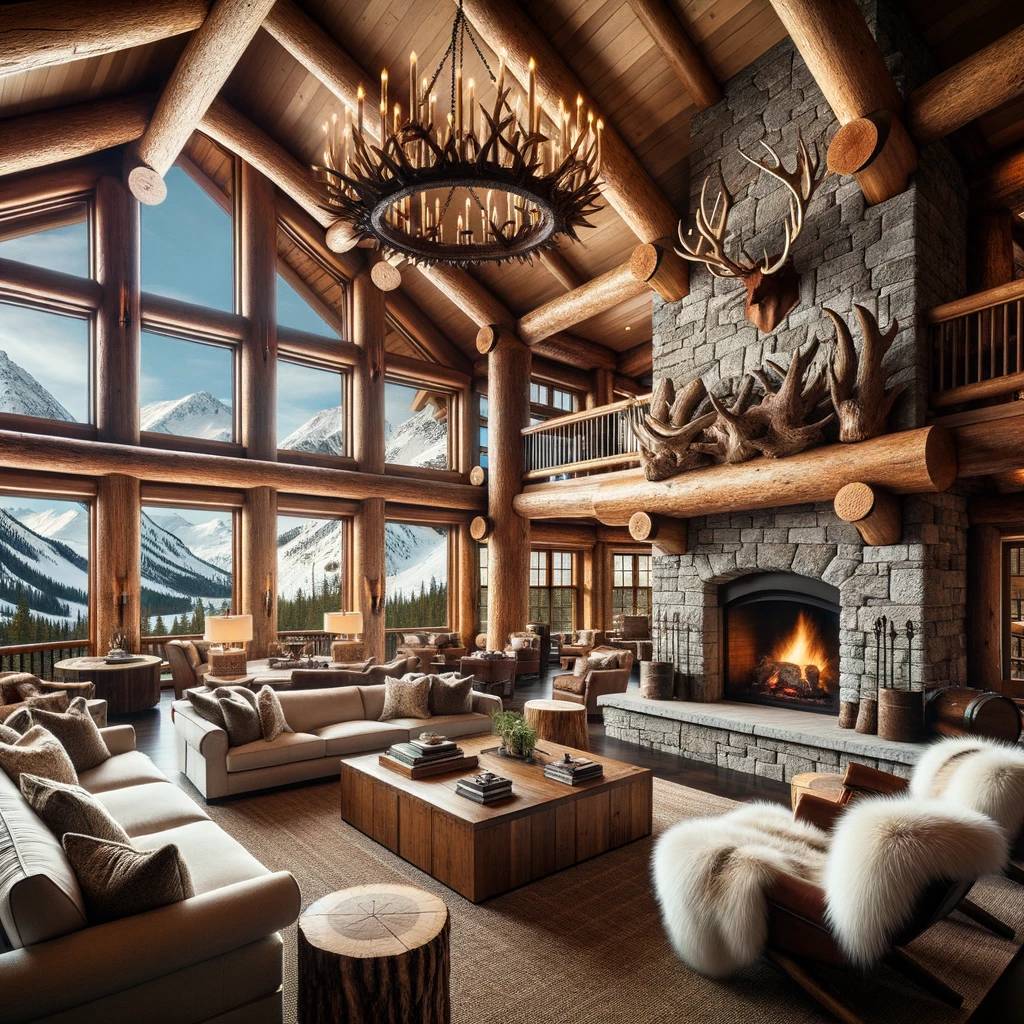 Escape to the snowy peaks with this Western mountain lodge-inspired living room. Hefty wooden beams, reminiscent of alpine lodges, lend architectural gravitas, while a grand stone fireplace promises warmth and coziness. Seating options, including fur-covered chairs and plush sofas, beckon for restful moments. Panoramic windows frame breathtaking views of snow-capped mountains, allowing nature's splendor to infuse the room. Antler chandeliers cast a soft glow, enhancing the ambiance of this mountain retreat.
40. Herbalist's Haven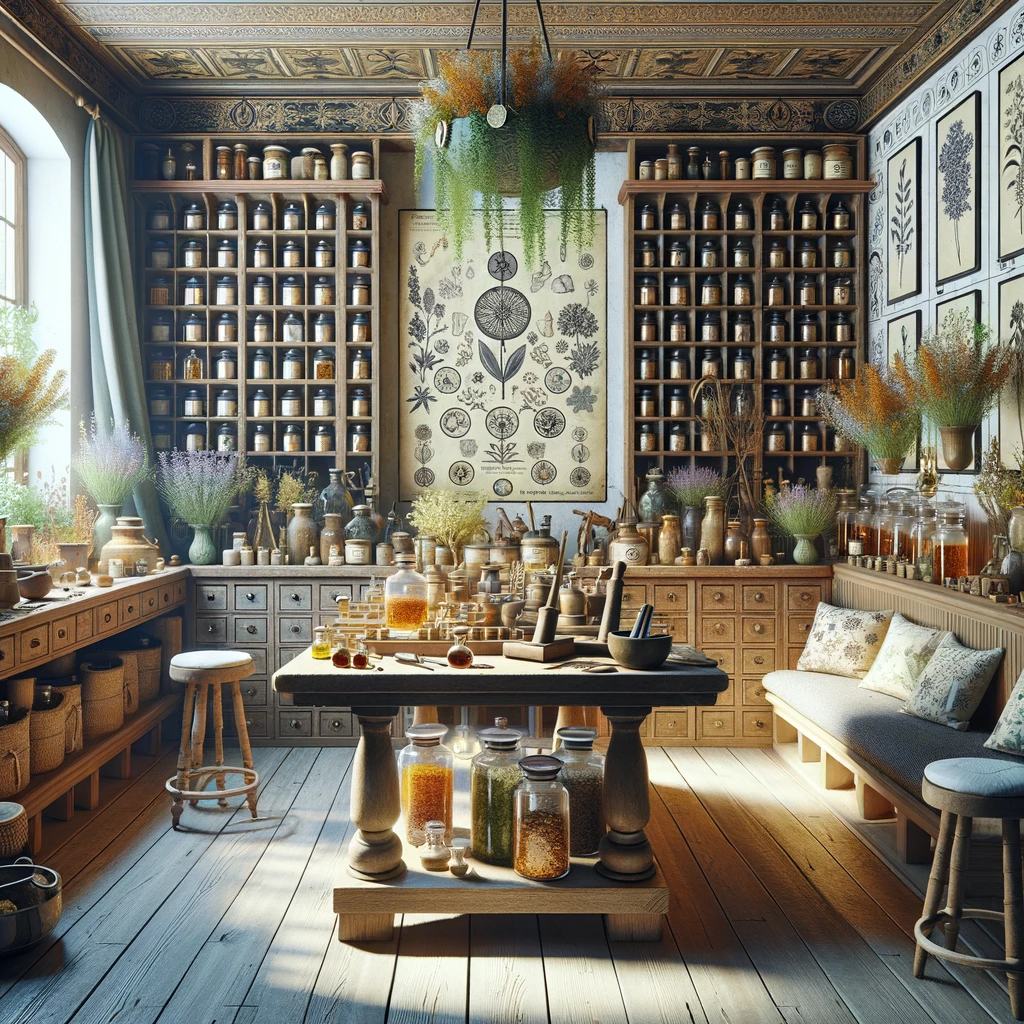 Step into the enchanting world of Western herbalism with this dedicated den. Shelves brimming with jars of dried herbs and potent potions reflect the wisdom of traditional herbalists. A wooden workbench, equipped with mortar and pestle sets, stands ready for herbal concoctions. The walls, adorned with botanical prints, serve as a visual encyclopedia of medicinal plants. Seating areas, decorated with cushions showcasing medicinal plant patterns, offer comfort, while a hanging herb garden infuses the space with freshness and vitality.
41. Stagecoach Inn Splendor
Journey back in time to the bustling era of stagecoach travel with this inn-themed living room. Rich wooden floors set the foundation, while walls reminiscent of old inn interiors transport you to days gone by. Vintage luggage, artfully stacked, serves as a unique side table, while paintings depicting stagecoaches in full motion hang prominently. The cozy seating, comprising quilted benches and old-fashioned armchairs, beckons for relaxation, while a classic cast iron stove promises warmth on chilly evenings.
42. Gold Rush Saloon Glamour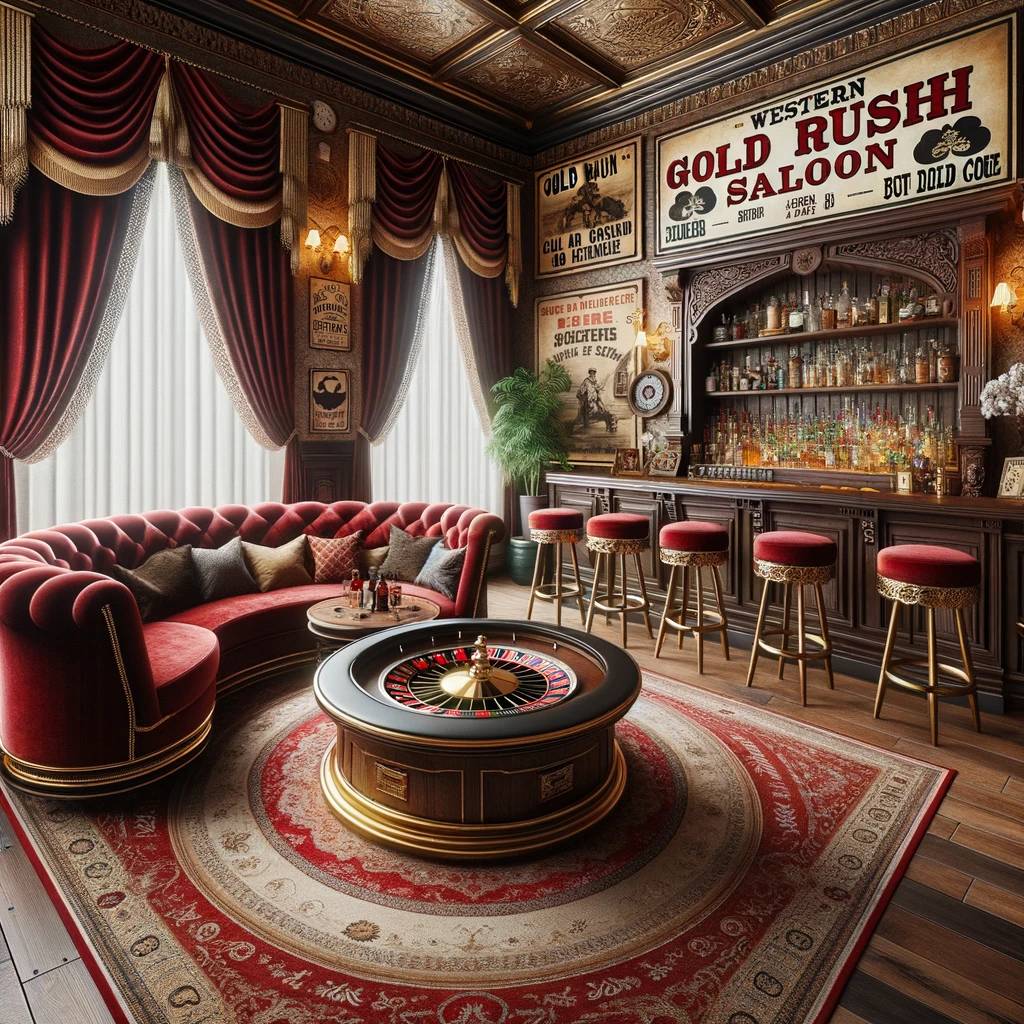 Relive the excitement and allure of the gold rush era with this saloon-inspired living room. Luxurious velvet drapes elegantly frame the large windows, creating a regal ambiance. A polished bar counter, reminiscent of saloons from yesteryears, stands proudly against one wall, with plush red cushioned bar stools inviting lively conversations. Walls adorned with vintage gold rush posters tell tales of fortune and adventure. The room's pièce de résistance is a roulette wheel coffee table, complemented by vintage playing cards, adding a touch of gambling thrill to the setting.
43. Desert Mirage Magic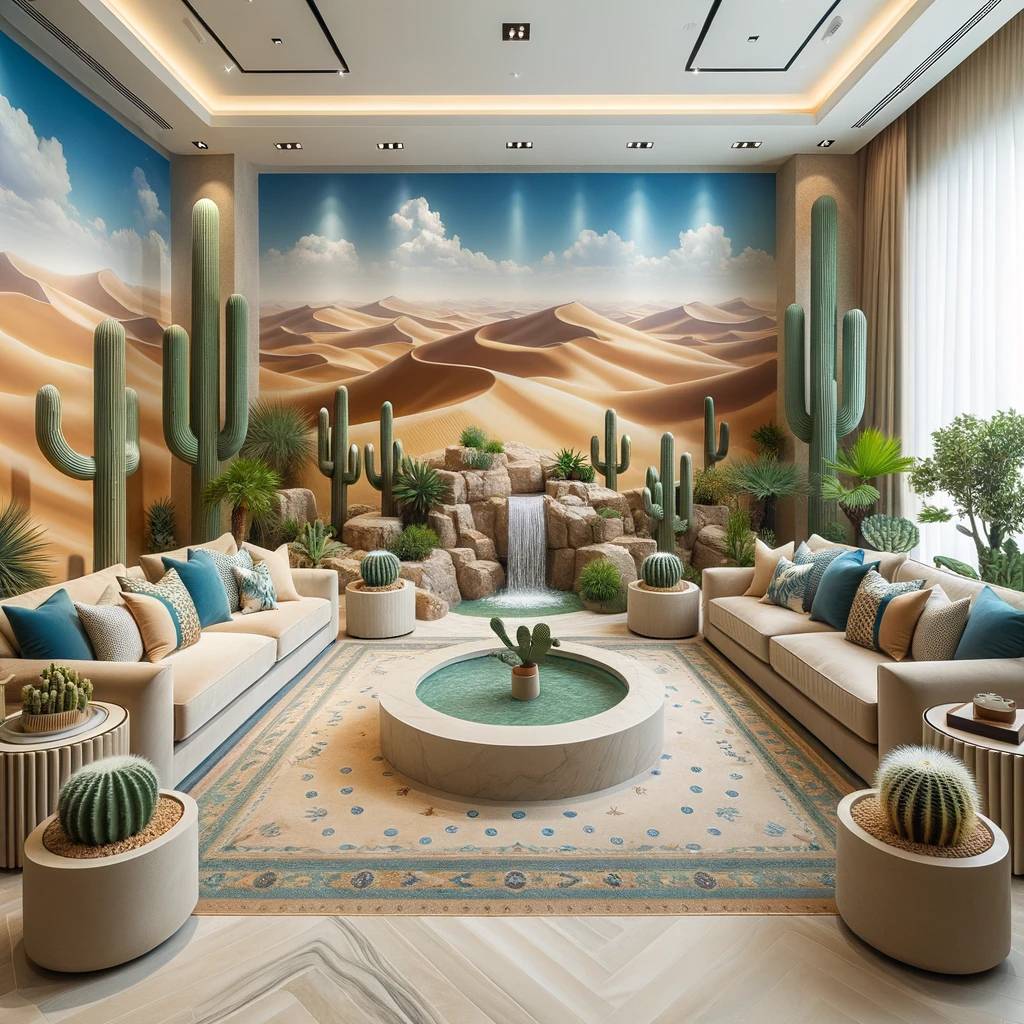 Experience the enchantment of desert landscapes with this mirage-themed living room. Furniture in calming sand tones is beautifully complemented by oasis blue accents, capturing the hues of the desert. Murals, expertly depicting dunes with distant mirages, offer a visual treat, while cactus planters introduce a touch of greenery. Central to the room is a water feature, resembling a refreshing desert spring, providing a tranquil focal point and a sense of coolness amidst the desert ambiance.
44. Pioneer Schoolhouse Charm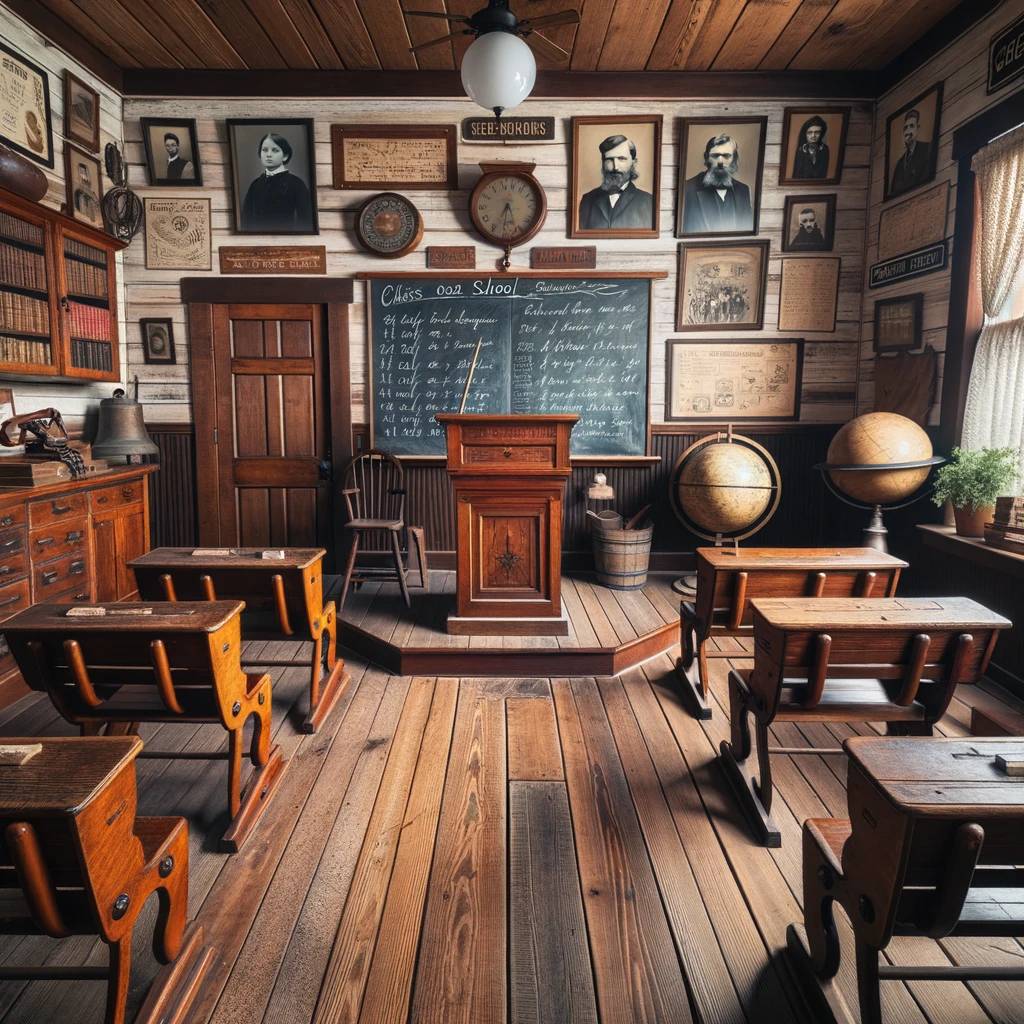 Step into the educational world of Western pioneers with this schoolhouse-inspired living room. Sturdy hardwood floors support vintage school desks, hinting at the days of early education on the frontier. A teacher's podium stands ready for lessons, while chalkboards display classic teachings and playful doodles. Walls lined with old textbooks and pioneer portraits offer a glimpse into the past, while decorative elements like an antique globe and bell serve as reminders of the simple tools that shaped young minds.
45. Railway Station Resplendence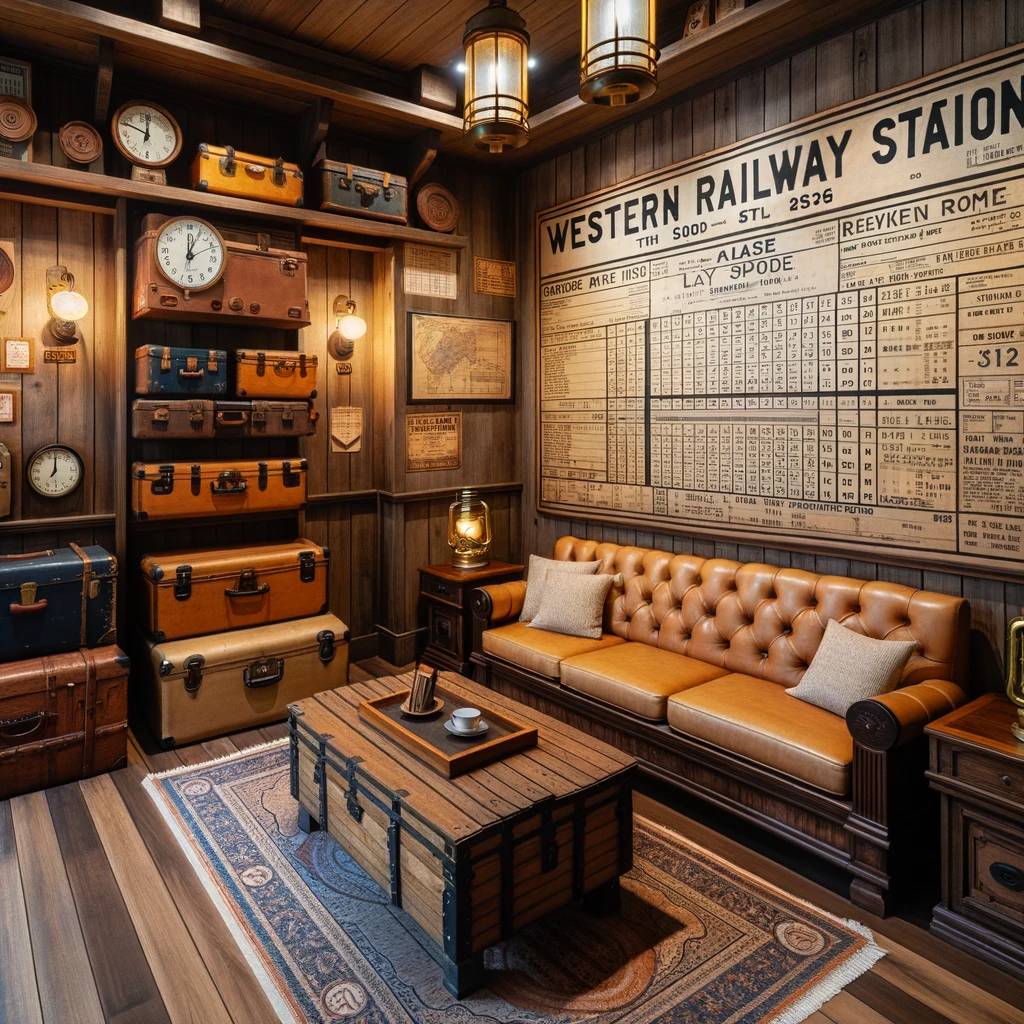 All aboard for a journey through time with this railway station-themed living room! Wooden bench seating, reminiscent of the benches found in old train stations, promises comfort and nostalgia. Walls adorned with vintage train schedules and cherished ticket stubs evoke memories of long journeys and heartfelt reunions. Overhead, a luggage rack proudly displays an array of antique suitcases, telling tales of travelers from days gone by. The coffee table, designed to resemble a scaled-down freight cart, adds an authentic touch, while brass lanterns cast a warm and welcoming glow throughout the room.
46. Ghost Town Mystique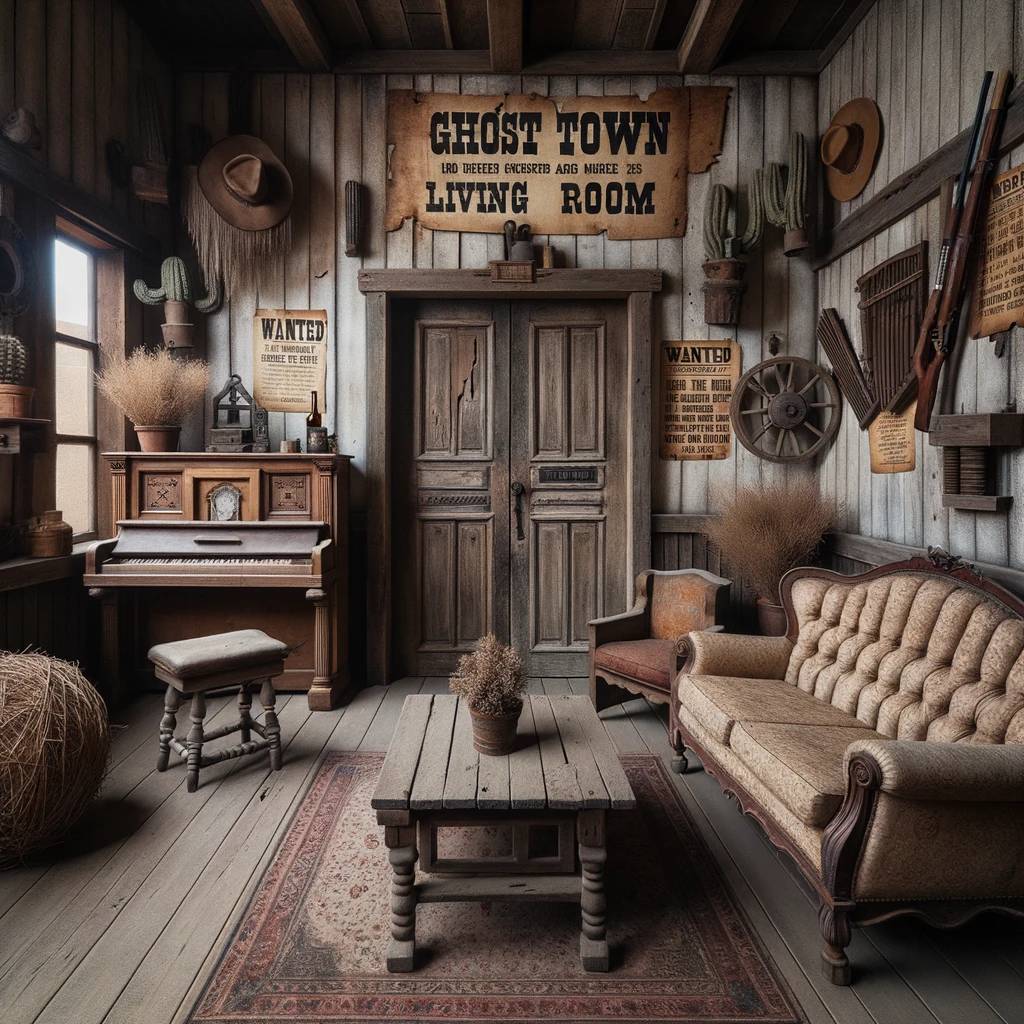 Step into the eerie allure of a Western ghost town with this unique living room design. Weathered wood and distressed furniture paint a picture of a town once bustling but is now abandoned. Old saloon doors, leading to an adjoining room, creak with memories, while broken piano keys, ingeniously repurposed as wall art, play silent melodies. Decorative tumbleweeds and faded 'Wanted' posters further enhance the mysterious ambiance, transporting you to a time and place frozen in history.
47. Botanical Desert Oasis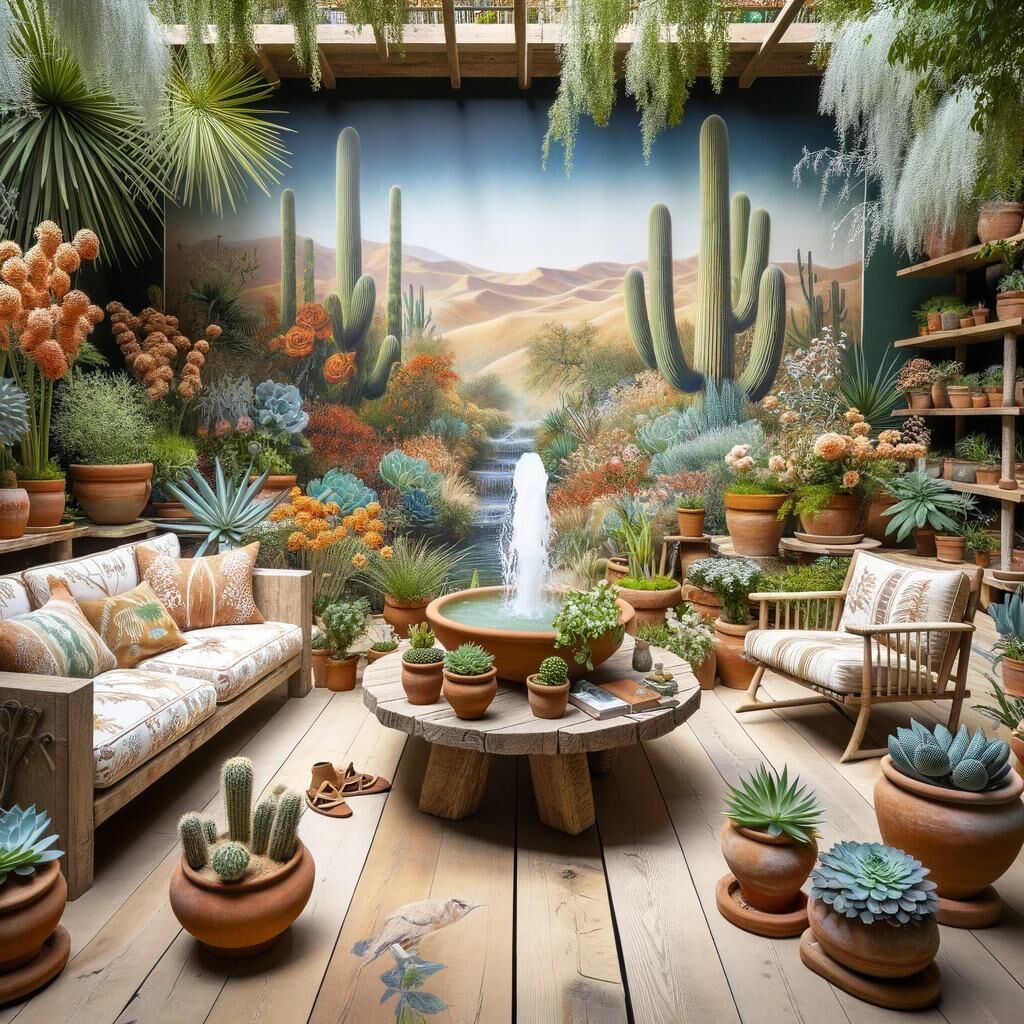 Immerse yourself in the natural beauty of the Western desert with this botanical garden-inspired living room. Lush greenery, featuring a diverse range of succulents and vibrant desert flowers, breathes life into the space. Furniture crafted from reclaimed wood stands in harmony with nature, while a central fountain, mimicking a refreshing desert spring, offers tranquility. Walls graced by botanical illustrations of indigenous Western plants serve as a testament to the region's rich flora, and strategically placed terracotta pots add a touch of rustic charm.
48. Telegraph Office Timelessness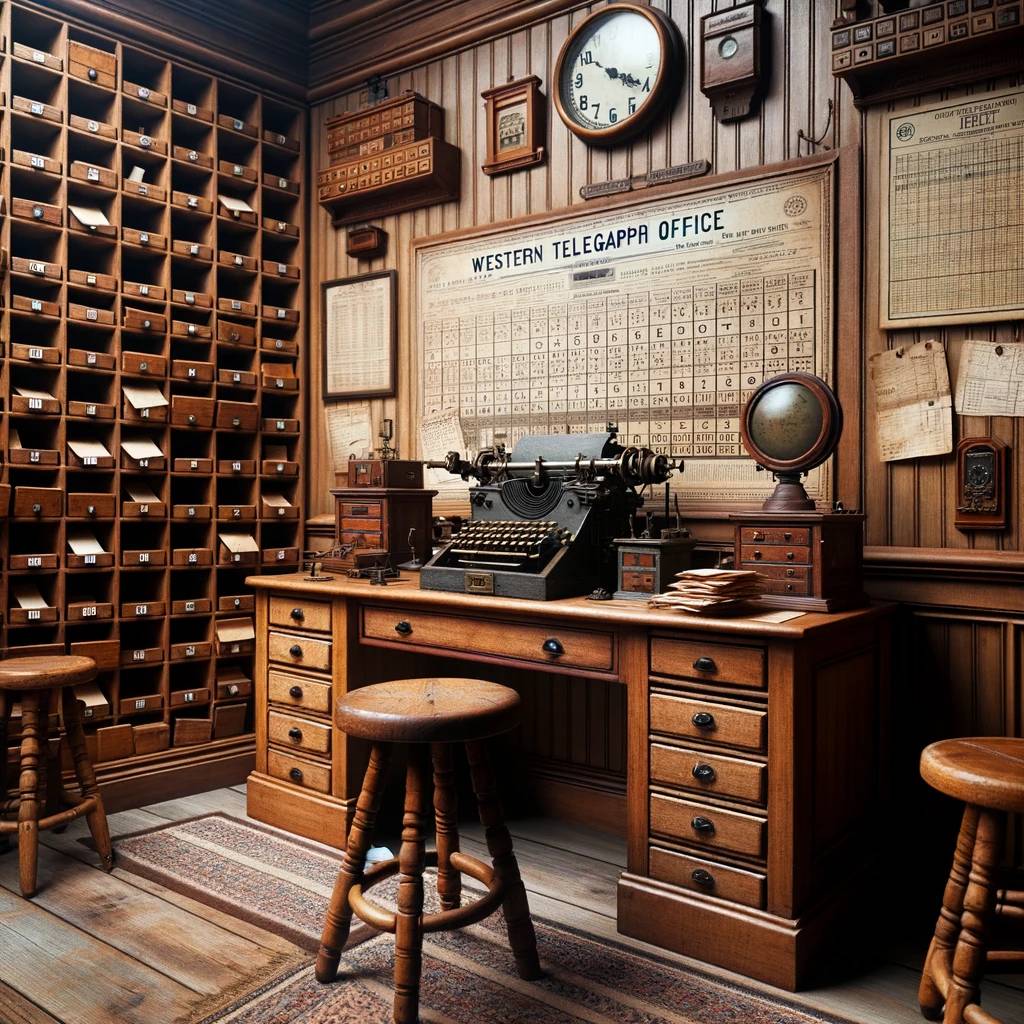 Relive the era of telegraphic communication with this telegraph office-inspired living room. Walls lined with wooden cubbies, brimming with old letters and parcels, take you back to a time when news traveled through wires. A vintage telegraph machine, poised on a wooden desk, stands ready to transmit messages, while Morse code charts provide a glimpse into the language of dots and dashes. Antique stools offer seating, and a ticking clock serves as a reminder of the relentless march of time, even in the communication hub of the Old West.
49. Rodeo Arena Allure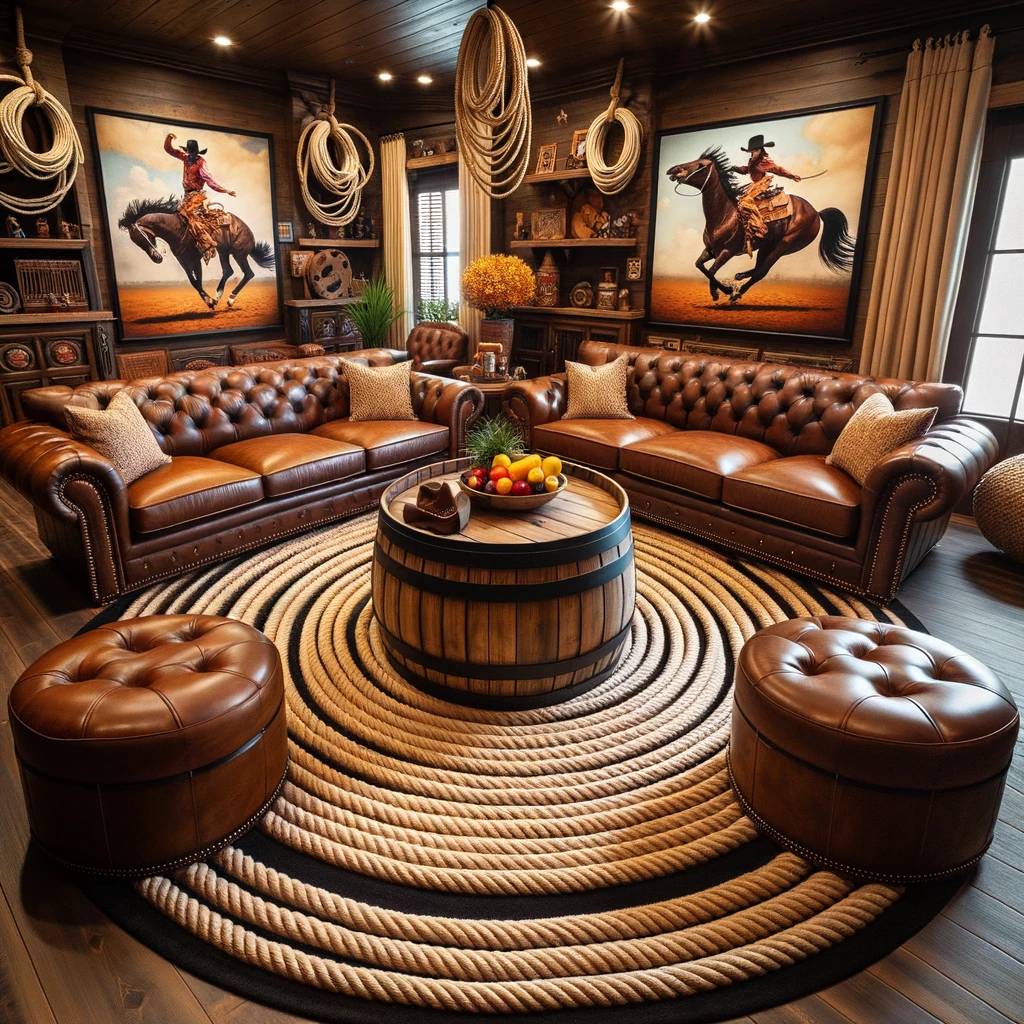 Experience the thrill of the rodeo without leaving the comfort of your home with this rodeo arena-themed living room. Deep brown leather sofas, evoking the rugged spirit of the rodeo, face a unique coffee table shaped like a classic barrel, reminiscent of barrel racing events. The walls come alive with rope lassos and iconic cowboy hats serving as distinctive decor elements. The area rug, designed to resemble the sandy surface of a rodeo arena, grounds the space, while sculptures of bucking broncos and vintage rodeo posters further amplify the theme, transporting you to the heart of a bustling rodeo event.
50. Silver Mine Splendor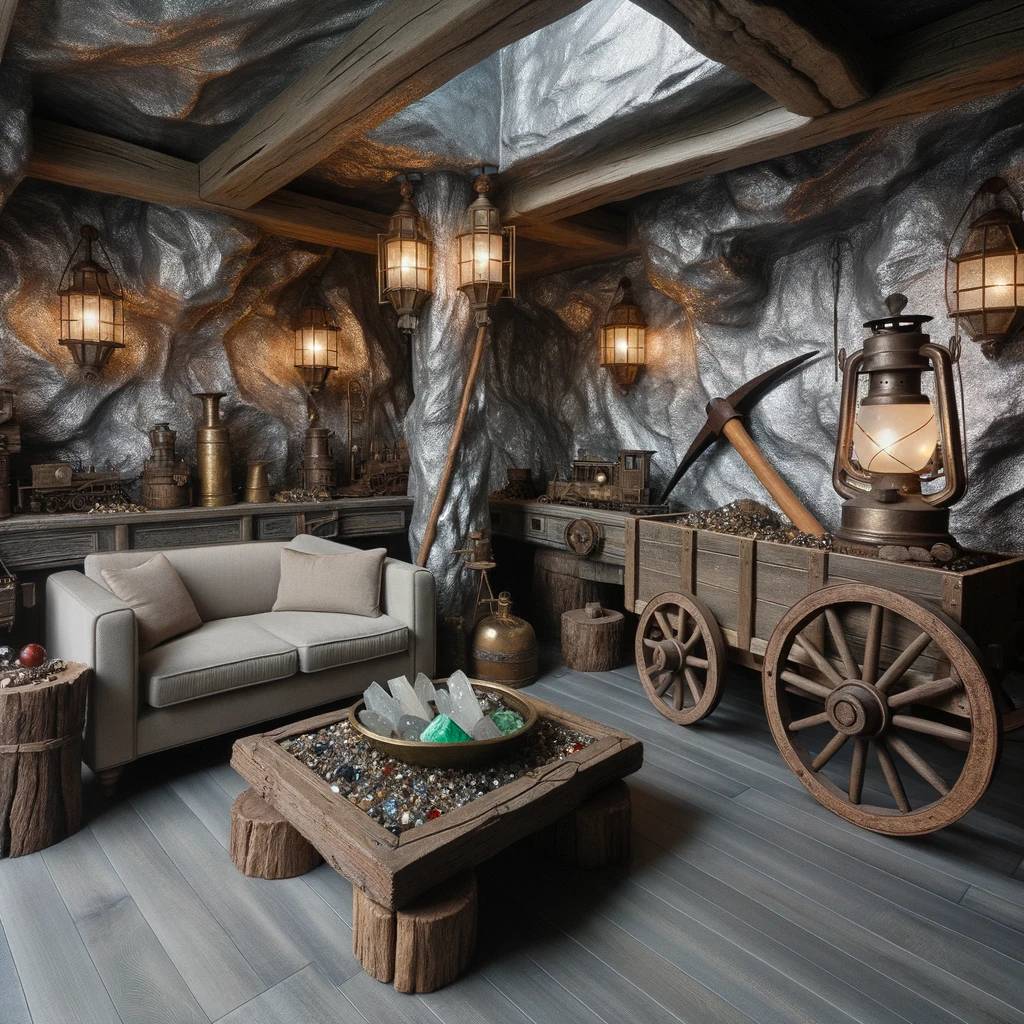 Delve deep into the mining history of the West with this silver mine-inspired living room. Walls adorned with faux silver veins pay homage to the rich mineral deposits that lured many to the frontier. Floor lamps, designed to resemble the lanterns used by miners, cast a soft, ambient glow. The coffee table, ingeniously crafted to look like a mine cart, holds an array of gemstones and vintage mining tools, evoking memories of the silver rush. Rough wooden beams, reminiscent of mine shaft supports, give the room an authentic feel, while a displayed pickaxe serves as a testament to the hard work and determination of the miners.
51. Herbal Apothecary Ambiance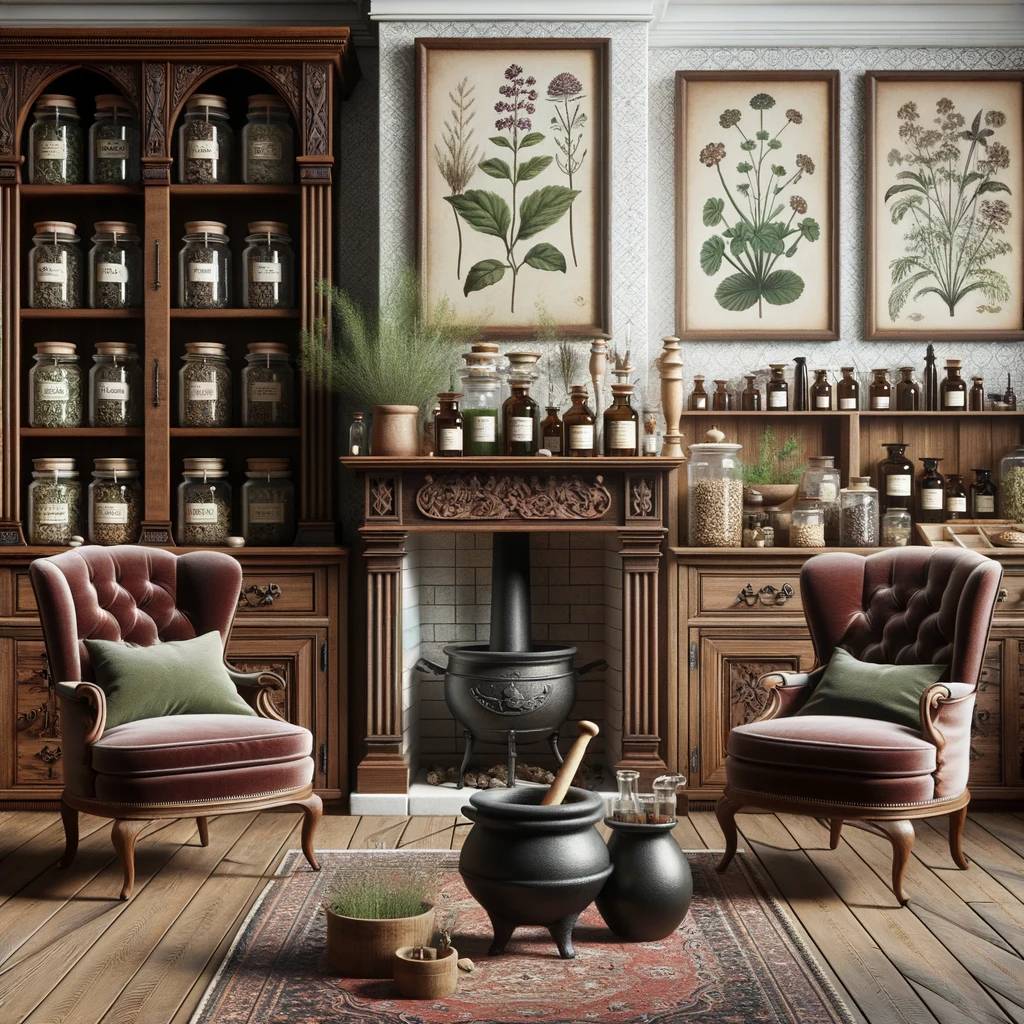 Embrace the world of natural remedies and healing with this herbal apothecary-themed living room. A wooden cabinet takes center stage, showcasing an array of dried herbs meticulously stored in glass jars, alongside old medicine bottles. Plush velvet chairs, perfect for relaxation and contemplation, surround a fireplace that houses a cauldron ready for brewing herbal concoctions. Walls adorned with illustrations of healing plants serve as both decor and reference, while a mortar and pestle set, essential tools of the herbalist, rest invitingly on a side table.
52. Traveler's Lodge Luxury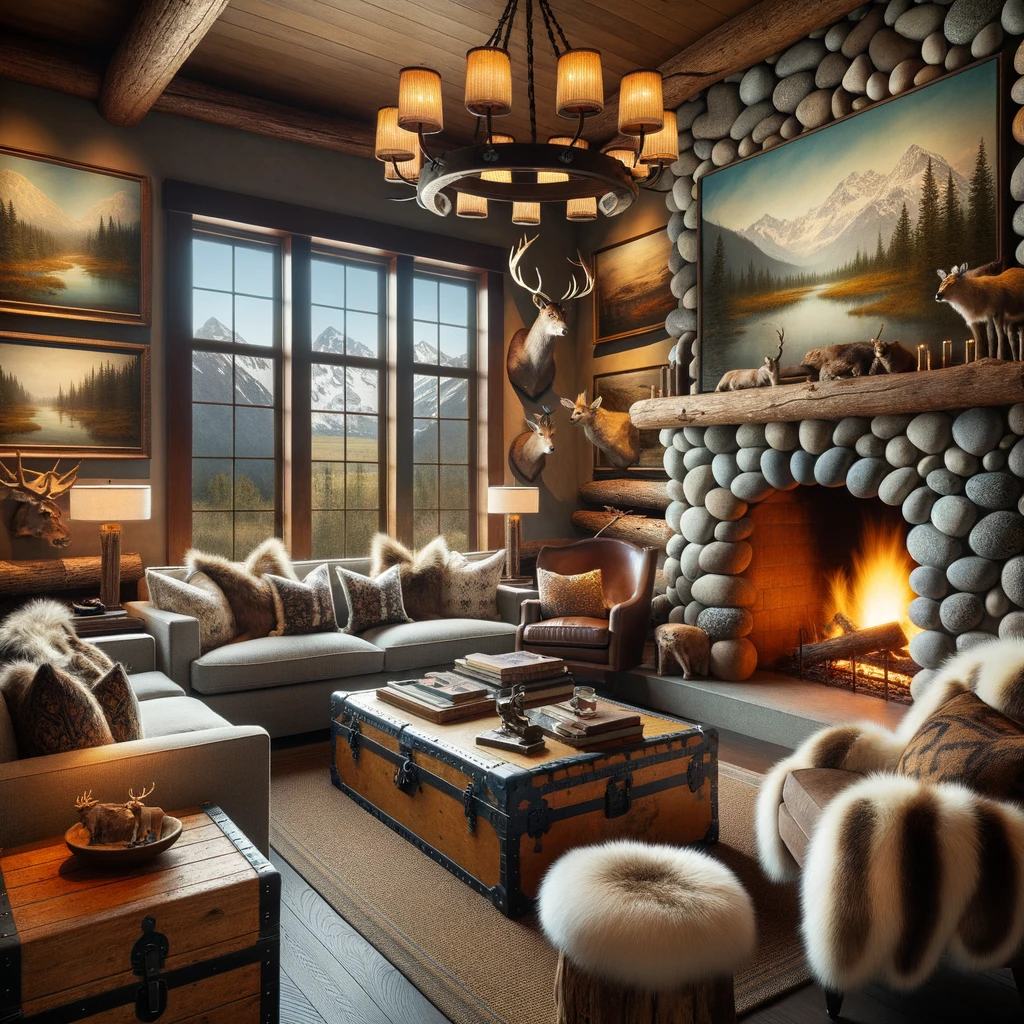 Retreat to the wilderness with this traveler's lodge-inspired living room. Cozy seating options, draped in fur throws and adorned with patterned cushions, promise comfort after a day of exploration. A fireplace, built with smooth river stones, dominates one wall, radiating warmth and creating a focal point. Wooden trunks, hinting at journeys taken and stories untold, offer storage solutions. Wall-mounted animal trophies and evocative landscape paintings beautifully reflect the surrounding wilderness, while a rustic chandelier casts a soft glow, completing the ambiance of this inviting lodge.
Conclusion
In conclusion, Western-themed living room designs offer a captivating fusion of tradition and modernity. From the rustic allure of ranch-style resplendence to the vibrant aesthetics of Southwestern splendor, these ideas showcase the diverse facets of Western culture. Whether drawn to Wild West nostalgia or contemporary fusion, there's a design to suit every taste. These living rooms serve as portals to different eras and landscapes, celebrating the enduring charm of the American West. As you embark on your own Western-inspired home transformation, remember that these designs are more than decor; they're a testament to the timeless allure and rich heritage of the West. Happy decorating!