Redesigning Your Master Bedroom: 8 Chic Ways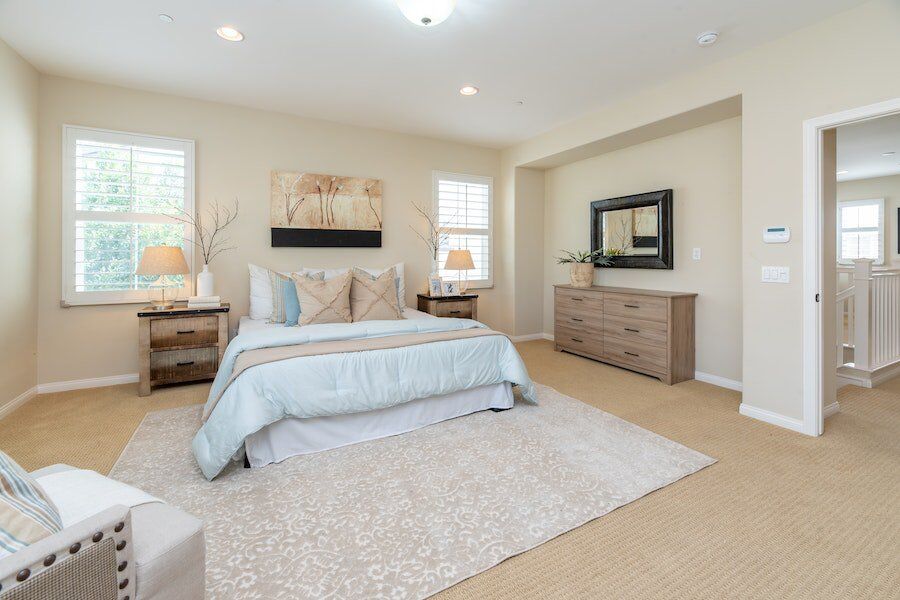 If you're upgrading your master bedroom, there'll be plenty to think about. You may wonder how to choose the right mattress topper, maximize the available space, or change the color scheme. In this article, we provide 8 chic ways to redesign your master bedroom and turn it into a stunning retreat.
1. Assess Your Current Design
Take a careful look at the layout, furniture placement, and overall aesthetics of the room. Can you move around comfortably and are there any items that feel out of place? Also consider how your current design aligns with your personal style and preferences.
Examine the colors, patterns, and textures in your current design. Do they evoke feelings of calmness and tranquility, or are there any jarring elements? This can help you identify areas for improvement, and guide your redesign process.
2. Buy A New Bed And Mattress
A sleek and modern platform bed can create a contemporary look, while an upholstered headboard can add a touch of luxury. Memory foam mattresses are known for their superior support and pressure relief. They're perfect for those who suffer from back pain, but do tend to heat up at night.
If this is an issue, consider choosing a cooling gel-infused mattress. The internet can fill you in on the other options available (e.g. pocket sprung versions). If you like divans, specialist websites talk about storage options and discuss the benefits of divan bed sets. You can search by price range, firmness and support, spring type, fillings, features, and depth.
3. Choose A Color Scheme And Theme
Consider opting for a calming and serene concept with soft pastel shades. Light blues and greens paired with natural wood accents can create a soothing atmosphere, promoting relaxation and restful sleep. If you prefer something bold and energetic, however, consider vibrant colors – like jewel tones or rich reds blended with metallic accents.
This more dramatic theme can create a luxurious feel in your bedroom and add personality to the space. Whether you're drawn to warm earth tones or cool neutrals, the right combination will help make this room feel uniquely yours. Experiment with different shades, textures, and patterns to achieve a cohesive look throughout the room.
4. Upgrade Furniture And Fixtures
Consider investing in a statement piece of furniture, such as a luxurious upholstered headboard or a sleek modern dresser. These focal points can add style and enhance the functionality of the space. In addition to furniture, updating fixtures can instantly transform your master bedroom into a chic sanctuary.
Don't forget about smaller details like drawer pulls and doorknobs. Replacing these with unique and eye-catching designs can elevate the entire room's appearance. By upgrading these key elements, you can effortlessly revamp your master bedroom into a stylish and sophisticated retreat.
5. Add Stylish Textiles And Accessories
These can range from luxurious throw pillows to sumptuous bedding. Consider opting for bold and vibrant patterns when selecting textiles for your master bedroom. How about a statement-making duvet cover or a set of colorful pillowcases? These can bring life and personality to an otherwise neutral room. Try mixing different textures, such as velvet curtains or a chunky knit blanket. Such things can add depth and visual interest to the space.
When it comes to accessorizing your bedroom, less is more. Choose a few key pieces that align with your style preferences, and place them strategically throughout the room. A modern vase filled with fresh flowers can add a touch of elegance to your bedside table. A decorative tray on top of your dresser can be both functional and visually appealing.
6. Update Your Storage Solutions
Consider incorporating hidden storage spaces that seamlessly blend into the design of the room. They may include built-in drawers under your bed, or floor-to-ceiling shelving units. These clever storage options will keep your belongings organized and contribute to a clutter-free and serene environment. You could also repurpose furniture items for dual purposes.
Instead of using a regular dresser, opt for a stylish chest with multiple compartments. This could double as both storage and seating. This could add interest to your room, and supply a convenient spot for putting on shoes or laying out clothes in the morning. Install floating shelves or wall-mounted cabinets to display decorative objects. These could also be used for storing books, accessories, or folded clothing.
7. Add Quality Lighting
Ambient lighting provides overall illumination, and can be achieved through ceiling fixtures or recessed lights. Task lighting (e.g. bedside lamps or wall sconces) is necessary for specific activities such as reading in bed or getting ready in the morning. For accent lighting, use picture lights to highlight artwork or install LED strips along shelves/under furniture. Opt for warm white bulbs to create a cozy and relaxing ambiance. The ideal wattage will depend on the size of your room and personal preference. Dimmer switches allow you to adjust the intensity of your lights according to different needs and mood settings throughout the day. Ensure any overhead lights are centered above key areas (e.g. the bed or seating area), and place bedside lamps within easy reach.
8. Incorporate Personal Touches And Artwork
Perhaps you have some cherished family photos or travel snapshots that bring back fond memories. Or maybe you have some pieces of art that resonate with you on a deep level. By showcasing these personal treasures in your bedroom, you can infuse the space with warmth and character.
Another way to incorporate personal touches is through DIY projects or handmade items. You could feature pillows, throws, or repurposed furniture to give your bedroom a one-of-a-kind feel. Consider incorporating crafts like macramé wall hangings, painted wooden signs, or creating your own headboard with reclaimed materials. These personalized touches can add charm and make your bedroom feel more inviting and cozy.
Redesigning your master bedroom can create a classy and tranquil area that you'll love spending time in. Don't forget to declutter and maximize storage, to create an organized and functional space. In turn, you'll have a room that reflects your personal style and promotes a restful night's sleep.