Macramé Vs. Crochet Comparison: Understanding The Difference Between Both Crafts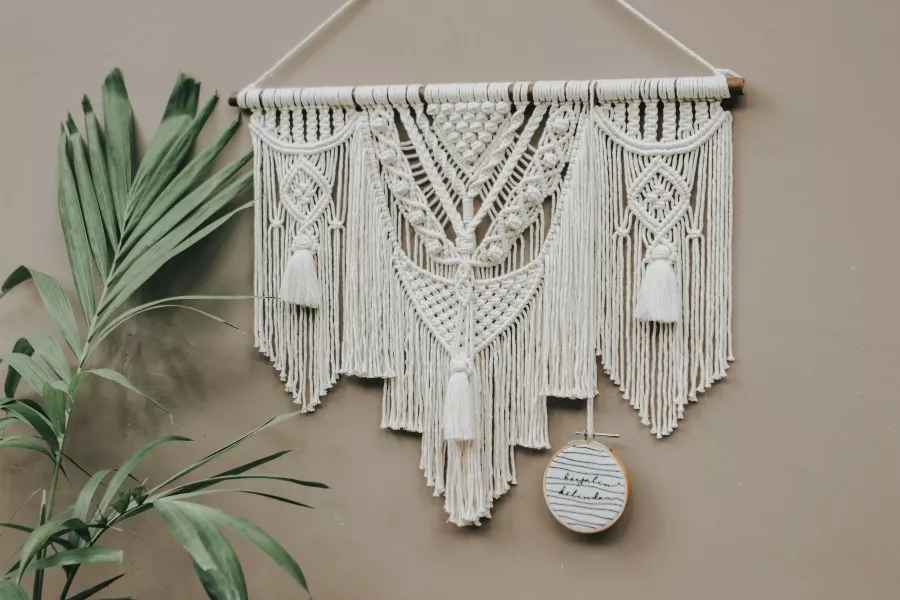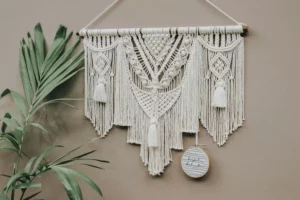 There's not much difference between macramé and crochet. Both crafts look similar from various angles and are appealing too.
The increased demand and use of macramé and crochet in the home décor and fashion industry has opened up new dimensions for creatives. But while macramé is popular in home décor, crochet is popularly used in the fashion industry.
Now, apart from the application of both crafts, what other factor differentiates them? Here, we'll compare macramé vs. crochet. You'll also find further details about both arts. Read on!
Macramé Vs. Crochet Comparison
It will interest you to know that both crafts have more things in common than differences. One major difference between crochet and macramé is the tool used to create them.
So, what tool is used to make macramé? None! People use their bare hands to make macramé. They create a range of designs with their bare hands.
In other words, you don't need tools for macramé. Everything is done with the hands, from start to finish. However, the reverse is the case for crochets.
So, what tool is required for crochet? Firstly, you cannot make crochet with bare hands. All over the world, the tool used is a needle. And you need two needles to make a crochet.
Another difference you'll notice between crochet and macramé is the length of yarn or rope used. When crocheting, rope length must remain the same throughout the project. But that's not the case with macramé.
Macramé usually consist of tons of different length of ropes knotted together to create the finished product. But like crochet, macramé looks adorable.
Macramé Vs. Crochet History
Macramé and crochet are two incredible crafts adored and used worldwide. People of different age groups can make them too.
Now, let's understand more about the history of macramé.
History has it that the 13th-century Arab weavers invented macramé. These Arab artisans skillfully weaved excess yarns and threads on the edge of fabrics, turning them into various decorative pieces.
The artisans used their spare time to weave the edges of shawls, bath towels, and veils. And the outcomes were always pleasing to the eyes. From there, it became a hobby.
Today, macramé has become the centerpiece of varied home decoration styles. These range from boho-chic fashion style to mid-century modern designs.
Macramé has also become highly desirable in the world today. People create macramé by simply tying the artistic and intricate knot, forming a range of tapestry.
What are the popular macramé projects? As earlier said, macramé is popular in home décors. Thus, they are commonly used for tasks such as plant hangers, wall hangings, swings, feathers, purses, jewelry, archers for a backdrop, deck chairs, and even some clothing items.
What materials do you need to make macramé? You can make macramé with varied materials. These include cotton twine, yarn, jute, leather, linen, and hemp.
Next is the history of crochet.
The crochet was popular in the 16th century. But what the world recognizes as modern crochet can only be traced back to ancient Chinese needlework.
The Chinese needlework is a very old piece of embroidery, popular in Persian, Turkey, North Africa, and India. It only got to Europe around the 1700s.
What are the popular crochet projects? Crochet is popular in the fashion industry. People make a wide range of products from crochets. These include baby accessories, women's clothing and swimwear, amigurumi, etc.
What material do you need to make crochet? Knitting wool and yarn are the two popular materials used in crocheting. You can use yarn made from animal or plant fiber.
However, people are becoming more and more creative with crochets as time progresses. They are now using diverse materials. Some even use wires to make jewelry.
The Simplest To Learn Between Crochet And Macramé
Many people would tell you that crochet is much more difficult to learn than macramé. And they have their reasons. However, the margin is not that wide as many think. You can even learn macramé alongside crochet if you have time on your hands.
The reason people claim crochet is tougher than macramé to learn and even make is when it comes to fixing errors. You're bound to make mistakes while learning crochets. But when you make mistakes, you may have to repeat the project from scratch to correct the error.
If you notice a mistake earlier while crocheting, you can fix it and move on, though it's hard to discover errors until you have passed the layer where the mistake is.
So, the bottom line is crochet can be frustrating to learn. You may want to give up and pursue other interests but don't. See the frustration as part of the learning phase and keep crocheting.
Mistakes happen, and you're bound to make some as a learner or beginner. And remember that by correcting those mistakes, you're sharpening your skills.
On the other hand, macramé is not as frustrating to learn as crochet. You can easily spot and correct mistakes in macramé. Why? The thread used is much thicker.
So, when you make mistakes by not following the set pattern, tying a knot too tight, or tying it too loose, you can easily adjust and continue from where you stopped.
A Handy Tip: Can one learn crochet and macramé simultaneously? Yes, you can. Both are a breeze to learn and master if you set your mind to it.
How Long It Will Take You To Learn Crochet
It all depends on your seriousness. If you practice consistently, you should start making crochet in one month.
But if you decide to learn individual crocheting skills here and there, be ready to spend over a month. It could take you six months to one year to learn crochet, in this case.
A Handy Tip: You can learn how to crochet without the help of any trainer. Just access online videos and get the needed materials to practice independently. Most people even learn how to crochet from books.
The easiest way to learn crochet is to understand the basic stitches. Once you master it, you can build from there. The most important thing is to have the knowledge and motor control of the needed skills.
How Long It Will Take You To Learn Macramé
You can acquire the knowledge and skills to start making macramé in a matter of weeks or a month. It all depends on how serious and consistent you are during the learning phase.
Again, practice makes perfect. And like crochet, you can learn macramé online. Once you know how to tie the knots perfectly, you can create varied designs.
Conclusion
This post is about macramé vs. crochet comparison. We wanted you to see how both compare in various aspects. The difference between macramé and crochet is that the former doesn't require a tool, while the latter does.
In macramé, you have to tie the knots with your bare hands. But in crochet, you'll need two needles. Both are also simple to learn, though crochet can be more frustrating.
In crochet, when you make mistakes, you may have to start all over again to correct them. So, you may end up spending more time on a single project.