How To Begin A Digital Business From Home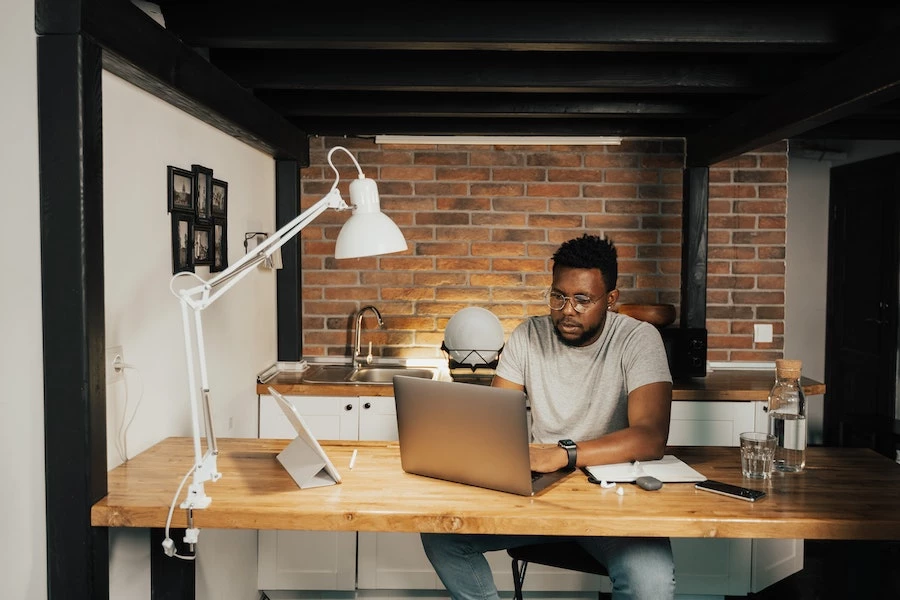 The pandemic saw remote working move to the forefront of many employers' and employees' minds. One report from the US Census Bureau showed that the amount of individuals working mostly from home rose from 5.7% to 17.9% during Covid.
Now in 2022, some estimates put the number of people who work remotely at least 50% of the time at around 4.7 million. Another study showed that 60% of respondents worked remotely at least 1 day a week.
However, many people are preferring to take this type of work to the next logical step, and start their own business. Instead of being at the whims of employers who are prone to change remote working policies, these individuals would rather be their own bosses.
What Digital Home-Based Business Could You Start?
When it comes to building a home-based enterprise, there can be some limits on what you can do depending on experience, and financial restraints. Yet, many digital home-based businesses can be started with little or no budget in place at all.
Popular choices are to teach online, start a dropshipping business, get involved with affiliate marketing, and start an online store, or blog. How much revenue you can generate through these business models will depend on many factors including what traffic you get.
Some SEO experts such as Jeremy Brasher recommend the benefits of using professionals to grow audiences and increase traffic. But, before you can worry about how many hits you are getting, you need to follow a few other steps.
Choose A Niche
There are plenty of options for running a digital business from home, but finding a niche will help your chances of being successful. Ideally, you will find something that you enjoy doing, and have experience in.
Make A Business Plan
Although you are working for yourself, you should still treat your new work life seriously. If you want this business to succeed, then you need a concrete plan. 
Work out if there is a need for your business idea, what your objectives and goals are, and how you envision reaching them. If you cannot put together a business plan that you believe in, then you are already doomed to failure.
Look Into The Legalities
Again, just because you are operating from your home doesn't mean that you are not a legitimate business. There may be several permits or licenses you need to run a business even if it is from your spare bedroom.
Select Your Tools
Consider everything you will need to set up a base at home. You will probably need more than you first imagine, but the following will give you a start:
Stable, fast broadband

A desktop or laptop PC

Accounting and other software

Products (if needed)

Desk

Office chair
You may need to customize a space for a home office, or you may be lucky enough to have an area suitable. But, you will need somewhere that you can work quietly and effectively. Working from home takes discipline, and distractions can abound.
Build Your Web Presence
Perhaps you have a budget for this and you can get outside professional help to build your site. If not, then you will have to rely on your own skills. Your digital presence will have a big effect on how successful your enterprise can be.
You need to appear trustworthy and professional, and you will have to develop some understanding of SEO to make your website visible.
Don't Neglect Social Media
As part of your whole digital marketing strategy and web presence, social media should play a huge part. You should expect to devote a fair amount of your time to posting content and trying to grow a following online.
There are many recent successful examples of how to grow a business during the pandemic, and social media was used heavily. If you don't have a budget for a strong digital marketing campaign then instead put the hours into social media. Add regular new content, and include a call to action where appropriate to increase engagement. 
Make Sure You Are Mobile Friendly
More than 62% of all web traffic comes from mobile devices now. Google puts huge importance on websites being mobile friendly and this can affect your rankings in search results.
Being mobile-friendly will have a huge impact on how long people stay on your site, and your conversion rate.
Review Your Results And Adjust
Regularly review how your online content and advertising are performing. Facebook and other social media platforms have analytics to help track adverts, posts, and how your content is performing generally.
By adjusting keywords, pulling non-performing content, and making other changes to your online presence, you will improve SERPs, and see higher conversions. 
Summary
Running a business from home is something many individuals hope to be able to do. However, it involves more work than many realize. Building a web presence takes time, and then it involves continual development and improvement. Building a following and the regular engagement that is necessary also involves a good deal of effort.
Your website will need to be audited to improve its SEO, and your digital marketing campaign will need reviewing and adjusting. Yet, building a digital home-based business is very viable, and 2023 is likely to see more would-be entrepreneurs setting up home offices than ever.