10 Budget-Friendly Kitchen Makeover Ideas: Transforming Your Space Without Breaking The Bank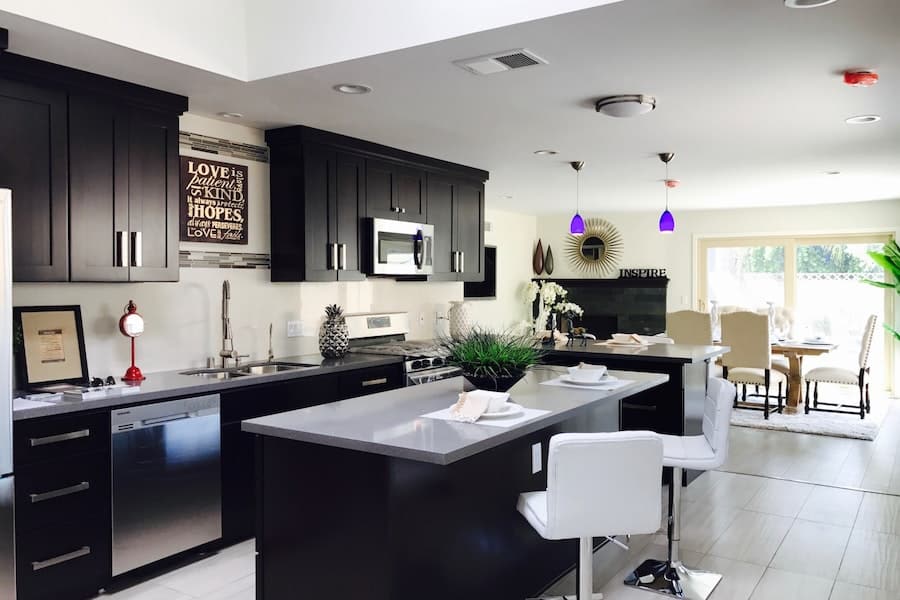 Kitchens are often referred to as the heart of a home. They are where meals are prepared, where families gather to eat and chat, and where memories are made. But often, the desire to transform your kitchen into something spectacular is quickly overshadowed by the associated costs. While complete kitchen makeovers can cost a fortune, there are countless budget-friendly ideas that can rejuvenate your space and give it a fresh and modern feel.
In this blog post, we'll explore 10 innovative yet affordable kitchen makeover ideas that won't break the bank.
1. Refresh Your Backsplash
The kitchen backsplash is an underrated feature that can dramatically change the appearance of your space. By merely updating the tiles or applying a fresh coat of paint, you can breathe new life into the room.
The first step is to find your backsplash size. Depending on your budget, you may choose to tile the entire wall or just a small section. You can even opt for peel-and-stick tiles, which are inexpensive and easy to install.
2. Paint Your Cabinets
Updating your cabinets with a new paint color is a simple yet effective way to modernize your kitchen. Select a color that complements the existing décor or go bold with a contrasting shade. Either way, fresh paint on the cabinets can transform the room entirely.
3. Install New Hardware
Sometimes, the smallest changes make the most significant difference. Swapping out old knobs and handles for new hardware can instantly make your kitchen look more polished. Choose hardware that fits your style and enhances the kitchen's overall look.
4. Open Shelving
Consider replacing some of your upper cabinets with open shelves. Open shelving adds a touch of modern elegance and provides an opportunity to display your favorite dishes, plants, or decorative items.
5. Upgrade Your Lighting
Good lighting is essential in a kitchen. Consider adding under-cabinet lighting or investing in stylish pendant lights. Not only will this enhance the functionality of the space, but it will also add warmth and ambiance.
6. Repurpose And Reuse
Embracing the concept of repurposing and reusing can add a personal touch to your kitchen that not only makes it unique but also saves money. This approach involves taking existing furniture, accessories, or materials and giving them a new life in your kitchen space.
For example, an old dresser can be transformed into a kitchen island with a little creativity and some basic tools. By painting it to match your kitchen's color scheme and adding a butcher block top, you've got a brand new centerpiece that's both functional and stylish.
Don't stop with furniture; even old utensils and kitchenware can be creatively reused. Mounting old spoons, forks, or even rolling pins as wall art can add a touch of vintage charm. Wooden pallets can be transformed into open shelves, and old mason jars can become beautiful storage containers for spices or grains.
7. Add A Kitchen Island
If space allows, a movable kitchen island can add functionality and style. Even a small rolling cart can serve as a portable island, providing extra storage and countertop space.
8. Enhance With Greenery
Plants bring life to any room, and the kitchen is no exception. Place potted herbs on the windowsill or hang trailing plants from the ceiling. This touch of greenery will add freshness and vitality to your kitchen.
9. Create A Coffee Bar
Designate a corner of your kitchen for a coffee bar. With some stylish shelves and a chic coffee maker, you can create a café-like ambiance right in your home.
10. DIY Art And Decorations
Art and decorations play a crucial role in defining the aesthetics of any room, and your kitchen is no exception. While store-bought pieces can be beautiful, creating your own DIY art and decorations allows you to put your unique stamp on the space, all while keeping costs low.
Start by exploring different mediums and styles that resonate with you. From watercolor paintings to fabric art, the sky's the limit. Create a beautiful canvas that represents your favorite fruits or a landscape that reminds you of a cherished family vacation spot.
Decorations can also extend to functional items. Hand-paint flower pots to house your herbs, create a custom serving tray with decoupage, or design unique coasters from tiles or wood. Each of these pieces not only serves a purpose but also adds visual interest and personality.
Conclusion
Transforming your kitchen doesn't have to be a costly endeavor. With a little creativity, ingenuity, and effort, you can achieve a stunning kitchen makeover that suits your budget. By finding your backsplash size, painting cabinets, upgrading lighting, and adding personal touches, you can turn an ordinary kitchen into an extraordinary space.
Remember, the goal of a kitchen makeover is not just to make it look appealing but to create a space that feels warm, inviting, and uniquely yours. Whether you're planning a complete renovation or a few subtle changes, these budget-friendly ideas can help you create the kitchen of your dreams without breaking the bank.