Spa Room Ideas: Tranquility in Every Corner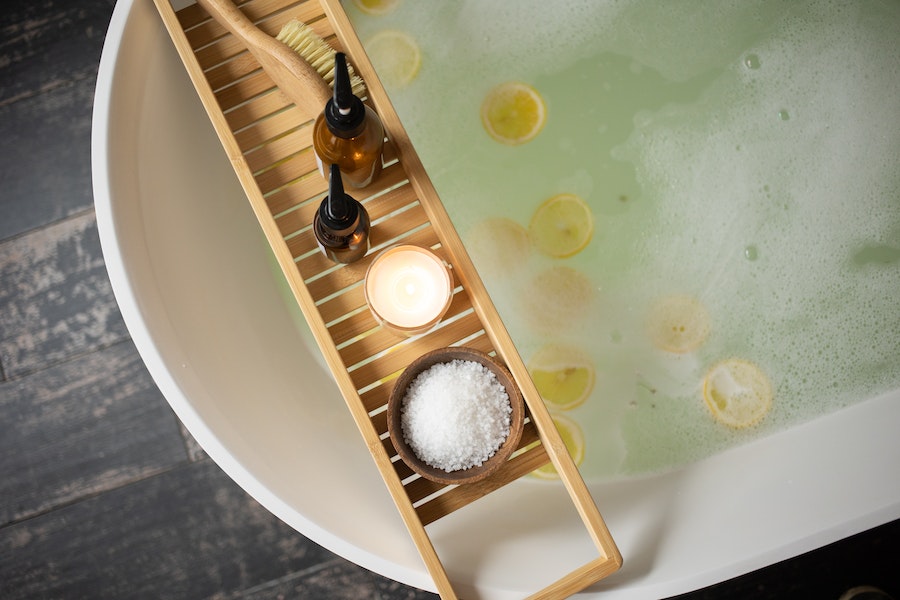 Welcome to the world of Spa Room Ideas, where we embark on a journey through a diverse tapestry of relaxation. In this blog, we invite you to explore an array of unique and immersive concepts that can transform your ordinary space into an extraordinary sanctuary. Explore Spa Room Ideas inspired by global cultures and landscapes, promising a rejuvenating escape for your body and soul. Spa rooms have become an essential element in modern homes, offering a sanctuary where one can escape and indulge in self-care. Whether you have a dedicated room or just a small corner, we've got you covered with 40 unique spa room ideas, each crafted with the utmost care, creativity, and sophistication. Let's embark on this inspiring voyage to create your ultimate oasis.
1. Tropical Oasis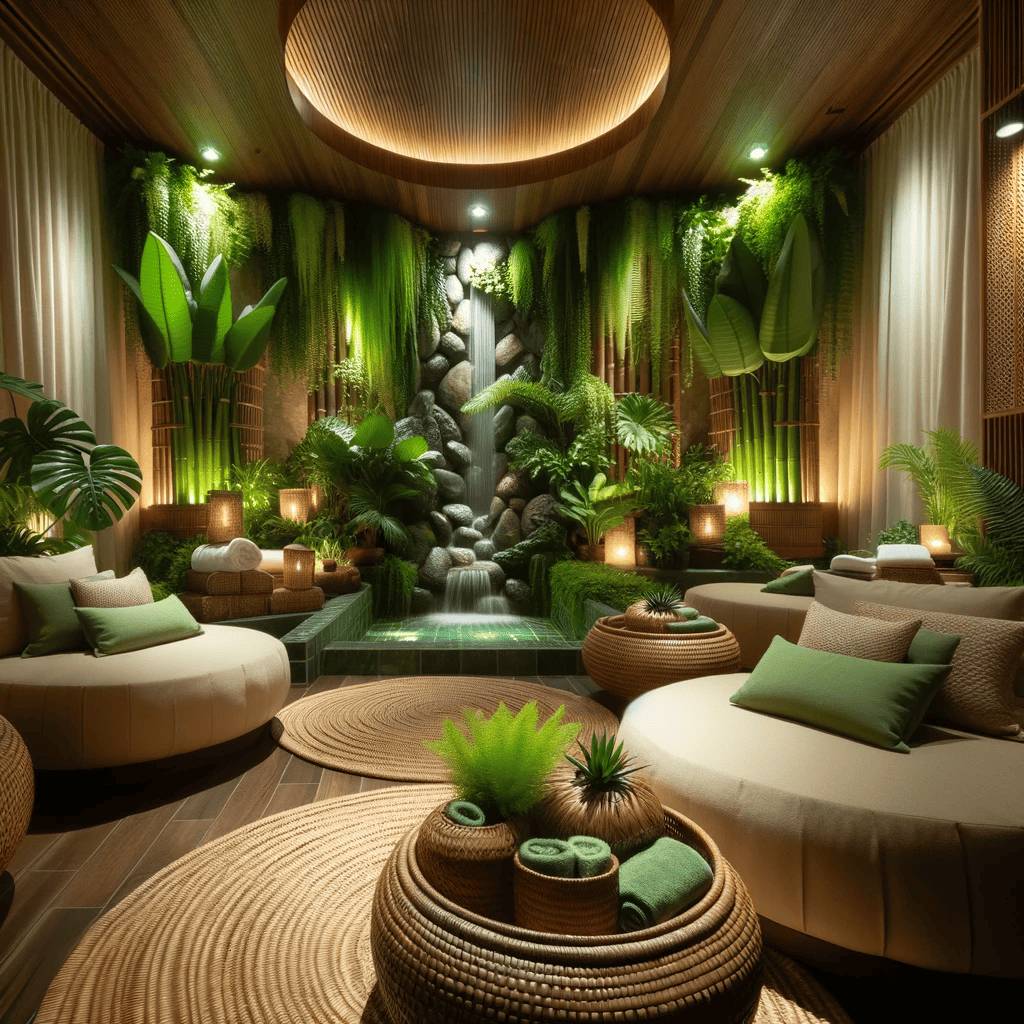 Immerse yourself in the tranquility of a tropical paradise. This spa room design is characterized by lush green plants, bamboo accents, and subtle tropical scents wafting through the air. A cascading indoor waterfall serves as the focal point, its gentle gurgling providing a soothing background melody. The room is illuminated by soft, ambient lighting, creating a warm glow that complements the earthy tones of the space. Woven straw mats and cushions in shades of green and brown accentuate the tropical theme, inviting you to lay back and let the serenity wash over you.
2. Minimalist Zen Retreat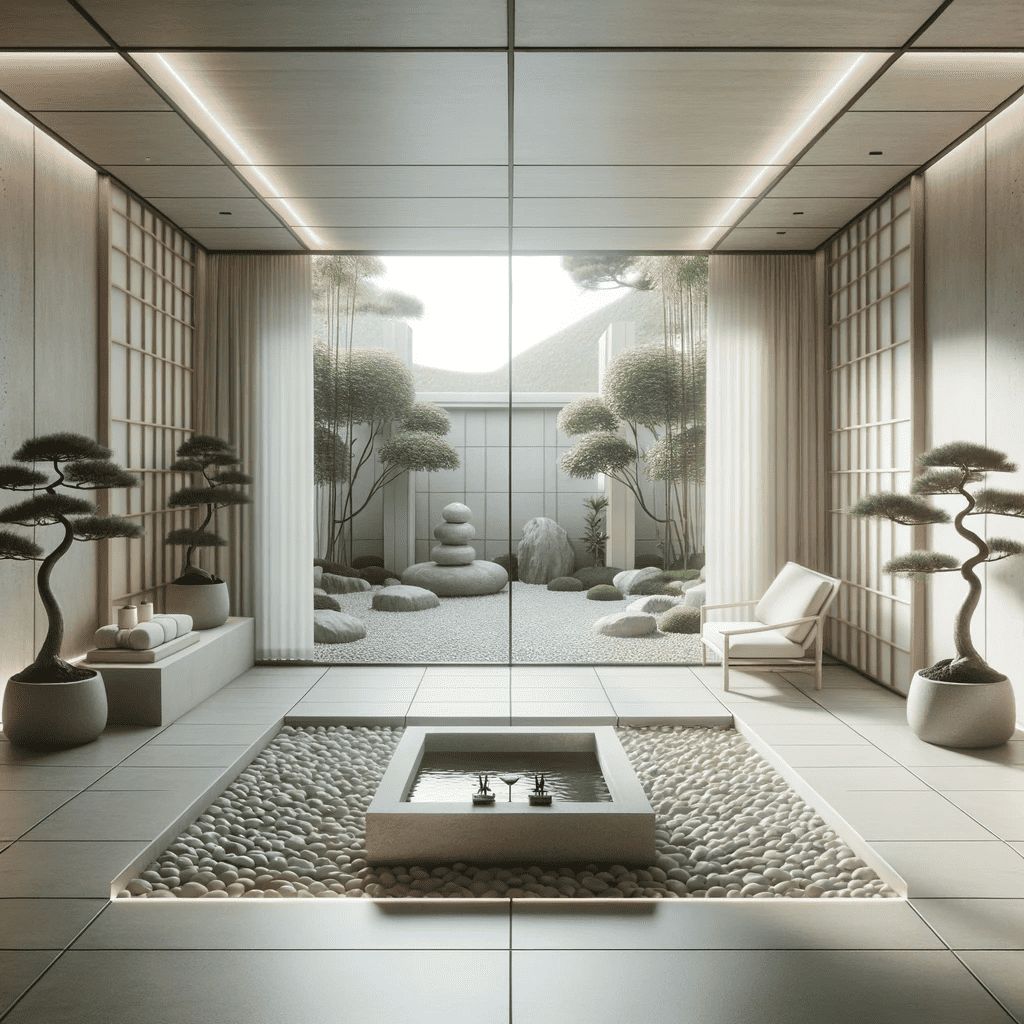 Simplicity is the essence of this spa room. Drawing inspiration from traditional Japanese Zen gardens, this design boasts clean lines, muted colors, and minimalist decor. A central stone bath surrounded by pebbles creates a focal point, encouraging contemplation and relaxation. Large windows offer a panoramic view of a serene outdoor garden, while the indoor space is adorned with bonsai trees and bamboo shoots. Soft, diffused lighting and the gentle sounds of a tabletop fountain complete the ambiance, creating a space that promotes mindfulness and inner peace.
3. Mediterranean Escape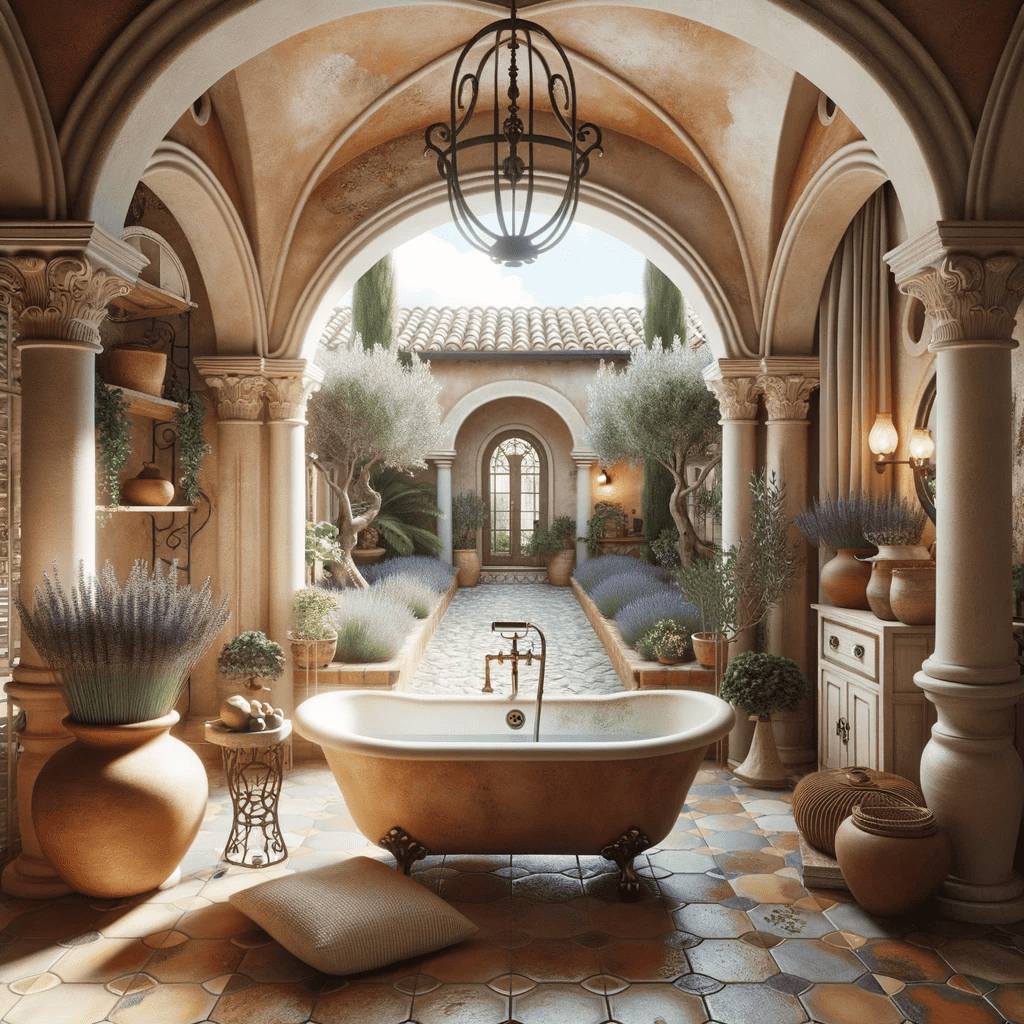 Transport yourself to the sun-soaked shores of the Mediterranean with this luxurious spa room design. Terra-cotta tiles, arches, and wrought-iron fixtures evoke the charm of an old-world European villa. A freestanding clawfoot tub, positioned beneath a large window, allows for a sunlit soak while enjoying the views of a beautiful courtyard garden. Lavender and olive plants, paired with the soothing sounds of a ceramic fountain, make for a space that is as refreshing as it is relaxing. The room's color palette blends earthy browns, sunny yellows, and deep blues, capturing the essence of the Mediterranean.
4. Rustic Mountain Hideaway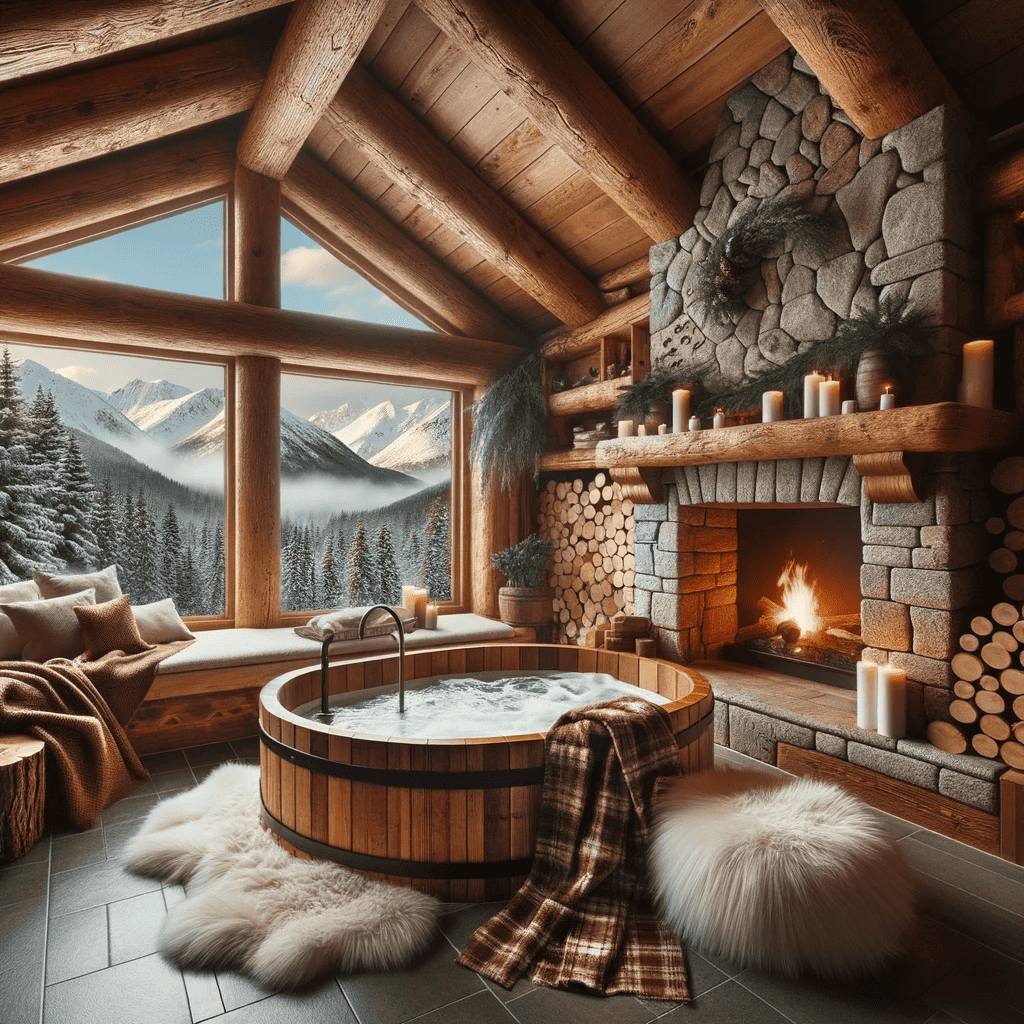 Nestled amidst the tranquility of the mountains, this spa room design is perfect for those who love nature. Wooden beams, stone walls, and a roaring fireplace set the tone for a cozy, rustic ambiance. A deep, wooden soaking tub beside a large window offers breathtaking views of snow-capped peaks and dense pine forests. Fluffy faux fur rugs and warm, plaid throws add to the room's snug vibe. The scent of pine and cedarwood fills the air, making for an immersive sensory experience that's sure to rejuvenate both body and mind.
5. Coastal Retreat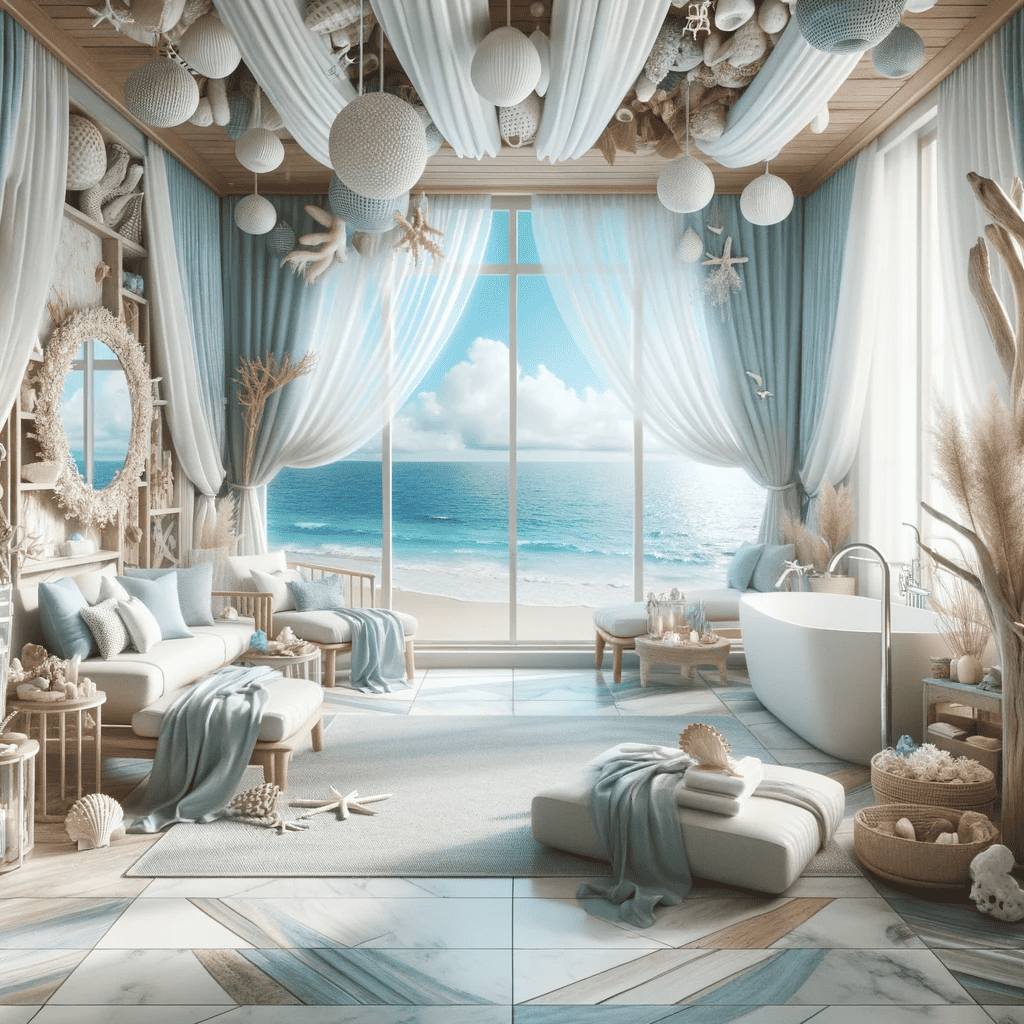 A breath of fresh sea air awaits you in this spa room inspired by coastal beauty. Adorned in soft blue and white tones, this design captures the essence of oceanic tranquility. With driftwood accents, seashell decorations, and coral motifs, every corner of the room whispers of serene beach moments. Imagine lounging in comfort, bathed in natural light from large windows that open up to pristine beach views, while sheer white curtains dance to the rhythm of the breeze. A freestanding bathtub further enhances the experience, promising relaxation with a view.
6. Vintage Elegance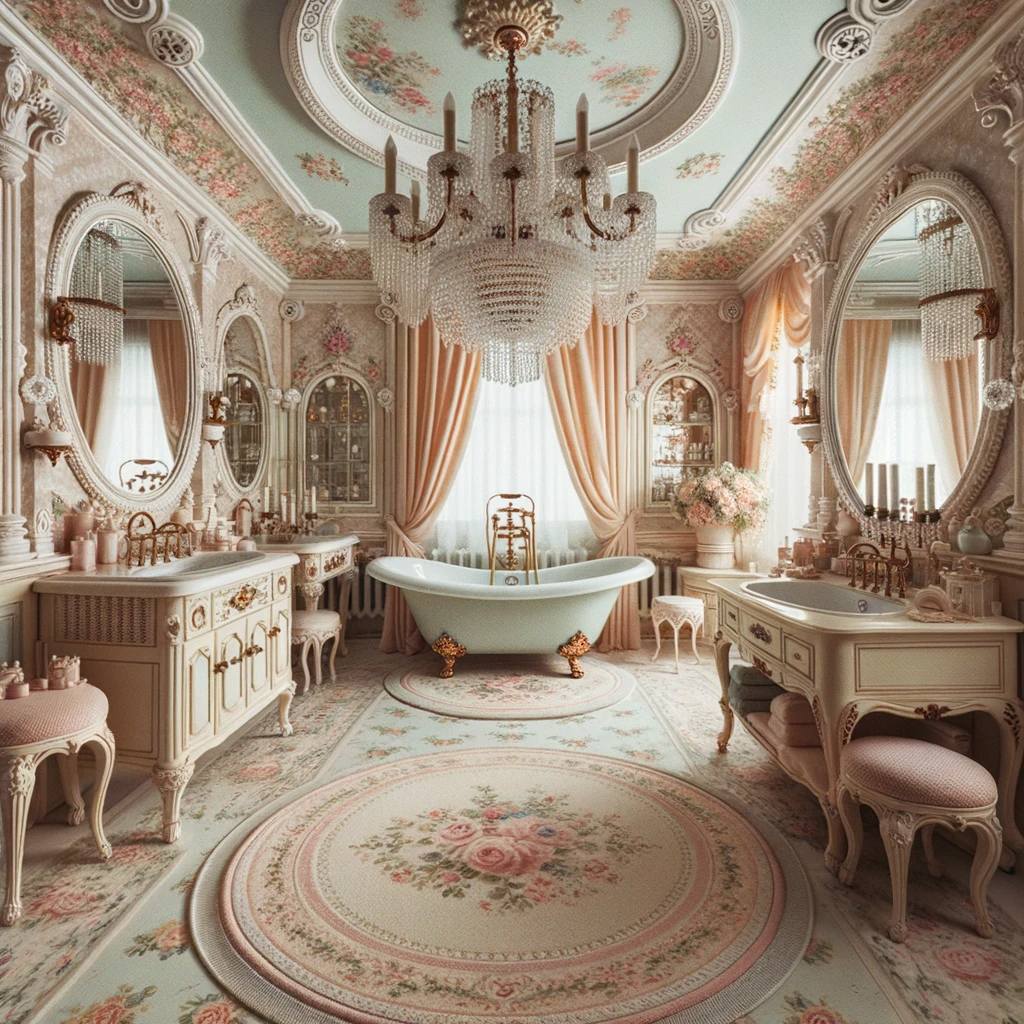 Step back in time with this vintage-inspired spa room that marries nostalgia with luxury. The space is a harmonious blend of antique fixtures, regal clawfoot bathtubs, and ornate mirrors that tell tales of bygone eras. The soft pastel palette, interspersed with floral patterns and elegant vintage rugs, sets a romantic ambiance. Crystal chandeliers hanging gracefully from the ceiling cast a gentle glow, making it the perfect setting for a luxurious, timeless retreat.
7. Modern Urban Sanctuary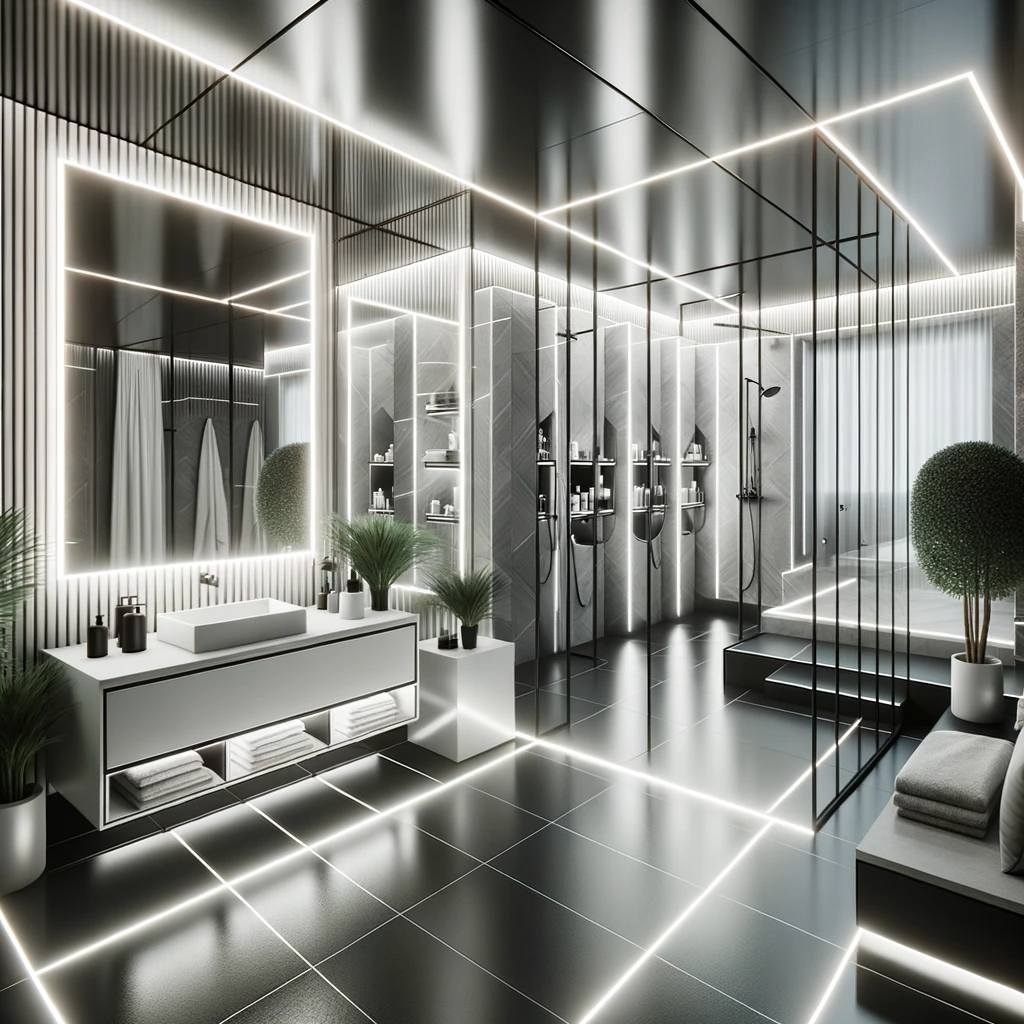 For those who resonate with contemporary aesthetics, this modern urban spa room is a visual delight. Characterized by sleek design elements, geometric patterns, and sharp lines, it exudes sophistication. The monochromatic color scheme is punctuated by state-of-the-art fixtures such as a floating vanity, frameless mirrors, and chic glass shower cubicles. LED strip lights add a touch of futuristic flair, while strategically placed potted plants bring a dash of nature to this urban oasis.
8. Enchanted Forest Escape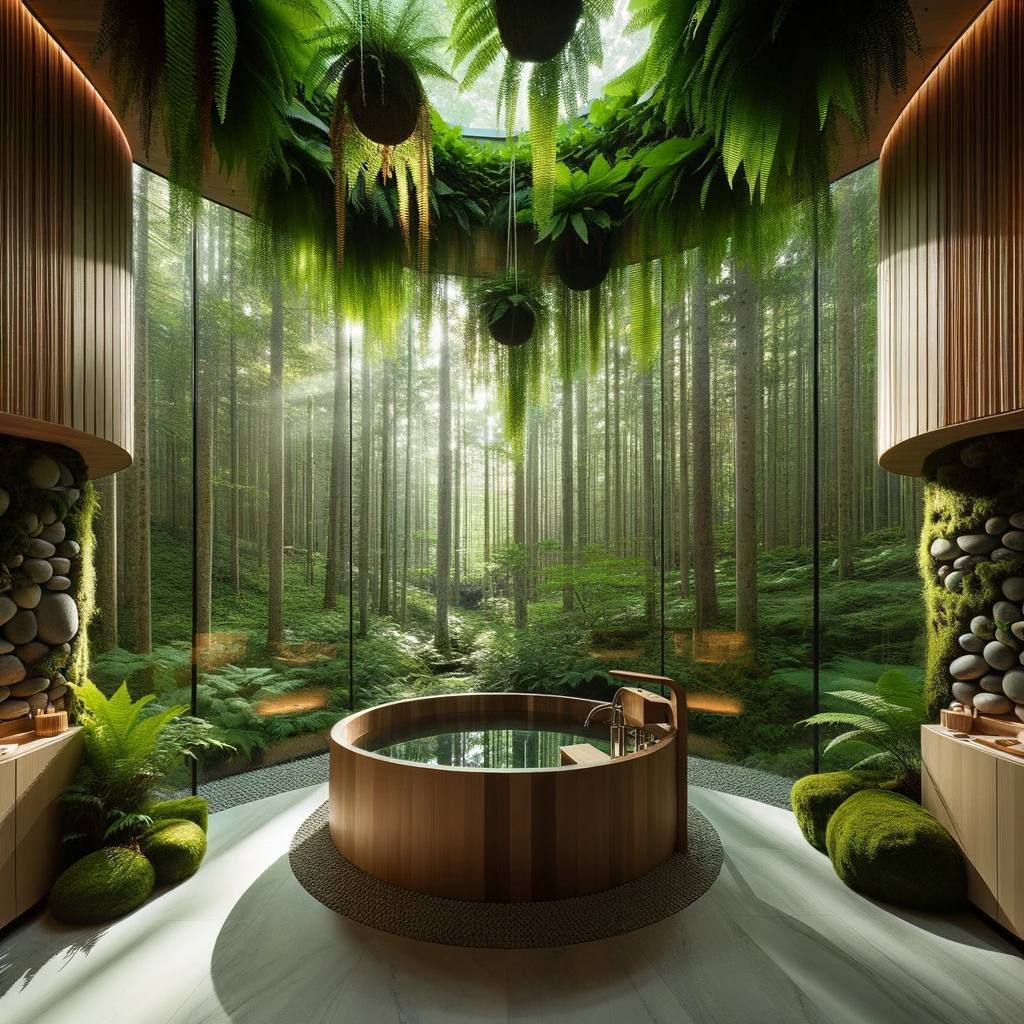 Imagine being enveloped by the beauty of nature without stepping outside your home. This forest-themed spa room brings the outdoors in with its immersive design. Surrounded by large glass walls, the room offers uninterrupted views of a dense, verdant forest. Natural materials like stone, wood, and moss dominate the design, evoking the raw beauty of the wilderness. At the heart of the room stands a wooden bathtub, with ferns and vines hanging gracefully from above, creating a canopy of green. The soft ambient lighting coupled with the soothing sounds of nature promises a deeply relaxing and rejuvenating experience.
9. Desert Haven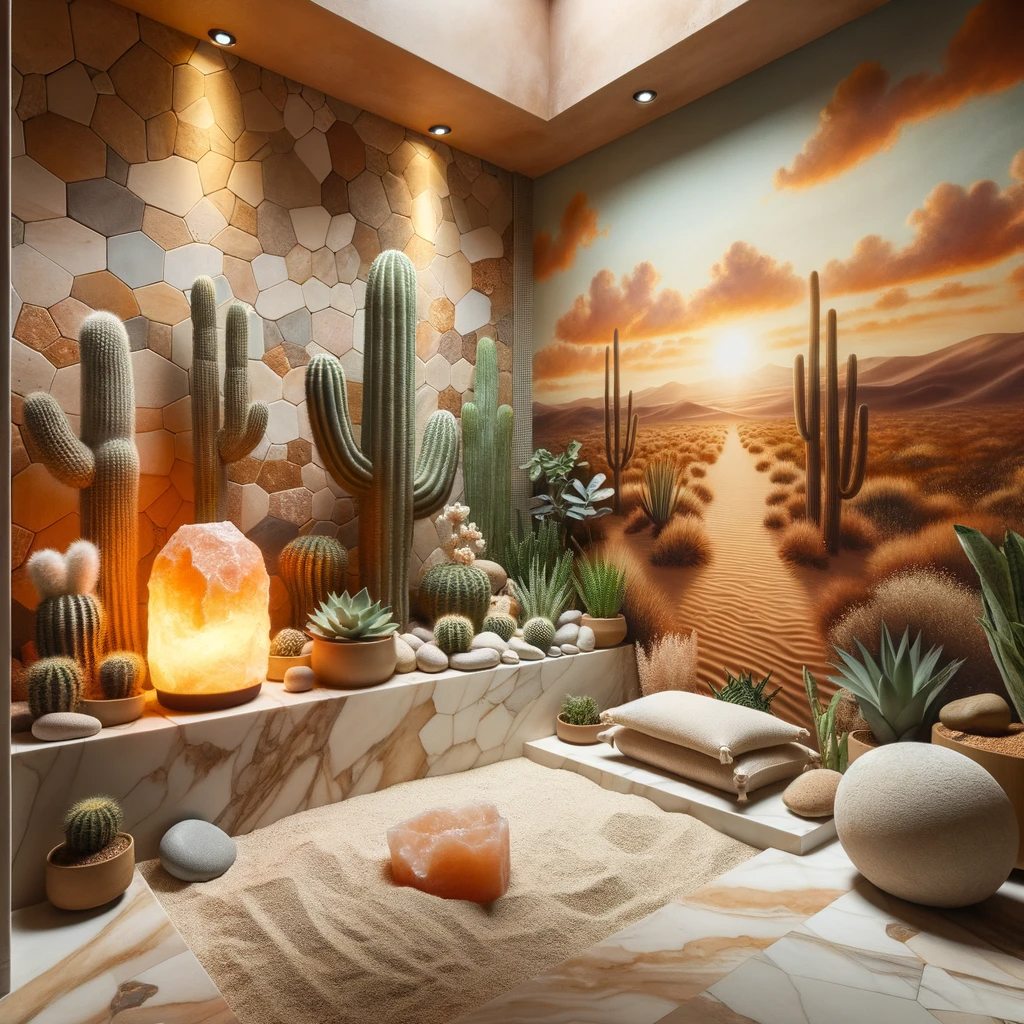 Immerse yourself in the soothing ambiance of the desert, right within your home. This desert-inspired spa room is a harmonious blend of sandy tones complemented by cacti and succulents. The room radiates warmth with a painted desert sunset on one wall, drawing you into a serene landscape. A saltstone lamp casts a comforting glow, harmonizing with the sand-filled relaxation pit in the corner. The juxtaposition of rough stone textures with smooth ceramics captures the rugged yet peaceful essence of a desert oasis.
10. Nordic Bliss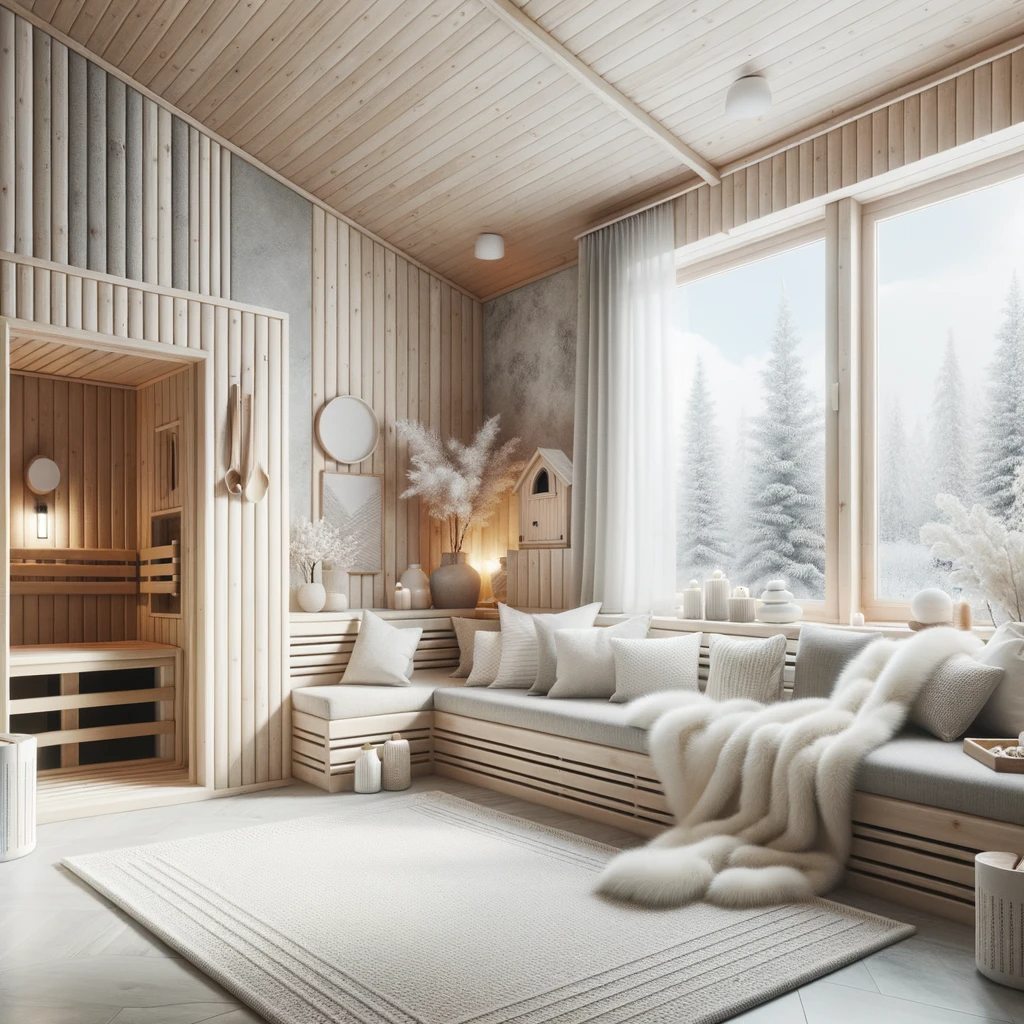 Experience the minimalist elegance of Scandinavian design in this Nordic sanctuary spa room. Light wooden elements paired with soft gray and white tones evoke a sense of tranquility. With a traditional sauna tucked in a corner, you can indulge in warmth while gazing out of large windows that frame picturesque snowy landscapes. The room is adorned with plush white rugs and faux fur throws, ensuring you feel cozy and relaxed, especially after a chilly day outside.
11. Rainforest Refuge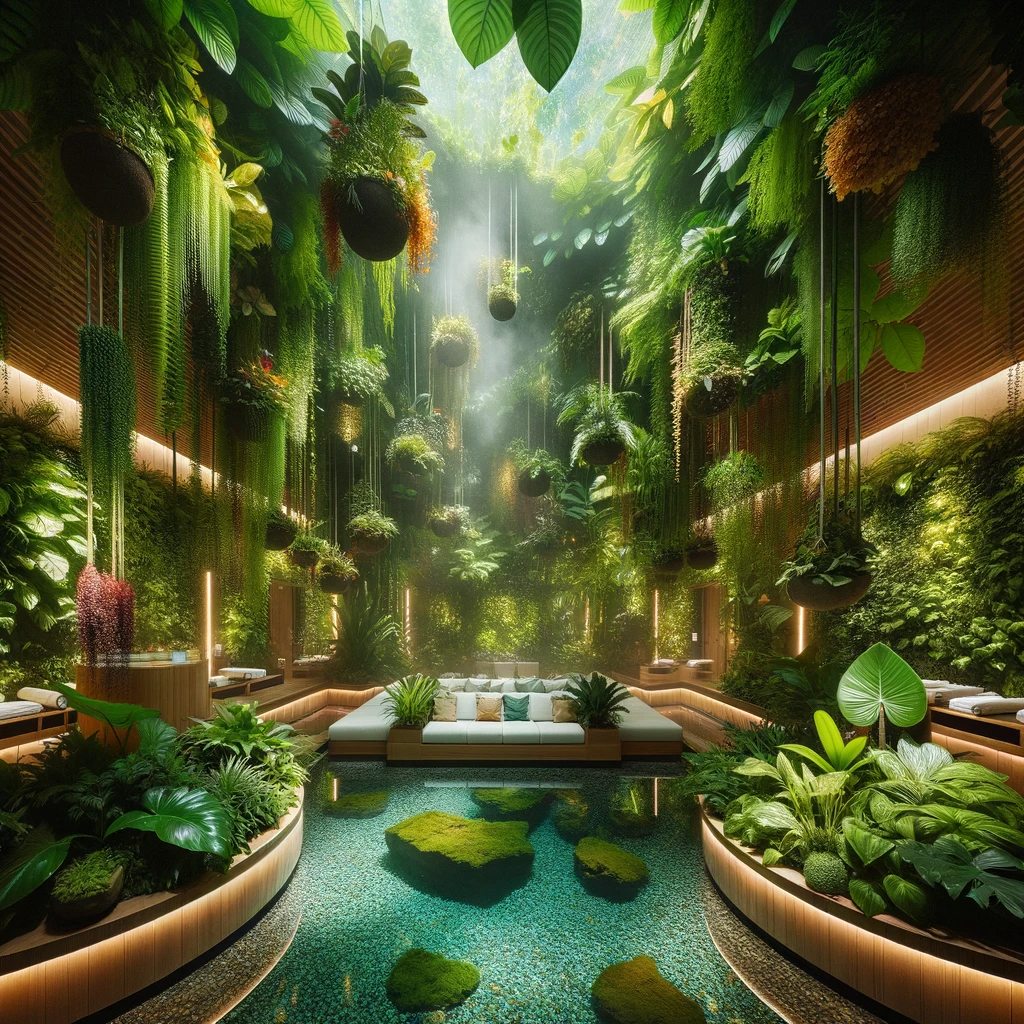 Venture into a tropical paradise with this rainforest retreat spa room. A myriad of vibrant green foliage and hanging plants envelop the space, transporting you to the heart of a dense jungle. The gentle sounds of distant waterfalls echo softly, further enhancing the immersive experience. Above, a canopy of leaves forms a natural roof, while beneath your feet, a clear glass floor reveals a serene trickling stream. Mist diffusers and warm lighting complete the setting, providing an ambiance reminiscent of a secluded rainforest hideaway.
12. Celestial Chamber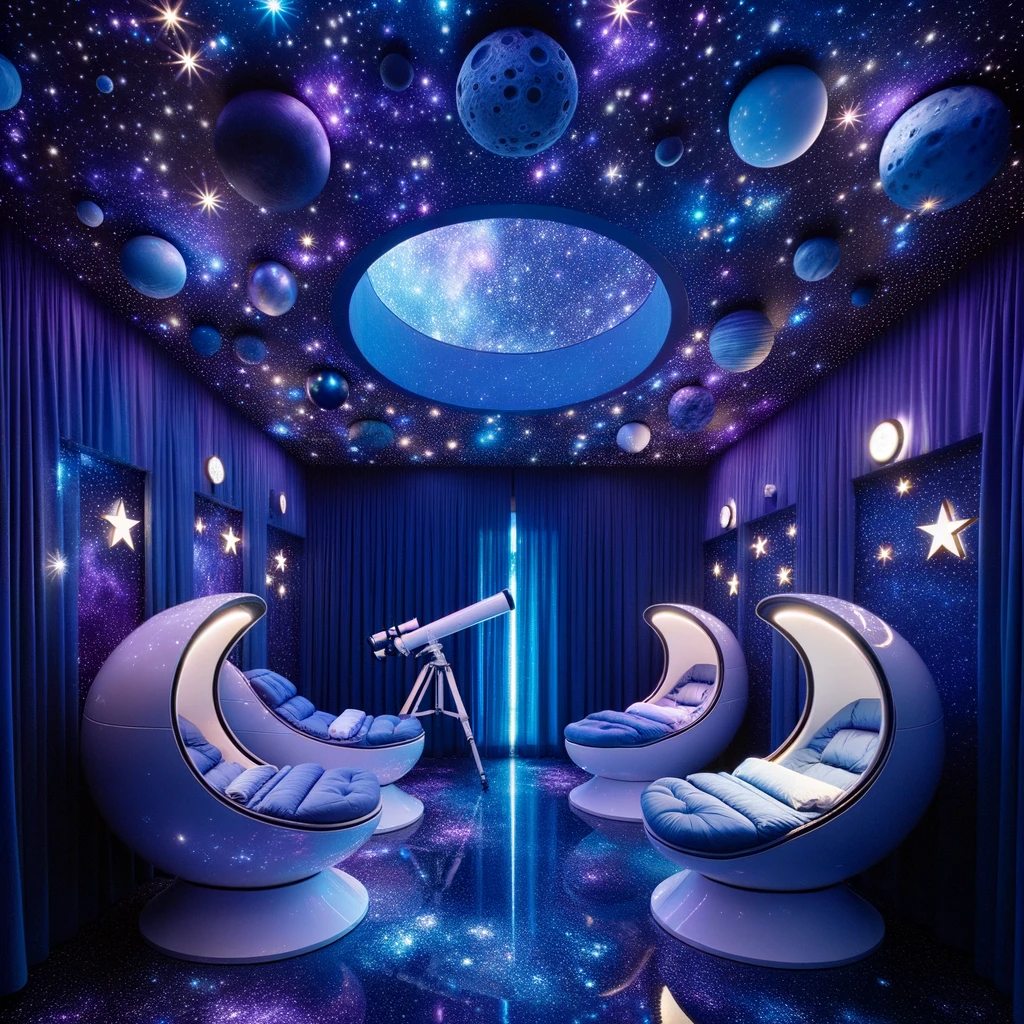 Journey to the cosmos with this celestial-themed spa room. Deep hues of blues and purples dominate the space, reminiscent of the vast night sky. The ceiling twinkles with embedded starlights, creating the illusion of stargazing from the comfort of your spa room. Moon and planet motifs grace the walls, adding to the room's otherworldly charm. For those seeking profound relaxation, the room offers relaxation pods resembling space capsules, giving you the sensation of floating amidst the stars.
13. Underwater Utopia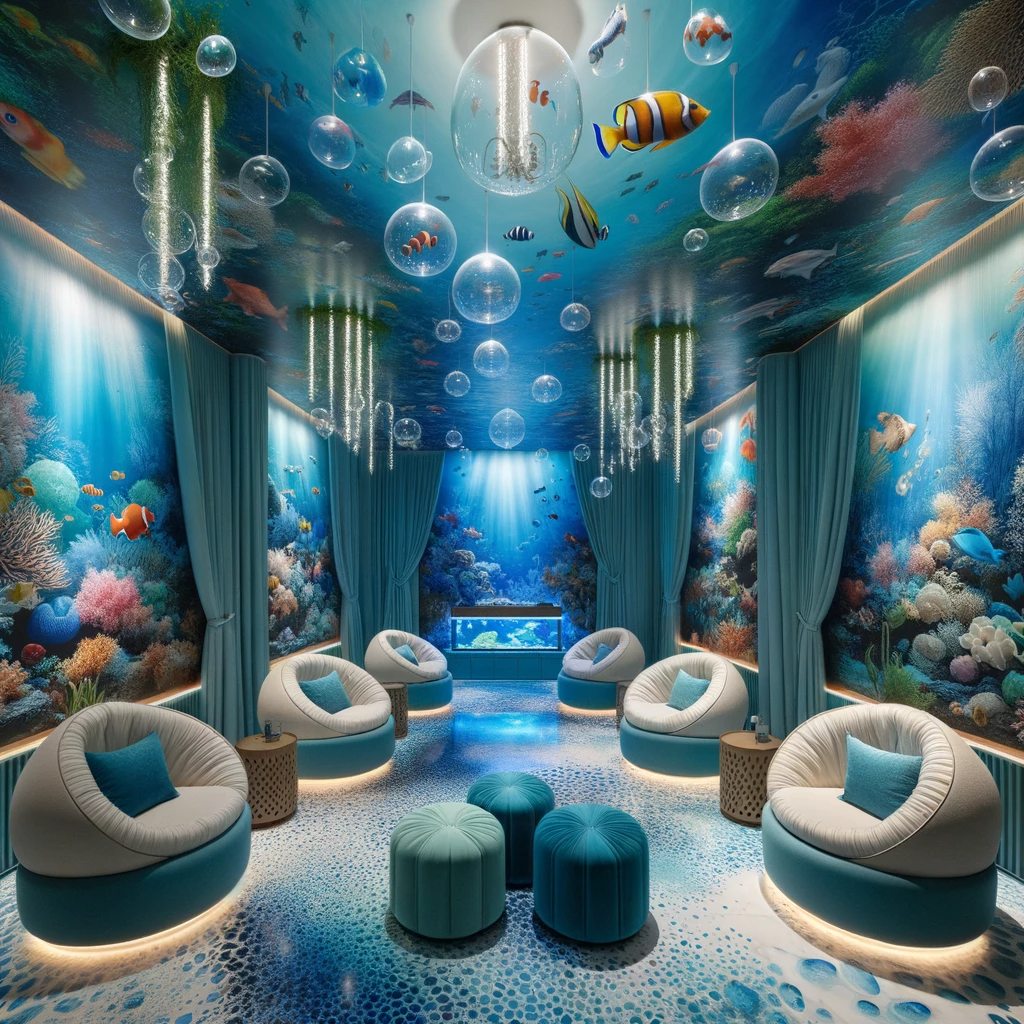 Dive into the depths of serenity with this underwater-inspired spa room. The walls are alive with murals of vivid coral reefs and graceful tropical fish, creating a sense of being submerged in the heart of the ocean. Dominated by shades of blue and turquoise, the room's lighting mimics the mesmerizing play of sunlight filtering through water. For those seeking a unique relaxation experience, hanging bubble chairs offer a cozy spot to unwind. An added touch of magic comes from an aquarium filled with exotic fish, enhancing the room's oceanic allure.
14. Moroccan Mystique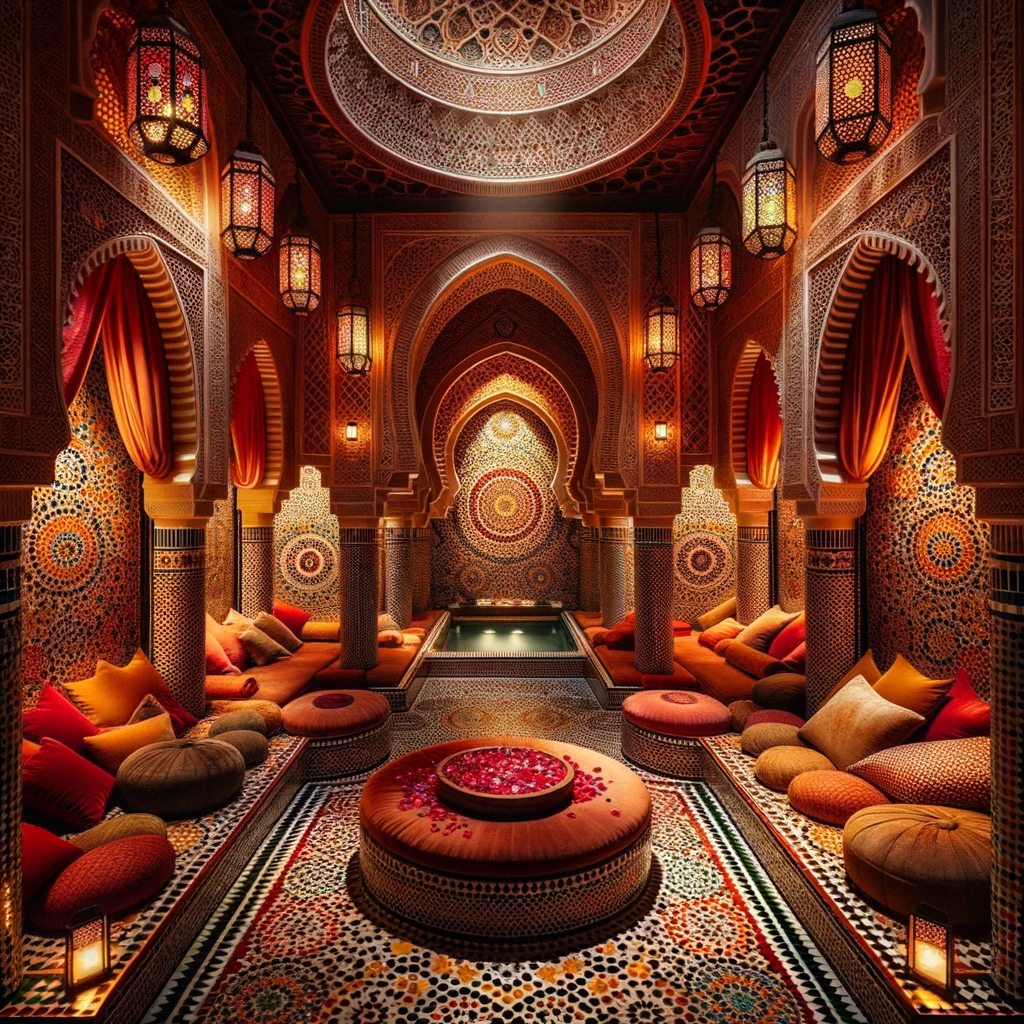 Journey to the vibrant lanes of Marrakech with this Moroccan sanctuary spa room. Rich in color and texture, every detail speaks of opulence — from intricate tile mosaics to majestic archways. The ambiance is warmed by deep reds, shimmering golds, and fiery oranges. Plush cushions on low seating areas invite relaxation, while ornate wooden screens carve out secluded nooks for personal reflection. At the heart of the room, a fountain adorned with rose petals provides a sensory feast, transporting you to an ancient Moroccan riad.
15. Cave of Comfort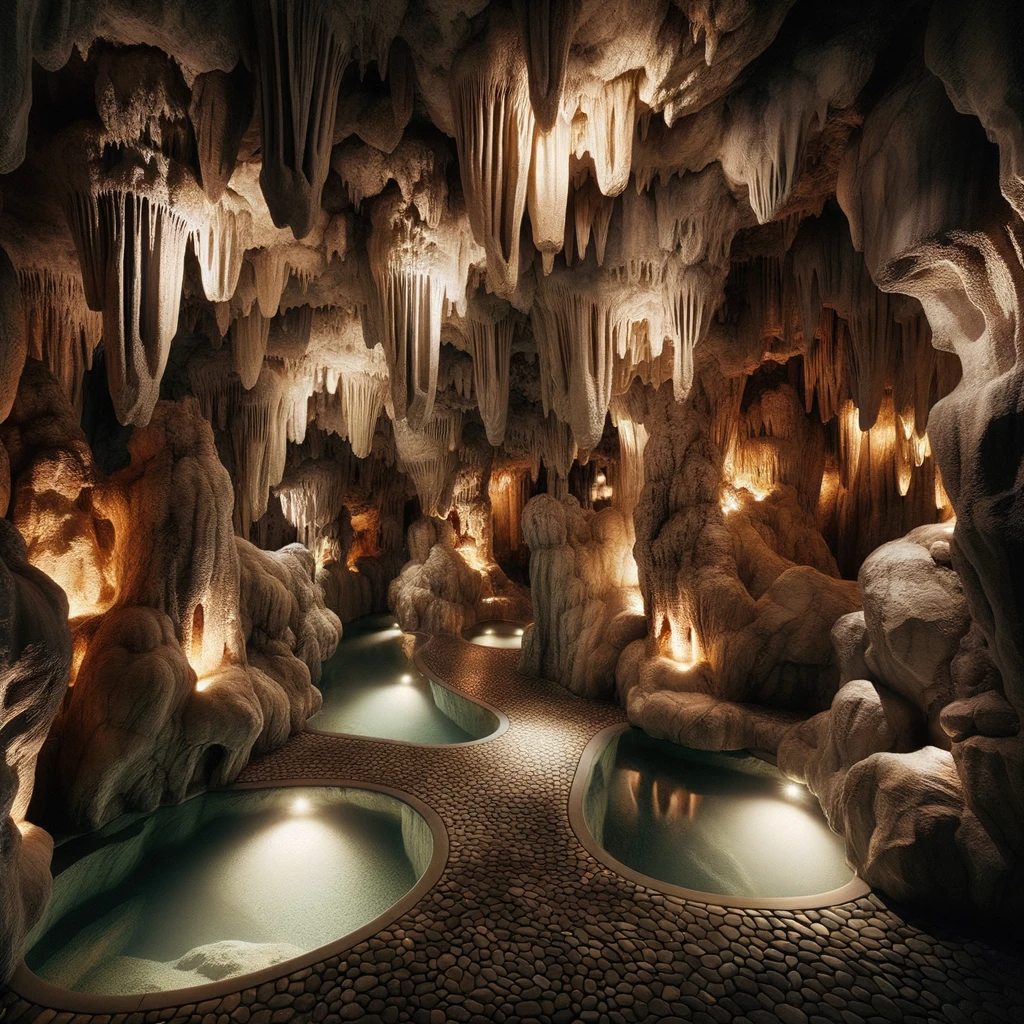 Unearth primeval tranquility in this cave-inspired spa room. Designed to mimic the raw beauty of a natural cave, the room boasts walls of jagged rock and dramatic stalactites. The space is bathed in dim, ambient lighting, evoking a sense of mystery and wonder. A heated stone floor warms the feet, while natural mineral pools beckon for therapeutic soaks. Here, amidst the rugged charm of the cave, modern comforts meld seamlessly with nature's primal grandeur.
16. Garden of Grace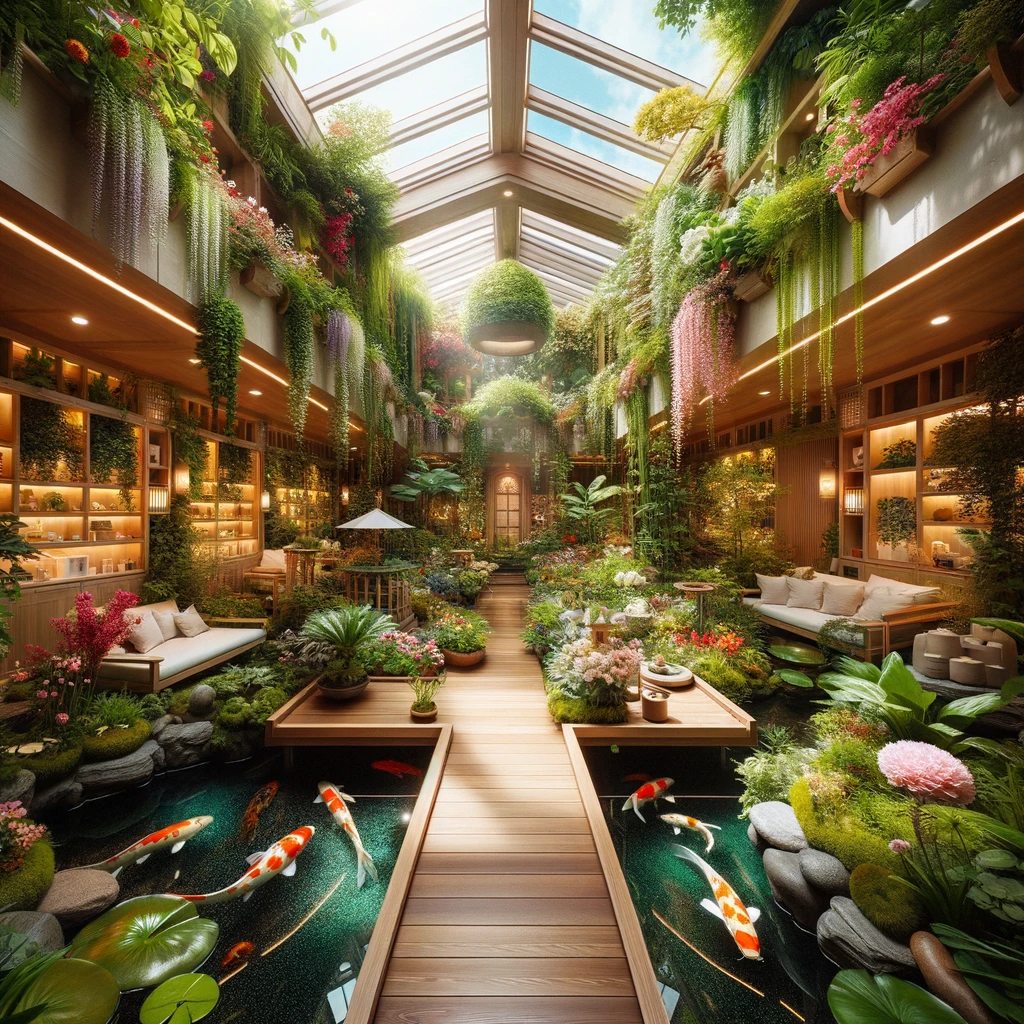 Step into a blooming paradise with this garden-themed spa room. Resembling an indoor botanical haven, the space is awash with vibrant flowers, verdant plants, and the gentle sound of birdsong. Skylights ensure the room is bathed in golden sunlight, making every corner glow. Meandering wooden pathways guide you through the room, leading to various relaxation alcoves. A central koi pond, complete with a quaint bridge, serves as the room's heart, inviting moments of quiet contemplation amidst nature's beauty.
17. Tuscan Tranquility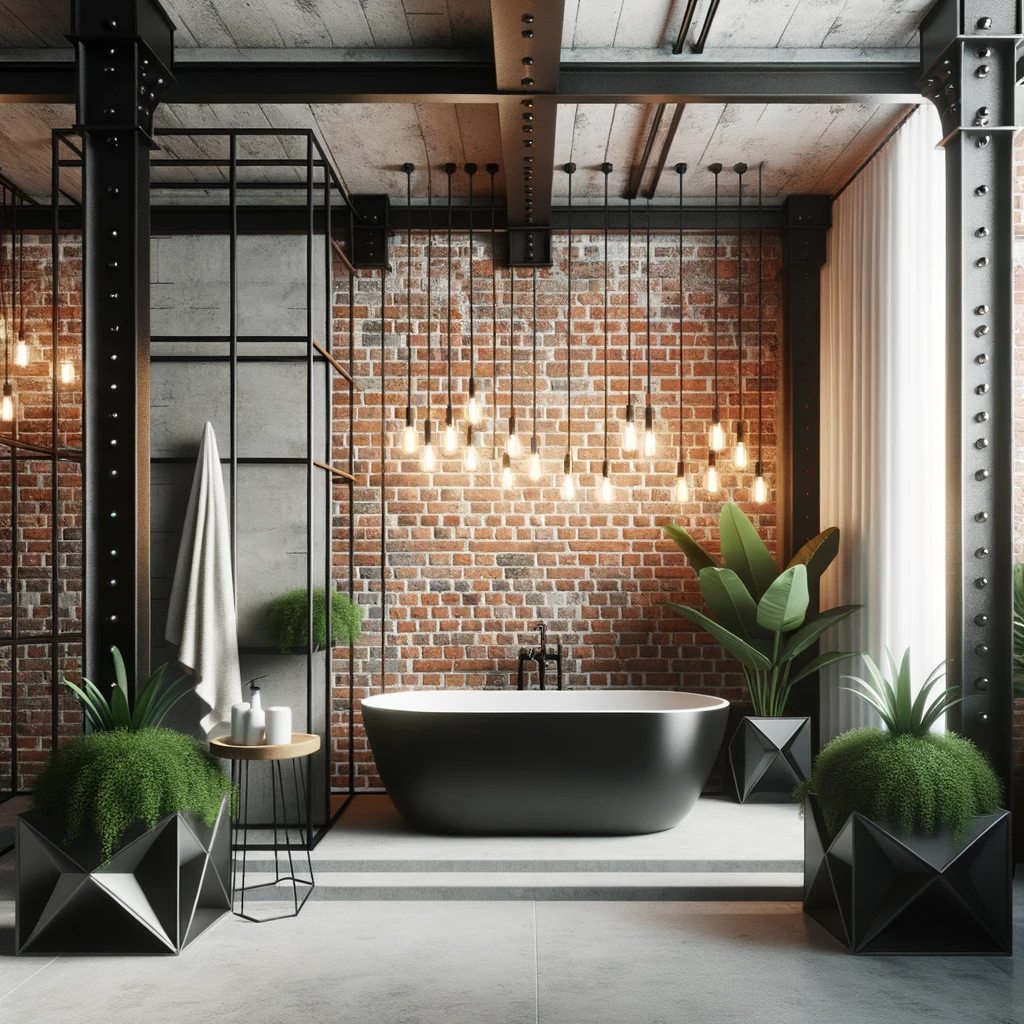 Transport yourself to the picturesque landscapes of Tuscany with this spa room. Rolling hills and lush vineyards come alive on the room's walls, creating an ambiance of rustic Italian elegance. Terracotta tiles underfoot and rustic wooden beams overhead set the architectural tone. Olive trees housed in ornate pots and wine barrel tables add authenticity to the setting. As you relax in a luxurious freestanding copper bathtub, the aromatic scents of rosemary and the beauty of the painted countryside promise a truly Italian spa experience.
18. Himalayan Haven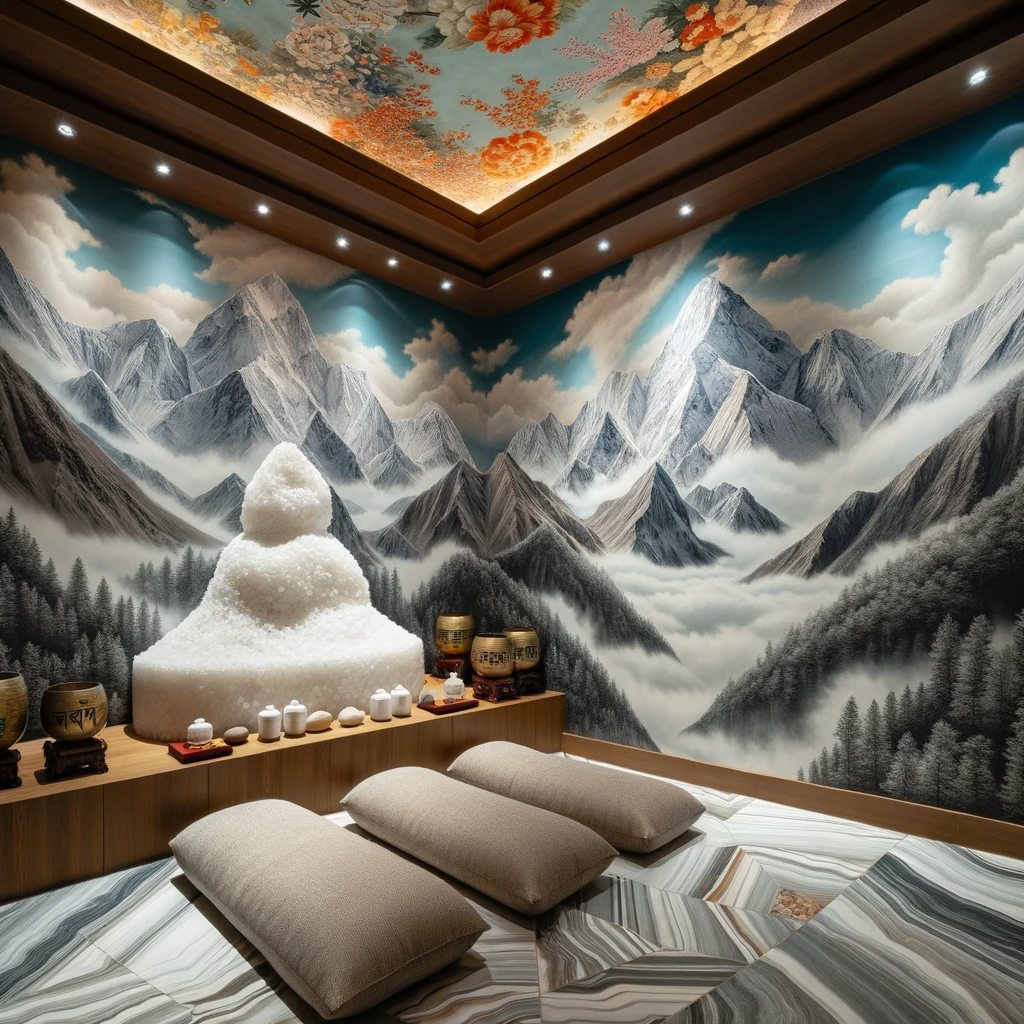 Experience the spiritual serenity of the Himalayas in this unique spa room. Majestic murals of snow-capped peaks transport you to the heart of these mighty mountains. A therapeutic salt rock wall offers a unique relaxation experience, complemented by plush floor cushions ideal for meditation sessions. Enhancing the spiritual vibe are Tibetan singing bowls and fluttering prayer flags, creating a sanctuary of calm and introspection.
19. Bohemian Rhapsody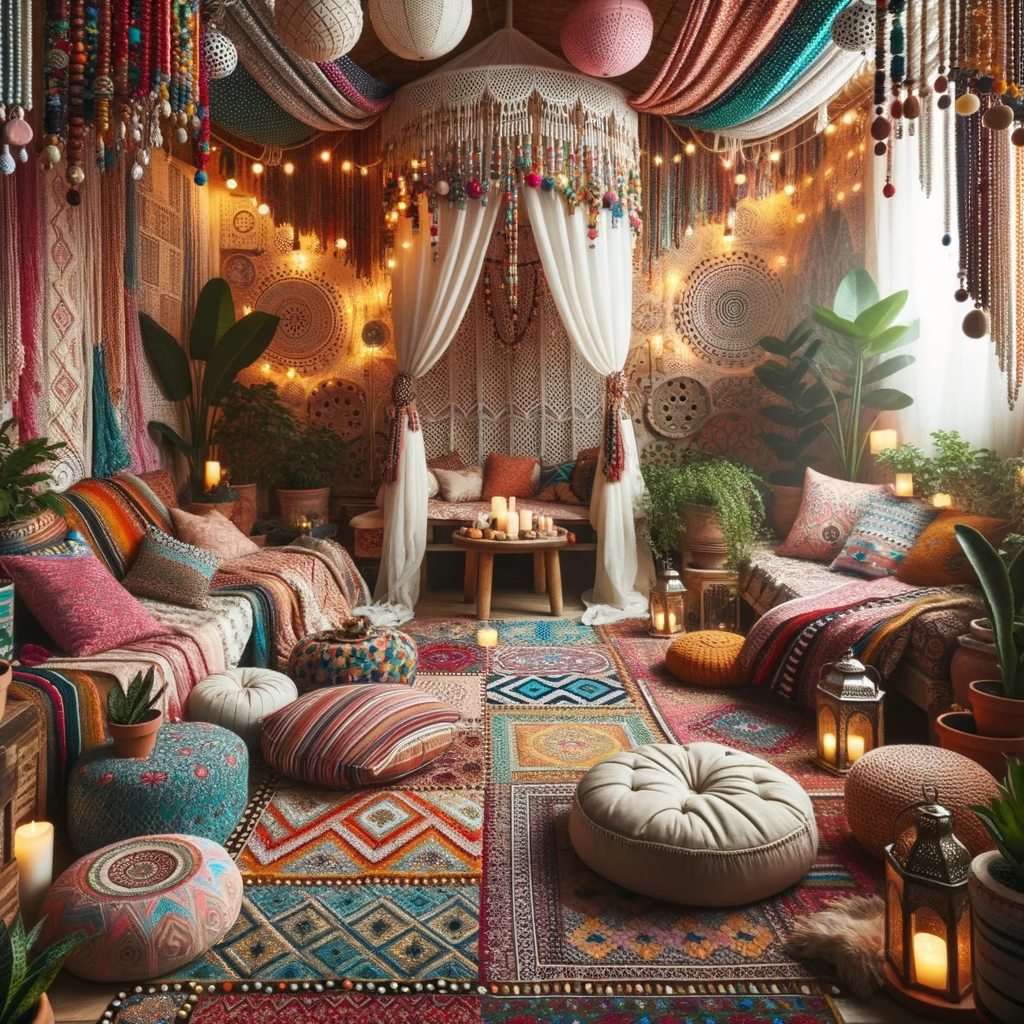 Dive into a world of vibrant patterns and free-spirited designs with this bohemian-themed spa room. A riot of colors comes alive through Moroccan rugs, macramé wall hangings, and a canopy of drapes in myriad hues. Comfy floor cushions and poufs invite you to lounge in style, while eclectic pots brimming with greenery, beaded curtains, and a mix of lanterns and fairy lights add whimsy to the space. It's the perfect setting for those who cherish individuality and artistic expression.
20. Urban Industrial Chic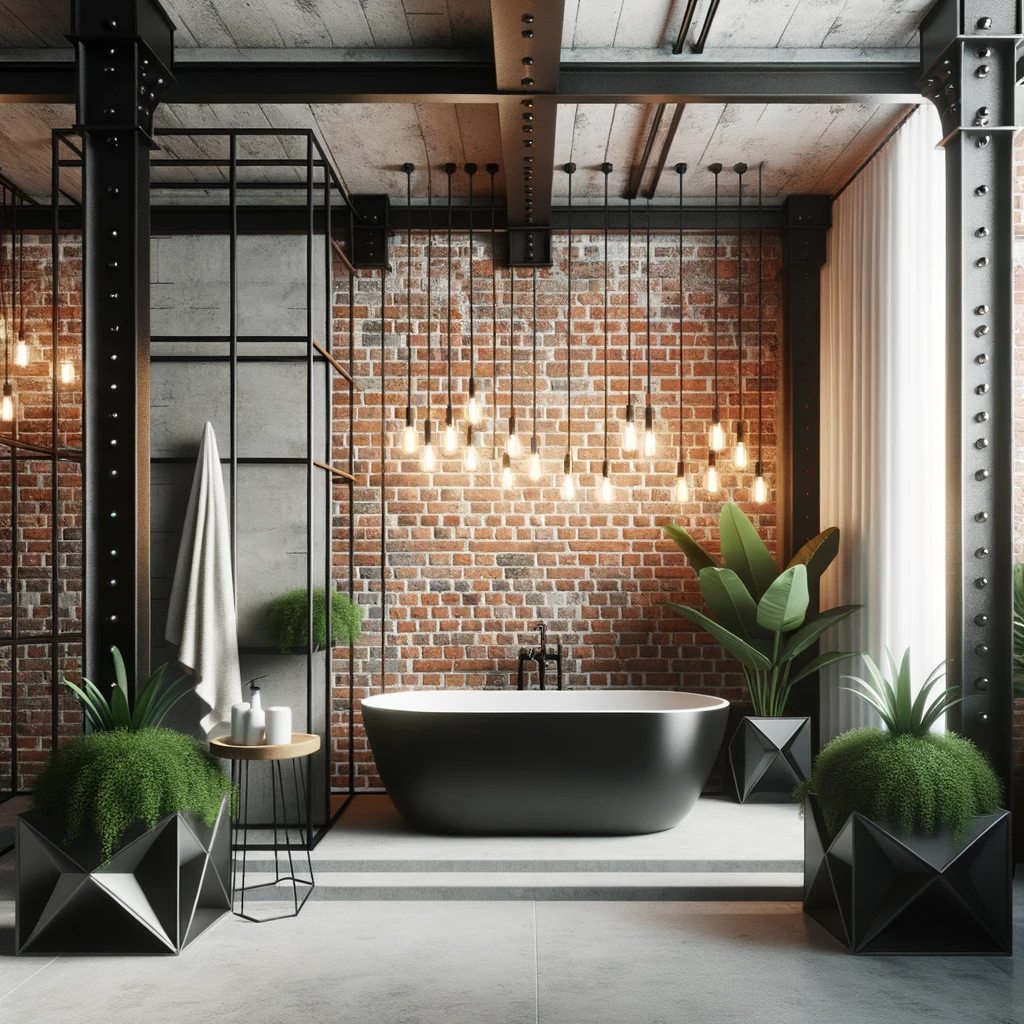 Marrying the rugged charm of industrial design with modern spa amenities, this room captures the essence of urban chic. Raw elements like exposed brick walls and steel beams juxtapose seamlessly with luxury, evident in the minimalist black freestanding tub. Concrete floors set the foundation, while Edison bulbs cast a warm, ambient glow. Adding a touch of life to the raw setting are green plants housed in geometric planters, blending nature with industrial aesthetics.
21. Grecian Getaway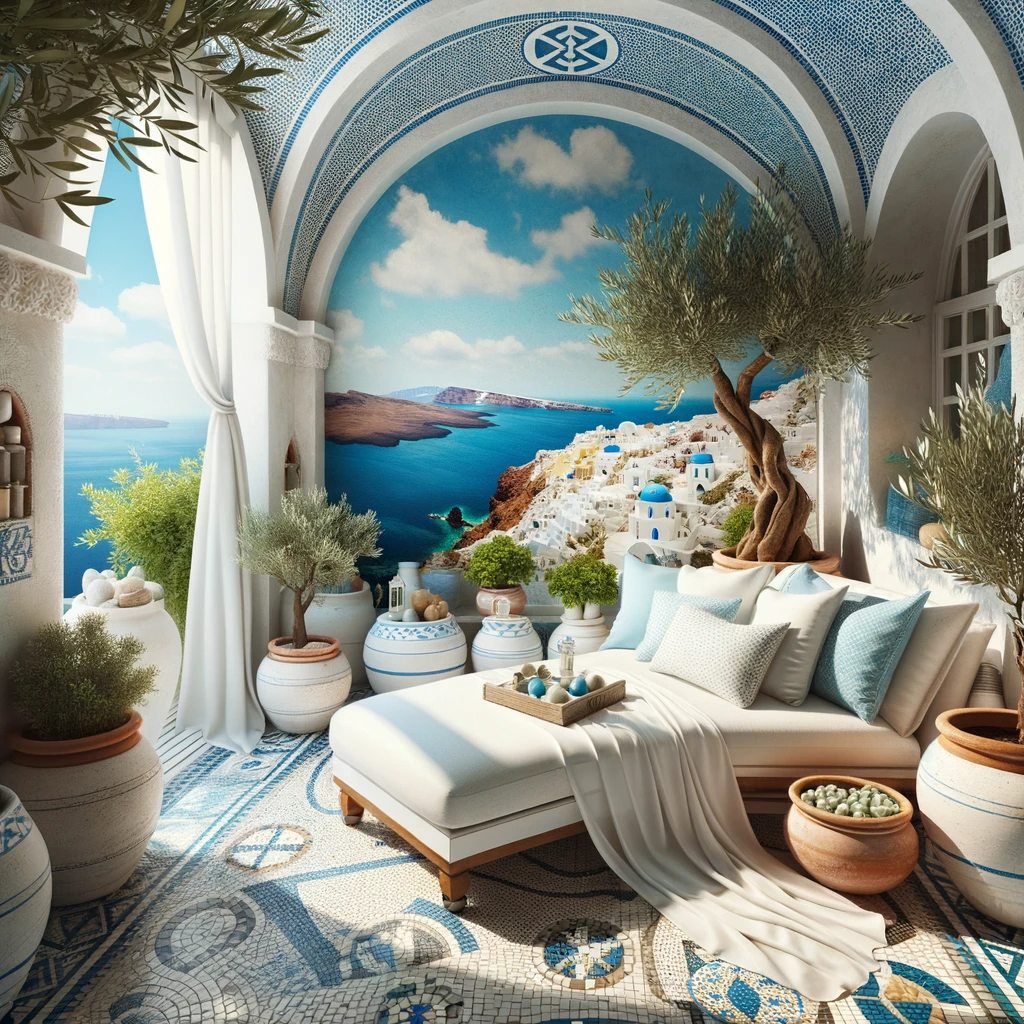 Whisk yourself away to the sun-soaked islands of Greece with this Mediterranean-inspired spa room. White-washed walls paired with striking blue accents perfectly capture the iconic charm of Santorini. Olive trees in rustic terracotta pots infuse the space with a touch of the Aegean, while a comfortable daybed draped in white and blue beckons relaxation, all set against the backdrop of a mesmerizing Aegean Sea mural. The ambiance is light, and airy, and evokes the carefree spirit of a Grecian summer.
22. Safari Soothe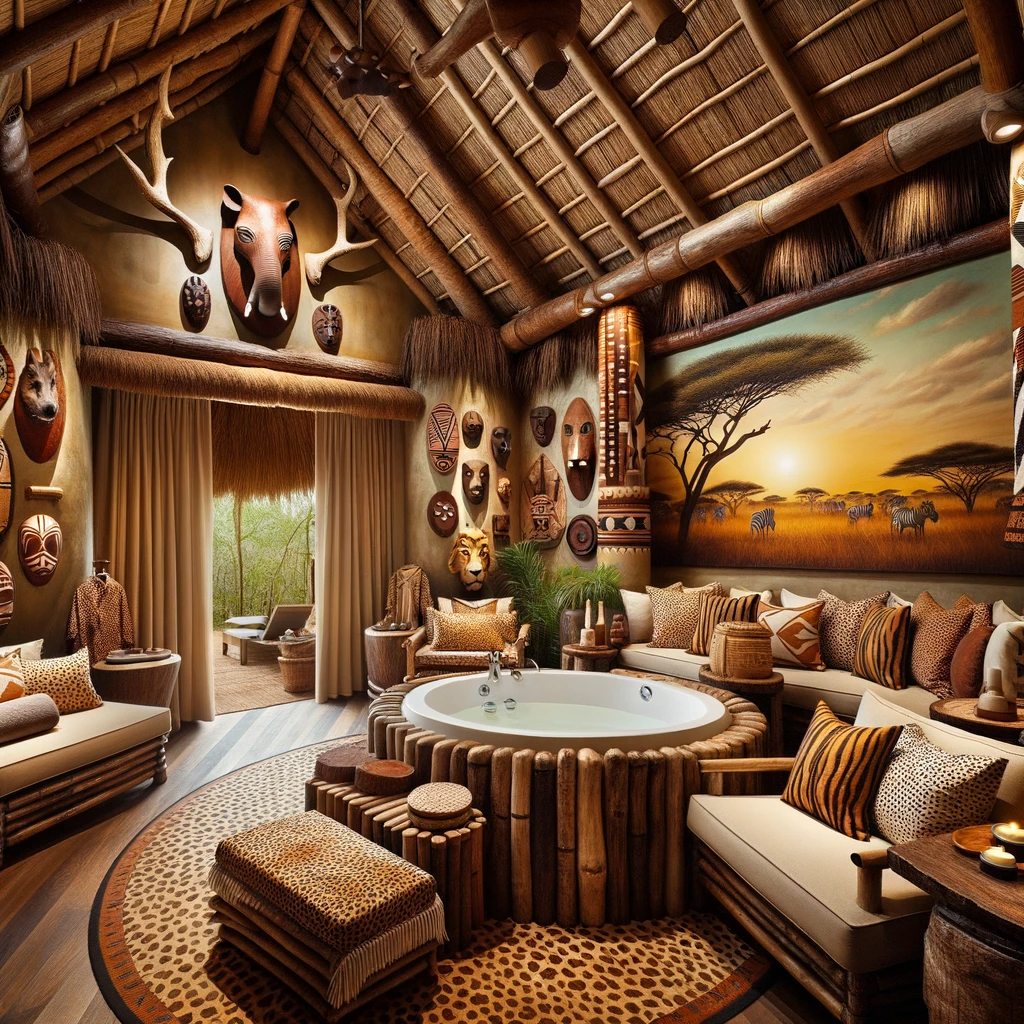 Embark on a relaxation journey reminiscent of an African safari. The room boasts earthy tones, intricate tribal patterns, and detailed wooden carvings that transport you straight to a luxury lodge nestled in the heart of the savannah. From animal prints adorning cushions and rugs to authentic wall masks, every element speaks of African heritage. And as you sink into a freestanding bathtub, a painted African sunset creates the perfect end to a safari day.
23. Parisian Paradise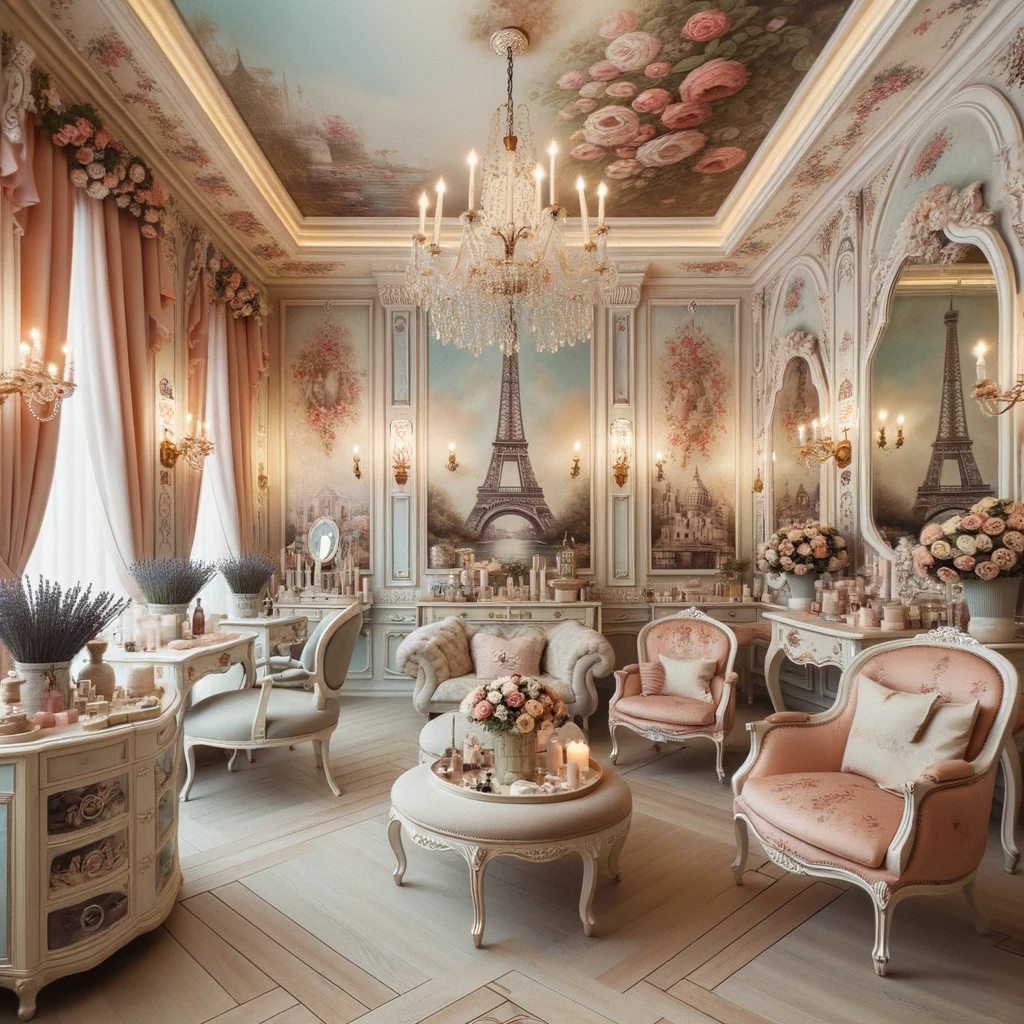 Experience the timeless elegance and romance of Paris in this chic spa room. Soft pastel hues, vintage furniture pieces, and ornate mirrors come together to paint a picture of Parisian sophistication. One can almost hear the melodies of French chansons as they take in a mural of the iconic Eiffel Tower. The room is fragranced with the gentle aromas of French lavender and roses, and soft lighting from chandeliers and candelabras adds to the ambiance of a romantic Paris evening.
24. Balinese Bliss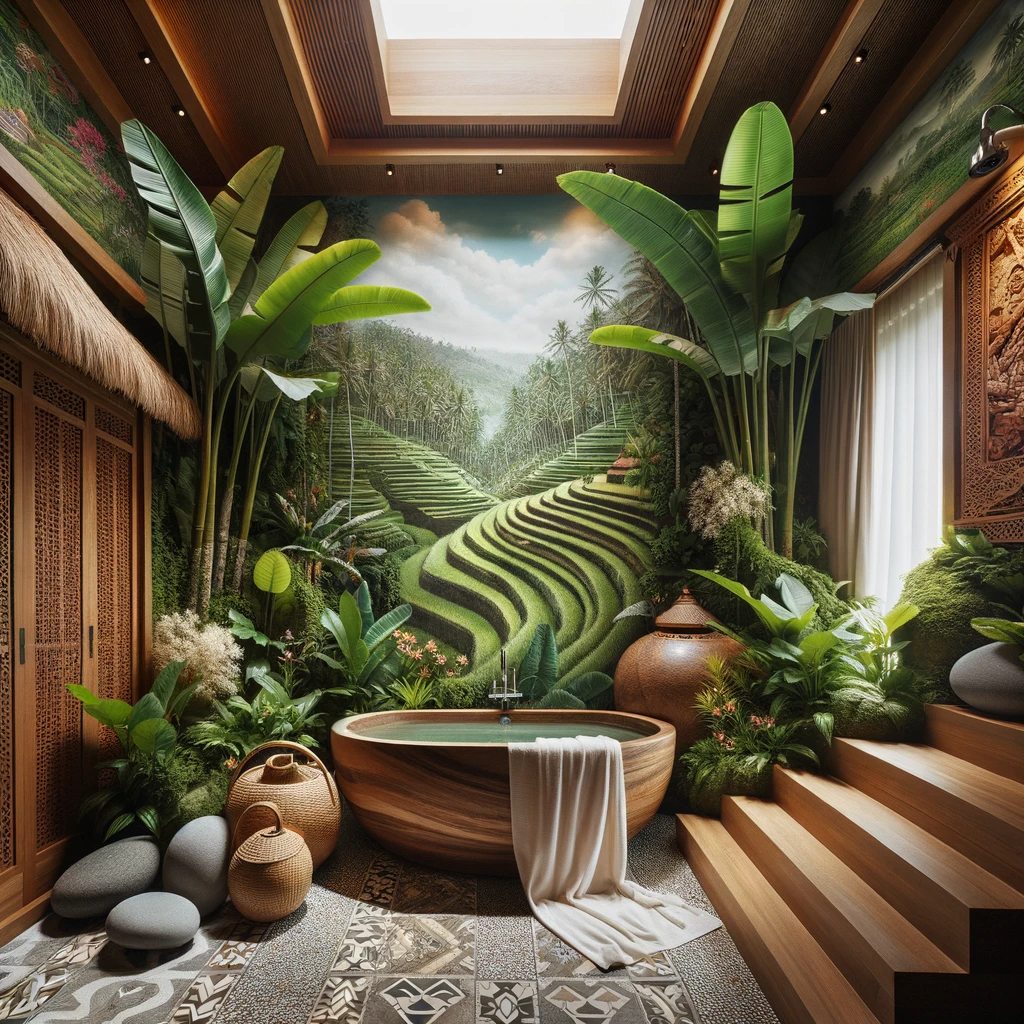 Find solace in this spa room inspired by the tranquil landscapes of Bali. Emphasizing natural materials such as bamboo, teak wood, and stone, the design offers a serene escape. Large leafy plants and a mural depicting Bali's picturesque rice terraces further enhance the tropical ambiance. A wooden bathtub, strategically placed by a window, presents views of lush greenery, while the soothing sounds of a babbling brook and melodious Balinese wind chimes complete the tranquil setting.
25. Japanese Tea Ceremony Sanctuary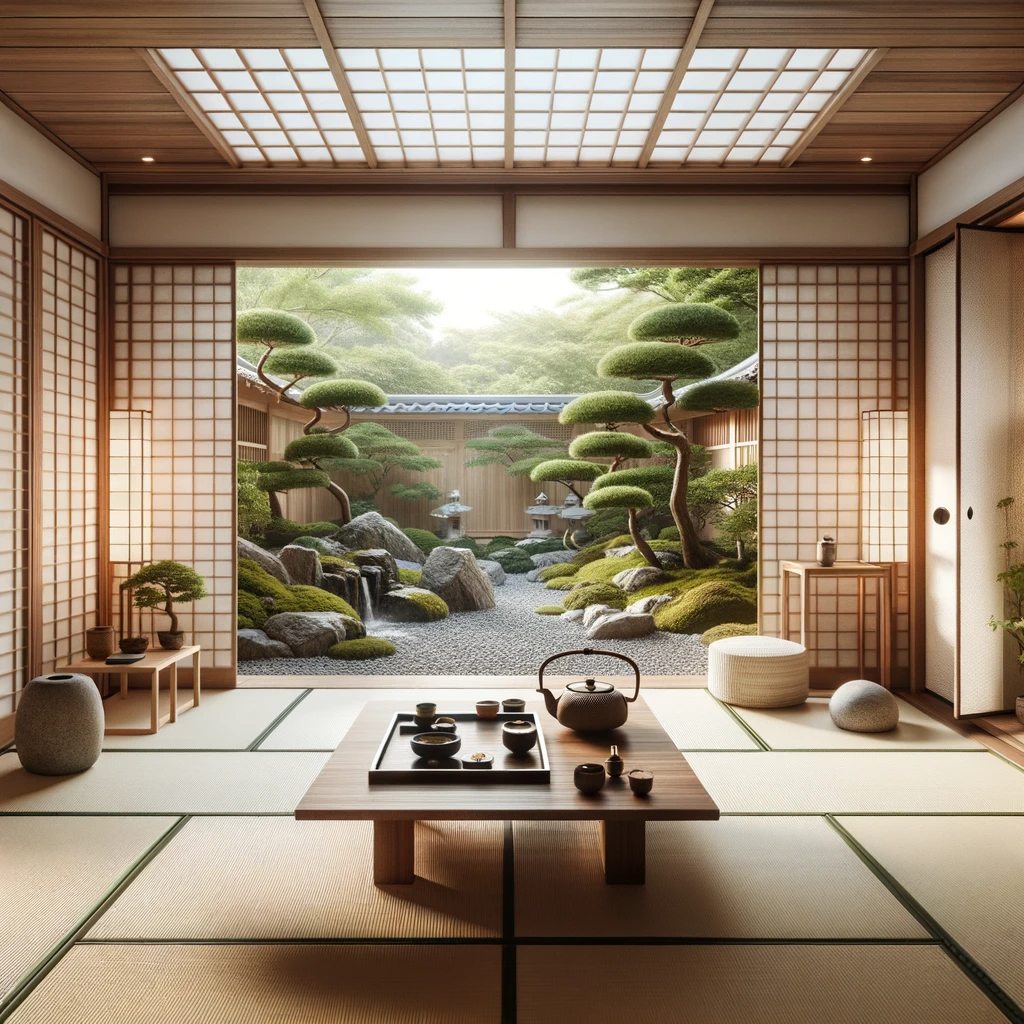 Immerse yourself in the tranquil traditions of Japan with this spa room. The ambiance is deeply rooted in the ceremonial art of tea-making. Tatami mats offer a natural and grounding feel underfoot, with a low wooden table ready for the meditative practice of tea preparation. Shoji screens partition the space, providing both privacy and aesthetic appeal. Beyond the sliding glass doors, a serene Zen garden beckons with its meticulously arranged stones and plants. Bonsai trees and stone lanterns add authentic touches, while the gentle sound of a koi pond ensures a meditative atmosphere.
26. Caribbean Coastal Escape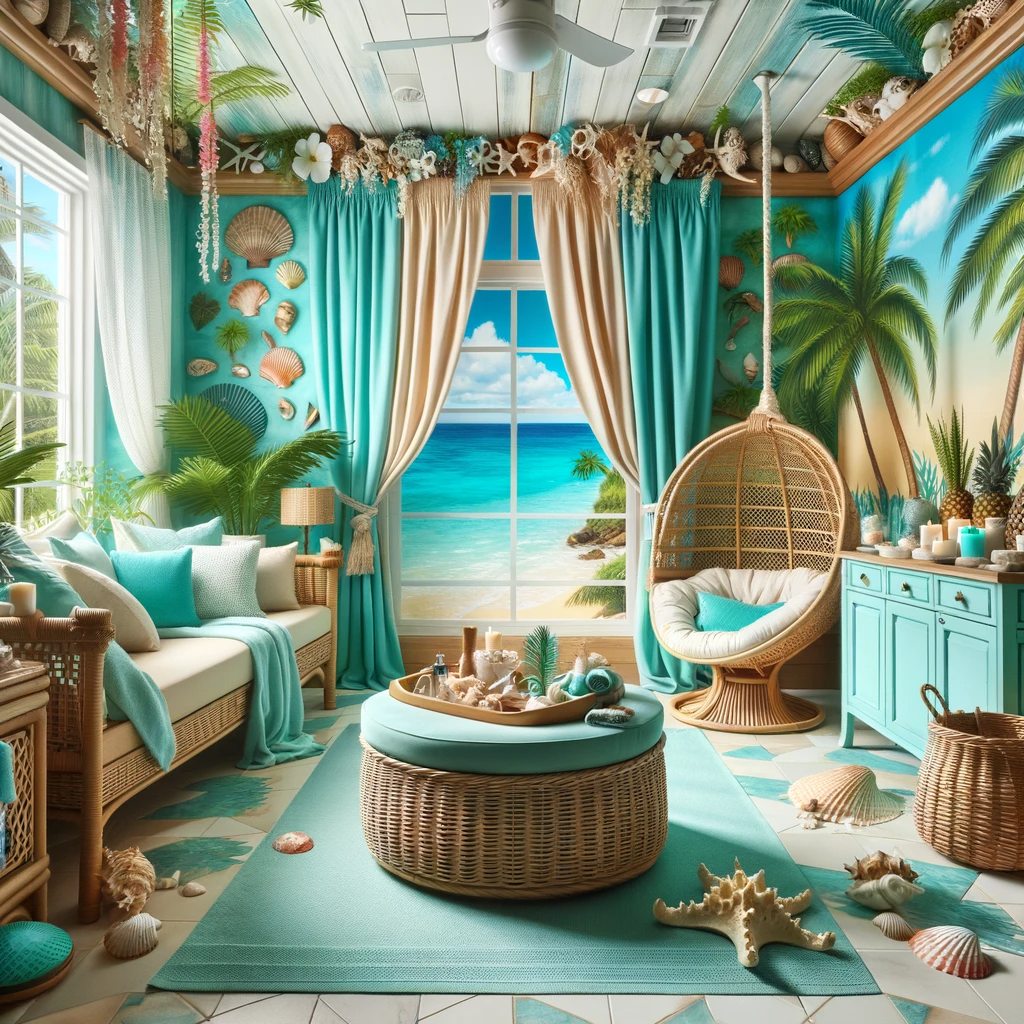 Get whisked away to the sunlit shores of the Caribbean with this island-inspired spa room. A vibrant palette of turquoise and sandy beige paints a picture of pristine beaches and clear waters. Rattan furniture offers a rustic island touch, complemented by decor made of seashells and abundant tropical plants. Imagine swaying gently in a hammock by the window, the room infused with the scent of coconut and sea salt, as you enjoy views of a crystal-clear azure ocean.
27. Gothic Victorian Elegance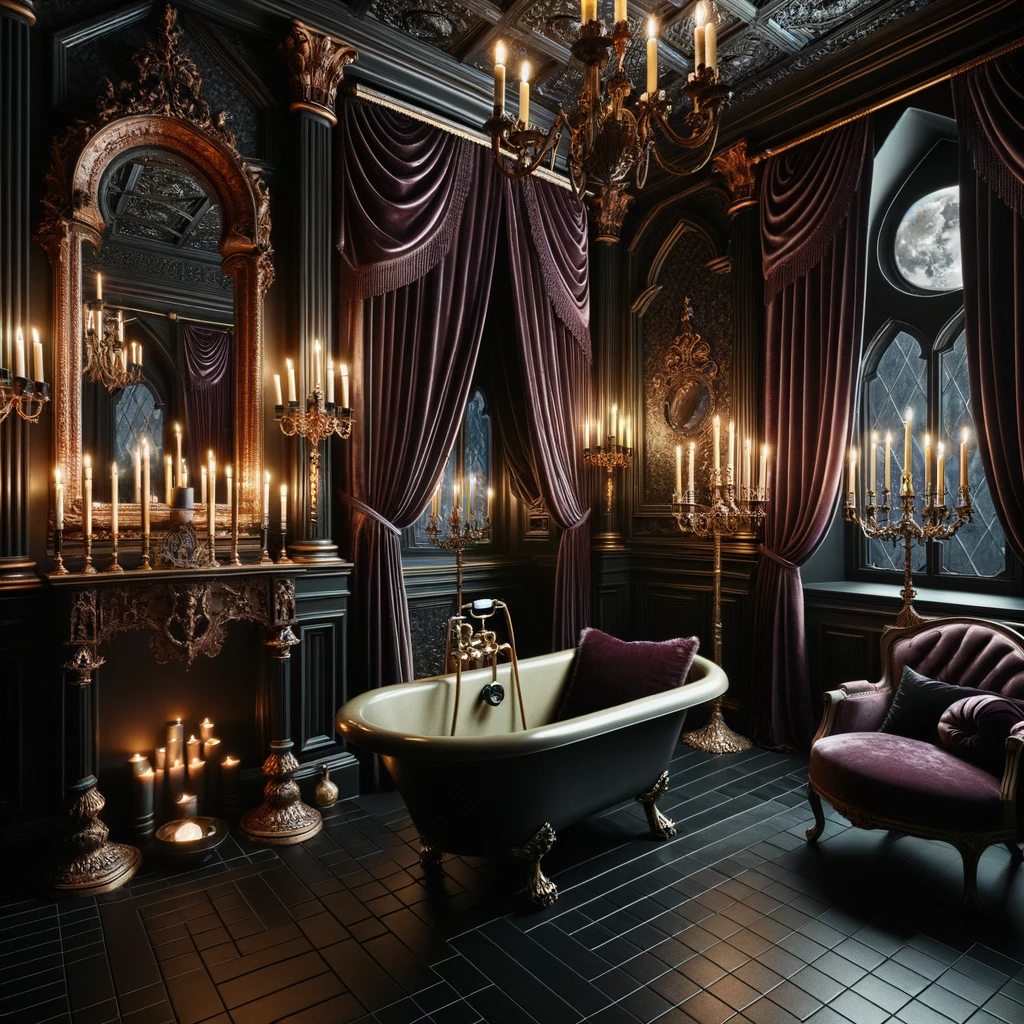 Step into a world of dark romance and opulence with this Gothic Victorian-inspired spa room. Dark wood paneling sets a dramatic tone, contrasted by velvet drapes in rich purples and blacks. Ornate gold-framed mirrors reflect the room's lavishness. The soft glow from candelabras with flickering candles creates an intimate ambiance, perfect for relaxation. The room's centerpiece, an antique clawfoot bathtub, promises luxurious soaks under the watchful gaze of Gothic arch windows, revealing a mysterious moonlit night.
28. Australian Outback Adventure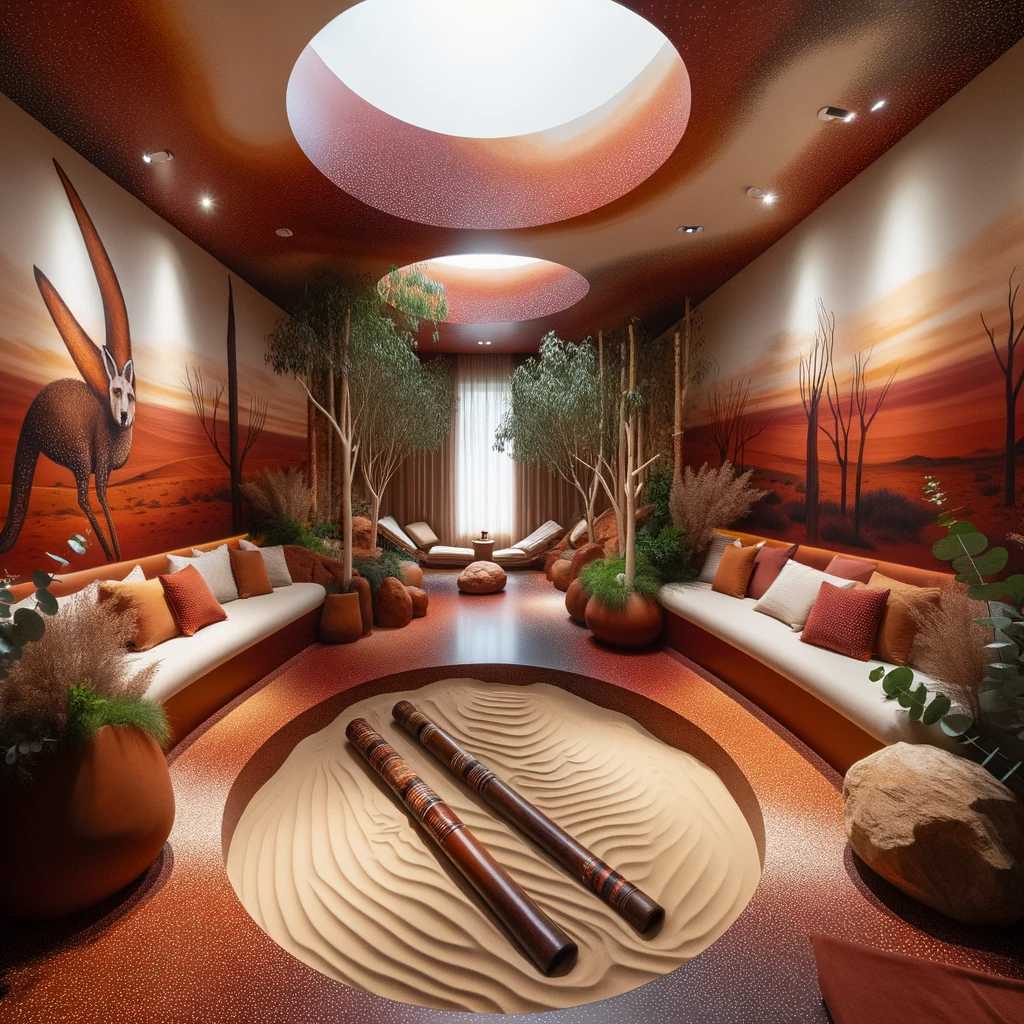 Experience the raw beauty of the Australian Outback in this unique spa room. Earthy reds and browns bring to life the vast desert landscapes, while Aboriginal art adds cultural depth. A central sandpit offers a tactile experience, allowing for grounding exercises reminiscent of walking barefoot on desert sands. The refreshing scent of eucalyptus rejuvenates the senses, and in the background, the haunting tones of a didgeridoo play, transport you to the heart of Australia.
29. Amazon Rainforest Reverie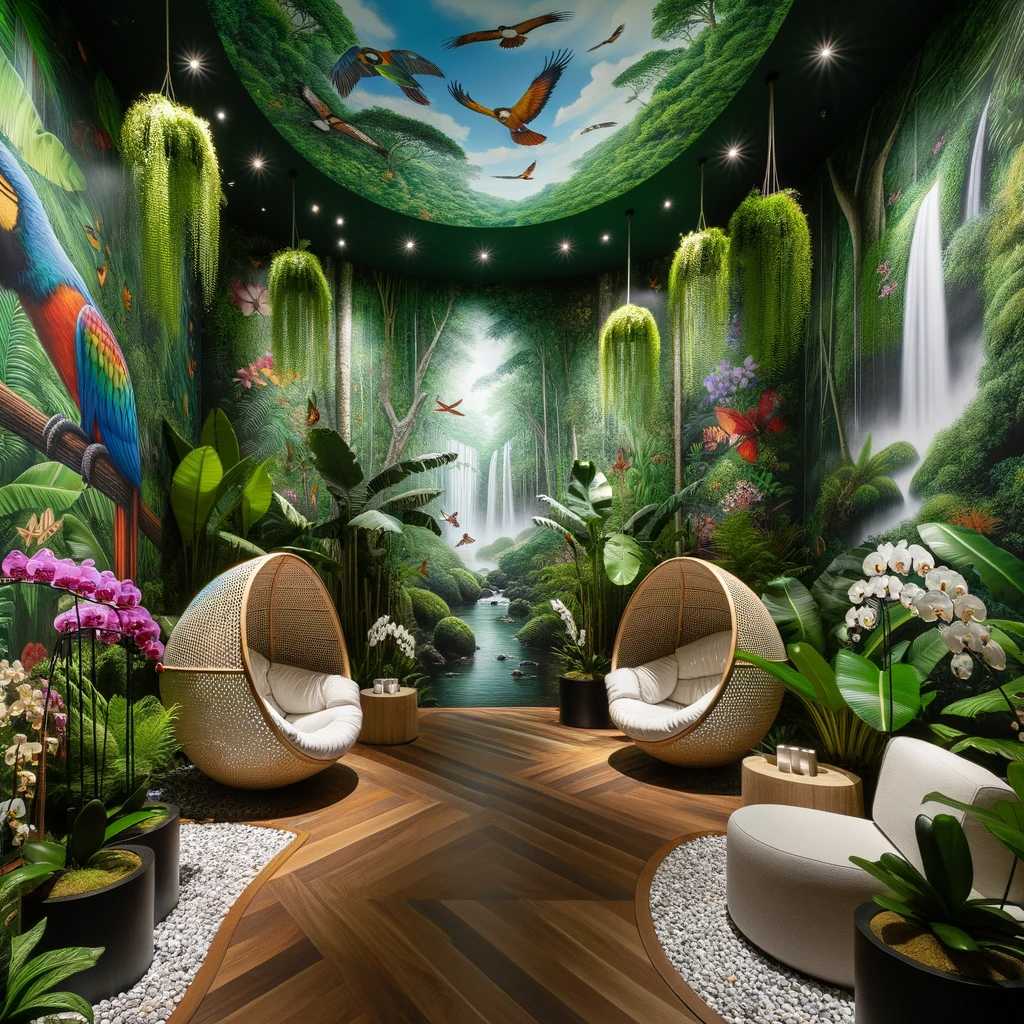 Venture into the heart of the Brazilian Amazon with this spa room. As you step in, walls alive with dense green foliage, vibrant birds, and glimpses of distant waterfalls transport you deep into the rainforest. Exotic orchids and ferns infuse the space with tropical allure, while a wooden pathway, like a bridge over the Amazon river, guides you to a relaxation area. Here, hanging cocoon chairs promise serene moments, cocooned amidst the ambient sounds of tropical rain and distant animal calls.
30. Alpine Euphoria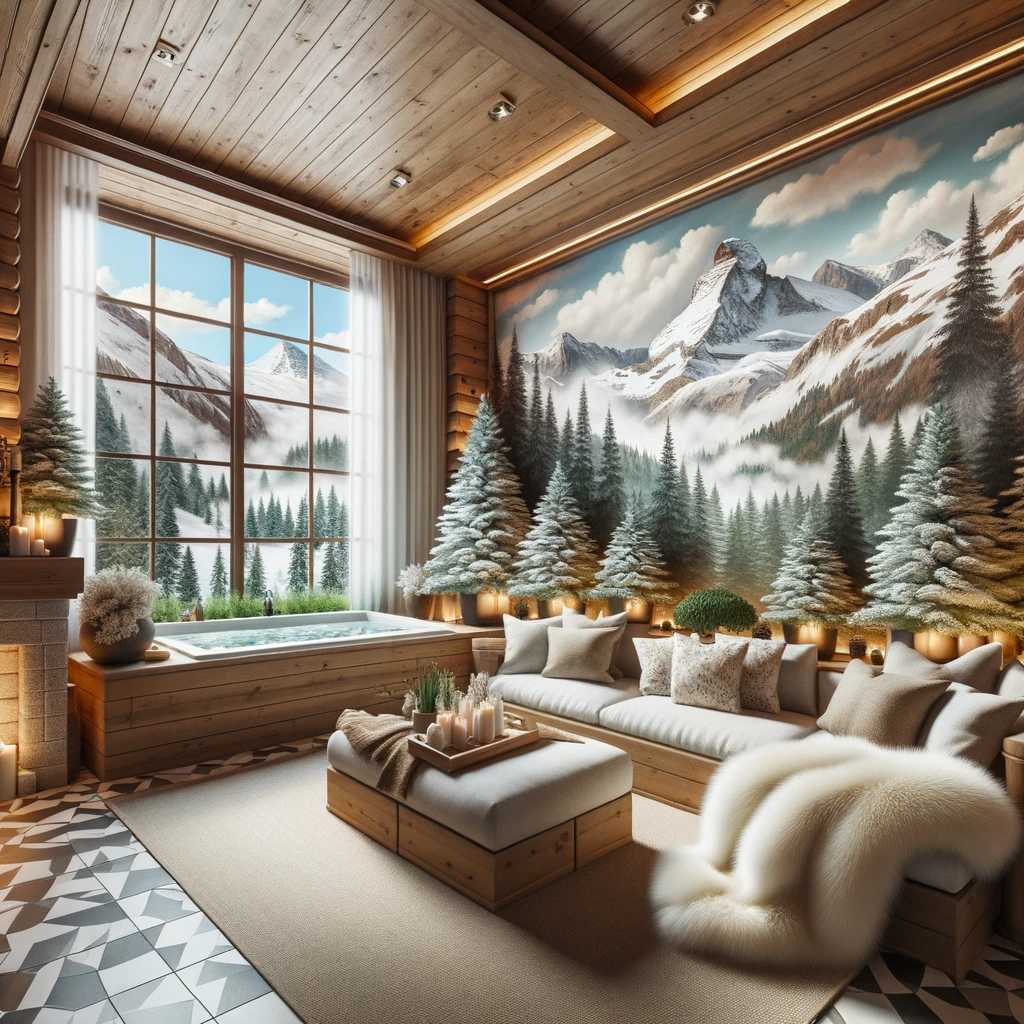 Experience the charm of a Swiss mountain retreat with this Alps-inspired spa room. The warm embrace of wooden walls, complemented by the soft touch of faux fur throws, creates a cozy sanctuary. A crackling fireplace adds to the warmth, especially when the chill sets in. As you recline, large windows frame breathtaking vistas of snow-capped peaks, invoking the magic of a winter wonderland. The subtle scent of pine and crisp alpine air further enhances the experience, making you feel like you're high up in a mountain chalet.
31. Oasis of the Pharaohs
Travel back in time to ancient Egypt with this spa room. Sand-colored walls adorned with intricate hieroglyphic art set the historical tone, with golden accents adding a touch of regal luxury. At the heart of the room lies a sunken pool, reminiscent of desert oases that were a beacon of hope in arid landscapes. Around the room, luxurious loungers beckon, adorned with rich fabrics fit for royalty. Papyrus plants and stone statues of ancient deities watch over you, while the mystical scent of frankincense completes the time-travel experience.
32. Southwestern Serenity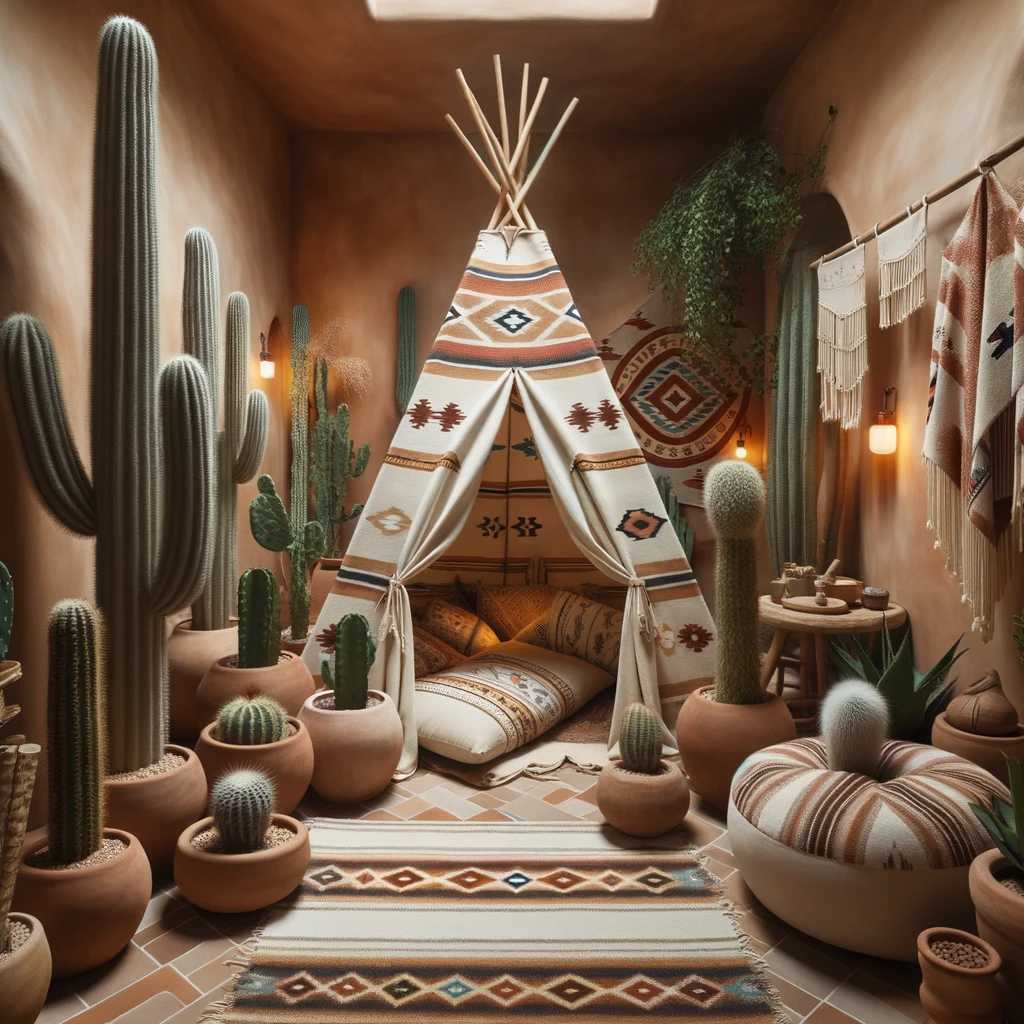 Embark on a journey to the American Southwest with this desert-inspired spa room. Earthy tones blend seamlessly with native patterns, invoking the spirit of the vast landscapes. Adobe-style walls, terracotta pots, and hand-woven tapestries speak of the region's rich heritage. For those seeking a unique relaxation nook, a Native American tipi awaits, its cozy interior adorned with cushions. The room resonates with the calming scent of sage and the soft strumming of a guitar, capturing the essence of southwestern tranquility.
33. Thai Beach Bliss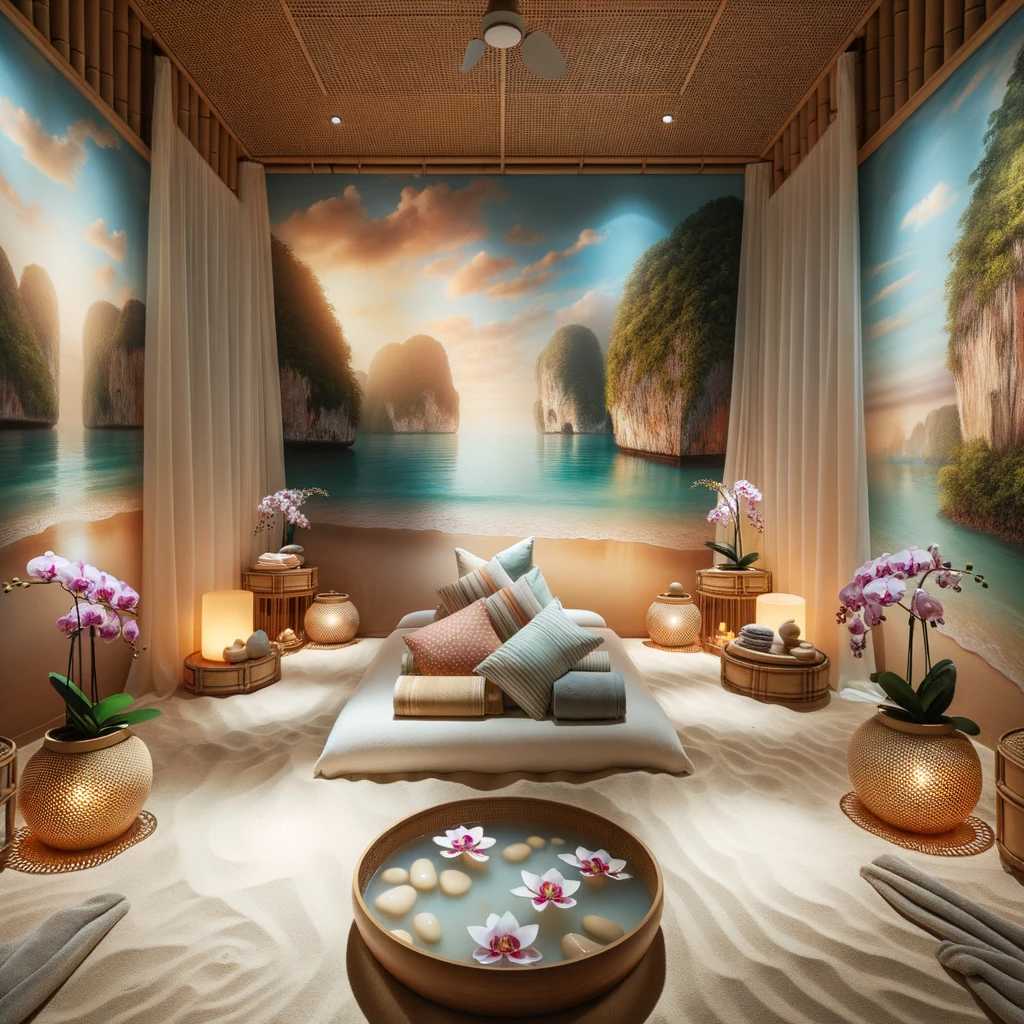 Discover the serene beauty of Thailand's beaches in this spa room. The sandy floors underfoot instantly transport you to the shores of Phuket or Koh Samui. Bamboo partitions divide the space, providing an authentic Thai touch. The walls come alive with paintings of tranquil seascapes, complete with towering limestone cliffs. Thai silk cushions and floating orchids in bowls of water create an atmosphere of pure relaxation. The room is further enhanced by the soft glow of paper lanterns, while the gentle sound of ocean waves and Thai instrumental music lulls you into a state of bliss.
34. Canadian Wilderness Retreat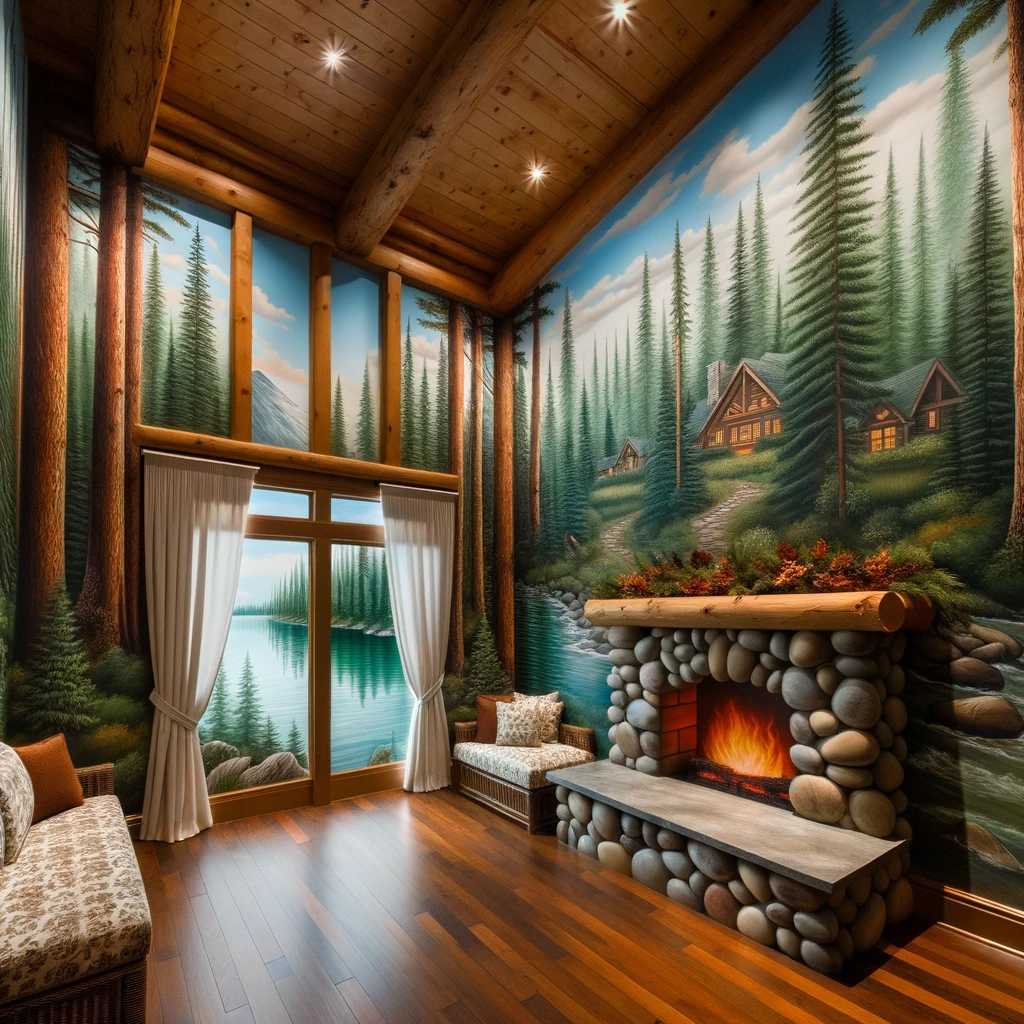 Experience the rustic charm of Canada's wilderness with this themed spa room. Reminiscent of a cabin nestled deep in the woods, the room boasts walls adorned with murals of dense pine forests. Wooden flooring and a faux fireplace create a warm, cozy setting, perfect for those chilly evenings. Large windows frame breathtaking painted views of serene lakes and majestic snow-capped mountains. The air is fragrant with the scent of cedarwood, and the soft crackling of a campfire completes the wilderness vibe.
35. Indian Palatial Grandeur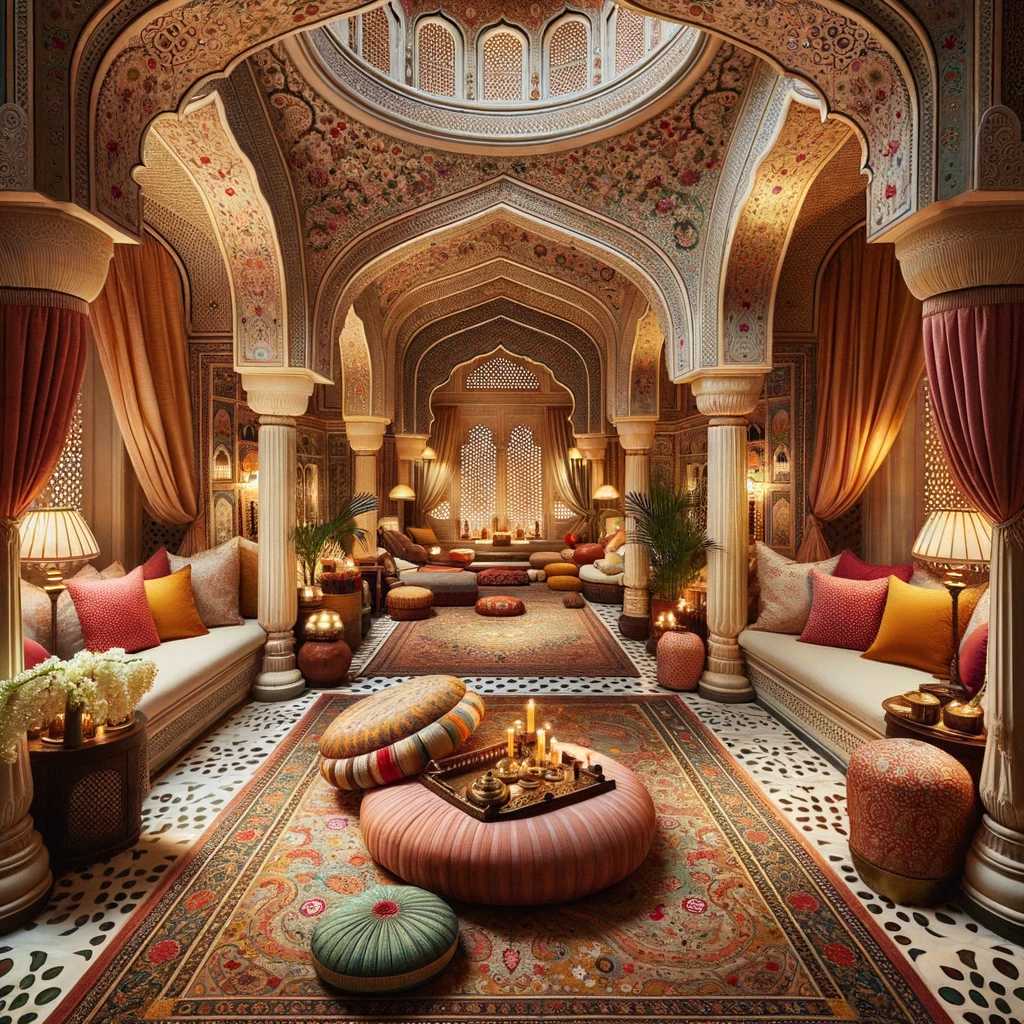 Step into a world of opulence and luxury with this spa room that captures the essence of Indian palatial grandeur. Majestic archways lead you into the room, where intricate Jaipur rugs lay underfoot. Walls adorned with elegant paisley patterns set the regal tone. A central relaxation area beckons with plush floor seating, vibrant cushions, and flowing silk drapes. Brass lanterns cast a golden glow, while the scent of jasmine flowers fills the air. The gentle notes of sitar music transport you to the heart of an Indian palace, ensuring a truly royal spa experience.
36. Maori Mystique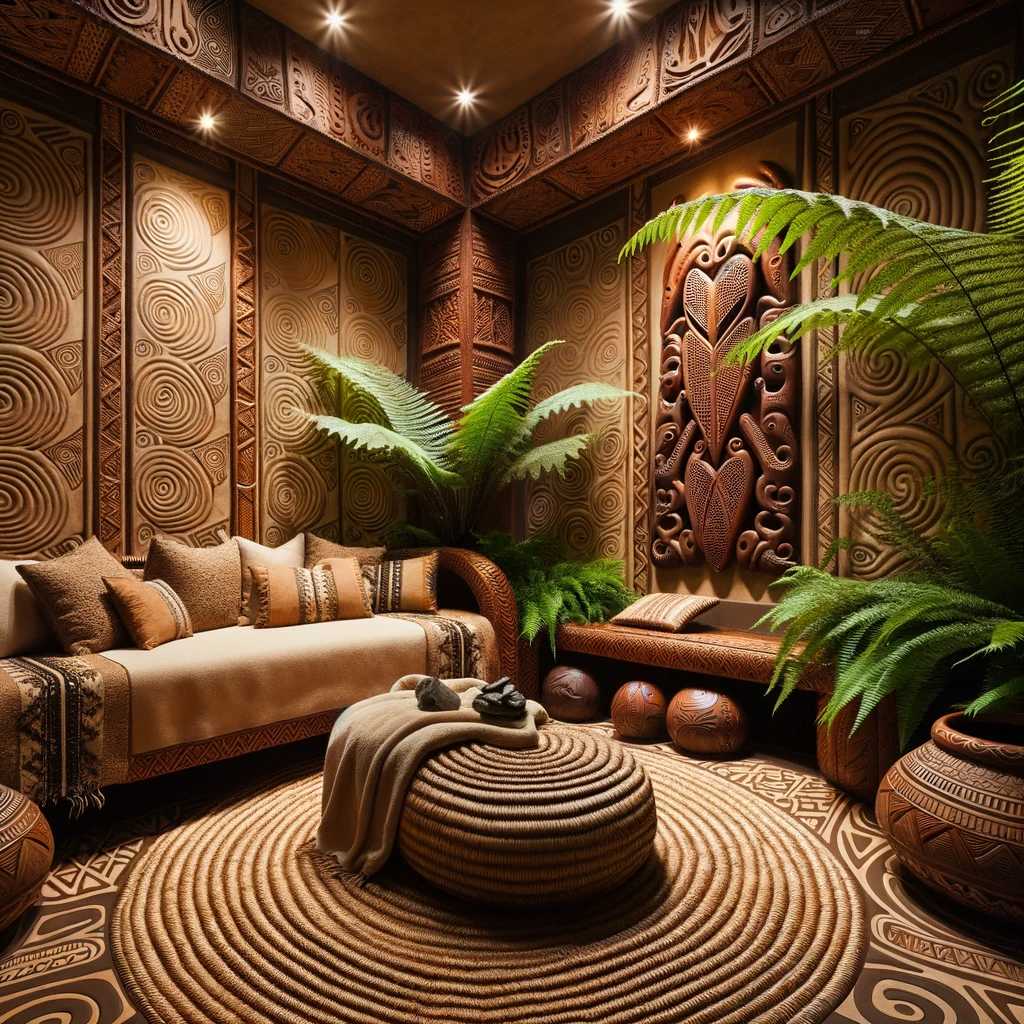 Immerse yourself in the rich cultural heritage of New Zealand with this Maori-inspired spa room. Earth-toned walls adorned with tribal patterns and Maori carvings tell tales of ancient traditions. A relaxation area, complete with woven flax mats and cushions, offers a cozy spot for rest. Native ferns and other plants infuse the space with greenery, creating a natural sanctuary. The room resonates with the ambient sound of traditional Maori chants, and the distant call of kiwi birds, immersing you in the Kiwi experience.
37. Nordic fjords.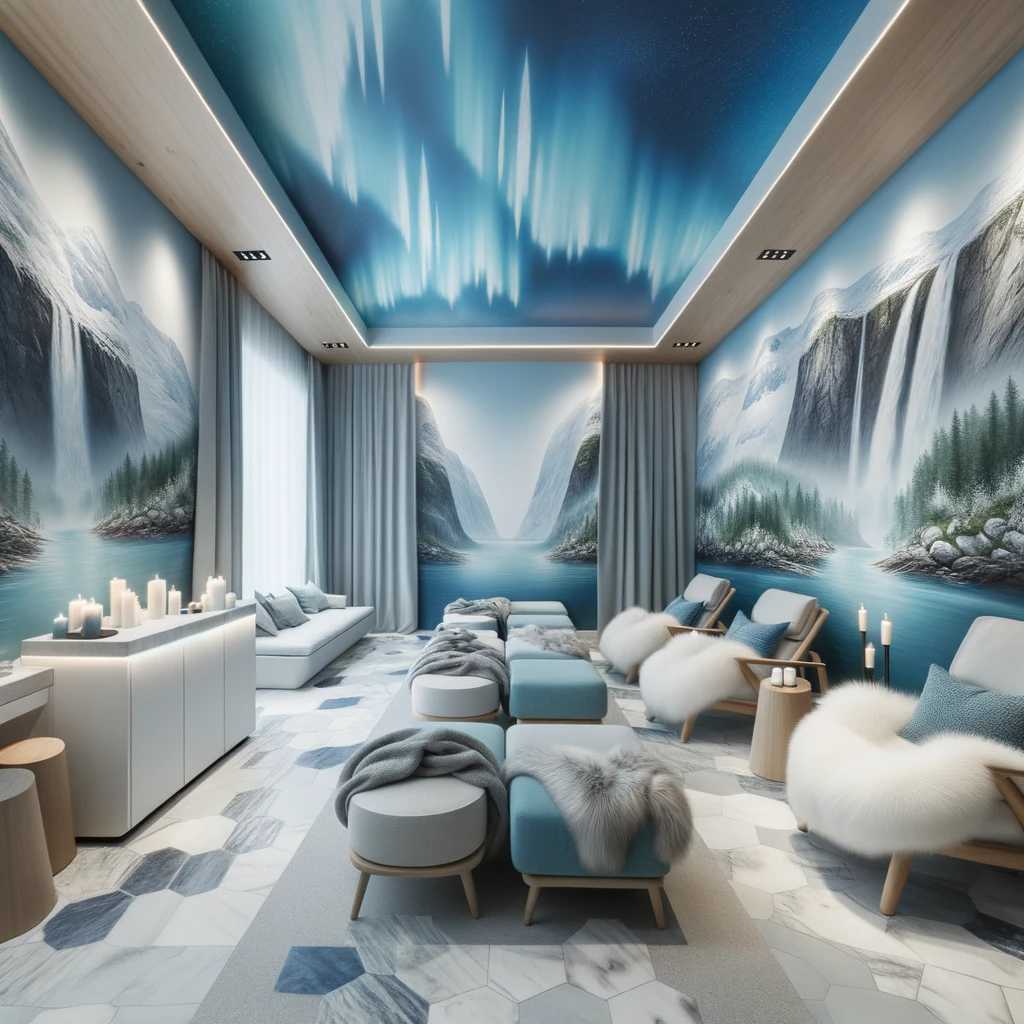 The design features cool blues and whites, with walls painted to resemble the dramatic cliffs and glacial waters of Norway. Minimalistic wooden furniture, faux fur throws, and modern lighting fixtures create a contemporary feel. A relaxation area boasts floor-to-ceiling windows, offering views of a painted Northern Lights display. The scent of pine and the soft sound of wind chimes add to the ambiance.
38. Cuban tropical.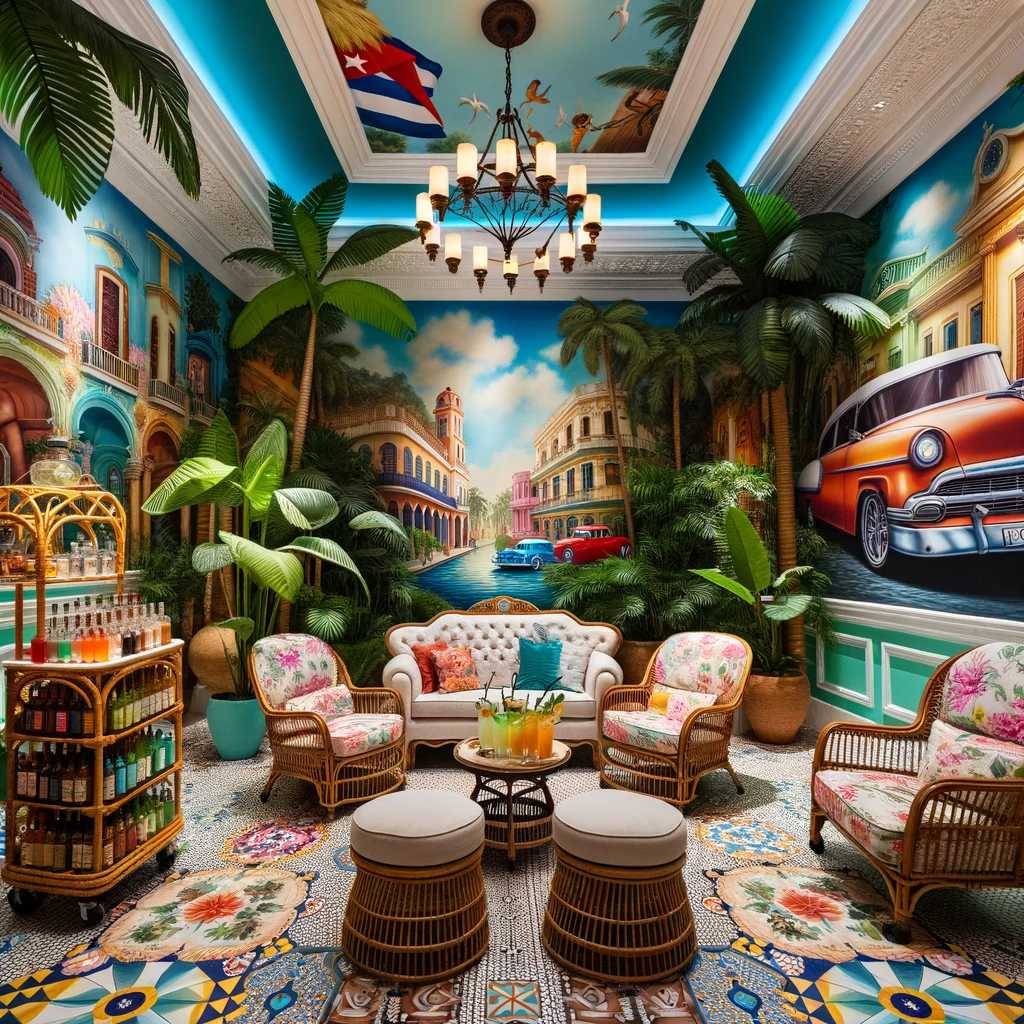 Vibrant colors, vintage furniture, and tropical plants capture the essence of Havana. Walls adorned with murals of classic cars and colonial buildings set the backdrop. A central lounge area features rattan chairs and a colorful bar cart serving mocktails. Cuban music plays softly, and the room is fragranced with the scent of tobacco leaves and citrus.
39. Scottish Highlands.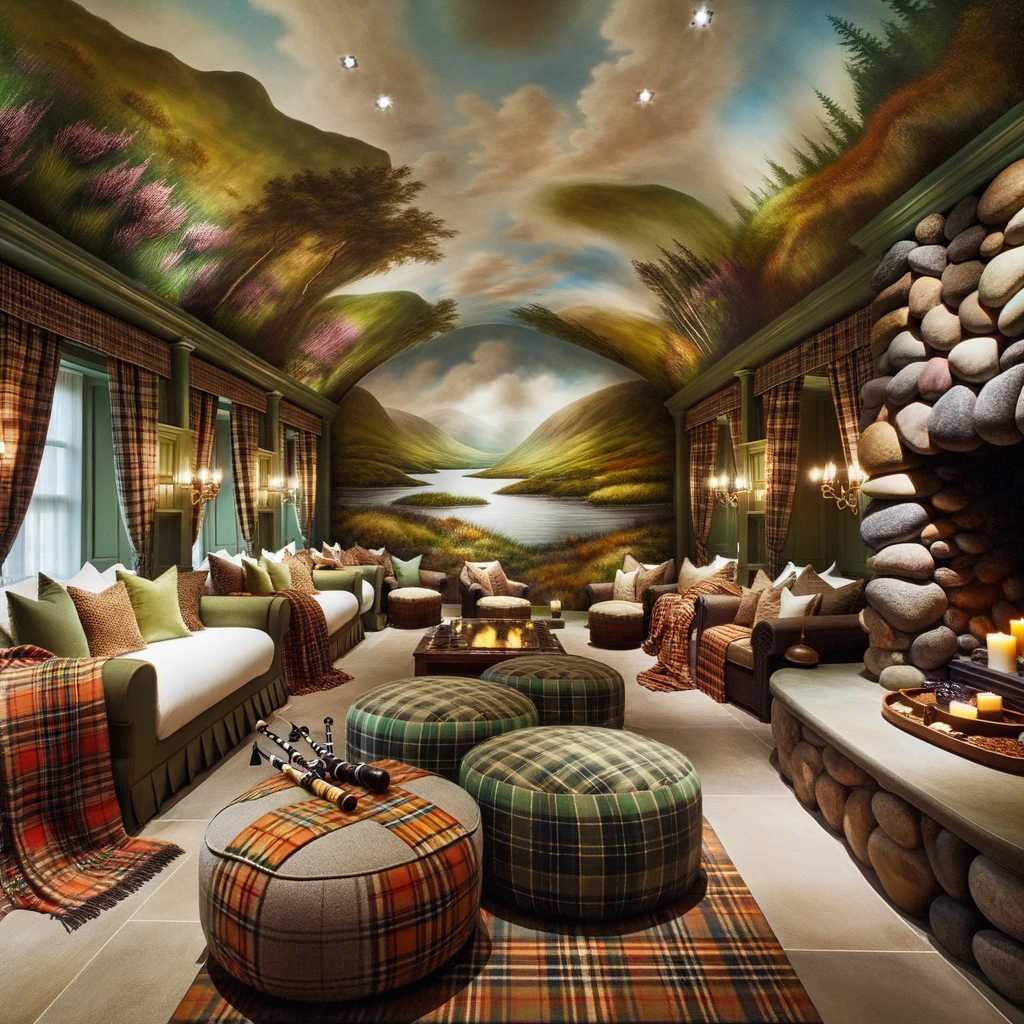 Earthy greens and browns dominate the design, with walls painted to resemble rolling hills and lochs. Traditional tartan patterns adorn cushions and throws. A central fireplace with a stone facade provides warmth, while a relaxation nook offers views of a painted castle in the distance. The sound of bagpipes and the scent of heather complete the setting.
40. Polynesian islands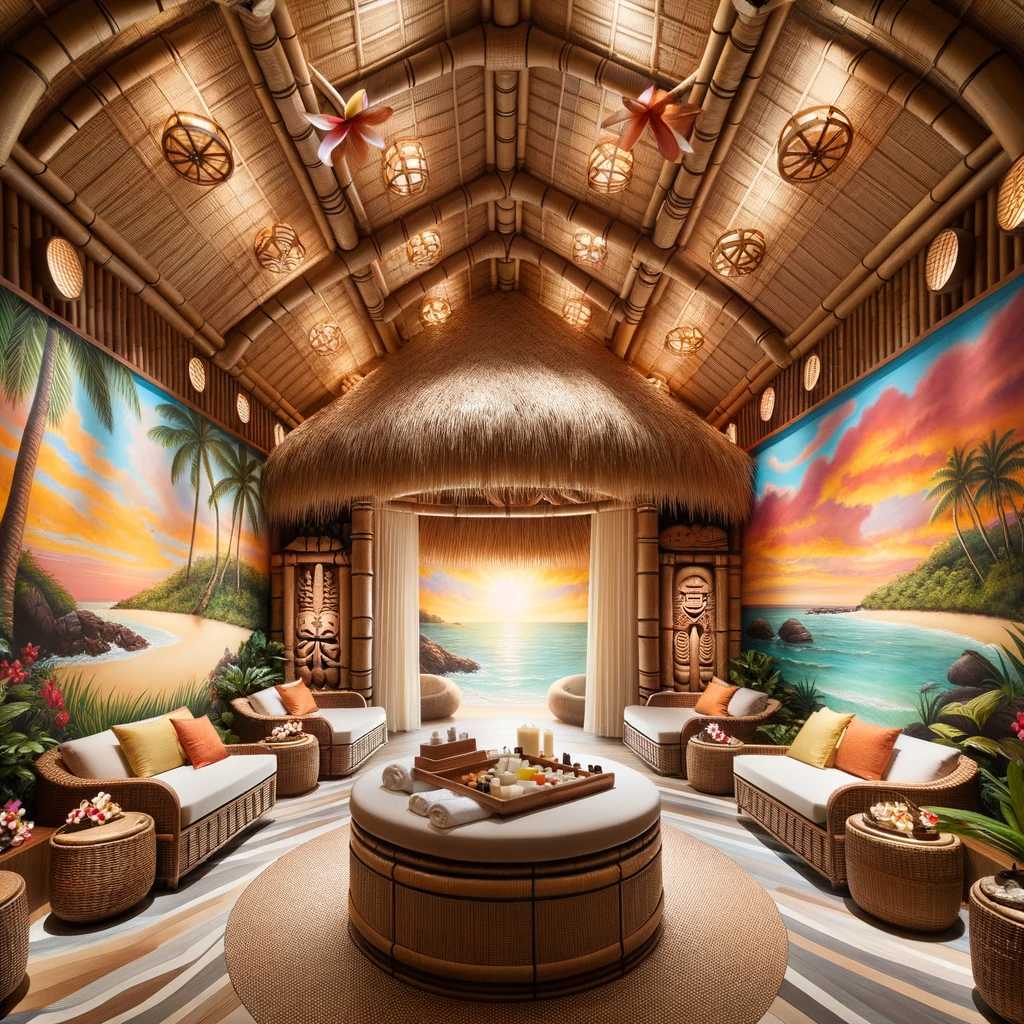 The design emphasizes natural materials like woven grass, bamboo, and tropical woods. Walls are painted with scenes of palm-fringed beaches and vibrant sunsets. A central relaxation area features a thatched roof and Polynesian carvings. The sound of ukulele music and the scent of frangipani flowers transport you to a tropical paradise.
In the world of spa room design, the possibilities are as diverse as the cultures and landscapes that inspire them. From the tranquil shores of Thailand to the rustic charm of Canada's wilderness, from the opulence of Indian palaces to the rich heritage of New Zealand's Maori culture, each spa room concept paints a unique canvas of relaxation. These immersive retreats offer more than just a place to unwind; they offer journeys to far-flung destinations and glimpses into different worlds. Whether you seek tropical tranquility, mountain serenity, regal luxury, or cultural immersion, the spa room of your dreams awaits, ready to transport you to new realms of relaxation and rejuvenation