A Complete Manual For Setting Up Your Outdoor Kitchen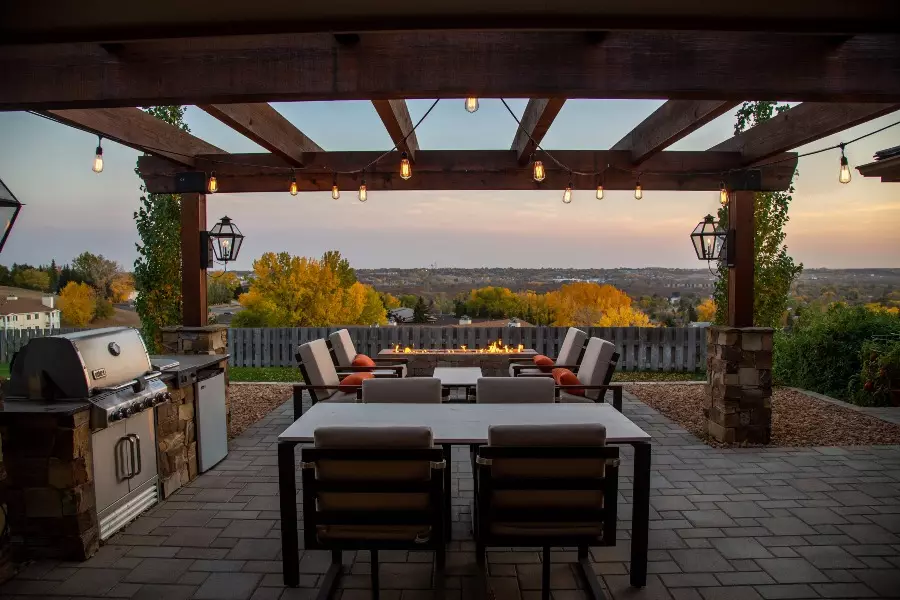 One of today's popular trends is outdoor entertaining. Even in areas with less-than-ideal weather conditions, homeowners are finding ways to build and use outdoor kitchens. If you're considering adding an outdoor kitchen, here are some basic guidelines.
Decide How Serious You Are About Cooking Outdoors
Not all homeowners are looking for the same type of outdoor kitchen. Some outdoor cooking enthusiasts want a custom kitchen that offers the same level of convenience as their indoor kitchen. They want a quality grill, a refrigerator, a sink with hot and cold water, and cabinets to store anything needed to meet their needs. Some are looking at Weber grills because the company provides several grill options, while others are exploring options for built-in cooking appliances.
Choosing Fuel Options
Some homes have access to natural gas to fuel grills, but other property owners must choose between LP gas, charcoal, pellet, and electric models. Of course, even homeowners with natural gas may decide on another grill fuel option. Many people are dedicated to using charcoal, as they insist on the smokey taste that only comes from charcoal. Others opt for pellet grills. They feel pellets are more convenient and make slow cooking easier. Before going any further with an outdoor kitchen design, now is the time to determine what cooking appliances are preferred.
Electrical hookups are also a must for outdoor kitchens, so determine if the home's service panel can support one or more circuits for the space.
Check For Code Compliance Issues
Many communities limit the scope of activities allowed, and most require construction permits when adding an outdoor kitchen. If your plans don't include a full kitchen, permits may not be required. However, if the project requires electrical wiring, plumbing, gas lines, or a new deck, permits will likely be required. Check with your local building officials to learn more about their requirements for various outdoor kitchen components.
Use A Contractor Or DIY?
Some homeowners are comfortable tackling extensive projects, but most aren't. Now is the time to decide whether your outdoor kitchen project will require the help of professionals. In cases where permits are required, the prudent approach would be working with a licensed contractor with appropriate experience. Again, the homeowner's skill level determines whether to take a DIY approach or work with a contractor.
Plan The Project Carefully
Before starting a project, take the time to plan every element. That means choosing the materials for the project, selecting appliances, and evaluating the need for gas, water, and electric installations. How many people will use the space? For larger families or anyone who entertains larger groups, adequate seating and dining spaces are musts. Smaller families or those who rarely entertain guests will need less space and fewer seating and dining options.
Think About Other Amenities
While the outdoor kitchen design should focus on food preparation, other amenities must also be considered. Will a fire pit be a plus for the area? How about a water feature to help with relaxation? Will additional hardscape or landscape features contribute to the ambiance, or is the space already adequate? Each of these elements should be considered during the planning stages to ensure everything needed is acquired.
Customize Your Space To Meet Your Needs
The new outdoor kitchen shouldn't be a cookie-cutter design from a magazine. Instead, the space should be planned and constructed to meet a family's needs and budget. Start by choosing a new grill and then plan the surrounding space.