Open Concept Designs: Modern Tables For Open Kitchen Layouts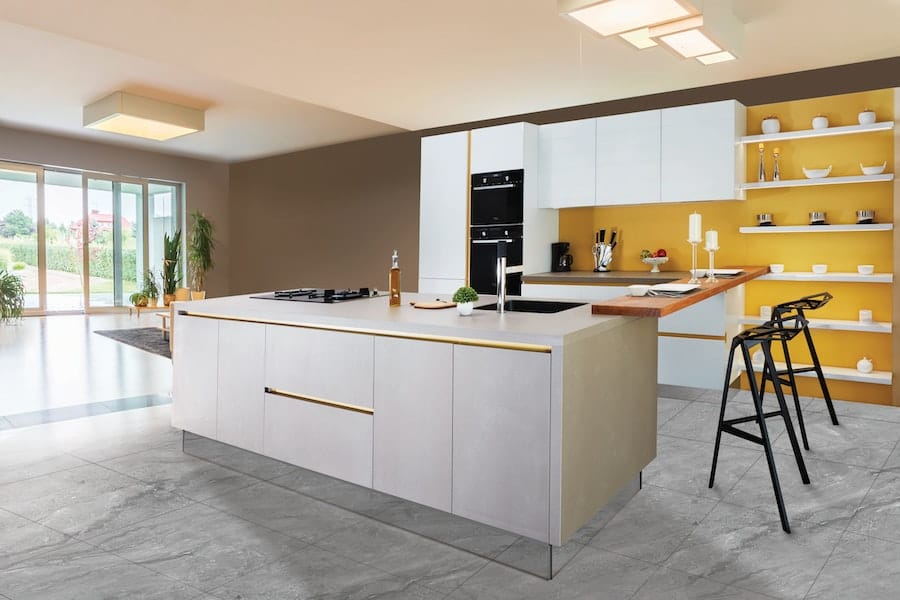 If you are building an open-plan kitchen or simply considering whether to go with an open design, you have come to the perfect spot. Our comprehensive guide will walk you through all you need to know about open kitchen design, as well as provide you with lots of inspiring places to help you make some decisions.
What Is An Open Plan Kitchen?
Because of their airy, expansive atmosphere and flexible design, open-plan kitchens are one of the most desired characteristics of a modern family house. They often integrate a home's kitchen and dining room, but you can also incorporate a lounge setting as part of yours. They are, in fact, entirely adaptable, which is why people adore them so much.
What Are The Pros And Cons Of An Open Kitchen?
Open-plan kitchens are becoming increasingly common in modern home design, but they offer their own set of benefits and drawbacks. Here are some of them.
Pros
Open kitchens promote social interaction by reducing physical barriers between the kitchen and the living or eating spaces. This allows family members and guests to converse more easily while cooking or dining.

They impart a sense of spaciousness and airiness, making smaller homes appear larger and more open. This might improve the general atmosphere of the living area.

Because open-plan kitchens have fewer barriers that block natural light, they frequently benefit from more natural light, producing a brighter and more pleasant setting.

Open layouts are ideal for entertaining since hosts may cook and chat simultaneously, allowing them to participate in the party without being alone in the kitchen.
Cons
Cooking odors and sounds may pervade the entire living space, which can be unpleasant, especially when making spicy recipes or cooking in the early morning.

Open-plan designs provide less privacy, which can be difficult when family members have varied schedules or want quiet locations for work or study.

Because there are no walls to conceal kitchen messes, keeping the kitchen area neat may be a continual issue, negatively compromising the overall aesthetics of the living room.

Open layouts sometimes feature limited wall space for cupboards and appliances, which can compromise storage capacity and kitchen organization.

Maintaining stable temperatures in an open-plan workplace might be more difficult, perhaps resulting in higher energy expenses.
Finally, the decision to go with an open-plan kitchen should be based on your lifestyle, interests, and house layout. It is critical to consider these benefits and drawbacks to determine whether an open kitchen meets your needs and improves your overall living experience.
The Best Modern Kitchen Tables To Buy In 2023
Here are some of our favorite modern kitchen tables.
Clessidra Kitchen Table
Midj's Clessidra kitchen table is the ideal place to dine in style. A sleek hourglass-shaped base accentuates this table, with a metal ring cinching in the center for an extra touch of elegance. The round top provides an ideal setting for small dinners or simply sitting, chatting, and playing games.
Greeny Round Dining Table
The Greeny round dining table by Bonaldo has a captivating personality that stands out in a contemporary dining space. The base is open and airy, with round and angled pieces that combine to produce a sculptural composition. With its contrasting materials, it creates a stunning center point in the dining area for an attractive perspective. There's plenty of space on the welcome roundtop for a large group to congregate and eat.
Lycos Kitchen Table
The Lycos kitchen table from Ozzio Italia is a stylish place to gather, owing to its extended nature. An affable spherical top rests beautifully on a sculptural base, curved and slanted conically until it curves back inside near the end, creating a chess piece-like appearance. Perform a few easy procedures to arrange the table to accommodate additional visitors and obtain extra space.
Air XGlass Round Table
The Lago Air XGlass round table makes a big statement in a modern environment. The welcoming silhouette contrasts the round top with the angular pedestal base, creating a stunning standout piece. Because of the additional clear base, the top floats for a mystical effect. The printed glass is available in a variety of configurations that are both detailed and long-lasting. There is plenty of space for the entire family to dine and converse. It will remain a staple piece of furniture for years to come due to the use of high-quality materials.
Cirkle Kitchen Table
The Cirkle kitchen table is a social piece that readily accommodates many people. This table has an expansion mechanism. Receive additional space to welcome visitors when they come over with just a few simple actions. A spherical shape is ideal for intimate gatherings. A circular centerpiece supported by four beautifully curved legs characterizes the base, offering a pleasant aesthetic to your kitchen or dining room.
Conclusion
As we continue to embrace the notion of open-plan living in our homes, selecting the correct table becomes increasingly important. The modern kitchen table, whether it's a minimalist island, a versatile dining table, or a statement piece that links style and function, is a tribute to the versatility and ingenuity of contemporary interior design.
Open-plan kitchens have changed the way we think about and use kitchen tables. They've progressed from simple, practical elements to essential components of modern living spaces, providing a unique combination of design, adaptability, and connection. These tables are the focal point of social interaction, culinary innovation, and family reunions.