Will You Save Money By Repairing Your Own Roof?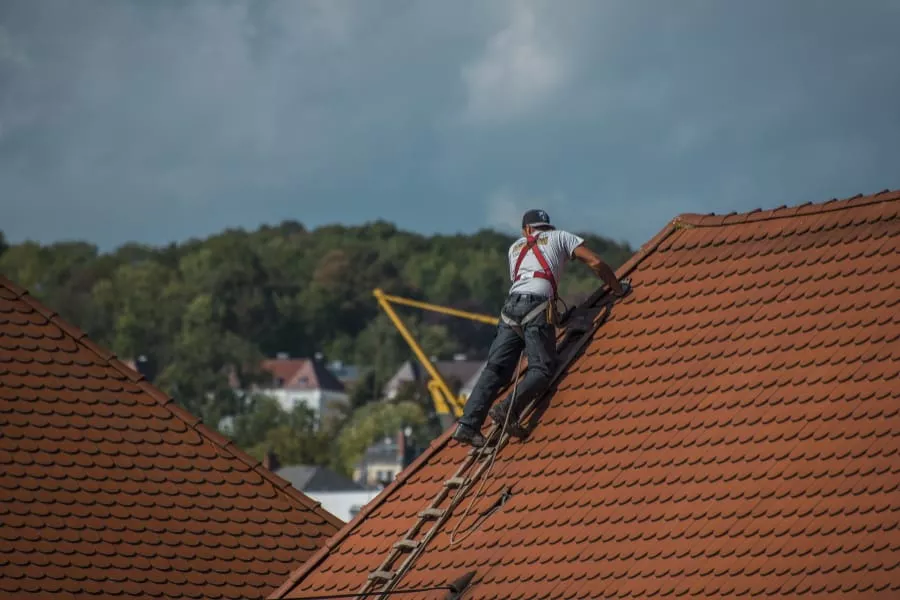 There has been a boom in DIY projects in recent times. Covid is said to have helped see millions of renovations and repairs finally happen as lockdowns kept people at home for longer periods than usual.
It also seems that there is no sign of DIY slowing down, and this is reflected in predictions for market growth. The global DIY or home improvements retail industry had a value of $848 billion in 2021. Now though, with more individuals tackling home improvements, it is estimated that the market will grow to $1.278 trillion by 2030.
While there is obvious satisfaction in seeing projects through to completion, there is the added benefit of saving money. Carrying out repairs and renovations can often mean that you spend much less than you would if you used contractors. But, there are perhaps some tasks that should be avoided. Are roof repairs among them?
Should You Repair Your Roof Yourself To Save Money?
Certain tasks around the home or garden will require skill, experience, and often, special equipment or tools. Landscaping for example may need heavy vehicles for excavating, and pruning tall trees is often dangerous work best left to the professionals.
One company from west Michigan; Magnum Roofing, explained that some small roof repairs could be done by a keen DIYer. But, many other roofing jobs should be handled by more experienced contractors.
In some situations, carrying out roof repairs could be dangerous. Roofing is listed as the 6th riskiest occupation, and there are numerous accidents each year. While you may save money, the risk factor may outweigh any financial advantages for some.
What Areas Can You Realistically Repair On A Roof?
As mentioned, the DIY market is very healthy, and the appeal of carrying out repairs without the need to hire professionals is obvious. Some people even go as far as renovating a house with DIY and no contractors at all. But, some tasks such as roofing can be quite daunting.
Roofing repairs and jobs that you could carry out yourself include clearing blocked gutters, replacing shingles, repairing flashing, fixing leaks, and painting eaves and soffits.
Some important jobs are best left to professionals such as spray insulation. The Consumer Price Index shows that energy bills rose 13.1% from November 2021 to 2022. Insulation is a vital part of roofing but due to health and safety, it is better not to DIY this task.
What Are The Dangers Of Repairing Your Roof Through DIY?
The main advantage of repairing anything around the home is the financial savings. By avoiding professionals you will be able to save some cash. However, when DIY repairs go wrong they can often become more costly than they initially were.
If you were to repair your own roof you might crack shingles or tiles by walking on them. Some materials are easier to damage than others. You might miss problems with other parts of the roof, and of course, there is a very real danger to your safety that roofing brings. Even experienced roofers have accidents, and carrying out roofing repairs with no qualifications or experience is risky.
Lack of experience also means that you might not effectively repair a problem. A bodged repair to the flashing could result in water coming into the attic if it becomes loose.
Will You Save Money By Repairing Your Roof Yourself?
The quick answer here is to say yes, maybe. If you carry out DIY repairs competently then you are likely to save some money. Yet, you still need to purchase materials, you might need equipment that you don't possess, and there is the time factor to consider.
A professional roofing contractor will carry out repairs far quicker than a DIY fan, no matter how keen they are. Small repairs will undoubtedly save you money through DIY as long as no mistakes are made. But, if you miss other problems you could find you get substantial damage later on. A missed leak for instance could lead to rot, and structural damage which could have been avoided had a professional been used.
While there is the potential for cost savings with DIY roof repairs, there are some home improvement projects that need professionals. It could turn out more costly to avoid using a roofer than to hire one in some circumstances.
Summary
DIY has massive potential for saving money through repairs and home improvements. Fixing simple plumbing problems, mending cracks in walls, and placing kitchen tiles, can all be done without the need for professionals. However, roofing is dangerous work.
Even if the repairs are carried out safely, there is potential for further damage to be caused, or missed, when DIY roofing is done. A professional roofer is likely to make an inspection and assessment of the roof, and this can lead to potential concerns being addressed. In the long run, it could be cheaper, and safer, to use roofing contractors for these particular types of repairs.