Types Of Japanese Knives: The Finest In The Market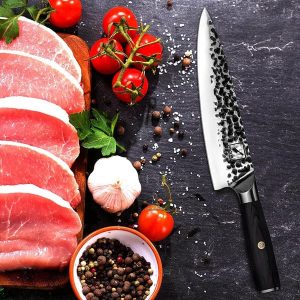 If you are looking for the perfect knife for precision work in the kitchen, you should look at the different types of Japanese knives on the market.
Japanese knives are famous for their quality and cutting performance. These Knives have a more balanced feel and are easy to carry. 
It is why they are very common among professional chefs. If you need to get one of these Japanese knives, you can get them at Imarku at a fair price. 
In this article, we shall take you through the different types of Japanese knives you need to know and outline their benefits. Let's get right into it. 
So, What Are The Types of Japanese Knives?
Japanese knives come in wide varieties and are crafted using traditional Japanese blacksmithing techniques. The knives are perfect for the precision tasks you may carry out in the kitchen while preparing food.  
If you want to get yourself a couple of Japanese knives, then the following might interest you: 
The Japanese Paring Knife 
The knife comes with a stainless steel blade that is 3.5 inches long with a handle that is ergonomically designed for a comfortable grip. 
The Japanese paring knife is perfect for peeling and cutting fruits and vegetables. They are also useful for carrying out other precision work in the kitchen. The knife has so many uses in the kitchen, including: 
Segmenting 

Coring of apples 

Hulling 

Deveining of shrimp
The best thing about the Japanese paring knife is that it is adaptive, and you can use it to carry out various duties in the kitchen.  
The Santoku Knife 
If you are looking for a knife to help you carry out the duties like chopping, slicing, and dicing, then the Santoku knife is the way to go. 
This Japanese knife has a sharp blade perfect for precision and versatile functions. The knife is an evolution of the traditional Japanese vegetable knife with a triangular blade. 
The Santoku knife owes its full name to Santoku Bocho, and they feature a very powerful and streamlined edge. 
The edge is 7 inches long and has a narrow sheep's foot blade. The blade has that classic Japanese style chisel shape wonderful for chopping your onions and even filleting a fish. 
The Santoku Japanese knife will allow you to make great precisions about your food, providing a professional look. 
The knife will provide high performance and style in cooking, which is what most professional chefs look for in a knife. 
Bread Knife 
Just from the name, the primary purpose of the Japanese bread knife is to cut through bread. However, the bread knife can also be useful when cutting cake or tomatoes. 
The Japanese bread knife has a convex edge blade that allows for a smooth cut while offering less resistance. 
The ergonomic and finger protection handle guarantees long-term use with outstanding durability. 
This knife has a great bolster that offers a smooth transition from the knife to the handle. It also prevents dirt from accumulating on the knife.  
The Japanese bread knife comes with an 8-inch blade and 5.1-inch handle, making it easy to work with in the kitchen.  
Steak Knife  
The Japanese-style steak knife is great for slicing steak on the dinner table. It is sharp and easy to handle. The steak knife has a five-inch blade and a four-inch handle. 
The knife comes with an ergonomic handle that feels comfortable on the hand while you eat. The blade is very narrow and sharp, allowing you to make narrow precisions on your take as you enjoy it. 
The steak knife also comes with a finger protection handle that prevents you from cutting yourself with a sharp blade.  
The 8" Japanese Chef Knife 
The 8-inch Japanese chef knife has an 8-inch blade and a 5-inch handle. The blade is strong as it comes from high-carbon stainless steel with a powder coating. 
The knife has a Hammered Tsuchime Finish that gives it a good look. It has a nice balance making it easy to work with in the kitchen. 
The ergonomic grip of the knife makes it ideal for comfortable handling when working with it. The ergonomic handle has a finger protection bolster that prevents you from injuring your finger while you work with the knife. 
The knife is perfect for preparing beef, slicing a lemon, and cutting through various vegetables. 
Benefits Of Using Japanese Knives 
Unlike other common knives, using Japanese knives come with an added advantage, these include;
Quality 
Blacksmiths use high-carbon stainless steel to craft Japanese knives. Hence, the knives become stronger and harder. It implies that you can use the knife longer without replacing it. 
The Japanese knives also have ergonomic handles that are very comfortable for working in the kitchen. 
They also have a good balance with finger protection bolster to prevent you from injuring your fingers. 
High Cutting Performance 
All Japanese knives are technically sharp and narrow, which improves their cutting-edge performance. The sharp knife comes in handy when you want to slice beef, cut vegetables or even fillet a fish. 
Durable 
Japanese knives are highly durable, as blacksmiths use high-quality materials to make them. The blade is hard and can last much longer with general use in the kitchen. 
Easy To Maintain And Sharpen
Japanese knives do not require special attention to maintain and sharpen. All you have to do is clean, dry, and return them to their rack after usage. 
To ensure your Japanese knife is always sharp, you can use a sharpening steel to sharpen it. However, traditional blacksmiths recommend using whetstones as the best way to maintain high-cutting performance. 
Conclusion 
There are many different types of Japanese knives available, each with its own specific design and purpose.
Japanese knives are known for their exceptional craftsmanship and attention to detail, and that's why you need to try them out.
Professional chefs prefer Japanese knives since they are lighter than other knives and provide a high cutting performance.