Create The Perfect Bedroom Retreat With These Decorating Ideas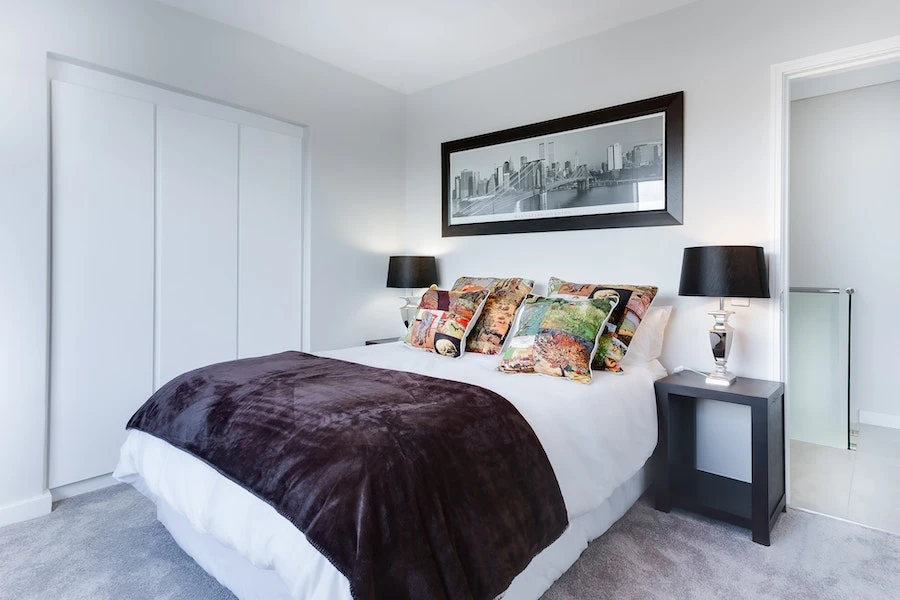 Do you ever feel like your bedroom is missing that special something? Sure, it's comfy, and you have all the necessities tucked away in dressers and closets. But what about creating a relaxing oasis that screams "ahh" whenever you enter the room? To guide you about this topic, we took some time to dig into how to turn any ordinary space into an inviting retreat. From cosy wall colours to lush decor pieces, here are our top tips for crafting your perfect bedroom escape. Keep on reading for savvy advice on designing this ultimate sanctuary.
Here are some tips for creating the perfect bedroom retreat:
Pick A Calm Colour Palette
When you're looking for a calm vibe in your home, selecting a colour palette can make all the difference. Cool and soothing shades such as blues, greens, browns, greys, and other muted earthy tones are easy to soften the atmosphere. These colours combine well and produce a neutral background for softer or brighter accents. Plus, they'll help keep frustrations and temperature down in those hot summer months.
Accessorise With Comfortable Bedding
What's a bedroom without the most important item—a cosy bed? Of course, your bedding should be as luxurious and comfortable as possible. Opt for high-quality sheets, fluffy pillows, and an extra-plush comforter or duvet. You can also invest in a luxury king mattress to take your bedding game to the next level. It'll guarantee you get a good night's sleep and ensure your bed is the show's star. So, don't forget to invest in comfortable and stylish bedding.
Incorporate Natural Elements
Bringing the outdoors in has been trending for quite some time now. And for a good reason—nothing creates a calming oasis-like nature. You can use natural elements throughout your bedroom. These include wooden furniture and flooring or greenery in the form of houseplants or even dried flowers. Just make sure you pick something low-maintenance that won't require too much care and attention.
Dim The Lights With Curtains
Lighting is key for creating a peaceful atmosphere. You can opt for soft light bulbs and curtains to soften harsh sunlight or filter out street lights to maximise the soothing effect. It will also give your bedroom an inviting glow when you're ready to call it a day. They'll also help add privacy—a must for a cosy and comfortable retreat. You can effortlessly control your bedroom's lighting and mood with the correct curtains.
Create A Work-Free Zone
Turning your bedroom into an escape from the hustle and bustle of everyday life shouldn't be difficult. Set rules like no phones or laptops after a certain time, close your bedroom door when you're not in it, and keep work out of sight and mind. These small changes will help you create a space free from stress and a great place to relax. Plus, you won't be interrupted by notifications and emails when you're trying to get some rest. So, keep those pesky work items away from this sanctuary.
Invest In Calming Decor Pieces
If you want to make your bedroom more inviting, the decor is necessary. You don't have to go all out here—just adding a few furnishings like rugs, wall art, or throw pillows will do the trick. Choose items that reflect your taste and style and help complete the room's overall vibe. For instance, a soft rug can make the room feel cosy, while some wall art can add a touch of personality. You can make your bedroom retreat feel like home with the right decor pieces.
Add A Touch Of Personalization
The best bedrooms have one thing in common—a touch of personalisation. Adding family photos or travel souvenirs may bring comfort and nostalgia to your home. Every trinket has the power to spark memories and conversations, making it all the more inviting for yourself and guests alike. Plus, it's an easy way to ensure your bedroom sports a signature style nobody else can replicate. So to create a home away from home, don't forget to give it that extra special personal touch.
Conclusions
Creating the perfect bedroom retreat doesn't have to be expensive or complicated. You can transform your bedroom into an inviting and calming space with just a few simple decorating ideas. By choosing colours and textures that suit your preferences, adding some extra lighting and accent pieces, and selecting comfortable bedding, you can create a cosy space to relax or sleep. So take the time to make this important room in your home reflect your personality – the perfect bedroom retreat awaits.